South West Coast Path: Dorset
The South West Coast path is England's longest waymarked long-distance footpath and National Trail. The area is full of interesting wildlife and birdlife, and you may even spot dolphins and seals. Our Dorset holiday covers a stunning section of the path with amazing geology and scenery as you walk along the Jurassic Coast World Heritage Site. Near Weymouth there is a choice of routes, either stay on the coast or follow the South Dorset Ridgeway through one of the UK's most significant ancient ceremonial landscapes.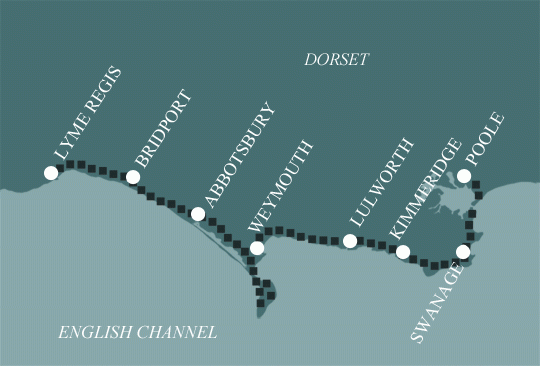 Our Holidays
We have a range of walking holidays along the South West Coast Path focusing on the best sections. All routes are well worth undertaking in their own right or you can take on each section separately until you've completed the whole path.
When choosing your route, please bear in mind that the actual distance walked on any day may sometimes vary by up to 2 miles/3 km from the quoted distances, (depending on the exact location of your accommodation). The mileages shown are typical door to door distances for each day.
Dorset Coast Path: Lyme Regis to Poole
Lyme Regis to Poole 79 miles/127 km
We have two itineraries to choose from on our Lyme Regis to Poole holidays - you can choose from 6 or 7 days walking.