Rob Roy Way
The Rob Roy Way encompasses many of the places linked with the now legendary Scottish outlaw and folk hero, Rob Roy MacGregor, who lived in the late 17th and early 18th centuries. The 79 mile trail begins in Drymen, on the the south eastern edge of the Loch Lomond & The Trossachs National Park, and journeys north through the picturesque landscapes of Stirlingshire and Perthshire, finishing in the vibrant town of Pitlochry.
Embarking on the Rob Roy Way, walkers are immersed in the tranquil woodlands of the Queen Elizabeth Forest Park, where the richness of Scotland's flora and fauna immediately becomes apparent. As you thread your way through the wild expanse of the Trossachs, a rugged beauty unfolds, reminiscent of the untamed nature that once provided cover for Rob Roy's daring endeavours. The splendour of the trail continues with the dramatic landscapes surrounding Loch Tay.
In addition to stunning wilderness, the route travels through charming villages and past historic sites, including the atmospheric ruins of the 16th-century Balquhidder Kirk, where Rob Roy MacGregor is laid to rest.
Celebrated for its blend of natural beauty and historical resonance, the Rob Roy Way invites adventurers to walk in the footsteps of a legend. Each step weaving together a narrative of rugged landscapes, serene lochs, and the indomitable spirit of the Scottish Highlands.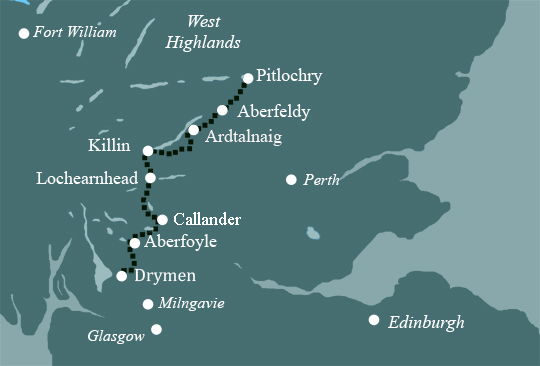 Our Holidays
We offer 2 holidays on the Rob Roy Way. We have the full 79 mile route from Drymen to Pitlochry walked over 6, 7 or 8 days. Alternatively, we have our highlights holiday starting a little further north in Aberfoyle, walked over 5 or 6 days.
Please bear in mind that the distances each day are trail distances only. They do not take into account walking to your accommodation. On some days the accommodation might be on or close to the trail but on other days you may need to walk one or two miles to get to your overnight stop.
Our colleague Megan walked the Rob Roy Way this summer. Read Megan's article: Roaming the Rob Roy Way.
The Rob Roy Way
Drymen to Pitlochry 79 miles/127 km
We offer 2 itineraries covering the whole route. Choose from 6 or 7 days walking depending on your available time and the pace you find most comfortable. The 6 day option has a 19 mile day. Don't underestimate the time you need to enjoy the fine scenery and wildlife.
Rob Roy Way Highlights
Aberfoyle to Pitlochry 69 miles/111 km
A slightly shorter route starting a little further north in Aberfoyle. The 5 day option begins with a 19 mile day. The 6 day option splits this section into more comfortable 10 and a 9 mile days.