Westmorland Way
The scenic Westmorland Way is a 95 mile walk through the old county of that name, which now forms the south eastern part of Cumbria.
The route starts in Appleby, the county town of Westmorland, the perfect starting point in the shadow of the Pennine Chain. It then travels west and generally southwards, winding its way through some of the finest Lake District scenery, passing Ullswater, Grasmere and Windermere, before visiting the market town of Kendal. From there it follows the canal and tracks through woodlands and meadows to Westmorland's only port, Arnside, on the shores of Morecambe Bay.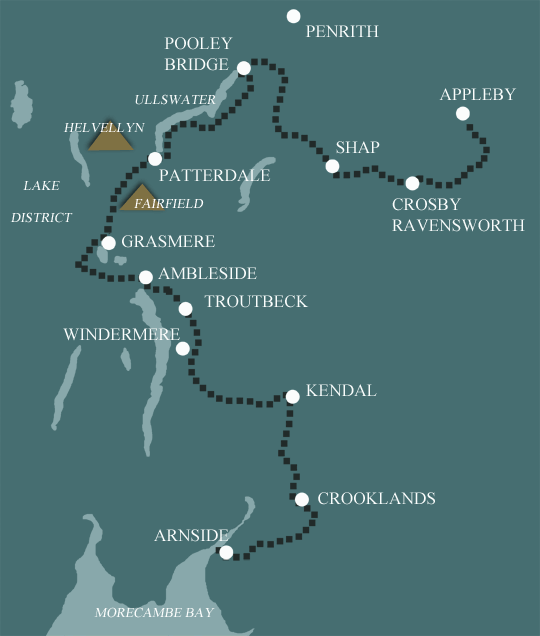 Our Holidays
We offer 2 holidays on the Westmorland Way. First we have the whole route with a choice of 7, 8 or 9 days walking depending on how far you want to walk each day and how much time you have to look around. The second holiday is a 3 day highlights walk, covering the most dramatic section through the Lake District, from Pooley Bridge to Ambleside.
Please bear in mind that the distances each day are trail distances only. They do not take into account walking to your accommodation. On some days the accommodation might be on or close to the trail but on other days you may need to walk one or two miles to get to your overnight stop.
Our General Manager Tara has been walking the Westmorland Way updating our routes notes. learn more here.
Westmorland Way
Appleby to Arnside 95 miles/153 km
We offer 3 itineraries along the full length of the Westmorland Way. The longer the itinerary, the shorter the distance you have to walk each day, allowing you more time to soak up the stunning scenery.
Best of the Westmorland Way: Pooley Bridge to Ambleside
Pooley Bridge to Ambleside 30 miles/47 km
The most dramatic and interesting section of the Westmorland Way for those with limited holiday time.