Walking Holidays in Wales
Boasting several National Parks and Areas of Outstanding Natural Beauty, stunning scenery is never far away on a walking holiday in Wales. With the mountainous region of Snowdonia in the north and the Cambrian Mountains and Brecon Beacons further south there is an abundance of choice for a day in the hills. Add to this a spectacular coastline and Wales is a magnet for walkers of all abilities.
Discover the rugged Welsh coastline and all it has to offer on one of our self-guided walking holidays. With walks varying from 4 to 16 days in length we can create the perfect walking holiday to suit your needs.
The route starts in the seaside village of Amroth in the South, then follows the coastline of the Pembrokeshire National Park before finally finishing in the village of St Dogmaels near Cardigan.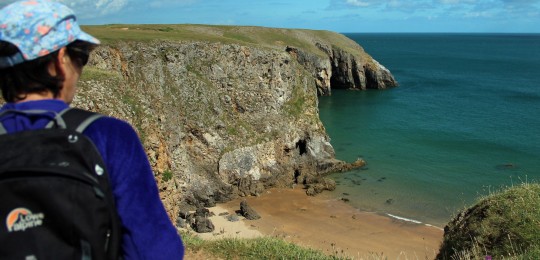 Within the Pembrokeshire Coast National Park in South Wales, the Pembrokeshire Coast Path is one of the UK's well established National Trails. Following the rugged Welsh coastline, this is one of the finest long distance walks in Britain. The path enjoys stunning views across sea and land as it twists along a coast line of ever-changing natural beauty.
The Pembrokeshire Coastal Path is a varied and at times challenging walk. The undulating nature of some parts of the walk present physically demanding ascents and descents, however it can be enjoyed in shorter sections accessible to walkers of all ages and abilities.
Bird watchers and plant lovers are drawn to the area due to the rich diversity of wildlife to be seen. Sea birds thrive on the inaccessible cliffs and offshore islands and, due to a multitude of habitats, an amazing array of flowers and plants can be seen at all times of year.
Full Route Length
186 miles / 299 km
Shortest Break Length
48 miles / 77 km
Average Grade
Moderate to Challenging
Why do this walk?
Walk along one of Britain's most dramatic coastlines.
Spectacular clifftop walking between idyllic sandy beaches.
Unspoilt countryside and with abundant wildlife.
Explore the historic towns of Tenby and St Davids.
Stay in delightful seaside towns and old fishing villages.
Client Feedback
We have no hesitation in recommending Mickledore.The B&Bs we arrived at the end of each day are such a treat! Charming, welcoming and comfortable! Nothing went wrong during our trip – however we were confident and reassured that it would be easy to contact Mickledore to sort anything out if needs be. Thank you! A great time in beautiful Cumbria and Yorkshire.
Read more >
I had an absolutely amazing experience and look forward to future hikes through Mickledore. Your company did an amazing job of organizing and coordinating the trip. Overall you've done an amazing job vetting the B&B's. All the hosts and hostesses were incredibly friendly, helpful and professional. Thank you so much for the service you provide. I spoke with another local couple who were doing your Hadrian's Wall hike, and had done organized hikes using other companies, who said that Mickledore was by far the best service out there.
Read more >
We think that Mickledore have done a very good job, both with planning the route and selecting the accommodation.  Bags were always moved reliably every day. Thanks a lot for giving us a terrific holiday.

'Would you use Mickledore again?': Yes, flawless service, excellent organisation – well worth the money.
Read more >