South West Coast Path: Dorset
The South West Coast Path is England's longest waymarked long-distance footpath and National Trail. Our Dorset holidays cover a stunning section of the path with amazing geology and scenery as you walk along the Jurassic Coast World Heritage Site.
Highlights along this stretch include Charmouth Beach where you can look out for fossils. Nearby is the wonderful viewpoint of Golden Cap, the highest point on the south coast of England. Thorncombe Beacon, one of a chain of beacons used to warn of the approaching Spanish Armada in 1588. The long pebble bay of Chesil Beach, the site of many shipwrecks and near Lulworth the iconic coastal landmark, Durdle Door.
The area is full of interesting wildlife and birdlife, and you may even spot dolphins and seals. Near Weymouth there is a choice of routes, either stay on the coast or follow the South Dorset Ridgeway through one of the UK's most significant ancient ceremonial landscapes.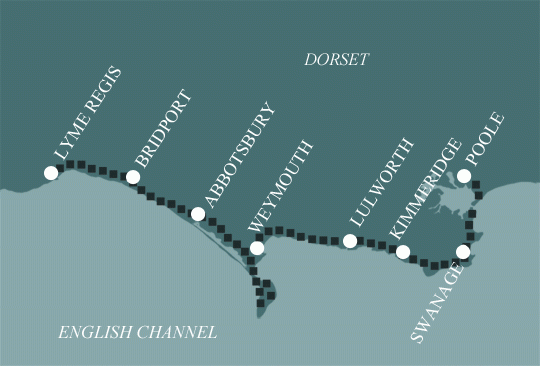 Our Holidays
We have a range of walking holidays along the entire length of the South West Coast Path. All routes are well worth undertaking in their own right and you can take on each section separately until you've completed the whole path.
We offer 2 itineraries walking from Lyme Regis to Poole on the Dorset section of the South West Coast Path.
Please bear in mind that the distances each day are trail distances only. They do not take into account walking to your accommodation. On some days the accommodation might be on or close to the trail but on other days you may need to walk one or two miles to get to your overnight stop.
Note on transfers: Many of the accommodations on the South West Coast Path operate a two night minimum policy, therefore when booking, you need to be prepared to be transferred to and from your accommodation on several nights of your holiday.
Dorset Coast Path: Lyme Regis to Poole
Lyme Regis to Poole 79 miles/127 km
We offer 2 itineraries from Lyme Regis to Poole. Choose from 6 or 7 days walking, depending on how far you want to walk each day. Walking on the Jurassic coast, take a little time to reflect on 185 million years of history beneath your feet.