Cumbria Way
The Cumbria Way bisects Cumbria from the market town of Ulverston, near the coast of Morecambe Bay in the south, to the historic city of Carlisle on the Scottish Border in the north. In between the two it passes through some of the Lake District's most famous and spectacular scenery.
The route uses the valley systems wherever possible and therefore over most of its length it avoids the high fells. Lakeshore paths, ancient green lanes and paths at the bottom of steep sided valleys, all form part of this stunning route.
There are two sections in the higher fells, both on well established paths. Between Langdale and Borrowdale, over Stake Pass, and between Keswick and Caldbeck, over the flanks of Skiddaw.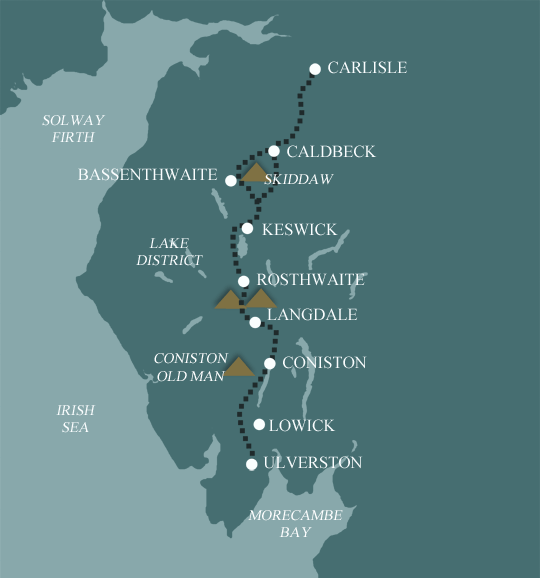 Our Holidays
We offer a range of holidays on the Cumbria Way. You can walk the whole route from Ulverston to Carlisle in 5, 6 or 8 days. Some people choose to finish the walk at Caldbeck, as the final day to Carlisle is arguably less interesting, crossing mainly agricultural land. The Cumbria Way Highlights covers this option. Finally we have the 3 day or 4 day 'Best of the Cumbria Way' short breaks, concentrating on the more dramatic section between Coniston and Keswick.
Please bear in mind that the distances each day are trail distances only. They do not take into account walking to your accommodation. On some days the accommodation might be on or close to the trail but on other days you may need to walk one or two miles to get to your overnight stop.
The Whole Cumbria Way
Ulverston to Carlisle 72 miles/116 km
We have 3 itineraries for the Whole Cumbria Way, all of which can be walked with your dog. Choose from 5, 6 or 8 days walking, depending on how far you want to go each day, and select the codes ending with a D for the dog-friendly option.
Cumbria Way Highlights: Ulverston to Caldbeck
Ulverston to Caldbeck 58 miles/93 km
These walks cover the whole of the Cumbria Way within the National Park, missing out the final long day to Carlisle. All options can be booked as a dog-friendly holiday, just select the codes ending with a D for more details.
Best of the Cumbria Way: Coniston to Keswick
Coniston to Keswick 28 miles/45 km
This holiday covers the most dramatic section of the Cumbria Way. If time is short these walks give a good flavour of the Central Lakes, taking in the areas two most celebrated valleys; Langdale and Borrowdale, as well as the remote Stakes Pass between them. We are also pleased to offer this holiday as a dog-friendly choice, just select the codes ending with a D.