Herriot Way
The Herriot Way is a 52 mile circular route running through some of the most beautiful scenery in the Yorkshire Dales.
It is based upon a walk taken by the well-known veterinarian and author James Herriot. It visits his favourite locations and places where he lived and worked for many years, made famous in his books 'All Creatures Great and Small' and 'James Herriot's Yorkshire'.
The walk starts and ends in the village of Aysgarth in the heart of Wensleydale, famous for its cheese as well as its waterfalls, it visits Hawes, the highest market town in Yorkshire and passes through fabulous Swaledale with its wildflower meadows and landscape of limestone dry stone walls and barns.
On your journey you'll walk through lush green valleys, along disused railway, over high fells and across glorious heather-clad moorland. You'll follow winding rivers, quiet country lanes, pass historic monuments, see remnants of an industrial age and visit picturesque villages.
There are few walks that better characterise the delights of walking in the Yorkshire Dales than the Herriot Way.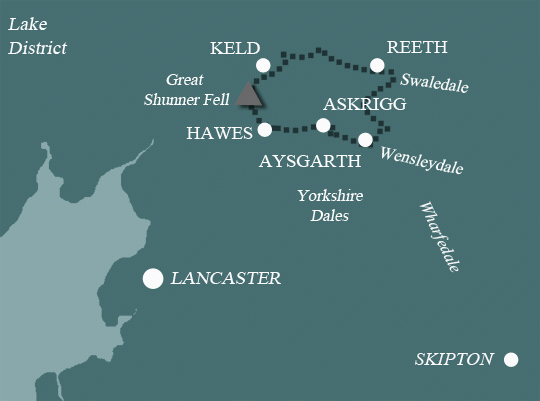 Our Holidays
This is a circular route so you can choose to start in any location. Our holiday is described starting from Aysgarth in a clockwise direction. This is the traditional way to walk it and is how the guidebook describes the route.
Please bear in mind that the distances each day are trail distances only. They do not take into account walking to your accommodation. On some days the accommodation might be on or close to the trail but on other days you may need to walk one or two miles to get to your overnight stop.
Our General Manager Tara has walked the Herriot Way. Read Tara's article: Happy Days on the Herriot Way.
Herriot Way: Round Trip from Aysgarth
Aysgarth to Aysgarth 52 miles/84 km
We have two walks covering the full route. The longer itinerary of 5 walking days splits the Aysgarth to Hawes leg at Askrigg to make two shorter days. This allows you to ease yourself into the walk gradually before the next 3 longer days, and also gives you time to explore the market town of Hawes.
Walking with your Dog
The Herriot Way can also be booked as a dog-friendly holiday, however we are unable to book dog-friendly accommodation in Aysgarth. We will therefore suggest starting and finishing your walk in a different location, usually Hawes, and on the night you should stay in Aysgarth we will arrange your accommodation in a different location and pay for a taxi to transfer you to and from the route. Please let us know at the time of booking if you require a dog friendly itinerary. For more information on our dog-friendly holidays click here.