Great Glen Way
The Great Glen Way is a 73 mile coast to coast path from Fort William on the Atlantic west coast to Inverness on the North Sea. The trail follows the natural geological fault line running through the Great Glen, also known as Glen Albyn or Glen Mor.
The walk begins at Fort William, in the shadow of Britain's highest mountain, Ben Nevis. From there the Great Glen Way waves goodbye to Loch Linnhe and heads north on the Caledonian Canal past Neptune's Staircase and on to Gairlochy before journeying along the banks of Loch Lochy, Loch Oich and Loch Ness, famous for its mythical monster. The Way leaves Loch Ness as it travels through the ancient Abriachan woodland, home to pine martens, red squirrels and golden eagles, before joining the River Ness to reach Inverness Castle and the end of the trail.
With its good way marking, this is a relatively easy, and predominantly low level route along canal towpaths and enchanting forest tracks, providing great views of the lochs of the Great Glen and fine panoramas of the surrounding mountains. The castles and forts along the trail provide a glimpse into Scotland's rich history and culture.
The Great Glen Way is the perfect introduction to long distance walking in the Scottish Highlands.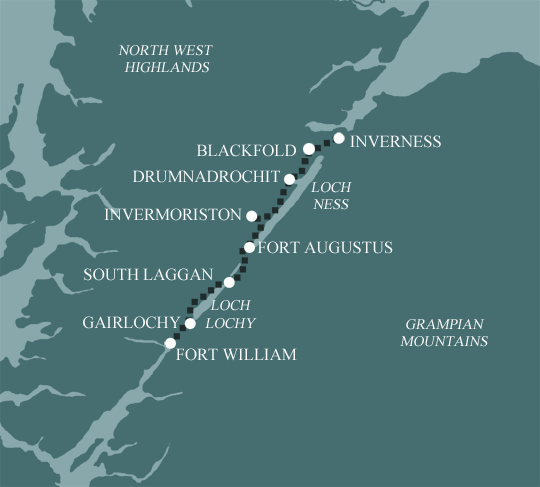 The Great Glen Way
Fort William to Inverness 73 miles/117 km
We offer 3 itineraries covering the whole route. The 5 day option involves 2 lengthy 18 mile days. The 6 day option takes things a little easier with just 1 day of 18 miles. Our 7 day option is far more gentle with the longest distance being 14 miles and there a couple of relaxed 7 and 8 mile days also.
Due to essential forest harvesting work the main path along Loch Oich will be unavailable to the public for the remainder of the year and throughout 2024. You will need to use the alternate Invergarry link path during this time, adding almost 2.5 miles, and resulting in more up & downs than the south side path. The Invergarry link is detailed in the guidebook and signs will be in place to instruct you on where to go.