St Oswald's Way
This walking holiday traces the footsteps of St Oswald, the Anglo Saxon King who played a significant role in the introduction of Christianity to England. Covering a distance of 97 miles, St Oswald's Way starts on the Holy Island of Lindisfarne. It follows the spectacular Northumberland coastline to Warkworth before heading inland along the beautiful River Coquet to the ancient town of Rothbury. From there it heads south over heather-clad moors, through forest and rolling countryside, finishing at the World Heritage Site of Hadrian's Wall.
St Oswald's Way has everything: stunning coastal walking, wild expansive moorland, spectacular geology, quiet fishing villages and picturesque market towns. This walking holiday takes you through centuries of history, passing Neolithic rock art, Iron Age forts, Roman sites, medieval castles, eighteenth century limekilns, and coastal defences from World War Two.
It is a straightforward walk, with its highest point at just over 300m (990ft). With a rich variety of birdlife, seals and dolphins, red squirrels, rare butterflies and plants, this walking holiday is the perfect one to choose if you want a taste of all the best bits of England's best kept secret, Northumberland.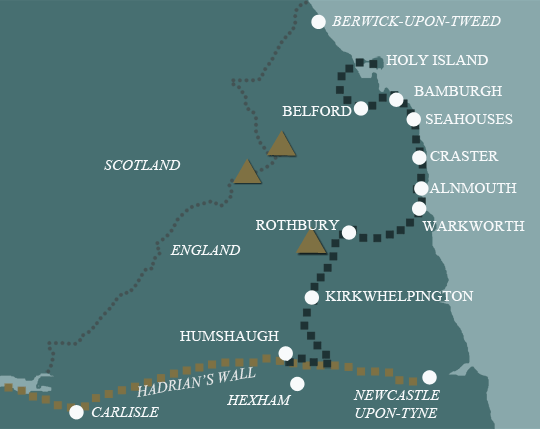 Our Holidays
We offer 2 holidays on St Oswald's Way. In addition to the whole route, which can be walked over 6 to 9 days, we have the Coastal Highlights walking from Lindisfarne to Warkworth over 3 or 4 days.
Please bear in mind that the distances each day are trail distances only. They do not take into account walking to your accommodation. On some days the accommodation might be on or close to the trail but on other days you may need to walk one or two miles to get to your overnight stop.
Our colleague Gill has walked St Oswald's Way. Read Gill's article: Striding Out on St Oswald's Way.
St Oswald's Way
Lindisfarne to Humshaugh 100 miles/161 km
We offer 4 itineraries covering the whole route. The 6 day itinerary has 5 long days and should only be attempted if you are fit and used to walking long distances day after day. The 9 day trip is done at a more leisurely pace. Most people spend 7 or 8 days walking the whole St Oswald's Way.
Coastline & Castles: St Oswald's Way Coastal Highlights
Lindisfarne to Warkworth 47 miles/76 km
If you've only got 4 or 5 days to spare, the coastal section of St Oswald's Way is not to be missed. After a section inland near Lindisfarne, it follows the stunning, unspoilt Northumberland coastline from Bamburgh to Warkworth. Walking along paths and tracks, over farmland, sand dunes and cliff tops, you will get superb views of imposing castles, spectacular geology, beautiful beaches, and a wealth of bird and animal life.