Cotswold Round
Picture a place of gentle hills and gorgeous stone villages. A place of honey coloured houses and luscious green meadows. A place of hedge lined country lanes. Picture this, and you have the Cotswolds. Our Cotswold Round is a circuit of some of the most picturesque towns and villages the Cotswolds has to offer. Their very names themselves an invitation to the inquisitive – Moreton-in-Marsh, Stow-on-the-Wold, Bourton-on-the-Water. Almost all of the round falls within the Cotswolds Area of Outstanding Natural Beauty. Covering over 2000 square kilometers, it's the largest such protected area in England and Wales. Only Cheltenham lies outwith the boundary. On your journey you will walk through many nature reserves as well as Sites of Special Scientific Interest.
Cowslips carpet the grassland in spring and in summer look closely for the pyramidal orchid and bee orchid. Bluebell woods bring vibrant colour and sweet smelling lily of the valley fills air. The red kite and the skylark occupy the Cotswold sky. Rare butterflies flit from flower to flower and fortunate walkers may get to see a duke of burgundy or adonis blue. The ever present golden stone you'll see is Oolitic limestone, formed sometime around 150-200 million years ago, when the Cotswolds were covered by a warm sea. Hundreds of Cotswold villages are built entirely of this stone. Consequently the Cotswolds have more protected or listed buildings than any other region. You may spot some Cotswold Lions, these shaggy sheep are bred in small numbers today, but were once the foundation of England's wool trade with Europe. An industry amounting to almost 50% of the country's economy. The magnificent churches you'll see, many disproportionate in size to the villages they serve, were known as wool churches, constructed or enlarged by huge contributions from the wealthy wool merchants.
Accompanied by the sight of wildflowers and the sound of birdsong, this is a country walker's dream. A mix of open meadow, track, woodland, river bank and country lane combine to make our 59 mile Cotswold Round a relaxing walk through what you'll no doubt come to remember as quintessentially English countryside.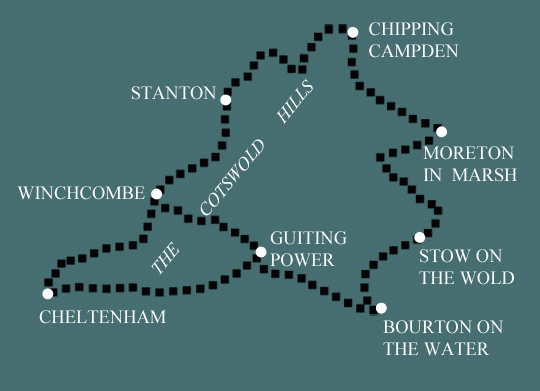 Our Holidays
Within the Cotswold Round we offer 6 itineraries, spread over 2 circular routes, the Cheltenham Circuit and the Moreton-in-Marsh Circuit.
At 59 miles the Cheltenham Circuit is the longer of the two. Walking clockwise your journey will include the picturesque towns and villages of Winchcombe, Chipping Campden, Moreton-in-Marsh and Bourton-on-the-Water. The shorter 45 mile Moreton-in-Marsh Circuit follows much the same route, but remains more rural by missing out the significantly larger and busier town of Cheltenham.
Within each of the circuits, there are 3 options to choose from, depending on how far you want to walk each day.
Please bear in mind that the distances each day are trail distances only. They do not take into account walking to your accommodation. On some days the accommodation might be on or close to the trail but on other days you may need to walk one or two miles to get to your overnight stop.
Cotswold Round: Cheltenham Circuit
Cheltenham to Cheltenham 59 miles/95 km
We offer 3 itineraries walking from Cheltenham. When choosing from 4, 5 or 6 days walking consider how far you'd like to walk each day, as well as whether your choice will have you stay in your preferred locations, should you have them.
Cotswold Round: Moreton-in-Marsh Circuit
Moreton-in-Marsh to Moreton-in-Marsh 45 miles/72 km
We offer 3 itineraries walking from Moreton-in-Marsh. Choose from 4, 5 or 7 days walking depending on how far you'd like to walk each day. Naturally, the daily averages are shorter on these holidays than on the Cheltenham Circuit. Again, consider which towns and villages you'd like to stay in.