Dales Way
The Dales Way crosses through the Yorkshire Dales from east to west, spending much of its time on the riverside paths bordering the Rivers Wharfe and Dee. The path begins in Ilkley, a market town at the eastern edge of the Dales and takes a route through Wharfedale and Dentdale, before crossing into the foothills of the Lake District to finish on the shores of Lake Windermere, England's largest lake, in the Lake District.
This is primarily a riverside walk threaded between market towns and ancient limestone village hamlets. In between, the route takes in shorter sections of moors, fell sides and limestone pavement to keep the route interesting.
The Yorkshire Dales is an internationally renowned National Park, with a characteristic landscape of limestone dry stone walls and isolated field barns with small villages and hamlets dotted through the steep sided valleys.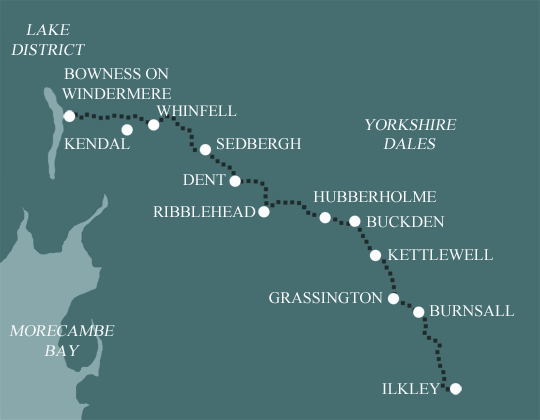 Our Holidays
We offer 3 holidays over the entire length of the Dales Way, from 6 to 8 days walking. For those with less time, we also offer a 3 day 'Heart of the Dales' alternative on the Wharfedale section of the route.
When choosing your route, please bear in mind that the actual distance walked on any day may sometimes vary by up to 2 miles/3 km from the quoted distances, depending on the exact location of your accommodation. The mileages shown are typical door to door distances for each day.
The Whole Dales Way
Ilkley to Bowness on Windermere 82 miles/132 km
We have 3 options for the whole Dales Way route. Choose from 6, 7 or 8 days walking with daily averages of 10, 12 or 14 miles.
Wharfedale: Heart of the Dales
Burnsall to Kettlewell 22 miles/35 km
This is easy walking in classic Yorkshire Dales country. From the beautiful Bolton Abbey, along river sides and through woodlands, meadows and moorlands, to Buckden in Upper Wharfedale.