Dales Way
The Dales Way crosses through the internationally renowned Yorkshire Dales National Park from east to west, spending much of its time on the riverside paths bordering the Rivers Wharfe and Dee. The 81 mile route begins in the market town of Ilkley on the eastern edge of the Dales and travels through Wharfedale and Dentdale, before crossing into the foothills of the Lake District National Park to finish on the shores of Lake Windermere, England's largest lake.
This is primarily a riverside walk through a characteristic landscape of limestone dry stone walls and isolated field barns with small villages and hamlets dotted through beautiful and peaceful steep sided valleys. Short sections of windswept peaty moorland and iconic limestone pavement add variety.
Few places, if indeed any, are as pretty as the dales, particularly in spring and summer when the trees are in leaf, the meadows are brightly decorated with wildflowers and the songbirds are at their most active.
The trail is rarely far from a river bank and the water is home to the ever-present mallard, occasionally joined by moorhen. Perched on rocks are an assortment of attractive little birds such as brown and white dippers and pied and yellow wagtails. Keeping watch over the bank will be the heron. More difficult to spot, but certainly around will be weasels and stoats. There are deer in the woods, if you are both quiet and patient, you may be lucky enough to spot them. On the uplands, with their song often heard before they are seen, are the skylark, peewit and lovely meadow pipit.
What the Dales Way does best, in addition to serving up mile upon mile of idyllic countryside, is it gains you easy access to some of the most striking scenery in the north of England. For a time, as you transition from Yorkshire Dales to Lake District, you'll have the enormous and rounded Howgill Fells towering above you, and a stunning skyline of rugged Lakeland mountains laid out ahead of you. Simply magnificent!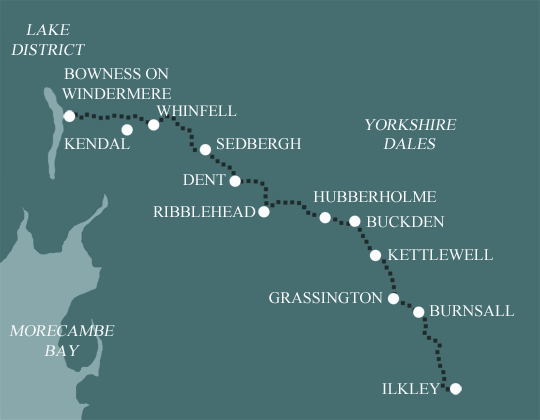 Our Holidays
We offer 3 itineraries over the entire length of the Dales Way, from 6 to 8 days walking. Consider how far you'd like to walk each day, as well as whether your choice will have you stay in your preferred locations, should you have them.
Please bear in mind that the distances each day are trail distances only. They do not take into account walking to your accommodation. On some days the accommodation might be on or close to the trail but on other days you may need to walk one or two miles to get to your overnight stop.
Our General Manager Tara has walked the Dales Way. Read her article: Happy Days on the Dales Way.
The Dales Way
Ilkley to Bowness on Windermere 81 miles/130 km
We have 3 options for the whole Dales Way route. Choose from 6, 7 or 8 days walking with daily averages of 10, 12 or 14 miles.