Vale of Lorton
This is our kindest holiday in one of the quietest areas of the Lake District National Park. It is based around the peaceful lakes of Loweswater, Crummock and Buttermere in the North West corner of the Lake District, and uses well defined paths, forestry tracks and country lanes.
The distances covered each day are relatively short with the exception of one mountain pass involving an easy climb of 200 metres. The route generally keeps to relatively flat valley bottoms and there is plenty of time to take it easy, enjoy some spectacular scenery and soak up the tranquility.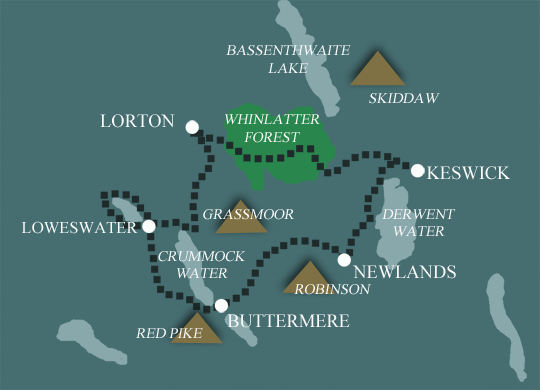 Our Holidays
We offer 2 itineraries for the Vale of Lorton. Choose from 3 or 5 days walking depending on your available time and the pace you find most comfortable.
Please bear in mind that the distances each day are trail distances only. They do not take into account walking to your accommodation. On some days the accommodation might be on or close to the trail but on other days you may need to walk one or two miles to get to your overnight stop.
Vale of Lorton
Keswick to Keswick 28 miles/45 km
We offer 2 itineraries covering the whole route. The 3 day option has 2 days with 10 miles of walking, while the 5 day option has daily distances of 7 miles or less.