Cleveland Way
The Cleveland Way, established in 1969, is both an interesting and a beautiful path. It stretches for over 100 miles from Helmsley, on the southern edge of the North York Moors National Park, to Filey on the east coast.
The way passes through two very distinct types of landscape. From Helmsley to Saltburn-by-the-Sea, it traverses classic moorland scenery, through forests and along escarpments, giving the walker panoramic views over the Cleveland Hills and the rest of the National Park. The other half of the route, from Saltburn-by-the-Sea to Filey, follows a dramatic coastline and runs along the top of some of the highest sea cliffs in the country.
Click here to read about our colleague Lynne's walk along the Cleveland Way.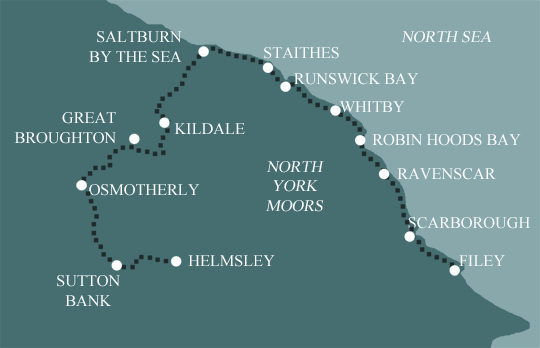 Our Holidays
We offer 3 holidays over the entire length of the route, from 7 to 11 days walking, depending on how far you want to go each day, and how much time you want to relax and soak up the views! We have 3 shorter breaks, all of 5 days walking, covering the moorland section, the coastal section, and finally a bit of both.
The Whole Cleveland Way Path
Helmsley to Filey 107 miles/172 km
We offer 3 holidays covering the whole route - the longer the holiday, the shorter you have to walk each day.
Cleveland Way - The Moorland Highlights
Helmsley to Saltburn-By-The-Sea 60 miles/97 km
The Moorland and Meadows section of the Clevelend Way across the beautiful North York Moors
Cleveland Way - The Combined Highlights
Osmotherley to Robin Hood's Bay 62 miles/100 km
The Moorland and Coast section of the Cleveland Way across the northern end of the Moors and down the North Yorkshire Heritage Coast.
Cleveland Way - The Coastal Highlights
Saltburn-By-The-Sea to Filey 52 miles/84 km
The Beaches and Cliffs section of the Cleveland Way taking in the dramatic North Yorkshire Heritage Coast