Gower Peninsula
The Gower Peninsula in South Wales was designated as the UK's first Area of Outstanding Natural Beauty way back in 1956, and to this day, remains as beautiful as ever. It was awarded its AONB status for its classic coastline, much of which is defined as Heritage Coast, along with its outstanding natural environment, with over 30% of the area being a National Nature Reserve or a Site of Special Scientific Interest.
Our holidays follow the Wales Coast Path for 45 miles / 72 km from the village of Pen-Clawdd on the Loughor Estuary round to the town of Mumbles on the western edge of Swansea Bay. On your journey you will enjoy some of the most stunning sections of the Wales Coast Path and several of the most beautiful beaches in Britain.
Whiteford Sands is a two mile stretch of secluded beach backed by Whiteford Burrows, a dune system and coniferous plantation. Among the flora on display is the early marsh orchid and fen orchid. On the eastern edge of the burrows the marsh is home to the oystercatcher, pintail and golden plover. Award winning Rhossili Bay boasts three miles of gorgeous golden sands and each year in the fields above the bay the National Trust plant a staggering half a million sunflowers, poppies, lavender and lupins all bursting with colour in summer. Three Cliffs Bay, appropriately named on account of the three sea cliffs that jut out into the bay, is another beach lover's dream, a paradise of surf washed sands. Above the bay is Pennard Burrows, arguably one of the finest viewpoints in the country.
It's not all sea and sand however, the Gower Peninsula is a wealth of inspiring landscapes. Just wait till you see the dramatic limestone cliffs and ancient coastal woodlands, the rolling grasslands and russet coloured downs. There is in excess of a thousand archaeological sites and over a hundred listed buildings. More than this, there is a warm Welsh welcome wherever you go.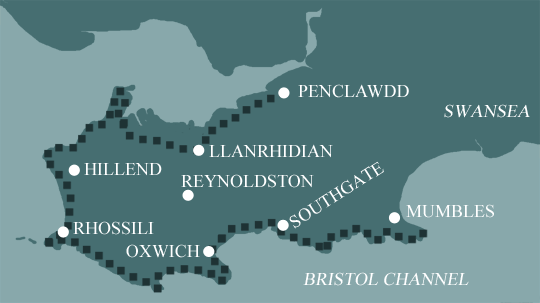 Our Holidays
Our walking holidays on the Gower Peninsula involve two night stays at many of the locations. Our friendly drivers will transfer you between the trail and your accommodation, no doubt sharing their local insights with you as you travel the short distances. You will have a little more time to settle into your accommodation, spend a little less time packing and unpacking, and we're absolutely sure you'll enjoy getting to know our wonderful accommodation providers that little bit better.
The Wales Coast Path naturally hugs the coastline, while some of the towns and villages sit slightly inland. Please bear in mind that the distances each day are trail distances only. They do not take into account walking to your accommodation. On some days the accommodation might be on or close to the trail but on other days you may need to walk one or two miles to get to your overnight stop.
Our colleague Hayley has walked the Gower Peninsula. Read Hayley's article: Glorious Gower.
Gower Peninsula
Pen-clawdd to Mumbles 45 miles/72 km
We offer 2 itineraries walking from Pen-clawdd to Mumbles. Choose from 4 or 5 days walking, depending on how far you'd like to walk each day. Bear in mind that the Gower Peninsula has some of the most beautiful beaches in Britain, so you may wish to slow things down and spend some time enjoying them.