Hadrian's Cycleway
The 174 mile route of Hadrian's Cycleway was officially opened in July 2006. The cycleway, signed as National Route 72, can be cycled in either direction, though it is normally cycled west to east. It runs mainly on country lanes and quiet roads, interspersed with sections of traffic-free path, promenade and riverside path. The coastal sections at either end of the route are relatively flat, but there are a few steep, short hills in the central section. You will ride through some of England's most dramatic and wild countryside where you can get away from it all and enjoy the freedom of cycling in this unspoilt area.
The Glannavanta Roman Bath House in the port of Ravenglass is the starting point for Hadrian's Cycleway. From here the route heads northwards along Cumbria's west coast, before turning inland at Bowness-on-Solway, and following the line of Hadrian's Wall to the historic city of Carlisle. You will then cycle alongside rivers and quiet country lanes and through woodland, before reaching the dramatic and wild countryside of Northumberland National Park. Between Brampton and Corbridge where much of the wall remains it is worth taking your time to view the many forts and museums in the area, and perhaps take a walk along some of the most spectacular sections of the wall.
Witness for yourself amazing views of the North Pennines Area of Outstanding Natural Beauty before you follow the River Tyne to the finish in Tynemouth on the east coast.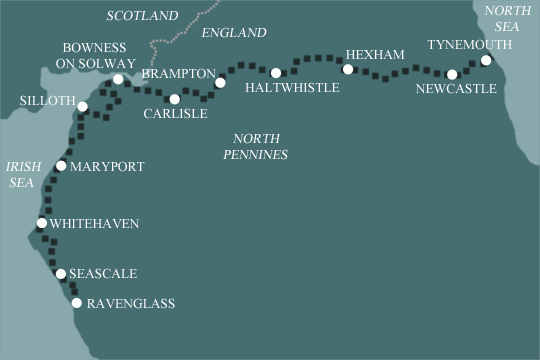 Our Holidays
We offer 2 itineraries along Hadrian's Cycleway. Choose from 4 or 5 days cycling, depending on how far you want to cycle each day, and how much time you want to spend exploring Hadrian's Wall and looking around the various towns and villages.
Hadrian's Cycleway
Ravenglass to Tynemouth 174 miles/280 km
We have 2 options for Hadrian's Cycleway. Our 4 day itinerary has daily distances ranging from 40 to 49 miles while our 5 day itinerary takes things a little easier with daily distances of 32 to 38 miles.