Yorkshire Wolds Way
The Yorkshire Wolds offer a peaceful setting for a walking holiday away from it all. With rolling countryside and far reaching views, the trail follows good paths and tracks over higher ground, dipping in and out of the dry valleys which were carved into this landscape after the Ice Age, and which give the area its unique appearance.
The route begins on the Humber Estuary and follows a band of chalk which runs through a very rural and unspoilt corner of Britain, all the way to Filey on the North Coast.
On a clear day the views over the patchwork of fields stretch for miles to the Pennines and the North Yorkshire Moors. You may be able to spot the distinctive landmarks of York Minster, and your starting point the Humber Bridge as you walk through this very rural landscape.
The hedgerows and grassy valleys are the perfect habitat for an abundance of wild flowers, birds and butterflies and you may be lucky enough to see Red Kites on the central part of the route.
The area also has a strong connection with the arts. Hull, close to the start of the route, was the UK City of Culture from 2017 until 2020. Along the route, a project known as 'WANDER – Art on the Yorkshire Wolds Way' has seen a number of works of art springing up along the trail, so be sure to look out for these on your journey.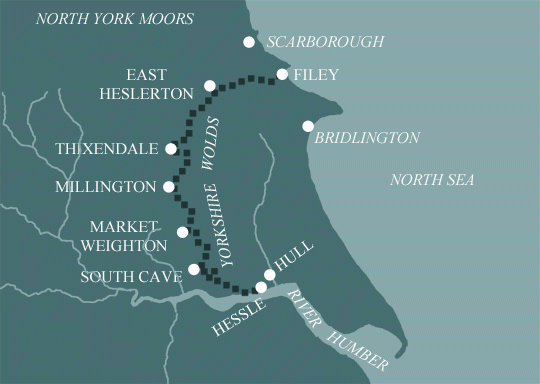 Our Holidays
We offer 2 itineraries walking the entire length of this popular National Trail. Choose from 5 or 8 days walking.
The route described here is from south to north as most people choose to start in Hessle, enjoying the increasingly beautiful scenery as you walk towards Filey, hopefully with the sun on your back!
This is a rural area and the route passes through very few towns and villages. Please bear in mind that the distances each day are trail distances only. They do not take into account walking to your accommodation. On some days the accommodation might be on or close to the trail but on other days you may need to walk one or two miles to get to your overnight stop.
You may also wish to deviate from the trail at times to visit some of the local villages and points of interest so it is worth choosing an itinerary you think you can manage comfortably in case you decide to add to your daily walk.
The Yorkshire Wolds Way
Hessle to Filey 82 miles/132 km
When choosing between 5 and 8 days walking consider how far you'd like to walk each day, as well as how much time you'd like to spend relaxing and soaking up the views, and whether your choice will have you stay in your preferred locations, should you have them. If you choose the 8 day option be prepared to be transferred to and from your accommodation on several nights of your holiday.