Northumberland Coast Path
The Northumberland Coast is best known for its sweeping beaches, imposing castles, rolling dunes, high rocky cliffs and isolated islands. Amidst this striking landscape is the evidence of an area steeped in history, covering 7000 years of human activity. A host of conservation sites, including two National Nature Reserves testify to the great variety of wildlife and habitats also found on the coast.
The 64miles / 103km route follows the coast in most places with an inland detour between Belford and Holy Island. Most of the paths are public rights of way (footpaths and bridleways), but in some places beaches, minor roads, tracks and permissive paths are used. The route is generally level with very few climbs.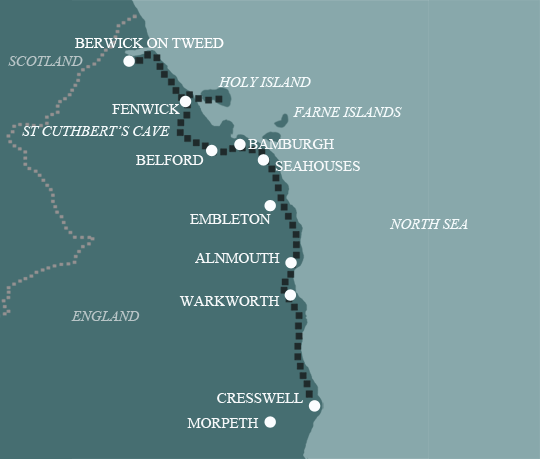 Our Holidays
The Northumberland Coast Path
Morpeth to Berwick-Upon-Tweed 64 miles/103 km
We have three different holidays for the whole Northumberland coastal route - choose from 4, 5 or 6 days walking, depending on how far you want to go each day. For each holiday there's the option of adding an extra day to walk across the sands to Holy Island.