Northumberland Coast Path
The Northumberland Coast is renowned for its sweeping beaches, spectacular castles, rolling dunes, dramatic rock formations and isolated islands. Amidst this striking landscape is the evidence of an area steeped in history, spanning 7000 years of human activity. A host of conservation sites, including two National Nature Reserves, testify to the immense variety of wildlife and habitats also found on this stunning stretch of coast.
The 64 mile route for the most part hugs the coastline, only making a detour inland between Belford and Fenwick. The terrain is generally level and as such, in clear weather, you're rewarded with tremendously far reaching views. The majority of the paths are public rights of way, however in places beaches, minor roads and permissive paths are used.
You will journey along a wild and empty expanse of endless beaches punctuated by some of the most imposing castles in England – Warkworth reflecting magnificently in the River Aln, the dramatic ruins of Dunstanburgh, the most majestic of all Bamburgh, and the remains of the once great castle at Berwick-Upon-Tweed, famous for its Elizabethan town walls. Each has its own remarkable history and are worthy of thorough exploration.
Also deserving of exploration are the offshore attractions of Croquet Island, the Farne Islands and the Holy Island of Lindisfarne. Consider factoring in a rest day or two when planning your adventure.
Nature lovers will delight in the Northumberland coast. On the river estuaries you'll find wading birds such as ring plovers and oyster catchers, wetlands host egrets, herons and a variety of waterfowl, while the offshore islands are home to puffins, razorbills and guillemots. The dune systems, saltmarshes and grasslands support an amazing array of plant life including the southern marsh orchid, marsh helleborine, sea campion, common rock-rose and fairy flax.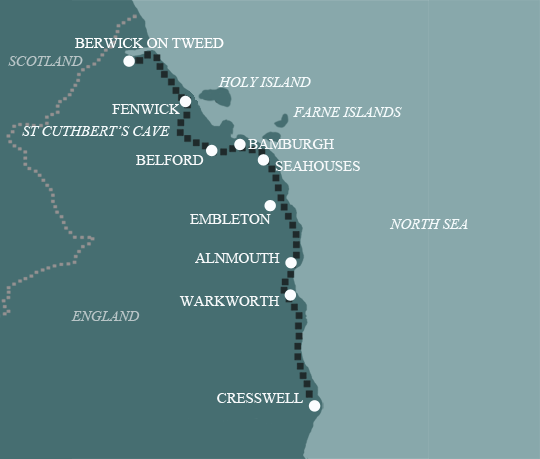 Our Holidays
Our Northumberland Coast Path holiday can be enjoyed comfortably over 4 to 6 days. When choosing your itinerary, consider how much time you might like to explore the many impressive castles along the way, as well as whether you might like to factor in a rest day to explore the offshore attractions.
Please bear in mind that the distances each day are trail distances only. They do not take into account walking to your accommodation. On some days the accommodation might be on or close to the trail but on other days you may need to walk one or two miles to get to your overnight stop.
Our colleague Sarah walked the Northumberland Coast Path this summer. Read Sarah's article: Sand and Sea Breezes on the Northumberland Coast Path.
The Northumberland Coast Path
Warkworth to Berwick-Upon-Tweed 64 miles/103 km
We offer 3 itineraries on the Northumberland Coast Path. Choose from 4, 5 or 6 days walking, depending on how far you want to walk each day and how long you might want to spend exploring the castles along the way.
After spending your first night in Warkworth, we will transfer you to Cresswell to begin your walk.