Sea to Sea
The 144 mile Sea to Sea Cycle Route is probably the most popular and widely known long distance cycle route in Britain. Although the official route starts from the historic port of Whitehaven on the Irish Sea, our holiday starts a little further down the coast at St Bees. The route runs through the Northern Lake District and the Eden Valley before climbing into the hill country of the North Pennines and onto the roof of England with grand views of the Durham Dales. It finishes in Tynemouth, near Newcastle upon Tyne on the North East Coast.
The Sea to Sea is well waymarked and uses a mix of specially constructed cycle paths, off road tracks and minor roads, with the occasional busier road. There are many variations on the route, so you can choose to include some challenging mountain biking or simply stick to roads and cycleways.
It is recommended to cycle this route from west to east, to take advantage of the prevailing wind, but we can offer this route in reverse.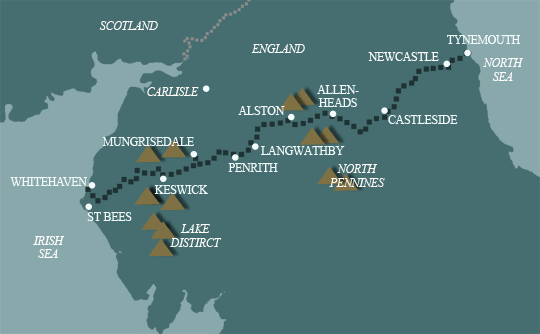 Our Holidays
We offer 2 itineraries along the Sea to Sea Cycle Route. Choose from 4 or 5 days cycling, depending on how far you want to cycle each day, and how much time you want to spend looking around the various towns and villages.
Sea to Sea
St Bees to Tynemouth 144 miles/232 km
We have 2 options for the Sea to Sea Cycle Route. Our 4 day itinerary is quite varied with daily distances ranging from 24 to 46 miles, while our 5 day itinerary takes things a little easier, never exceeding 38 miles.