South West Coast Path: South Devon
Our South Devon holidays are as diverse as they are delightful. Ahead of you are 125 miles of truly unforgettable coastline, bookended by Plymouth from where the Pilgrim Fathers departed for the New World in 1620, and Lyme Regis renowned for its World Heritage Jurassic Coast.
On your journey you'll enjoy idyllic coastal villages, golden surf-washed beaches and rocky headlands rewarding you with incredible views. Take time to soak up the atmosphere of the lively resorts on the English Riviera. Quiet time is guaranteed too as you pass through ancient woodlands and visit peaceful coves.
With its many National Nature Reserves and Sites of Special Scientific Interest the area is full of fascinating flora and fauna. Wildlife and birdlife are plentiful and you never know, you might spot some dolphins. Our South Devon holidays also let you explore sections of the Jurassic Coast where you can even have a go at fossil hunting. For those with an industrial interest, there are miles of Brunelian railway line, lighthouses, wartime defences and an ill-fated abandoned village.
However you choose to explore the South Devon Coast, either a full on fortnight for the entire route, or nice and steady over several visits, our holidays are sure to reward you with a lifetime of memories.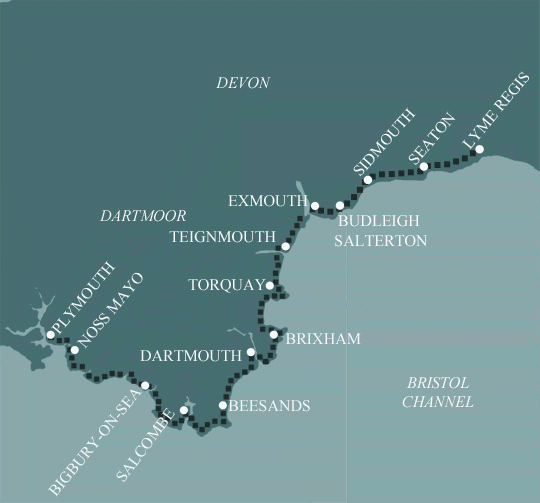 Our Holidays
The South West Coast Path is England's longest waymarked long-distance footpath and a National Trail. We have a range of walking holidays along the entire length of the South West Coast Path. All routes are well worth undertaking in their own right and you can take on each section separately until you've completed the whole path.
We offer 3 holidays walking between Plymouth and Lyme Regis on the South Devon section of the South West Coast Path. Firstly we have the 67 miles from Plymouth to Brixham. This is followed by the 28 miles from Brixham to Exmouth. Finally we have the 30 miles from Exmouth to Lyme Regis.
Please bear in mind that the distances each day are trail distances only. They do not take into account walking to your accommodation. On some days the accommodation might be on or close to the trail but on other days you may need to walk one or two miles to get to your overnight stop.
When considering walking on the South Devon Coast please be aware that this stretch of the coastal path has 6 separate ferry crossings as well as a river crossing that can only be achieved by wading through at low tide. It is therefore essential that you are confident in your ability and comfortable walking within a strict time frame. Ferry times and tide timetables will need to be adhered to. In the event of missing a ferry, or ferries not running, alternative methods of travelling round the estuaries will have to be adopted, including significant further walking, using public transport where available, or taking a taxi. With all this in mind, walking on the South Devon Coast is a thoroughly enjoyable and rewarding experience which should be entered into with a spirit of adventure.
Note on transfers: Many of the accommodations on the South West Coast Path operate a two night minimum policy, therefore when booking, you need to be prepared to be transferred to and from your accommodation on several nights of your holiday.
South Devon Coast Path: Plymouth to Brixham
Plymouth to Brixham 67 miles/108 km
We offer a 6 day walk between Brixham and Exmouth. This is a challenging and rewarding holiday along a stunning stretch of coastline. Be prepared to roll your trousers up!
South Devon Coast Path: Brixham to Exmouth
Brixham to Exmouth 28 miles/45 km
We offer 2 itineraries from Brixham to Exmouth. Choose from 2 or 3 days walking, depending on how far you want to walk each day. A contrasting coastline, combining the lively resorts of the English Riviera with the quiet of ancient woodlands.
South Devon Coast Path: Exmouth to Lyme Regis
Exmouth to Lyme Regis 30 miles/48 km
We offer 2 itineraries from Exmouth to Lyme Regis. Choose from 3 or 4 days walking, depending on how far you want to walk each day. Enter into the world famous Jurassic coastline.