Cotswold Way
The Cotswold Way is a long distance walk that runs for 102 miles (163km) from the medieval market town of Chipping Campden in the North Cotswolds, to the historic City of Bath. Following the western edge of the Cotswold Hills, the Cotswold Way route journeys through gently rolling, sheep-grazed pastures, stunning beech woodland, and dreamy, honey-coloured villages built from the delightfully warm Cotswold stone.
You will cross ancient commons in an Area of Outstanding Natural Beauty, pass Neolithic burial barrows, beautiful stately homes, and historic battle sites. The path along the escarpment twists and turns, affording ever-changing views to the west towards the River Severn and the Malvern Hills.
The Cotswolds countryside is a haven for wild flowers, birds and insects. In springtime expect to see cowslips and hope to see orchids. Carpets of bluebells colour the woodlands, sweet with the scent of lily of the valley. When walking through meadows, watch out for rare butterflies such as the adonis blue or the duke of burgundy and high above you'll spot the skylark and the red kite.
If it all sounds like a scene from a picture postcard, then it's because it is. Quite simply, it's incredibly idyllic, it's quintessentially English and it's an absolute delight to walk.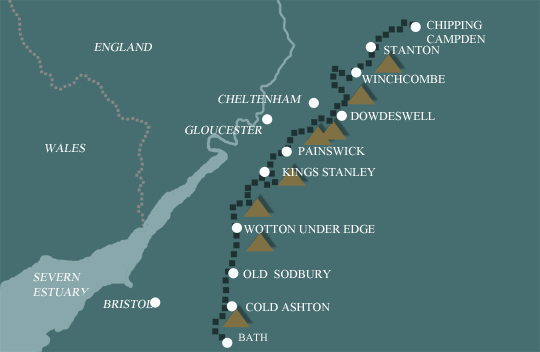 Our Holidays
We offer a range of walking holidays along the Cotswold Way. You can walk the whole route in anything from 6 to 11 days, or we offer the Northern and Southern sections as holidays in their own right.
Please bear in mind that the distances each day are trail distances only. They do not take into account walking to your accommodation. On some days the accommodation might be on or close to the trail but on other days you may need to walk one or two miles to get to your overnight stop.
The Cotswold Way
Chipping Campden to Bath 100 miles/161 km
We offer 6 itineraries covering the whole route. The longer the itinerary, the shorter the distances that you have to walk each day. The most popular options are the 8 and 9 day hikes across the Cotswold countryside.
Cotswold Way North: Escarpment and Villages
Chipping Campden to Painswick 47 miles/76 km
This northern section of the Cotswold Way follows the western edge of the Costwold Hills from Chipping Campden to Painswick
Cotswold Way South: Long Barrows and Baths
Painswick to Bath 56 miles/90 km
A walk along the southern section of the Cotswold Way through stunning woodlands and past ancient historical sites. A beautiful section of the trail that ends in the World Heritage City of Bath.