St Cuthbert's Way
St Cuthbert's Way threads its way through the quiet countryside of the Scottish Borders and Northumberland, joining together places associated with the 7th Century Saint. It begins in the market town of Melrose in the Scottish Borders and finishes on the Holy Island of Lindisfarne on the edge of the North Sea. In-between it takes in some beautiful countryside, including the banks of the River Tweed and the foothills of the Cheviot Hills, and visits important historic sites such as Dryburgh Abbey and St Cuthbert's Cave.
Starting in Melrose you will head through the Eildon Hills with great views of the surrounding countryside, before following the banks of the famous River Tweed. After a quick detour to the ruins of Dryburgh Abbey, you follow the course of Dere Street, an ancient Roman Road, before heading cross country to Kirk Yetholm, the end point of the Pennine way.
You will now head through the foothills of the remote and beautiful Cheviot Hills, and on to the sleepy market town of Wooler. As the coast draws near, you will visit St Cuthbert's Cave before descending to the unique tidal causeway which leads to Holy Island with its spectacular priory and castle.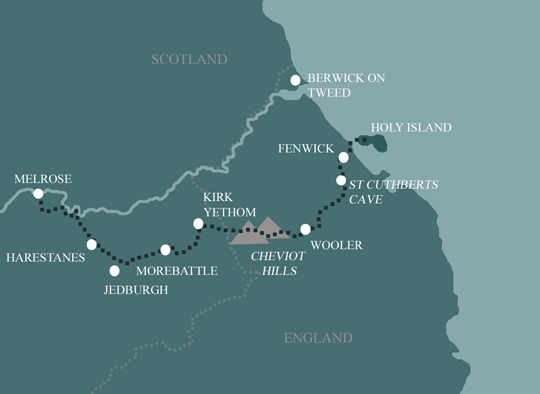 Our Holidays
We have 4 options available on St Cuthbert's Way. Choose from 4, 5, 6 or 7 days walking, depending on how far you'd like to walk each day and how much time you would like to have to soak up the sights and the history around you.
Please bear in mind that the distances each day are trail distances only. They do not take into account walking to your accommodation. On some days the accommodation might be on or close to the trail but on other days you may need to walk one or two miles to get to your overnight stop.
Our General Manager Tara has walked St Cuthbert's Way. Read Tara's article: In the Footsteps of a 7th Century Saint.
St Cuthbert's Way
Melrose to Lindisfarne 63 miles/101 km
We have 4 itineraries covering the whole route, from 4 days to 7 days walking with average daily distances ranging from 16 down to 9 miles. Our 4 day option has 2 quite lengthy 17 mile days while our 7 day option features 3 really comfortable days of just 6 miles.