Peddars Way and Norfolk Coast Path
The Peddars Way and the Norfolk Coast Path combine to make a very accessible 93 mile walk, taking in the very best of the Norfolk countryside and coastline.
The Peddars Way is an ancient road dating back to the Bronze Age, which was then developed into a military route in Roman times and was later used by pilgrims during the 15th century. The 45 mile route is for the most part straight and relatively flat, following mostly green lanes and tracks with some interesting archaeological sites along the way.
The Norfolk Coast Path follows the coastline for 45 miles from Hunstanton to Cromer. With interesting Victorian seaside towns, fishing villages, beautiful beaches and nature reserves with a wealth of bird life, there is plenty to see along this stunning stretch of coast.
The Norfolk coast is perhaps a little less renowned than many parts of the northern coast. As a consequence it is quieter and emptier, which in many ways adds to its attraction.
These are by their very nature, one countryside and one coastline, two very differing landscapes, but what they share in common is they are places of peace and tranquillity. Enjoy them as separate short breaks or combine them into one amazing adventure, either way you are guaranteed a truly memorable experience.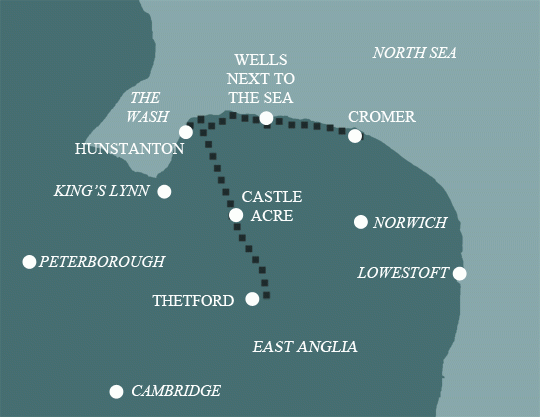 Our Holidays
We offer 3 holidays on the Peddars Way and Norfolk Coast Path. You can choose to walk the entire length of the route from 6 to 9 days walking depending on how far you want to go each day, and how much time you want to relax and soak up the views!
If you don't have the time to do the whole route we also offer the option of walking the Peddars Way or Norfolk Coast Path separately in either 3 or 4 days.
Please bear in mind that the distances each day are trail distances only. They do not take into account walking to your accommodation. On some days the accommodation might be on or close to the trail but on other days you may need to walk one or two miles to get to your overnight stop.
The Peddars Way: Knettishall Heath to Hunstanton
Thetford to Hunstanton 48 miles/77 km
The Peddars Way is a gentle 3 or 4 day walk through the Norfolk countryside with sweeping views over the surrounding farm and heathland. You will come across historic villages, walk on a roman road and follow a sculpture trail. The route is very straightforward with good signposting and easy paths. Castle Acre priory and castle are worth a visit as well as the Bailey Gate, this dates back to 1200 and the road into the village still leads through the gate today.
Norfolk Coast Path: Hunstanton to Cromer
Hunstanton to Cromer 45 miles/72 km
The coastal section of the route has the option of 3 or 4 days walking. With some great walking along beaches, through salt marshes and nature reserves, this is a great walk for nature lovers. An easy to follow path interspersed with quaint fishing villages and seaside towns with stalls selling fresh seafood along the way. We are also pleased to offer as a dog-friendly choice. Please select the codes ending with a D if you are interested in walking this route with your dog.
The Peddars Way and Norfolk Coast Path: Knettishall Heath to Cromer
Thetford to Cromer 93 miles/149 km
The full route can be undertaken in 6, 7 or 9 days depending on your pace and the amount of time you wish to look around. It is worth taking your time or adding in some rest days to visit the nature reserves along the coast and enjoy the peaceful beaches.