Sea to Sea
St Bees to Tynemouth in 4 Days Cycling Code: SS5
We have 2 options for the Sea to Sea Cycle Route. Our 4 day itinerary is quite varied with daily distances ranging from 24 to 46 miles, while our 5 day itinerary takes things a little easier, never exceeding 38 miles.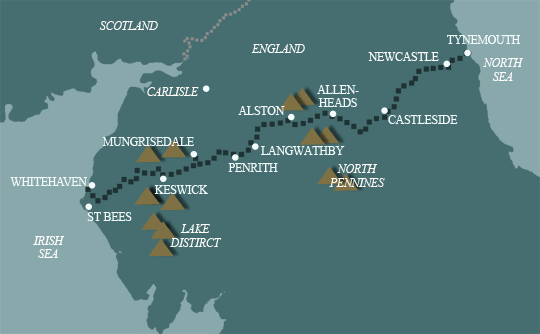 This 4 day itinerary gets the longest day out the way first, before settling into 2 really quite enjoyable distances followed by an easy final day.
| | | Miles | Km |
| --- | --- | --- | --- |
| Day 1 | Travel to St Bees for your first nights accommodation | | |
| Day 2 | St Bees to Mungrisdale | 46 | 74 |
| Day 3 | Mungrisdale to Alston | 38 | 61 |
| Day 4 | Alston to Castleside | 36 | 58 |
| Day 5 | Castleside to Tynemouth | 24 | 39 |
| Day 6 | Depart from Tynemouth after breakfast | | |
St Bees / Whitehaven to Mungrisdale
Following the Cumbria/Hadrian cycle route from St Bees to Whitehaven for the first 4 miles you will then pick up the Sea to Sea cycle route from Whitehaven, a pleasant sea port with an attractive town. For the next 10 miles the route follows the Whitehaven to Ennerdale Railway Path, a well surfaced traffic-free trail. The route then climbs fell sides, follows lake shores and goes through Whinlatter Forest Park onto Keswick, passing through some of Britain's most beautiful scenery.
On leaving Keswick we ride along the delightful Keswick to Threlkeld rail trail, deep in the gorge of the river Greta. From Threlkeld the route skirts the slopes of Blencathra, one of Cumbria's most distinctive mountains, en route for the hamlet of Mungrisdale.
Mungrisdale to Alston
From here the route continues on cycle paths and lanes through the fringes of the Lake District to the market town of Penrith. (There is an alternative off road route across the Old Coach Road over Threlkeld Common, but this is not suitable for heavily laden bikes).
This section is the most mountainous of the entire route, with a long climb up Hartside Pass into the North Pennines known as England's Last Wilderness. This is a huge, wild, upland area characterised by open moorlands with plenty of wildlife, taking you to Alston, tonight's accommodation.
Alston to Castleside
Starting with a climb up Black Hill, the highest point on the Sea to Sea route, then onto the old mining village of Allenheads. This section marks the end of the rough, hilly terrain of the Northern Pennines and the start of the industrial landscape of the north east. Although most of the route between Allenheads and Castleside is on lanes, the traffic is relatively light allowing you to enjoy the wild grandeur of the moorlands.
Castleside to Tynemouth
Between Castleside and Newcastle the route travels mainly on cycle paths alongside the river Tyne into Newcastle upon Tyne and onto your final destination north pier, Tynemouth, where this ride finishes.



Moderate
Roads: The roads are generally good, suitable for touring or road bikes. Most of the route is on quiet roads with about a third of the route on traffic free paths.
How Much Up & Down: A flat start, then a 200 meter climb up Whinlatter pass. The route then undulates until the sustained climb up Hartside, topping out at 756 meters high. You stay high with a few more climbs before descending down to the Newcastle area.
Signposting: The route is signposted.
Weather: You may be lucky enough to encounter warm, dry weather over the whole route and enjoy dry roads and tremendous views, but you must be prepared because the weather can change quickly. Good clothing and waterproofs are essential.
Accommodation
Overnight Bed and Breakfast accommodation in selected hotels, farmhouses, village inns, guest houses and family B&Bs.

Full English or Continental breakfast.

Guidebook
A detailed guidebook with route information, maps, photos and background information, including details of services to be found along the route. For example, cash points, banks, post offices, village shops, inns, cafes and telephones.
Maps
The appropriate map(s) covering the entire route
Personal Itinerary
A personal itinerary setting out each overnight stop, including large scale maps of each accommodation, to ensure you find it easily.
Emergency Telephone Support
Should you get in to difficulties during your holiday.
12.5% discount at Cotswold Outdoors
We will issue you with a 12.5% Discount Card valid at all Cotswold Outdoor stores for the whole year on confirmation of your booking.

Options

Luggage Transport
We will transfer your luggage between each overnight stop – if you leave your luggage at the accommodation when you set off in the morning, it will be moved on to your next B&B. You only need to carry a small day sack with the clothes and provisions you require during the day's cycling.

Packed Lunches

Provided for each day's cycling if required.
Off Road Parking
If you are travelling by car we can usually arrange off road parking for the duration of your trip. (There may be a small charge for this).
Arrangement of return transport
We can also arrange your transfer back to your car, (or advise you when public transport is a better option).
Good accommodation and friendly hosts are an essential part of any holiday. We understand this and go out of our way to find the best. We put a great deal of effort into hand picking our accommodation and matching it to individual customer requirements. As well as visiting the accommodation ourselves, we ask all our customers to complete a short evaluation on each night's accommodation, which then gives us an insight into the day-to-day operation and lets us spot any potential issues before they become a problem.
We use a variety of accommodation, including small country house hotels, guest houses in market towns, bed and breakfasts in farm houses, country cottages and Victorian town houses. In selecting the accommodation we look for helpful, friendly hosts with good quality, characterful accommodation close to the trail. For example, over the course of your trip you might stay in a village inn, a bed and breakfast in a converted barn, a Victorian guest house, on a working farm, and in a Georgian hotel.
We always try to arrange en suite accommodation, i.e. rooms with their own bathrooms for each night of your stay. However, in some of the more remote locations accommodation is limited and occasionally we may have to book rooms with shared bathrooms for one or two nights of your holiday, (especially if the booking is made at short notice), but we will always let you know if this is likely to be the case.
We are happy to book single rooms on our holidays but cannot normally book more than 2 for any one group. Single room bookings include a supplement.
General travel information for the Sea to Sea Cycle route will be in your holiday pack including train and bus timetables where available.
Detailed instructions on getting to your first night's accommodation from the nearest train or bus station, will also be included in the holiday pack on individual accommodation maps.
To view train times please visit trainline where you can also purchase tickets in advance. For information on bus timetables please visit traveline
If you require secure car parking whilst walking this route, please contact us for detailed information.
Getting There:
By Air: Your nearest international airports are Manchester (MAN) and Newcastle (NCL) you can then take a train to St Bees.
By Public Transport: There is a train station in St Bees Village (SBS). Most train journeys will pass through Carlisle (CAR) where you will need to change for St Bees.
By Road: St Bees is on the Cumbrian coast approximately an hour's drive from junction 40 on the M6. From the M6 you follow the A66 then the A595.

Returning from Tynemouth
Take the Metro from Tynemouth to Newcastle Central Station (you will need some change for the ticket machine). Newcastle is on the East Coast Mainline and has a Metro link to Newcastle Airport (NCL).
No recommended rest days available for this holiday
Prices

GBP (£)

Accommodation, map & guidebook only
£626
with Luggage Transport
£730
with Packed Lunches
£670
with Luggage & Lunches
£769

Other Options

Extra Nights (per night)
£90
Single Supplement (per night)
£58
Solo Luggage Supplement (per day)
£26