Sea to Sea
St Bees to Tynemouth in 5 days Cycling Code: SS6
We offer 4 holidays along the whole Sea to Sea Cycle Route. The long distance cycle ride is well waymarked and there are many variations on the route, so it can include some challenging mountain biking or just roads and cycleways. You will require a good level of fitness and a good touring bike to complete the route over 2 or 3 days, the shorter holidays are for the more serious cyclist.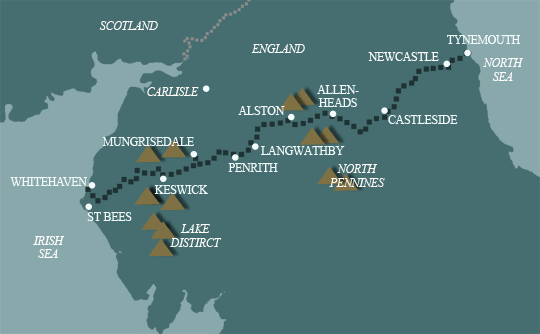 The 144 mile Sea to Sea Cycle Route is probably the most popular and widely known long distance cycle route in Britain. It starts in Whitehaven (we use St Bees), running through the northern Lake District, it then climbs into the hill country of the North Pennines and onto the roof of England with grand views of the Durham Dales. It finishes in Tynemouth on the North sea coast.
The route is well waymarked and there are many variations on the route, so it can include some challenging mountain biking or just roads and cycleways.
Of all our Sea to Sea cycling holidays this is the longest holiday, covering the whole route in 5 days. You will require a good level of fitness and a good touring bike.
| | | Miles | Km |
| --- | --- | --- | --- |
| Day 1 | Travel to St Bees for your first nights accommodation | | |
| Day 2 | St Bees to Keswick | 38 | 61 |
| Day 3 | Keswick to Penrith | 22 | 35 |
| Day 4 | Penrith to Alston | 24 | 39 |
| Day 5 | Alston to Castleside | 36 | 58 |
| Day 6 | Castleside to Tynemouth | 24 | 39 |
| Day 7 | Depart from Tynemouth after breakfast | | |
St Bees – Whitehaven – Keswick
Following the Cumbria/Hadrian cycle route from St Bees to Whitehaven for the first 4 miles you will then pick up the Sea to Sea cycle route from Whitehaven, a pleasant sea port with an attractive town. For the next 10 miles the route follows the Whitehaven to Ennerdale Railway Path, a well surfaced traffic-free trail. The route then climbs fell sides, follows lake shores and goes through Winlatter Forest Park onto Keswick, passing through some of Britain's most beautiful scenery.
Keswick – Langwathby
On leaving Keswick we ride along the delightful Keswick to Threlkeld rail trail, deep in the gorge of the river Greta. From Threlkeld the route skirts the slopes of Blencathra, one of Cumbria's most distinctive mountains, en route for the hamlet of Mungrisdale. Then your journey continues through the fringes of the Lake District to the market town of Penrith and the village of Langwathby in the Eden Valley for your overnight stay.
Langwathby – Alston
Starting with a long, steep climb up Hartside Pass into the north Pennines, England's last wilderness and riding over Black Hill, at 609 meters, you will then arrive at Alston which is today's destination.
Alston – Castleside
You have now completed the mountainous part of the route and can now look forward to some downhill pedalling! The route travels on the Waskerley Way which is a level and largely well-surfaced dedicated cycle trail that brings you to Castleside just outside Consett, which is today's destination.
Castleside – Tynemouth
From Castleside to Newcastle the route travels mainly on cycle paths alongside the river Tyne into Newcastle upon Tyne and onto your final destination, north pier at Tynemouth, where this ride finishes.



Moderate
There are several rocky sections along this route which should be easy enough to tackle for most reasonably fit people. Goat Fell has a sheer drop on one side on the descent and a river crossing via stepping stones, this can be avoided in bad weather or for people with vertigo by taking the low route. The paths along the shore are not always clear but as the route follows the coast it is hard to get lost. As some sections are impassable at high tide it is important to check the tides before setting off. If in doubt use the alternative routes.
Terrain: A coastal path with a mostly rocky shoreline, some road sections (not very busy) and forest tracks. Depending on the tide the route can be sandy or shingly with some boulder fields that are slow going and can be tiring. Consider an itinerary with shorter days than you would normally choose to allow for this.
What's it like underfoot? A mixture of road, rocky shoreline (which can be slippery after high tide or in wet weather) forest tracks and some constructed paths. A few sections may be muddy after heavy rain.
How Much Up & Down? Mostly flat, apart from the Goat Fell option which involves a climb of 874 meters (there is a get out at 630 meters). The alternative forest route between Lagg and Whiting Bay rises up to 250 meters.
Signposting: There is little signposting on the route.
Navigation: A compass is required if you do the Goat Fell section – the map is sufficient for the coastal paths.
Weather: You may be lucky enough to encounter warm, dry weather over the whole route and enjoy dry paths and tremendous views, but you must be prepared because the weather can change quickly. Good clothing and waterproofs are essential, but don't forget your sunhat, sunblock and shorts!
Accommodation
Overnight Bed and Breakfast accommodation in selected hotels, farmhouses, village inns, guest houses and family B&Bs.

Full English or Continental breakfast.

Guidebook
A detailed guidebook with route information, maps, photos and background information, including details of services to be found along the route. For example, cash points, banks, post offices, village shops, inns, cafes and telephones.
Maps
The appropriate map(s) covering the entire route
Personal Itinerary
A personal itinerary setting out each overnight stop, including large scale maps of each accommodation, to ensure you find it easily.
Emergency Telephone Support
Should you get in to difficulties during your holiday.
15% discount at Cotswold Outdoors
We will issue you with a 15% Discount Card valid at all Cotswold Outdoor stores for the whole year on confirmation of your booking.

Options

Luggage Transport
We will transfer your luggage between each overnight stop – if you leave your luggage at the accommodation when you set off in the morning, it will be moved on to your next B&B. You only need to carry a small day sack with the clothes and provisions you require during the day's cycling.

Packed Lunches

Provided for each day's cycling if required.
Off Road Parking
If you are travelling by car we can usually arrange off road parking for the duration of your trip. (There may be a small charge for this).
Arrangement of return transport
We can also arrange your transfer back to your car, (or advise you when public transport is a better option).
Good accommodation and friendly hosts are an essential part of any holiday. We understand this and go out of our way to find the best. We put a great deal of effort into hand picking our accommodation and matching it to individual customer requirements. As well as visiting the accommodation ourselves, we ask all our customers to complete a short evaluation on each night's accommodation, which then gives us an insight in to the day-to-day operation, and lets us spot any potential issues before they become a problem.
We use a variety of accommodation, including small country house hotels, guest houses in market towns, bed and breakfasts in farm houses, country cottages and Victorian town houses. In selecting the accommodation we look for helpful, friendly hosts with good quality, characterful accommodation close to the trail. For example, over the course of your trip you might stay in a village inn, a bed and breakfast in a converted barn, a Victorian guest house, on a working farm, and in a Georgian hotel.
We always try to arrange en suite accommodation, i.e. rooms with their own bathrooms for each night of your stay. However, in some of the more remote locations accommodation is limited and occasionally we may have to book rooms with shared bathrooms for one or two nights of your holiday, (especially if the booking is made at short notice), but we will always let you know if this is likely to be the case.
General travel information for the Sea to Sea Cycle route will be in your holiday pack including train and bus timetables where available.
Detailed instructions on getting to your first night's accommodation from the nearest train or bus station, will also be included in the holiday pack on individual accommodation maps.
To view train times please visit www.nationalrail.co.uk where you can also purchase tickets in advance. For information on bus timetables please visit www.traveline.info
If you require secure car parking whilst walking this route, please contact us for detailed information.
Getting There:
By Air: Your nearest international airports are Manchester (MAN) and Newcastle (NCL) you can then take a train to St Bees.
By Public Transport: There is a train station in St Bees Village (SBS). Most train journeys will pass through Carlisle (CAR) where you will need to change for St Bees.If travelling on a Sunday take the train to Whitehaven, from where it is a 3 mile journey to St Bees.
By Road: St Bees is on the Cumbrian coast approximately an hour's drive from junction 40 on the M6. From the M6 you follow the A66 then the A595.

Returning from Tynemouth
Take the Metro from Tynemouth to Newcastle Central Station (you will need some change for the ticket machine). Newcastle is on the East Coast Mainline and has a Metro link to Newcastle Airport (NCL).
Keswick
Keswick is a bustling market town centred around the historic Moot Hall, with a vast array of outdoor shops – if you need any outdoor gear, you will get it here! There is a wide choice of places to eat or have a coffee, and a range of galleries to visit. Enjoy one of the easy, short walks down to the lakeshore from where there is a regular launch service around Derwentwater. Or pop into our offices to say hello or book your next holiday!
Prices

GBP (£)

Accommodation, map & guidebook only
£491
with Luggage Transport
£601
with Packed Lunches
£528
with Luggage & Lunches
£634

Other Options

Extra Nights (per night)
£60
Single Supplement (per night)
£30
Solo Luggage Supplement (per day)
£18