The Thames Path East: Marlow to Richmond upon Thames
Marlow to Richmond upon Thames in 3 Days Walking Code: TPE4
We offer 2 itineraries on the eastern section of the Thames Path. Choose from 3 or 5 days walking. Starting in Marlow and finishing in Richmond upon Thames, with Eton and Windsor in the middle, there is plenty to see and do on this part of the walk. You might consider adding a rest day in Windsor to look around Windsor Castle, or one at the end in Richmond to allow you the time to visit the nearby Kew Botanical Gardens.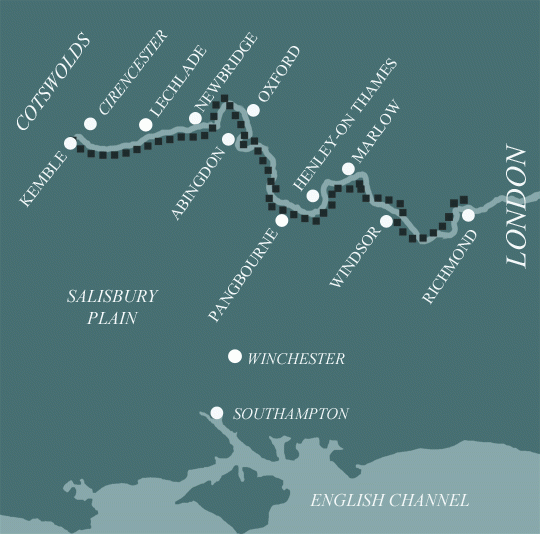 A short break on the eastern section of the walk. A great option for a long weekend if you are based near London.
| | | Miles | Km |
| --- | --- | --- | --- |
| Day 1 | Travel to Marlow for your first nights accommodation | | |
| Day 2 | Marlow to Eton / Windsor | 14 | 23 |
| Day 3 | Eton / Windsor to Weybridge | 14 | 23 |
| Day 4 | Weybridge to Richmond upon Thames | 15 | 24 |
| Day 5 | Depart from Richmond upon Thames after breakfast | | |
Marlow to Windsor
A beautiful stretch of the river today with open land, wooded slopes on the opposite banks and grand homes. On leaving Marlow you pass a small section with no tow path, where towing horses use to have to be led along a very difficult route along seven corner alleys. Continue on past a mini-castle with turrets and battlements, Bourne End; an area popular for dinghy sailing to Cookham. As you walk through Cookham look out for a large sarsen block called the Tarry stone and is said to be an original meeting place for the local 'Olympics', the centre of the home territory of the terrifying ghost Herne the Hunter, said to hold special powers which allegedly cursed a local family after they moved the stone. Pass a slight diversion as the river splits into 4 channels and further along the beach tree covered hill of the Cliveden Estate on the opposite side of the river and the hustle and bustle of Boulter's Lock and Maidenhead. Before reaching Windsor the path passes Dorney lake which is part of Eton college and the home to rowing, flat water and slalom canoeing and kayaking in the 2012 Olympics before continuing on to see Windsor castle towering over the town.
Windsor to Shepperton
This section is varied and passes through Runnymede, an area with a wealth of historic and symbolic significance which highlights the importance played by the Thames. Although the river is now getting closer to London you still get to enjoy a considerable amount of green space before you hit Shepperton. As you leave Windsor enjoy the distant back drop of Windsor Castle as you cross parklands past Datchet to Runnymede. Somewhere, here in Runnymede meadow is where King John in 1215 set his seal on the Magna Carter which still forms an important symbol of liberty today. In remembrance a memorial was built in 1957 at the foot of Cooper's Hill. There are also two additional memorials here; The Air Force Memorial unveiled in 1953 by the Queen for the 20,456 airmen who lost their lives in World War II and have no known grave. The other for John F Kennedy was unveiled in 1965. On the opposite bank is the Ankerwycke ancient yew close to the ruins of St Mary's priory is said to have both witnessed the signing of the Magna Carta and been where Henry VIII & Anne Boleyn met in the 1530's. The path passes Penton Hook island, a wildlife haven and perhaps the most impressive loop on the Thames which can be explored by crossing the lock gates and main weir. Enjoy some of the last open meadowlands before you get to Chertsey Meads.
Chertsey to Richmond upon Thames
The last country walking section of the non-tidal part of the Thames path is rife with reservoirs. It is the last non-tidal stretch of the Path as beyond Teddington Lock the River Thames is tidal. The last day to Richmond has two options, the north or the south bank. Most people choose the south bank as the north bank is longer by three miles and not as pleasant and green as the south bank. The walk along the south bank heads for Teddington Lock and continues on to Ham Lands Nature Reserve and Petersham Meadows. You will see an enormous building on top of Richmond Hill called the Star and Garter Homes, this was constructed during the first world war to house injured soldiers. It is worth a walk up to Richmond Hill for its fine views over the river Thames as immortalised by JMW Turner.


Easy to Moderate
Of the National trails we cover, this is one of the easiest. It is a gentle trail which is suitable for people with a wide range of abilities. The route journeys across obvious broad promenades to grassy paths.
Terrain: Mostly flat with well defined paths.
What's it like underfoot? You may be walking on an obvious trail, path or pavement and occasionally on a path across a field just visible in the grass. The terrain when dry is often compact and easy going, however, when wet it can be muddy in sections.
How much up and down? If you start at the source the route spends the majority of the walk losing height. After you pass through Goring Gap there is a short climb up the chalk hills and steep descent to negotiate at Coombe Park before you reach Pangbourne.
Signposting: Good signposting, signs are marked with a white acorn to indicate the National Trail.
Navigation: Pretty straightforward, keep your map and guidebook to hand.
| | |
| --- | --- |
| All Holidays | |
| Accommodation | Overnight Bed and Breakfast accommodation in selected hotels, farmhouses, village inns, guest houses and family B&Bs.Full English or Continental breakfast. |
| Guidebook | A detailed guidebook with route information, maps, photos and background information. |
| Information of Services Along the Route | A comprehensive Service Info sheet, including services such as cash points, banks, post offices, village shops, inns, cafes and taxis. |
| Maps | A waterproof 1:60,000 map from Harvey Maps covering the whole route. |
| Personal Itinerary | A personal itinerary setting out each overnight stop, including large scale maps of each accommodation, to ensure you find it easily. |
| Emergency Telephone Support | If you get in to difficulties during your holiday, we are always available to help, even out of office hours. |
| 12.5% discount at Cotswold Outdoors | We will issue you with a 12.5% Discount Card valid at all Cotswold Outdoor stores, and online, for the whole year on confirmation of your booking. |
| Options | |
| Luggage Transport | We will transfer your luggage between each overnight stop – if you leave your luggage at the accommodation when you set off in the morning, it will be moved on to your next B&B. You only need to carry a small day sack with the clothes and provisions you require during the day's walk. |
| Packed Lunches | Provided for each day's walking and recommended on this holiday as there will not always be a handy shop or cafe on the route. |
| Off Road Parking | If you are travelling by car we can usually arrange off road parking for the duration of your trip. (There may be a small charge for this). |
| Arrangement of return transport | We can also arrange your transfer back to your car, (or advise you when public transport is a better option)! |
| What's not Included | |
| Evening Meals | Your evening meal isn't included in the package, but we include full details and recommendations for each evening meal in your itinerary. You will normally be within walking distance of a pub and/or restaurant, or where there is good food available at the accommodation, we'll book that for you. Allow about £20.00 per night. |
| Transport to the Start & Away from the Finish | Have a look at the "Travel Info" tab above for suggestions. If you're still struggling, get in touch and we'll help you sort it out. |
| Travel Insurance | Even if you are based in the UK travel insurance is worth having. |
Good accommodation and friendly hosts are an essential part of any holiday. We understand this and go out of our way to find the best. We put a great deal of effort into hand picking our accommodation and matching it to individual customer requirements. As well as visiting the accommodation ourselves, we ask all our customers to complete a short evaluation on each night's accommodation, which then gives us an insight into the day-to-day operation and lets us spot any potential issues before they become a problem.
We use a variety of accommodation, including small country house hotels, guest houses in market towns, bed and breakfasts in farm houses, country cottages and Victorian town houses. In selecting the accommodation we look for helpful, friendly hosts with good quality, characterful accommodation close to the trail. For example, over the course of your trip you might stay in a village inn, a bed and breakfast in a converted barn, a Victorian guest house, on a working farm, and in a Georgian hotel.
We always try to arrange en suite accommodation, i.e. rooms with their own bathrooms for each night of your stay. However, in some of the more remote locations accommodation is limited and occasionally we may have to book rooms with shared bathrooms for one or two nights of your holiday, (especially if the booking is made at short notice), but we will always let you know if this is likely to be the case.
We are happy to book single rooms on our holidays but cannot normally book more than 2 for any one group. Single room bookings include a supplement.
General travel information for the Thames Path walk will be in your holiday pack.
Detailed instructions on getting to your first night's accommodation by car, or on foot from the nearest train or bus station, will also be included in the holiday pack on individual accommodation maps.
To view train times please visit trainline where you can also purchase tickets in advance. For information on bus timetables please visit traveline
If you require secure car parking whilst walking this route, please contact us for information.
Getting There:
By Air: The nearest airport is Heathrow. Public transport from Heathrow: Train to Hayes and Harlington, change for Maidenhead then Marlow (2 hours).
By Public Transport:
By train: There is a train station at Marlow. From London travel from Paddington station to Marlow, change at Maidenhead (1 hour).
By Road: From the north take the M40 to exit 4, follow Wycombe Road to Marlow. From London M4 to Windsor and Maidenhead then A404 to Marlow.
Leaving from Richmond:
To return to Kemble: make your way to Richmond station, train to Kemble, change at Reading ( 2.15 hours).
For all other destinations, go to Richmond station for onward travel.
Eton / Windsor
There is plenty to see and do on a rest day in Windsor. There is of course Windsor Castle, you may be lucky and be there on a day when the changing of the guard takes place, you can find out more via: Changing of the guard
It is easy to while away the day in the beautiful gardens Cliveden and the Savill Garden. You could finish off the day with a visit to Dorney Court, a 15th century Tudor Manor House and gardens.
Richmond upon Thames
We would recommend a rest day in Richmond to allow you the time to visit the spectacular Kew Gardens. You can easily while away a day in these famous botanic gardens. Visit the largest Victorian glasshouse in the world and wander around the extensive grounds with its multitude of exotic trees and plants. The largest Royal park in London, Richmond Park, is also close by with free roaming deer and extensive woodlands. For the hustle and bustle of the city you are only a short tube ride away from central London with its many museums, galleries and attractions.
Prices

GBP (£)

Accommodation, map & guidebook only
£580
with Luggage Transport
£658
with Packed Lunches
£613
with Luggage & Lunches
£687

Other Options

Extra Nights (per night)
£90
Single Supplement (per night)
£63
Solo Luggage Supplement (per day)
£26