Coastline & Castles - St Oswald's Way Coastal Highlights
Lindisfarne to Warkworth in 3 Days Walking Code: SOC4
If you've only got 4 or 5 days to spare, the coastal section of St Oswald's Way is not to be missed. After a section inland near Lindisfarne, it follows the stunning, unspoilt Northumberland coastline from Bamburgh to Warkworth. Walking along paths and tracks, over farmland, sand dunes and cliff tops, you will get superb views of imposing castles, spectacular geology, beautiful beaches, and a wealth of bird and animal life.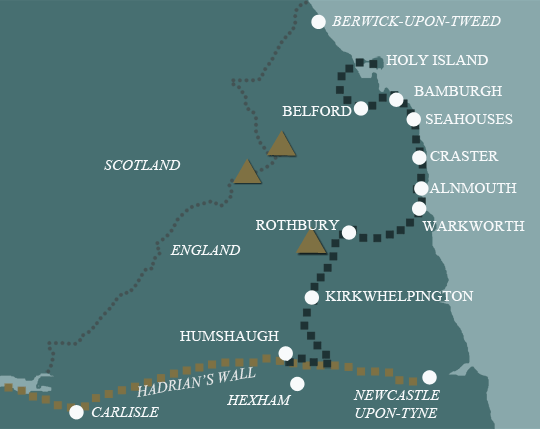 This is the shortest St Oswald's Way itinerary. If you're a fit walker, with limited time available to explore this beautiful section of the Northumberland coast, this is the one for you.
| | | Miles | Km |
| --- | --- | --- | --- |
| Day 1 | Travel to Lindisfarne for your first nights accommodation | | |
| Day 2 | Lindisfarne to Bamburgh | 19 | 31 |
| Day 3 | Bamburgh to Howick | 17 | 27 |
| Day 4 | Howick to Warkworth | 11 | 18 |
| Day 5 | Depart from Warkworth after breakfast | | |
Lindisfarne to Seahouses
Your walk starts on the island of Lindisfarne, one of the most important early centres of Christianity in England. You cross the Holy Island Causeway to the mainland, and head inland. Walking on easy tracks and through woodland, you reach the old market town of Belford, perhaps stopping en route for a detour to visit St Cuthbert's Cave. Heading east, you meet the sea again at Bamburgh, King Oswald's capital, with one of the finest castles in the UK.
If the tide is out you can walk all the way to Seahouses along the beach. Otherwise, you get there by following tracks and lanes slightly inland, with views of the Farne Islands and Longstone Lighthouse, from where Grace Darling and her father carried out the famous rescue in 1838.
Seahouses to Warkworth
After Seahouses, the route follows some of the most spectacular coastline in Britain. You pass Beadnell, with its tiny harbour and imposing lime kilns, then the magnificent ruins of Dunstanburgh Castle. Just beyond there is the fishing village of Craster, famous for its kippers, then further south again is Alnmouth, boasting one of the oldest golf courses in England. A walk through coastal dunes, with splendid views of Coquet island, brings you to the historic market town of Warkworth, with its imposing 12th century castle and links with the Percy family.


Easy to Moderate
The route starts on the coastal path, along beaches and dunes, before turning inland through rolling countryside and moorlands. If you are a regular walker this route should be within your capability.
Terrain: A walk of two halves – the coastal path is pretty straightforward. If you walk on the beaches stick to the more firm, sea washed sand. Once you turn inland the route follows tracks, paths and lanes along the River Coquet, then southwards over moorlands, forests, and fields.
What's it like underfoot? On the whole the paths are well defined and maintained, but at times the countryside section can encounter some muddy paths, so good footwear is essential.
How Much Up & Down? There is a climb of 300m (1000ft ) after Rothbury, and a smaller one of 150m (500ft) between Lindisfarne and Belford. Otherwise pretty flat along the coastal section and rolling countryside, with small climbs inland.
Signposting: Generally good.
Navigation: Pretty straightforward, but you do go through some remote countryside, so make sure you can read your map.
All Holidays

 
Accommodation
Overnight Bed and Breakfast accommodation in selected hotels, farmhouses, village inns, guest houses and family B&Bs.Full English or Continental breakfast.
Information of Services Along the Route
A comprehensive Service Info sheet, including services such as cash points, banks, post offices, village shops, inns, cafes and taxis.
Maps
A waterproof map from Harvey Maps covering the whole route.
Personal Itinerary
A personal itinerary setting out each overnight stop, including large scale maps of each accommodation, to ensure you find it easily.
Emergency Telephone Support
If you get in to difficulties during your holiday, we are always available to help, even out of office hours.
12.5% discount at Cotswold Outdoors
We will issue you with a 12.5% Discount Card valid at all Cotswold Outdoor stores, and online, for the whole year on confirmation of your booking.

Options

Luggage Transport
We will transfer your luggage between each overnight stop – if you leave your luggage at the accommodation when you set off in the morning, it will be moved on to your next B&B. You only need to carry a small day sack with the clothes and provisions you require during the day's walk.
Packed Lunches

Provided for each day's walking and recommended on this holiday as there will not always be a handy shop or cafe on the route.
Off Road Parking
If you are travelling by car we can usually arrange off road parking for the duration of your trip. (There may be a small charge for this).
Arrangement of return transport
We can also arrange your transfer back to your car, (or advise you when public transport is a better option)!

What's not Included

Evening Meals
Your evening meal isn't included in the package, but we include full details and recommendations for each evening meal in your itinerary. You will normally be within walking distance of a pub and/or restaurant, or where there is good food available at the accommodation, we'll book that for you. Allow about £20.00 per night.
Transport to the Start & Away from the Finish
Have a look at the "Travel Info" tab above for suggestions. If you're still struggling, get in touch and we'll help you sort it out.
Travel Insurance
Even if you are based in the UK travel insurance is worth having.
Good accommodation and friendly hosts are an essential part of any holiday. We understand this and go out of our way to find the best. We put a great deal of effort into hand picking our accommodation and matching it to individual customer requirements. As well as visiting the accommodation ourselves, we ask all our customers to complete a short evaluation on each night's accommodation, which then gives us an insight into the day-to-day operation and lets us spot any potential issues before they become a problem.
We use a variety of accommodation, including small country house hotels, guest houses in market towns, bed and breakfasts in farm houses, country cottages and Victorian town houses. In selecting the accommodation we look for helpful, friendly hosts with good quality, characterful accommodation close to the trail. For example, over the course of your trip you might stay in a village inn, a bed and breakfast in a converted barn, a Victorian guest house, on a working farm, and in a Georgian hotel.
We always try to arrange en suite accommodation, i.e. rooms with their own bathrooms for each night of your stay. However, in some of the more remote locations accommodation is limited and occasionally we may have to book rooms with shared bathrooms for one or two nights of your holiday, (especially if the booking is made at short notice), but we will always let you know if this is likely to be the case.
We are happy to book single rooms on our holidays but cannot normally book more than 2 for any one group. Single room bookings include a supplement.
General travel information on St Oswald's Way area will be in your holiday pack including train and bus timetables where available.
Detailed instructions on getting to your first night's accommodation by car, or on foot from the nearest train or bus station, will also be included in the holiday pack on individual accommodation maps.
To view train times please visit trainline where you can also purchase tickets in advance. For information on bus timetables please visit traveline
To the start of the trail – Holy Island/Lindisfarne:
By Air: The nearest International Airport to the trail is Newcastle. There is a Tyne & Wear Metro station at Newcastle Airport with frequent services to Newcastle Central Station (journey time approx. 30 min).
By Public Transport: The most convenient railway station for Holy Island (Lindisfarne) is Berwick-upon-Tweed. Berwick station (BWK) is located on the East Coast Main Line with hourly trains between London Kings Cross, Newcastle and Edinburgh.
From Berwick-upon-Tweed: Border Buses service 477 runs between Berwick station and Holy Island although the times and frequency vary considerably according to the tides and safe crossing times (journey time approx. 35 min). For up to date bus timetables, visit the Border Buses website
Alternatively, you may wish to make the journey by taxi but again this will be restricted by the tides (journey time approx. 35 min). There is a taxi rank at Berwick station. We can provide you with taxi company numbers if you wish to pre-book.
By Road: Holy Island (Lindisfarne) is located just off the A1 trunk road between Alnwick and Berwick-upon-Tweed. Please note that the Island is only accessible across a causeway at low tide. Details of the safe crossing times can be found here. We also supply details about the safe crossing times during your stay in your holiday pack.
You must take note of the safe crossing times and plan your journey accordingly – do not attempt to cross the causeway at any other time as the tides come in very rapidly and the journey across can become very dangerous.
From the end of the trail (Warkworth):
By Public Transport: The most convenient railway station for Warkworth is Alnmouth. Alnmouth station (ALN) is located on the East Coast Main Line with hourly trains between London Kings Cross, Newcastle and Edinburgh. There is no taxi rank at this station.
From Alnmouth Station: Arriva Northumbria bus service X18 runs between Alnmouth station and Warkworth hourly (journey time approx. 20 mins). Alternatively, you may wish to make the journey by taxi (journey time approx. 35 mins).We can provide you the number of the local taxi comapny if required.
By Road: Warkworth is located just off the A1(T) on the A1068 coast road between Amble and Alnwick and is well signposted.
From the North: Follow the A1(T) out of Newcastle towards Berwick-upon-Tweed. After crossing the bridge over the River Coquet, follow signs for B6345 Amble. Once in Amble, turn left onto A1068 to Warkworth.
From the South: Follow the A1(T) out of Berwick-upon-Tweed towards Newcastle. Leave the A1(T) at Alnwick to follow the A1068 to Alnmouth then on to Warkworth.
Lindisfarne
The Holy Island of Lindisfarne is an excellent place for a rest day. Because the Island is only accessible across its tidal causeway, you may be restricted by the tide times and not have sufficient time to visit all that it has to offer before your departure. As well as its historic attractions of the Castle and Priory, Holy Island is situated at the heart of the Lindisfarne National Nature Reserve. Please check the Lindisfarne Castle website for current opening times.
Warkworth
In addition to its 12th century church and magnificent castle, the ancient village of Warkworth boasts a variety of artisan shops. It's also just a stone's throw from Amble, where you can take a boat trip out to Coquet Island, home to 40,000 nesting sea birds such including puffins, rare roseate terns, kittiwakes and eider ducks.
Prices

GBP (£)

Accommodation, map & guidebook only
£528
with Luggage Transport
£576
with Packed Lunches
£561
with Luggage & Lunches
£606

Other Options

Extra Nights (per night)
£90
Single Supplement (per night)
£58
Solo Luggage Supplement (per day)
£16