Rob Roy Way Highlights
Aberfoyle to Pitlochry in 6 Days Walking Code: RWA7
A slightly shorter route starting a little further north in Aberfoyle. The 5 day option begins with a 19 mile day. The 6 day option splits this section into more comfortable 10 and a 9 mile days.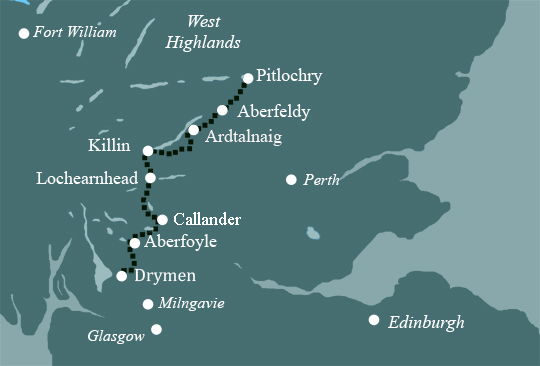 Starting in Aberfoyle this is a slightly shorter walk than the full Rob Roy Way but allows walkers to enjoy the scenery and wildlife in a more manageable time. The distances aren't too long but you do need to be fit and a regular walker to enjoy this walk.
| | | Miles | Km |
| --- | --- | --- | --- |
| Day 1 | Travel to Aberfoyle for your first nights accommodation | | |
| Day 2 | Aberfoyle to Callander | 10 | 16 |
| Day 3 | Callander to Strathyre | 9 | 14 |
| Day 4 | Strathyre to Killin | 12 | 19 |
| Day 5 | Killin to Ardtalnaig then transfer back to Killin | 12 | 19 |
| Day 6 | Transfer back to Ardtalnaig then walk to Aberfeldy | 15 | 24 |
| Day 7 | Aberfeldy to Pitlochry | 11 | 18 |
| Day 8 | Depart from Pitlochry after breakfast | | |
Aberfoyle to Strathyre
Today takes you on a glorious walk throught the Menteith hills on forest tracks and stony paths on to Loch Venachar. The last few miles into Callander encompass a very quiet minor road. Callander is a large town with plenty of shops and cafes.
You will leave this town along the banks of the river Teith and walk into the highlands following an old railway line shared with cycle route 7 along the west shore of Loch Lubnaig. Your destination today is the small village of Strathyre.
Strathyre to Killin
You will continue north on forest tracks before rejoining the railway line. Today is a varied day with pleasant views over the river and then Loch Earn. You can take an optional diversion to visit Rob Roy's grave at Balquidder. Killin is located at the west end of Loch Tay.
Killin to Ardtalnaig
This section is a highlight of the trip, climbing through the forest into the hills on the southern banks of Loch Tay with fine views over the rugged Trarmacan Hills and Ben Lawyers. It passes the remote Lochahan Breachlaich before following sheep tracks over high moorland countryside, then descending again to the banks of Loch Tay. A section along the minor road leads to Ardtalnaig, a small settlement on the south side of Loch Tay. You will be transferred back to your Killin accommodation for a second night stay.
Ardtalnaig to Aberfeldy
You will be transferred back to the route from Killin. Today is a more strenuous day with rewarding views from a ridge linking two gorges. Using forest tracks to the Falls of Moness and the Birks o' Aberfeldy the path down the Birks is steep in places but wooden platforms and bridges make the final descent to Aberfeldy easier.
If you wish it is also possible to visit the Aberfeldy Malt Whisky Distillery or the nearby 16th century Menzies Castle.
Aberfeldy to Pitlochry
Today is mainly quiet back road walking starting fairly flat and turning more steep, but steady. You will finish with a moderate descent into your final destination of Pitlochry.
Pitlochry is known for its Hydro-electric dam and 'Fish Ladder'. The town also has two malt whisky distilleries. It is also possible to climb Ben Vrackie from here (2757 feet, 841m).


Easy to Moderate
The Rob Roy is a relatively gentle walk, on generally good paths, tracks and country lanes. With some walking experience and a bit of fitness this route is pretty straightforward.
Terrain: Most of the walk follows forests, loch shores, and the lower slopes of the surrounding hills.
What's it like underfoot? Generally good – the route makes use of forest tracks, cycle paths, old railway tracks, and country lanes as well as unmade footpaths. There are couple of days where the route is a bit rougher, but nothing too challenging.
How Much Up & Down? Most days don't involve too much ascent or descent, but there is one longer climb after Killin of around 400m.
Signposting: None – you need to use you map & guidebook.
Navigation: Pretty straightforward, on the lowland sections, but you may encounter hill fog or low cloud on a couple of sections, so you need to be able to navigate.
Weather: You may be lucky enough to encounter warm, dry weather over the whole route and enjoy dry paths and tremendous views, but you must be prepared because the weather can change quickly. Good clothing and waterproofs essential!
All Holidays

Accommodation
Overnight Bed and Breakfast accommodation in selected hotels, farmhouses, village inns, guest houses and family B&Bs.Full English or Continental breakfast.
Guidebook

A detailed guidebook, inlcuding route description, maps, photos, and background information about the places you pass through.
Information of Services Along the Route
A comprehensive Service Info sheet, including services such as cash points, banks, post offices, village shops, inns, cafes and taxis.
Maps
4 Ordnance Survey Explorer (1:25000) maps covering the entire route.
Personal Itinerary
A personal itinerary setting out each overnight stop, including large scale maps of each accommodation, to ensure you find it easily.
Emergency Telephone Support
If you get in to difficulties during your holiday, we are always available to help, even out of office hours.
12.5% discount at Cotswold Outdoors
We will issue you with a 12.5% Discount Card valid at all Cotswold Outdoor stores, and online, for the whole year on confirmation of your booking.

Options

Luggage Transport
We will transfer your luggage between each overnight stop – if you leave your luggage at the accommodation when you set off in the morning, it will be moved on to your next B&B. You only need to carry a small day sack with the clothes and provisions you require during the day's walk.
Packed Lunches

Provided for each day's walking and recommended on this holiday as there will not always be a handy shop or cafe on the route.
Off Road Parking
If you are travelling by car we can usually arrange off road parking for the duration of your trip. (There may be a small charge for this).
Arrangement of return transport
We can also arrange your transfer back to your car, (or advise you when public transport is a better option)!

What's not Included

Evening Meals
Your evening meal isn't included in the package, but we include full details and recommendations for each evening meal in your itinerary. You will normally be within walking distance of a pub and/or restaurant, or where there is good food available at the accommodation, we'll book that for you. Allow about £20.00 per night.
Transport to the Start & Away from the Finish
Have a look at the "Travel Info" tab above for suggestions. If you're still struggling, get in touch and we'll help you sort it out.
Travel Insurance
Even if you are based inthe UK travel insurance is worth having.
Good accommodation and friendly hosts are an essential part of any holiday. We understand this and go out of our way to find the best. We put a great deal of effort into hand picking our accommodation and matching it to individual customer requirements. As well as visiting the accommodation ourselves, we ask all our customers to complete a short evaluation on each night's accommodation, which then gives us an insight into the day-to-day operation and lets us spot any potential issues before they become a problem.
We use a variety of accommodation, including small country house hotels, guest houses in market towns, bed and breakfasts in farm houses, country cottages and Victorian town houses. In selecting the accommodation we look for helpful, friendly hosts with good quality, characterful accommodation close to the trail. For example, over the course of your trip you might stay in a village inn, a bed and breakfast in a converted barn, a Victorian guest house, on a working farm, and in a Georgian hotel.
We always try to arrange en suite accommodation, i.e. rooms with their own bathrooms for each night of your stay. However, in some of the more remote locations accommodation is limited and occasionally we may have to book rooms with shared bathrooms for one or two nights of your holiday, (especially if the booking is made at short notice), but we will always let you know if this is likely to be the case.
We are happy to book single rooms on our holidays but cannot normally book more than 2 for any one group. Single room bookings include a supplement.
General travel information on the Rob Roy Way area will be in your holiday pack including train and bus timetables where available.
Detailed instructions on getting to your first night's accommodation by car, or on foot from the nearest train or bus station, will also be included in the holiday pack on individual accommodation maps.
To view train times please visit trainline where you can also purchase tickets in advance. For information on bus timetables please visit traveline
If you require secure car parking whilst walking this route, please contact us for information.
Getting There: Aberfoyle
By Air: The nearest airport is Glasgow International (GLA) or Glasgow Prestwick (PIK). An airport shuttle bus runs into Glasgow city centre, journey time is 25 minutes. You then need to make your way to 'Buchanan Street Bus Station' for travel on one of the three daily buses by 'Aberfoyle Coaches' Coach number AC01. Visit aberfoylecoaches or Tel: 0844 567 5670 for timetable.
By Public Transport: There is a main railway station in Glasgow. You then need to make your way to 'Buchanan Street Bus Station' for travel on one of the three daily buses by 'Aberfoyle Coaches' Coach number AC01. Visit www.aberfoylecoaches.com or Tel: 0844 567 5670 for timetable.
By Road: From Glasgow in Scotland, Aberfoyle is 26 miles north. For the most direct route you need to follow this sequence of roads from Glasgow: A81, A739, A809, B834, A81, A821.
Returning from Pitlochry:
By Public Transport: There is a railway station in Pitlochry. Travelling south you can either head for Edinburgh or Glasgow, for the north head for Inverness.
By Road: When traveling back into England or Wales from Pitlochry, head for either Edinburgh (70 miles) or Glasgow (84 miles) depending on the direction of your final destination.
Pitlochry
Pitlochry is a pleasant Victorian town on the river Tummel. The river was dammed in the 1950's and a fish ladder built to allow the thousands of salmon to swim upriver in their annual migration. There is in an interesting walk past the fish ladder and the viewing chambers where you may spot a fish going upstream, then past Scottish Plant Collectors Garden and back via the river Garry. You can also hire boats or go fishing on nearby Loch Faskally.
Prices

GBP (£)

Accommodation, map & guidebook only
£799
with Luggage Transport
£889
with Packed Lunches
£865
with Luggage & Lunches
£950

Other Options

Extra Nights (per night)
£90
Single Supplement (per night)
£58
Solo Luggage Supplement (per day)
£0