Miles of Smiles on the West Highland Way
By Mark Wright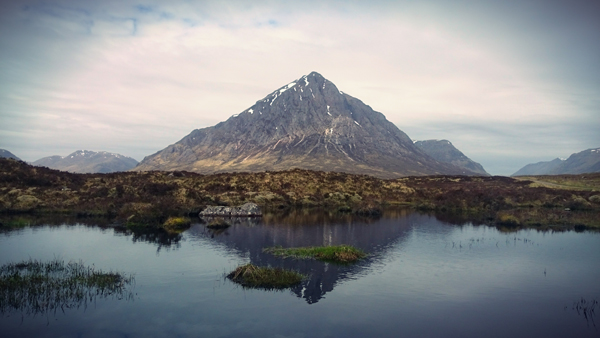 I was passing through Glencoe on Saturday morning and so I took the opportunity to stop and enjoy a short walk along a section of the West Highland Way. I doesn't take much persuasion for me to make time in my journey to take in the magnificent views of Buchaille Etive Mor from behind Kings House Hotel. I haven't yet sat down and compiled a definitive list of my top ten mountain views but when I do, this will be in it for sure.
There were a few folk out and about mid-morning making their way along to the Devil's Staircase and over to Kinlochleven. It wasn't the brightest of days yet everyone I saw was smiling and talking happily with passers-by. Some nearing the end of their West Highland Way adventure, others just out for the day along this stunning stretch of the route.
I'm a huge fan of Rannoch Moor. A remote wilderness that stirs the imagination. My walk was more of a potter than anything else. Just happy to be out and about taking in the views and soaking up the atmosphere of a happy morning on what was Scotland's first long distance footpath.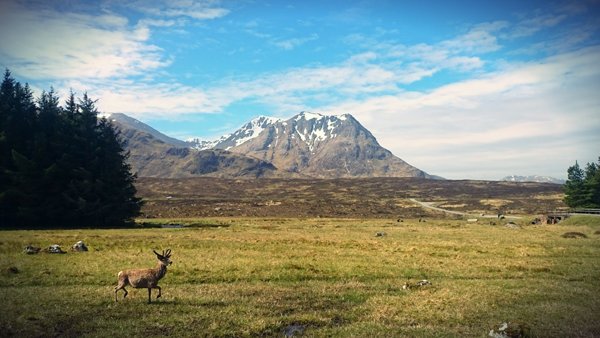 After a good few hours savouring the views in both directions I decided to have some lunch in the walkers bar at the back of Kings House. As usual the deer were wandering around outside gaining plenty of attention. Inside rucksacks were piled high in the corner as travellers refuelled. Most folk that day were walking to Kinlochleven but one or two stronger walkers were going all the way to Fort William. We were joined also by day walkers and cyclists too. The mood was warm and welcoming and the chat noisy as friends and strangers mingled, sharing tales of miles walked and miles to go. There were tired faces but they were happy faces with plenty of smiles and for a while I wished I wasn't getting back into my car and driving home to the lakes, but rather that I was getting my rucksack back on and joining them as they cheerfully headed off into the distance.