West Highland Way - The Highlands
Crianlarich to Fort William in 3 Days Walking Code: WHH4
A memorable walk through the Scottish Highlands, crossing Rannoch Moor and climbing the Devil's Staircase.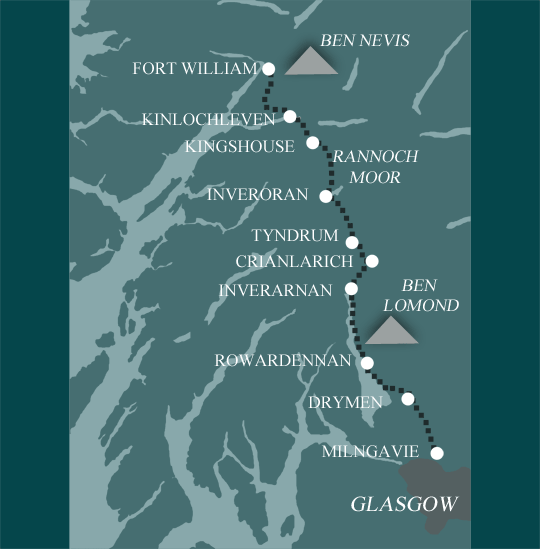 This holiday covers the second, more mountainous, part of the West Highland Way, through the highlands from Crianlarich to Fort William, taking in the most dramatic scenery and the biggest climbs over 3 fairly strenuous days.
| | | Miles | Km |
| --- | --- | --- | --- |
| Day 1 | Travel to Crianlarich for your first nights accommodation | | |
| Day 2 | Crianlarich to Inveroran | 16 | 26 |
| Day 3 | Inveroran to Kinlochleven | 19 | 31 |
| Day 4 | Kinlochleven to Fort William | 14 | 23 |
| Day 5 | Depart from Fort William after breakfast | | |
Crianlarich to Inveroran
With typical highland walking in glens and over low passes with moderate ascents and descents, on mainly well surfaced paths and tracks. There are many fine mountain views to be enjoyed today.
Inveroran to Kinlochleven
A moderate to hard day with amazing scenery. The terrain is mainly good underfoot but highly exposed and can be difficult in bad weather – be prepared!
Kinlochleven to Fort William
Starting with a steep climb out of Kinlochleven followed by rough paths in Nevis Forest, your final day finishes with a gentle descent into Fort William.




Moderate to Challenging
This is the more challenging part of the WHW, inlcuding the remote wilderness of Rannoch Moor and high moutain passes on the last 2 days. Thousands of regular walkers complete the WHW every year – but remember this is a challenging route passing through remote and mountainous terrain. There are some longer days too. This is a route for experienced walkers.
Terrain: Starting in the Valley bottom, followed by remote moorland, and high mountain passes.
What's it like underfoot? The route is generally well maintained but there are sections where the going is rougher, and others where it can get muddy.
How Much Up & Down? The 2 biggest climbs – 500m up the Devils' Staircase, and 700m out of Kinlochleven, are saved for the final 2 days.
Signposting: Good.
Navigation: Signposting is good and the route follows well defined paths, so no particular difficulties. But there are sections of remote wilderness (Rannoch Moor), and higher mountain terrain (where you may be in the mist on a bad day) so you need to be able to navigate – these aren't places you want to get lost.
Weather: Some people complete the whole route in fine weather, but most will encounter at least some rain, and possibly hill fog on the higher ground. Early or late in the season hail or snow are possibilities. Good clothing and waterproofs absolutely essential, even if you end up not needing them too often.
Accommodation
Overnight Bed and Breakfast accommodation in selected hotels, farmhouses, village inns, guest houses and family B&Bs.Full English or Continental breakfast.
Guidebook
A detailed guidebook with route information, maps, photos and background information.
Information of Services Along the Route
A comprehensive Service Info sheet, including services such as cash points, banks, post offices, village shops, inns, cafes and taxis.
Maps
A waterproof 1:40000 map from Harvey Maps covering the whole route.
Personal Itinerary
A personal itinerary setting out each overnight stop, including large scale maps of each accommodation, to ensure you find it easily.
Emergency Telephone Support
If you get in to difficulties during your holiday, we are always available to help, even out of office hours.
12.5% discount at Cotswold Outdoors
We will issue you with a 12.5% Discount Card valid at all Cotswold Outdoor stores, and online, for the whole year on confirmation of your booking.

Options

Luggage Transport
We will transfer your luggage between each overnight stop – if you leave your luggage at the accommodation when you set off in the morning, it will be moved on to your next B&B. You only need to carry a small day sack with the clothes and provisions you require during the day's walk.
Packed Lunches

Provided for each day's walking and recommended on this holiday as there will not always be a handy shop or cafe on the route.
Off Road Parking
If you are travelling by car we can usually arrange off road parking for the duration of your trip. (There may be a small charge for this).
Arrangement of return transport
We can also arrange your transfer back to your car, (or advise you when public transport is a better option)!

What's not Included

Evening Meals
Your evening meal isn't included in the package, but we include full details and recommendations for each evening meal in your itinerary. You will normally be within walking distance of a pub and/or restaurant, or where there is good food available at the accommodation, we'll book that for you. Allow about £20.00 per night.
Transport to the Start & Away from the Finish
Have a look at the "Travel Info" tab above for suggestions. If you're still struggling, get in touch and we'll help you sort it out.
Travel Insurance
Even if you are based in the UK travel insurance is worth having.
Good accommodation and friendly hosts are an essential part of any holiday. We understand this and go out of our way to find the best. We put a great deal of effort into hand picking our accommodation and matching it to individual customer requirements. As well as visiting the accommodation ourselves, we ask all our customers to complete a short evaluation on each night's accommodation, which then gives us an insight into the day-to-day operation and lets us spot any potential issues before they become a problem.
We use a variety of accommodation, including small country house hotels, guest houses in market towns, bed and breakfasts in farm houses, country cottages and Victorian town houses. In selecting the accommodation we look for helpful, friendly hosts with good quality, characterful accommodation close to the trail. For example, over the course of your trip you might stay in a village inn, a bed and breakfast in a converted barn, a Victorian guest house, on a working farm, and in a Georgian hotel.
We always try to arrange en suite accommodation, i.e. rooms with their own bathrooms for each night of your stay. However, in some of the more remote locations accommodation is limited and occasionally we may have to book rooms with shared bathrooms for one or two nights of your holiday, (especially if the booking is made at short notice), but we will always let you know if this is likely to be the case.
We are happy to book single rooms on our holidays but cannot normally book more than 2 for any one group. Single room bookings include a supplement.
Here are some examples of the accommodation we use along the West Highland Way: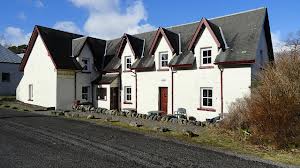 The Inveroran Hotel
The Inveroran Hotel is an old Inn on the old drovers trail that is now known at the West Highland Way. The small bar is full of character and a great place to meet, chat and exchange stories with other walkers. A characterful Scottish Inn, in spectacular surroundings.
Visit their website at: www.inveroran.com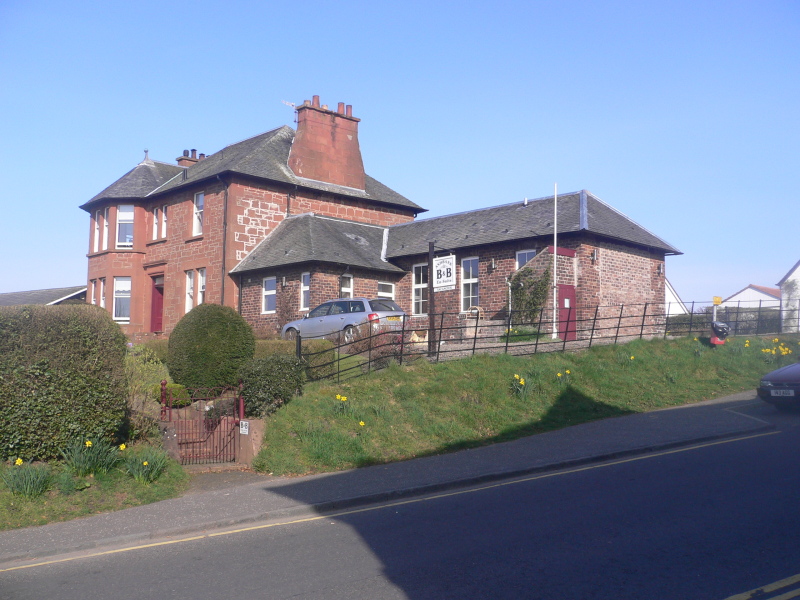 Ashbank B&B
Ashbank is a really cosy guest house run by a lovely and welcoming couple who do all they can to make your stay an enjoyable one. In the beautiful village of Drymen and not far from the pub, Ashbank is a popular choice for walkers. You will be sure to get an excellent breakfast and enjoy your stay in this delightful B&B.
Visit their website at: www.ashbank-drymen.co.uk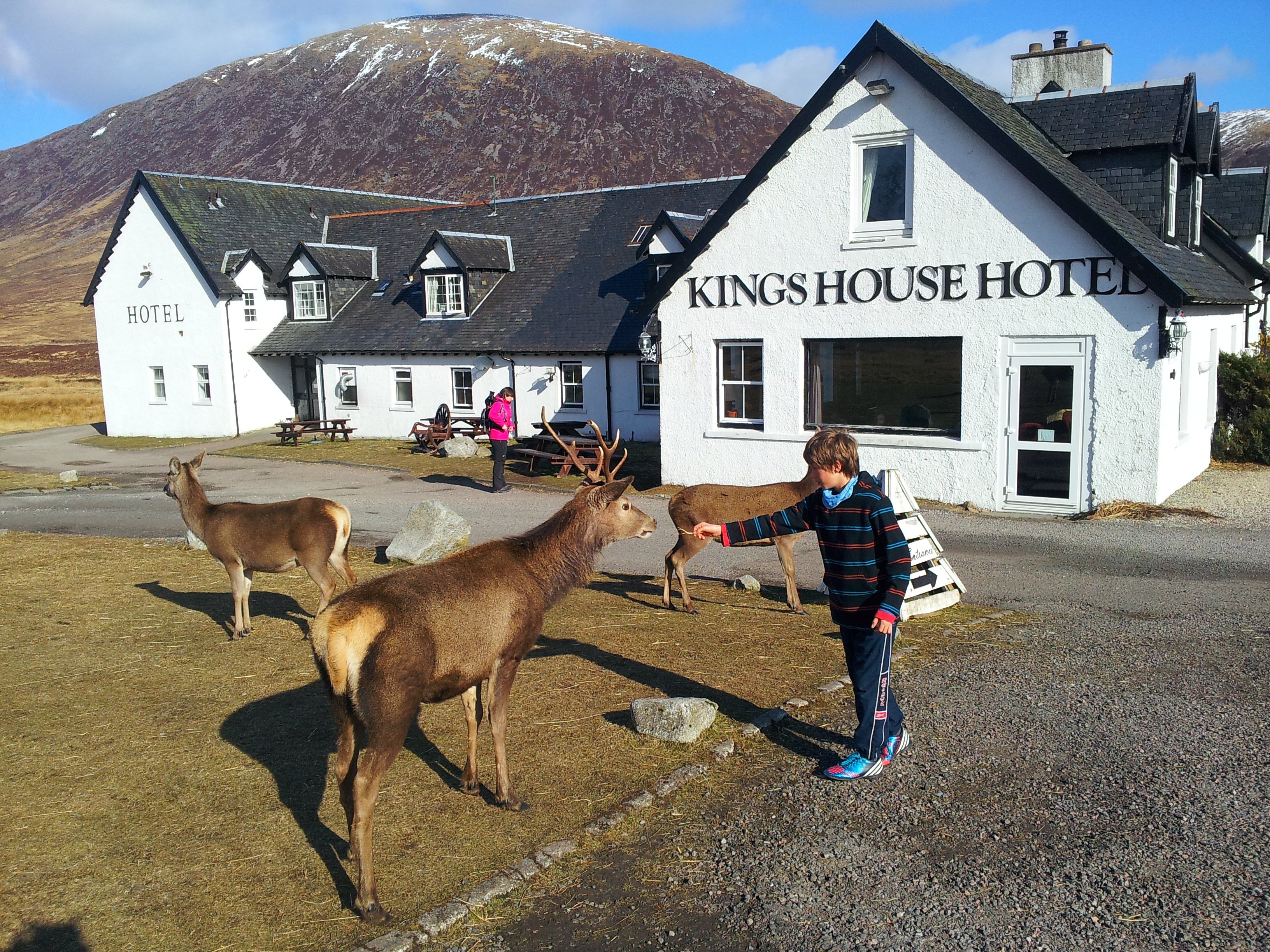 The Kings House Hotel
Possibly one of Scotland's oldest Inns, The Kings House is in a very remote location in the Highlands. It has provided respite for travellers for centuries, offering shelter from the elements and rest from their journeys. You will appreciate the comfortable accommodation, hearty meals and delicious breakfasts.
Visit their website at: www.kingshousehotel.co.uk
General travel information on the West Highland Way area will be in your holiday pack including train and bus timetables where available.
Detailed instructions on getting to your first night's accommodation by car, or on foot from the nearest train or bus station, will also be included in the holiday pack on individual accommodation maps.
To view train times please visit trainline where you can also purchase tickets in advance. For information on bus timetables please visit traveline
If you require secure car parking whilst walking this route, please contact us for information.
Getting There: Crianlarich
By Air: The nearest international airport is Glasgow (GLA). There is a regular shuttle bus into Glasgow city centre (approx 25 mins). From Glasgow you can travel by train to Crianlarich (CNR) – 57 miles, approximately 2 hours.
By Public Transport: There is a railway station in Crianlarich; most services will pass through Glasgow.
By Road: Crianlarich is 57 miles north of Glasgow. For Glasgow, travel on the M6 north followed by the A74 (M). From Glasgow, follow this sequence of roads: A81, A804, M8, M898, 1898, A82, A85.
Returning from Fort William:
By Public Transport: Fort William has a railway station. Most services will pass through Glasgow (GLA).
By Road: Head for either Glasgow (107 miles) or Edinburgh (136 miles) depending on the direction of your final destination.
Crianlarich
The name Crianlarich comes from the Gaelic for low pass. In the 1750s two military roads met here. Crianlarich makes a good location for a "rest day" in order to travel along the picturesque West Highland Train Line to visit Oban – a coastal resort with a difference - the town and its bay are virtually land-locked, giving it a sheltered setting. For memorable views walk up Oban Hill to McCaig's Tower or take a walk to Ganavan Sands and relax on the beach.
Fort William
Fort William is the capital of the West Highlands, situated at the head of Loch Linnhe. It's not the prettiest of towns, but there are a good number of shops, and some good outdoor stores to browse around or buy new gear. A lot of people take an extra day here to climb Ben Nevis – Britain's highest mountain (1344m / 4409ft). It's a long day, and the weather can be harsh, so make sure you are fit and prepared!
Prices

GBP (£)

Accommodation, map & guidebook only
£545
with Luggage Transport
£575
with Packed Lunches
£578
with Luggage & Lunches
£606

Other Options

Extra Nights (per night)
£90
Single Supplement (per night)
£64
Solo Luggage Supplement (per day)
£0