St Cuthbert's Way
Melrose to Lindisfarne in 6 Days Walking Code: SC7
We have 4 itineraries covering the whole route, from 4 days to 7 days walking with average daily distances ranging from 16 down to 9 miles. Our 4 day option has 2 quite lengthy 17 mile days while our 7 day option features 3 really comfortable days of just 6 miles.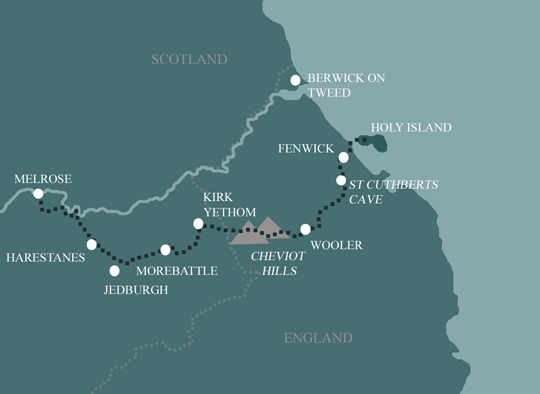 This is our second longest itinerary on St Cuthbert's Way, giving a pretty relaxed pace, once the first day of 15 miles is out of the way.
| | | Miles | Km |
| --- | --- | --- | --- |
| Day 1 | Travel to Melrose for your first nights accommodation | | |
| Day 2 | Melrose to Harestanes then transfer to Jedburgh | 15 | 24 |
| Day 3 | Transfer back to Harestanes then walk to Morebattle | 11 | 18 |
| Day 4 | Morebattle to Kirk Yetholm | 6 | 10 |
| Day 5 | Kirk Yetholm to Wooler | 14 | 23 |
| Day 6 | Wooler to Fenwick then transfer to Lowick | 11 | 18 |
| Day 7 | Transfer back to Fenwick then walk to Lindisfarne | 6 | 10 |
| Day 8 | Depart from Lindisfarne after breakfast | | |
Melrose to St Boswells
The walk starts in the historic market town of Melrose, and soon climbs steeply up the distinctive twin peaks of the Eldon Hills, giving great views over the Tweed Valley and surrounding border countryside. The route descends through the village of Bowden then on to the ruins of Dryburgh Abbey, sited on a meander in the River Tweed, and site of Sir Walter Scott's grave. From here it's a short walk to St Boswells.
St Boswells to Harestanes/Jedburgh
A pleasant days walking through the rolling countryside of the Borders. The route follows the banks of the River Tweed for a while before heading off along the ancient Roman Road of Dere Street to the village of Harestanes, on the River Teviot. Jedburgh, an historic market town lies 2 miles south, where the 12th Century Abbey is well worth a visit.
Harestanes/Jedburgh to Morebattle
The route briefly returns to the roman road before taking to an intricate network of paths and tracks through rolling farmland en route for the small village of Morebattle. On the way you will pass the ruined Cessford Castle, built in the 15th century by the Ker Clan.
Morebattle to Kirk Yetholm
A short day with plenty of ascent and descent, as the route meanders through the foothills of the Cheviot Hills. After crossing Kale Water (rivers are often referred to as 'Waters' in Scotland) there is a steep climb up Wideopen Hill, with excellent views in all directions. The route descends to Kirk Yetholm via the banks of Bowmont Water.
Kirk Yetholm to Wooler
The most challenging day on the route as you continue across the lower slopes of the wild and remote Cheviot range, and cross the border into England. There are many ascents and descents, and more great views, before descending to the small market town of Wooler.
Wooler to Fenwick
This is an easier day across moorland, agricultural land, and woodland. The route visits St Cuthbert's Cave, an impressive sandstone cave where the monk's body was hidden from the Vikings. There are great views along the coastline, including the famous Bamburgh Castle, as well as Lindisfarne itself.
Fenwick to Lindisfarne/Holy Island
This is a short, flat day, across the tidal causeway to Holy Island. The causeway is under water for 5 hours at high tide so you need to consult the tide tables. This is a unique walk as the causeway crosses the sands, with the ruined Lindisfarne Abbey and castle growing ever closer. A fitting end to a memorable walk!



Moderate
The route tends to follow valleys, skirting the bigger hills. There are a couple of longer days, making it a good route for those with previous experience.
Terrain: Riversides, rolling hills, and moorlands.
What's it like underfoot? Generally good paths and tracks, although a few sections can get a bit boggy.
How Much Up & Down? Most days involve descents of 200-500m metres, although no section is very steep for very long.
Signposting: Pretty good.
Navigation: Pretty straightforward – good signposting, and generally well defined tracks. There are a couple of remoter sections so you need to keep your wits about you.
Weather: You may be lucky enough to encounter warm, dry weather over the whole route and enjoy dry paths and tremendous views, but you must be prepared because the weather can change quickly. Good clothing and waterproofs essential!
All Holidays

Accommodation
Overnight Bed and Breakfast accommodation in selected hotels, farmhouses, village inns, guest houses and family B&Bs.Full English or Continental breakfast.
Guidebook
A detailed guidebook with route information, maps, photos and background information.
Information of Services Along the Route
A comprehensive Service Info sheet, including services such as cash points, banks, post offices, village shops, inns, cafes and taxis.
Maps
A waterproof 1:40000 map from Harvey Maps covering the whole route.
Personal Itinerary
A personal itinerary setting out each overnight stop, including large scale maps of each accommodation, to ensure you find it easily.
Emergency Telephone Support
If you get in to difficulties during your holiday, we are always available to help, even out of office hours.
12.5% discount at Cotswold Outdoors
We will issue you with a 12.5% Discount Card valid at all Cotswold Outdoor stores, and online, for the whole year on confirmation of your booking.

Options

Luggage Transport
We will transfer your luggage between each overnight stop – if you leave your luggage at the accommodation when you set off in the morning, it will be moved on to your next B&B. You only need to carry a small day sack with the clothes and provisions you require during the day's walk.
Packed Lunches

Provided for each day's walking and recommended on this holiday as there will not always be a handy shop or cafe on the route.
Off Road Parking
If you are travelling by car we can usually arrange off road parking for the duration of your trip. (There may be a small charge for this).
Arrangement of return transport
We can also arrange your transfer back to your car, (or advise you when public transport is a better option)!

What's not Included

Evening Meals
Your evening meal isn't included in the package, but we include full details and recommendations for each evening meal in your itinerary. You will normally be within walking distance of a pub and/or restaurant, or where there is good food available at the accommodation, we'll book that for you. Allow about £20.00 per night.
Transport to the Start & Away from the Finish
Have a look at the "Travel Info" tab above for suggestions. If you're still struggling, get in touch and we'll help you sort it out.
Travel Insurance
Even if you are based in the UK travel insurance is worth having.
Good accommodation and friendly hosts are an essential part of any holiday. We understand this and go out of our way to find the best. We put a great deal of effort into hand picking our accommodation and matching it to individual customer requirements. As well as visiting the accommodation ourselves, we ask all our customers to complete a short evaluation on each night's accommodation, which then gives us an insight into the day-to-day operation and lets us spot any potential issues before they become a problem.
We use a variety of accommodation, including small country house hotels, guest houses in market towns, bed and breakfasts in farm houses, country cottages and Victorian town houses. In selecting the accommodation we look for helpful, friendly hosts with good quality, characterful accommodation close to the trail. For example, over the course of your trip you might stay in a village inn, a bed and breakfast in a converted barn, a Victorian guest house, on a working farm, and in a Georgian hotel.
We always try to arrange en suite accommodation, i.e. rooms with their own bathrooms for each night of your stay. However, in some of the more remote locations accommodation is limited and occasionally we may have to book rooms with shared bathrooms for one or two nights of your holiday, (especially if the booking is made at short notice), but we will always let you know if this is likely to be the case.
We are happy to book single rooms on our holidays but cannot normally book more than 2 for any one group. Single room bookings include a supplement.
General travel information on the St Cuthbert's Way area will be in your holiday pack including train and bus timetables where available.
Detailed instructions on getting to your first night's accommodation by car, or on foot from the nearest train or bus station, will also be included in the holiday pack on individual accommodation maps.
To view train times please visit trainline where you can also purchase tickets in advance. For information on bus timetables please visit traveline
If you require car parking whilst walking this route we can assist you.
Getting There:
By Air: The nearest International Airports are Edinburgh and Newcastle. An airport shuttle bus operates to Edinburgh city centre (journey time 25 minutes) and Newcastle International Airport has its own Metro station (you will need some change for the ticket machine. Journey time 20 minutes).
By Public Transport: The nearest railway station to Melrose is Tweedbank from where there is a connecting bus to Melrose, 8A/9 (8 min).
By Road: Melrose is situated approximately 55 miles north of the Scottish border. If you travel to Galashiels, Melrose is 4 miles from here. When traveling from the south you can take the M6 followed by the A7.
Returning from Lindisfarne:
By Public Transport: We recommend taking a taxi to Berwick upon Tweed. You can take a bus, but the timetable is unpredictable due to the tide over the causeway. Once in Berwick upon Tweed you can travel by train on the east coast mainline.
By Road: After crossing the causeway from Lindisfarne, travel on the A1 – north for Scotland or for all destinations south via Newcastle.
To return to the start at Melrose: The easiest option is to take a taxi from Lindisfarne to Melrose. We can arrange this for you, please contact us for costs. Journey time: 1hour 30 mins.
Melrose
The picturesque town of Melrose is a great place to explore ahead of your Borders Abbeys or St Cuthbert's Way walk. In addition to the abbey itself there a host of fascinating places to see. The Eildon Hills watch over the town and the triple peaks are visible from much of the Abbeys Way. Why not spend half a day exploring them and look out over the borderlands.
The Romans occupied this area arriving circa AD80, building a prominent fort named Trimontium, 'Place of the Three Hills'. You can learn all about this and Roman life in Scotland in the Trimontium Museum.
There are two National Trust for Scotland gardens to visit. Priorwood features an apple orchard as well as a dried flower garden while Harmony Gardens is a stunning walled garden looking over to the Eildon hills.
Melrose also boasts a fine selection of independent book, crafts and delicious food shops.
Just a few miles out of town on the banks of the Tweed stands Abbotsford House the former home of novelist, poet, playwright, and historian Sir Walter Scott.
If you're walking itinerary won't allow you enough time to do so, then why not use a rest day in Melrose to travel the short distance to Dryburgh and explore the abbey?
Melrose Abbey
Founded in 1136 by monks of the Cistercian Order, Melrose Abbey is among the most beautiful ruined abbeys in the country.
King David I of Scotland's wish was that the abbey be sited two miles to the east, on the site of an earlier Celtic monastery founded by Saint Aiden in AD635, however the monks persuaded the king to accept the current site claiming it was more suitable for agriculture. Furthermore, the monks preference was on the main route connecting Edinburgh to England, the paved Roman road (Dere Street), perfectly situated to provide accommodation, food and other services to travellers.
Melrose Abbey allegedly contains the heart of Robert the Bruce, King of Scots (1274-1329). It is claimed his heart was buried there in 1330 or 1331. The remainder of Bruce's body was interred at Dunfermline Abbey. A lead container, conceivably containing the King's heart, was found buried below the abbey's chapter house floor in 1996. The container was never opened and was reburied at the abbey on 22 June 1998. King Alexander of Scotland (1198-1249) is also buried at the abbey.
In 1322 the abbey was almost completely destroyed by the army of King Edward II of England (1284-1327). The abbey was attacked again 63 years later by King Richard II of England (1367-1400), resulting in damage so severe, masons laboured for more than a century to restore the abbey.
The abbey was severely damaged during an offensive led by the Earl of Hertford in 1544. It was never rebuilt.
Carved masonry from the abbey is incorporated into buildings and walls around the town.
Dryburgh Abbey
Built in 1150 by canons of the Premonstratensian Order, Dryburgh Abbey sits on the banks of the River Tweed approximately four miles east of Melrose. Historical documents indicate that the abbey was constructed on the remains of an earlier Celtic monastery. The abbey was founded with the agreement of King David I of Scotland by Hugh de Morville, an Anglo-Norman noble and High Lord Constable of Scotland.
In 1316 King Robert the Bruce used Dryburgh Abbey as a base for raids into England. Revenge attacks by the English King Edward II in 1322 resulted in the abbey being looted and severely damaged by fire. Dryburgh along with the other Borders abbeys remained in hands of King Edward until the middle of the 14th century, when the region reverted to Scots control, now ruled by King David II of Scotland (1324-1371). Incensed by his losses, King Edward mounted a vicious campaign of retribution resulting in Edinburgh being sacked and burned. On their return to England through the Borders, Edward's armies again looted and set fire to Dryburgh Abbey. The abbey was destroyed for a third time in 1443, although this time apparently by accident.
Scottish historical novelist, poet, playwright, and historian, Sir Walter Scott who resided at Abbotsford House near Melrose is buried at the abbey. Field Marshall Sir Douglas Haig, commander of British forces on the Western Front from 1915 until the end of World War I, is also buried within the grounds of the abbey.
Lindisfarne
The Holy Island of Lindisfarne is an excellent place for a rest day. Because the Island is only accessible across its tidal causeway, you may be restricted by the tide times and not have sufficient time to visit all that it has to offer before your departure. As well as its historic attractions of the Castle and Priory, Holy Island is situated at the heart of the Lindisfarne National Nature Reserve. Please check the Lindisfarne Castle website for current opening times.
Prices

GBP (£)

Accommodation, map & guidebook only
£805
with Luggage Transport
£889
with Packed Lunches
£871
with Luggage & Lunches
£950

Other Options

Extra Nights (per night)
£90
Single Supplement (per night)
£58
Solo Luggage Supplement (per day)
£14