South West Coast Path: South Devon
The South West Coast Path is England's longest waymarked long-distance footpath and a National Trail. Our South Devon holidays let you explore sections of the Jurassic Coast where you can even have a go at fossil hunting. The footpath takes in tiny fishing villages, rocky headlands, lively resorts and golden surf-washed beaches.
The area is full of interesting flora and fauna. You may even see dolphins and seals if you're lucky.
Walking from Exmouth to Lyme Regis you pass through some idyllic coastal villages with the most rewarding views from clifftops and over the coastline.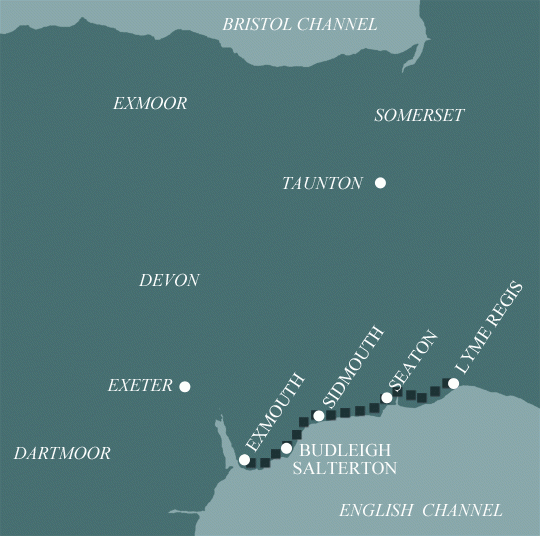 Our Holidays
We have a range of walking holidays along the South West Coast Path focusing on the best sections. All routes are well worth undertaking in their own right or you can take on each section separately until you've completed the whole path.
When choosing your route, please bear in mind that the actual distance walked on any day may sometimes vary by up to 2 miles/3 km from the quoted distances, (depending on the exact location of your accommodation). The mileages shown are typical door to door distances for each day.
South Devon Coast Path: Exmouth to Lyme Regis
Exmouth to Lyme Regis 30 miles/48 km
We offer two different holidays from Exmouth to Lyme Regis– choose from 3 or 4 days walking, depending on how far you want to go each day.