South Devon Coast Path: Brixham to Exmouth
Brixham to Exmouth in 3 Days Walking Code: DSC4
We offer 2 itineraries from Brixham to Exmouth. Choose from 2 or 3 days walking, depending on how far you want to walk each day. A contrasting coastline, combining the lively resorts of the English Riviera with the quiet of ancient woodlands.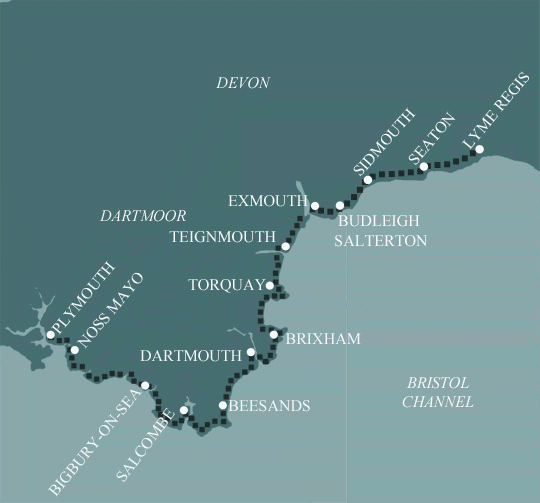 This is the longer of our 2 itineraries from Brixham to Exmouth. With 3 days walking at a leisurely pace this itinerary allows you plenty of time to savour the sights of the English Riviera.
| | | Miles | Km |
| --- | --- | --- | --- |
| Day 1 | Travel to Brixham for your first nights accommodation | | |
| Day 2 | Brixham to Torquay | 9 | 14 |
| Day 3 | Torquay to Teignmouth | 11 | 18 |
| Day 4 | Teignmouth to Exmouth | 8 | 13 |
| Day 5 | Depart from Exmouth after breakfast | | |
Brixham to Torquay
The walking from Brixham to Torquay along the English Riviera is admittedly much more urban than previously experienced on the trail, but it's not all promenades and beach huts. There are ancient woodlands and peaceful coves to be enjoyed too. Saltern Cove is a Site of Special Scientific Interest and keep a look out at Roundham Head for Peregrine Falcons and Bottlenose Dolphins.
Torquay to Teignmouth
This section of the walk ends with a crossing of the River Teign to Teignmouth itself. The historic Teignmouth – Shaldon Ferry is England's oldest passenger ferry, with written records of the ferry dating back to 1296. The ferry runs on demand and approximately every 10 to15 minutes during busy periods. If you're walking between April and mid-July the service normally ends at 18:00. From mid-July through to the end of September you normally have until 20:30. As with all ferry services, it's always worth checking before setting off.
Ahead of this is a really enjoyable walk with stunning views. Pleasant woodland walking above Meadfoot Beach leads to Thatcher Point and out to Hope's Nose, a Site of Special Scientific Interest. There's yet more lovely woodland walking as you head along Black Head and past Anstey's Cove. The small but sublime glade named the Valley of the Rocks leads to Maidencombe.
Beyond Maidencombe the copper coloured cliffs guide you past Blackaller's Cove and Mackerel Cove and onto Labrador Bay Nature Reserve. Teignmouth comes into view as you make your way over Bundle Head and aim for your ferry crossing.
Teignmouth to Exmouth
If the tide is in your favour, then this is a generally flat walk following Brunel's railway along the sea walls. Check the tide timetable as you may need to opt for two high tide alternatives. The detours aren't lengthy, but they're not as enjoyable as the official coast-hugging path. Soon after Teignmouth you reach two giant rock stacks known as the Parson and the Clerk. Nearby stands Shag Rock. Just ahead of Dawlish is a lovely little beach, Coryton's Cove.
When proceeding beyond Dawlish, again check the tide, and if it's fine to do so, you can follow the Brunel Trail alongside the railway to Langstone Rock. Beyond Langstone Rock the railway sadly separates you from Dawlish Warren Nature Reserve which is sometimes sees the greater sand plover, the great spotted cuckoo and elegant tern. A short detour can be made but be mindful the final leg of the walk involves a crossing of the River Exe. A daily passenger ferry runs from Starcross Pier to Exmouth Harbour every hour from 10:10 to 16:10 from May until the end of October. From mid May through to mid September this is extended until 17:10. If the ferry is not running, the alternative is to walk to the first bridge across the Exe at Countess Weir or take a taxi.



Moderate
Grades - This is not a technically difficult walk and should be easy to tackle for most reasonably fit people.
Terrain - The paths are good, and there are no major route finding challenges.
What's it like underfoot? Generally good paths and tracks, although a few sections can get muddy after heavy rain.
How much up & down? – More than you'd think! Although you never reach more than 400m above sea level (and most of the time not more than 200m) there are many short steep sections. Most days involve ascents of 200-400m metres, although no section is very steep for very long.
Signposting: Good – the path is well waymarked.
Navigation: Pretty straightforward – good signposting, and generally well defined tracks.
Weather: You may be lucky enough to encounter warm, dry weather over the whole route and enjoy dry paths and tremendous views, but you must be prepared because the weather can change quickly. Good clothing and waterproofs are essential, but don't forget you sunhat, sunblock and shorts!
All Holidays

Accommodation
Overnight Bed and Breakfast accommodation in selected hotels, farmhouses, village inns, guest houses and family B&Bs. Full English or Continental breakfast.
Guidebook
A detailed guidebook with route information, maps, photos and background information.
Information of Services Along the Route
A comprehensive Service Info sheet, including services such as cash points, banks, post offices, village shops, inns, cafes and taxis.
Maps
A waterproof map from Harvey Maps covering the whole route.
Personal Itinerary
A personal itinerary setting out each overnight stop, including large-scale maps of each accommodation to ensure you find it easily.
Emergency Telephone Support
If you get in to difficulties during your holiday, we are always available to help, even out of office hours.
12.5% discount at Cotswold Outdoors
We will issue you with a 12.5% Discount Card valid at all Cotswold Outdoor stores, and online, for the whole year on confirmation of your booking.

Options

Luggage Transport
We will transfer your luggage between each overnight stop if you leave your luggage at the accommodation when you set off in the morning, it will be moved on to your next B&B. You only need to carry a small day sack with the clothes and provisions you require during the day's walk.
Packed Lunches

Provided for each day's walking and recommended on this holiday as there will not always be a handy shop or cafe on the route.
Off Road Parking
It is not possible to leave your car for the duration of the walk, the B&B's do not have the space have the space to allow long term parking. Please see the public transport tab for more information on travelling to and from the route.

What's not Included

Evening Meals
Your evening meal isn't included in the package, but we include full details and recommendations for each evening meal in your itinerary. You will normally be within walking distance of a pub and/or restaurant, or where there is good food available at the accommodation, we'll book that for you.
Transport to the Start & Away from the Finish
Have a look at the "Travel Info" tab above for suggestions. If you're still struggling, get in touch and we'll help you sort it out.
Travel Insurance
Even if you are based in the UK travel insurance is worth having.
Good accommodation and friendly hosts are an essential part of any holiday. We understand this and go out of our way to find the best. We put a great deal of effort into hand picking our accommodation and matching it to individual customer requirements. As well as visiting the accommodation ourselves, we ask all our customers to complete a short evaluation on each night's accommodation, which then gives us an insight into the day-to-day operation and lets us spot any potential issues before they become a problem.
We use a variety of accommodation, including small country house hotels, guest houses in market towns, bed and breakfasts in farm houses, country cottages and Victorian town houses. In selecting the accommodation we look for helpful, friendly hosts with good quality, characterful accommodation close to the trail. For example, over the course of your trip you might stay in a village inn, a bed and breakfast in a converted barn, a Victorian guest house, on a working farm, and in a Georgian hotel.
We always try to arrange en suite accommodation, i.e. rooms with their own bathrooms for each night of your stay. However, in some of the more remote locations accommodation is limited and occasionally we may have to book rooms with shared bathrooms for one or two nights of your holiday, (especially if the booking is made at short notice), but we will always let you know if this is likely to be the case.
We are happy to book single rooms on our holidays but cannot normally book more than 2 for any one group. Single room bookings include a supplement.
Here are some examples of the accommodation we use along the South Devon Coast Path: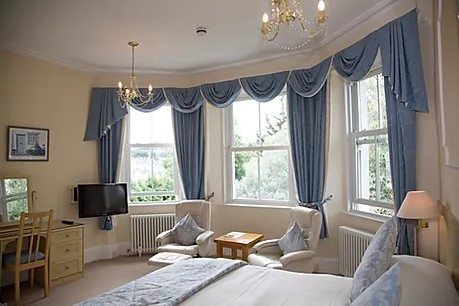 "Evocative, happy, comfortable" is how De and Terry describe their six bedroom, five star boutique B&B. Nestled away from the hubbub, yet just a short walk from the sea front, Carlton Court promises the best of both worlds for visitors to Torquay. Visit their website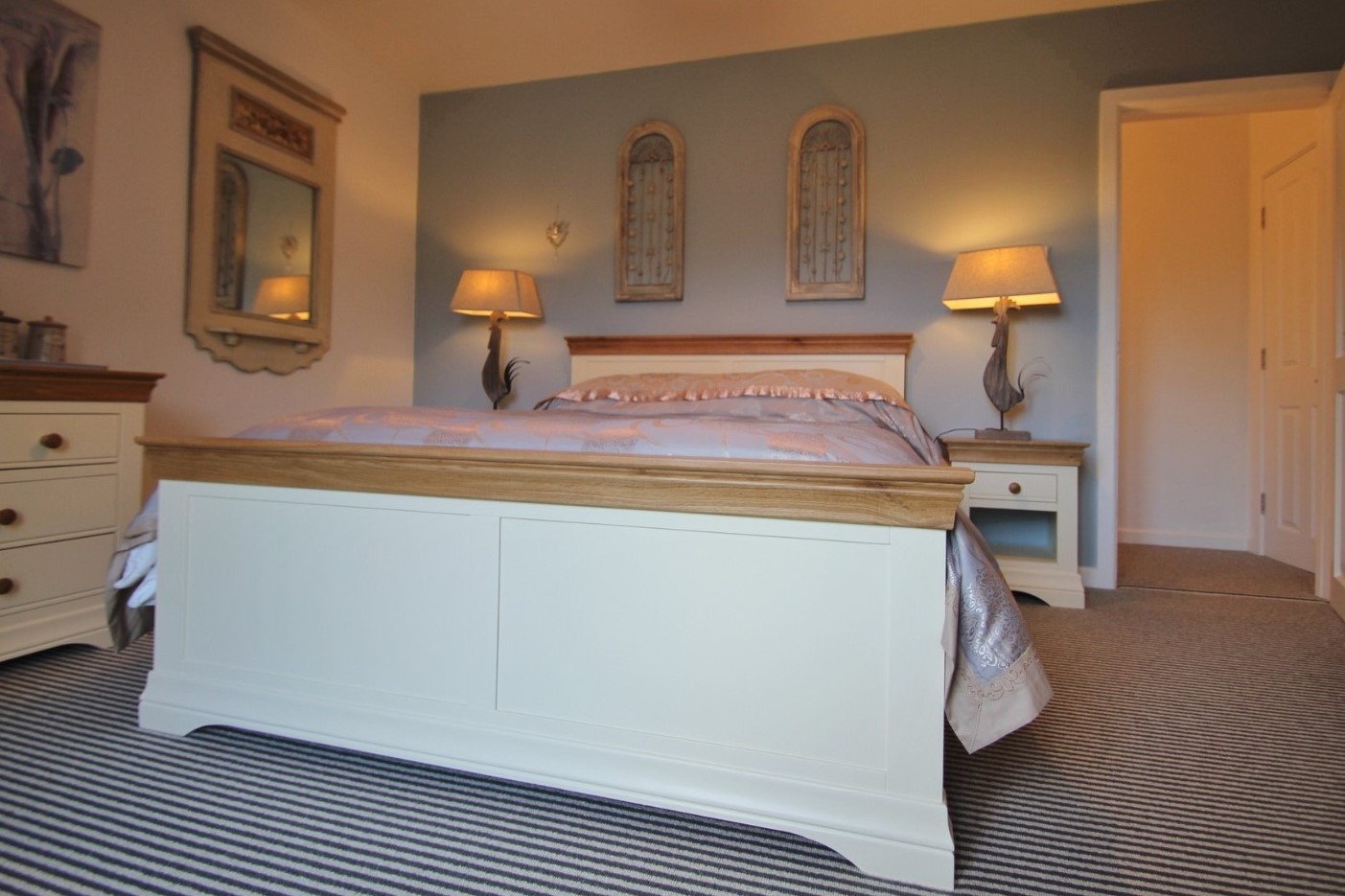 Mo and Clive welcome you to their wonderful home in Noss Mayo. Sail Away is perched above the quay at Bridgend in 1½ acres of terraced gardens, orchard and paddock with views across the tidal creek to Newton Ferrers. Visit their website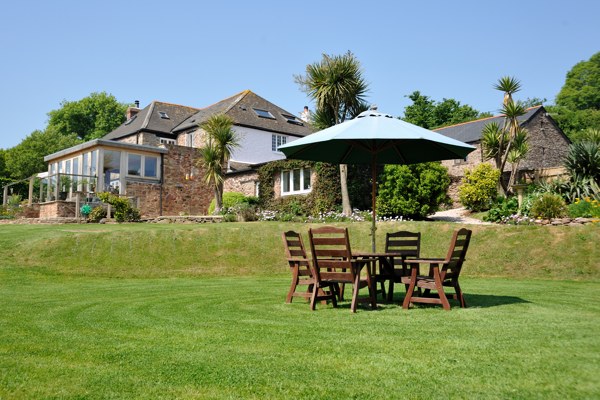 Lynda and Charles at High Beeson House by Beesands offer fabulous individually designed rooms in their converted stables. The garden is absolutely delightful and overlooking the pond is a summer house with a terrace and deck to relax by. Visit their website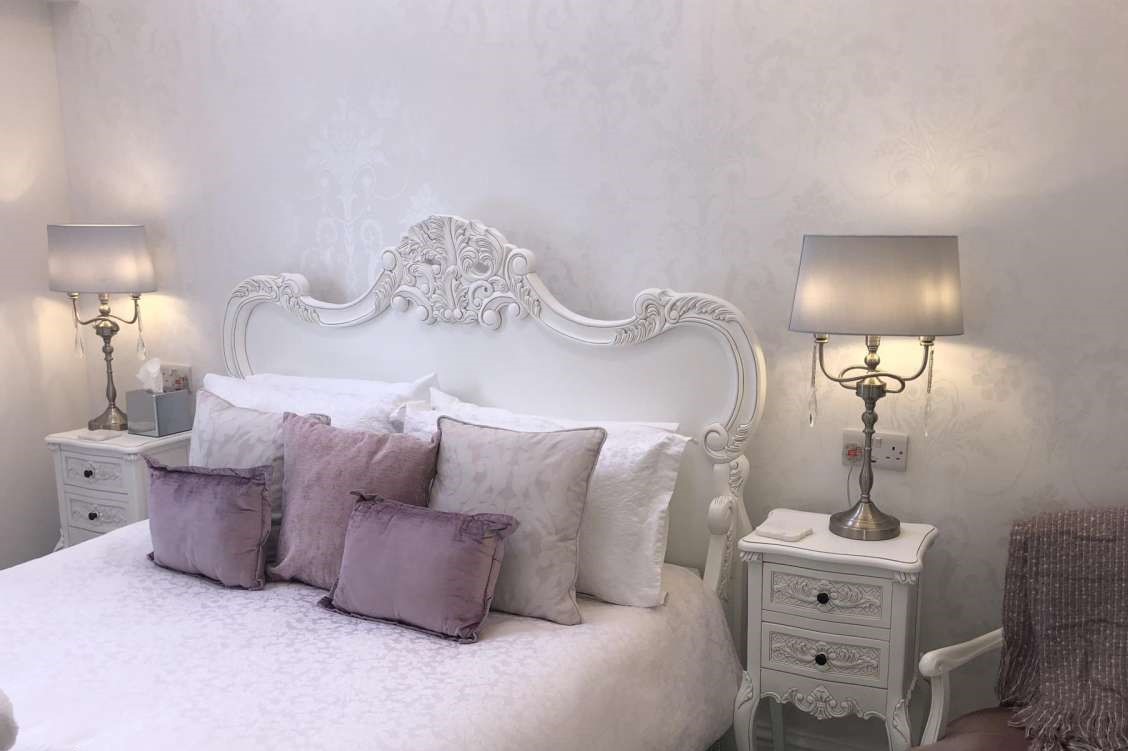 Ashley and Beverley assure you of a warm welcome at Trefoil. Their modern boutique style seven bedroom Guest House is situated a short walk from the picturesque harbour town of Brixham, on the English Riviera. Visit their website
General Travel information for the South West Coastal Path will be in your holiday pack including train and bus timetables where available.
Detailed instructions on getting to your first night's accommodation by car, or on foot from the nearest train or bus station, will also be included in the holiday pack on individual accommodation maps.
To view train times please visit trainline where you can also purchase tickets in advance. For information on bus timetables please visit traveline
If you require secure car parking whilst walking this route, please contact us for information.
Getting There:
By Air: The nearest and most convenient International Airports to the trail are any of the London Airports. Trains run hourly from London Paddington station to direct to Newton Abbot and to Paignton changing at Newton Abbot. Trains also run hourly from London Waterloo via Exeter St Davids.
Alternatively, you may wish to travel via Exeter Airport (direct flights from Europe and connecting flights from several UK airports including London City, Edinburgh, Belfast and Manchester). Monday to Saturday, there is an hourly shuttlebus from Exeter Airport to Exeter St Davids Railway Station from where trains run direct to Newton Abbot and to Paignton changing at Newton Abbot.
By Public Transport: The nearest railway stations to Brixham are Paignton and Newton Abbot. Both Newton Abbot (NTA) and Paignton Railway Station (PGN) located on the Riviera Line (Paignton being the terminus) which connects at Exeter St Davids to the West of England Mainline (with fast and frequent services to London Waterloo) and the Reading-Taunton Line (with fast and frequent services to London Paddington).
Stagecoach Devon bus service 12 runs regularly from both Paignton and Newton Abbot Stations to Brixham.
By Road: Brixham is located on the A3022, just after Torquay and Paignton. Just after Exeter at Junction 31 the M5 motorway splits and becomes the A30 and A38. Continue straight on along the A38 (Devon Expressway) then just after Kennford turn on to the A380, signposted Torquay. Continue on the A380 for approximately 10 miles then at Paignton head south on to the A3022 following signs for Brixham.
Returning from Exmouth:
By Public Transport: There is a railway station at Exmouth. Exmouth Railway Station (EXM) is the western terminus of the Avocet branch line from Exeter St Davids and Exeter Central stations from where there are onward services throughout Devon and Cornwall and further afield to London (Paddington and Waterloo), Birmingham, Leeds and Edinburgh.
By Road: Exmouth is located on the A376 just after Exeter. Leave the M5 motorway at Exeter Junction 30 and follow signs for A376 Exmouth
Brixham
In the heart of England's Seafood Coast is the gorgeous harbourside town of Brixham with its famous fish market. Enjoy a walk along the magnificent half mile long breakwater to the lighthouse or take a dip in the Art Deco seawater lido. Brixham is an important part of the UNESCO accredited English Riviera Global Geopark and nearby Berry head National Nature Reserve is well worth exploring. Afterwards, unwind in one the towns many popular cafes, restaurants and bars.
Torquay
Torquay boasts one of the most stunning seafronts in Devon and its Abbey Sands complex is home to a series of fashionable new hotels, restaurants and bars. Ahead of that why not visit the magnificent underground caves at Kents Cavern or 800 year old Torre Abbey? Leaving dry land behind for the afternoon, there are fishing and wildlife safari boat trips to be enjoyed too.
Prices

GBP (£)

Accommodation, map & guidebook only
£528
with Luggage Transport
£576
with Packed Lunches
£561
with Luggage & Lunches
£606

Other Options

Extra Nights (per night)
£90
Single Supplement (per night)
£60
Solo Luggage Supplement (per day)
£16