Herriot Way: Round Trip from Aysgarth
Round Trip from Aysgarth in 4 Days Walking Code: HE5
We have two walks covering the full route. The longer itinerary of 5 walking days splits the Aysgarth to Hawes leg at Askrigg to make two shorter days. This allows you to ease yourself into the walk gradually before the next 3 longer days, and also gives you time to explore the market town of Hawes.
Walking with your Dog
The Herriot Way can also be booked as a dog-friendly holiday, however we are unable to book dog-friendly accommodation in Aysgarth. We will therefore suggest starting and finishing your walk in a different location, usually Hawes, and on the night you should stay in Aysgarth we will arrange your accommodation in a different location and pay for a taxi to transfer you to and from the route. Please let us know at the time of booking if you require a dog friendly itinerary. For more information on our dog-friendly holidays click here.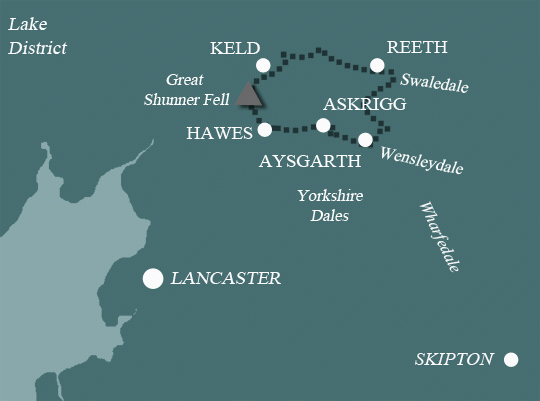 A four day circular walk from Aysgarth. Why not take the opportunity to explore the beautiful Yorkshire Dales by adding a rest day to this itinerary?
| | | Miles | Km |
| --- | --- | --- | --- |
| Day 1 | Travel to Aysgarth for your first nights accommodation | | |
| Day 2 | Aysgarth to Hawes | 13 | 21 |
| Day 3 | Hawes to Keld | 13 | 21 |
| Day 4 | Keld to Reeth | 13 | 21 |
| Day 5 | Reeth to Aysgarth | 13 | 21 |
| Day 6 | Depart from Aysgarth after breakfast | | |
Aysgarth to Hawes
From Aysgarth the route heads north out of the village, down to the River Ure, which it follows closely along wide meadows divided up by limestone walls and barns and a disused railway track until turning into Askrigg. This is the village that was used as the location for the James Herriot TV series. From Askrigg the route travels down the Wensleydale valley, through lush green fields, down narrow, secluded lanes to the village of Hardraw with its famous waterfall. Access to the waterfall is through the Green Dragon Inn for a small fee. From here the walk continues on the well-signposted Pennine Way into Hawes, the highest market town in Yorkshire.
Hawes to Keld
From Hawes the Herriot Way takes you up the side of Great Shunner Fell, the third highest summit in Yorkshire. The ascent is not too steep and the views from the summit are rewarding across the surrounding dales and hills. From here it is downhill into Thwaite, a pretty village with plenty of tearooms. The path climbs the lower slopes of Kisdon and then drops down again into Keld, tonight's destination.
Keld to Reeth
Beyond Keld you walk in the footsteps of the lead miners who used to work in the bleak landscape of Gunnerside Moor, likened to a moonscape since being changed forever by the lead mining industry. There are two route options –  the high route past the ruin of Crackpot Hall or the alternative lower level route along the River Swale which is better in bad weather or if you want to stop for a pub lunch. The Way returns to the valley and the River Swale at Healaugh, before the short walk through fields into Reeth.
Reeth to Aysgarth
From Reeth the path climbs an old mine track into the heather and open moorland around Gibbon Hill and then reaches the highest point of the day at Apedale Head. The path drops down to the village of Castle Bolton and the remains of the medieval castle which you have time to look around before descending into Wensleydale again. More fields and back lanes lead to the impressive triple-drop waterfall at Aysgarth and then back to the village itself.



Moderate
Moderate
The individual day walks themselves are not particularly strenuous, but the fact that you will be walking on consecutive days (unless including a rest day) does mean you need to be adequately prepared. The walk should be well within the limitations of those with a good level of fitness or who are regular walkers. There are some climbs.
Terrain:  A variety of terrain - riverside paths, meadows, open fells and moorland.

What's it like underfoot? Varied! Much of the route is on well-defined paths, tracks, and country lanes, but there are sections that can be muddy, wet, rough, and steep (although not often all at the same time!).
How much up & down? An overall height gain of around 7,700 feet (2,350m) and an equal amount of descent. The most difficult section is likely to be the day that includes the ascent of Great Shunner Fell, between Hawes & Keld. This involves a long climb but it is not steep and has a good path.
Signposting: Although the route itself is not signposted it follows established Rights of Way along its whole length, for example parts of the Pennine Way, footpaths or bridleways and these are nearly always signposted clearly. Follow your map and guidebook.

Navigation: With the map and guidebook navigation should be quite straightforward.

Weather: You may be lucky enough to encounter warm, dry weather over the whole route and enjoy dry paths and tremendous views, but you must be prepared because the weather can change quickly. Good clothing and waterproofs essential!
All Holidays

Accommodation
Overnight Bed and Breakfast accommodation in selected hotels, farmhouses, village inns, guest houses and family B&Bs. Full English or Continental breakfast.
Guidebook
A detailed guidebook with route information, maps, photos and background information.
Information of Services Along the Route
A comprehensive Service Info sheet, including services such as cash points, banks, post offices, village shops, inns, cafes and taxis.
Maps
An Ordnance Survey Explorer (1:25000) map covering the entire route.
Personal Itinerary
A personal itinerary setting out each overnight stop, including large scale maps of each accommodation, to ensure you find it easily.
Emergency Telephone Support
If you get in to difficulties during your holiday, we are always available to help, even out of office hours.
12.5% discount at Cotswold Outdoors
We will issue you with a 12.5% Discount Card valid at all Cotswold Outdoor stores, and online, for the whole year on confirmation of your booking.

Options

Luggage Transport
We will transfer your luggage between each overnight stop – if you leave your luggage at the accommodation when you set off in the morning, it will be moved on to your next B&B. You only need to carry a small day sack with the clothes and provisions you require during the day's walk.
Packed Lunches

Provided for each day's walking and recommended on this holiday as there will not always be a handy shop or cafe on the route.
Off Road Parking
If you are travelling by car we can usually arrange off road parking for the duration of your trip. (There may be a small charge for this).
Arrangement of return transport
We can also arrange your transfer back to your car, (or advise you when public transport is a better option)!

What's not Included

Evening Meals
Your evening meal isn't included in the package, but we include full details and recommendations for each evening meal in your itinerary. You will normally be within walking distance of a pub and/or restaurant, or where there is good food available at the accommodation, we'll book that for you. Allow about £20.00 per night.
Transport to the Start & Away from the Finish
Have a look at the "Travel Info" tab above for suggestions. If you're still struggling, get in touch and we'll help you sort it out.
Travel Insurance
Even if you are based in the UK travel insurance is worth having.
Good accommodation and friendly hosts are an essential part of any holiday. We understand this and go out of our way to find the best. We put a great deal of effort into hand picking our accommodation and matching it to individual customer requirements. As well as visiting the accommodation ourselves, we ask all our customers to complete a short evaluation on each night's accommodation, which then gives us an insight into the day-to-day operation and lets us spot any potential issues before they become a problem.
We use a variety of accommodation, including small country house hotels, guest houses in market towns, bed and breakfasts in farm houses, country cottages and Victorian town houses. In selecting the accommodation we look for helpful, friendly hosts with good quality, characterful accommodation close to the trail. For example, over the course of your trip you might stay in a village inn, a bed and breakfast in a converted barn, a Victorian guest house, on a working farm, and in a Georgian hotel.
We always try to arrange en suite accommodation, i.e. rooms with their own bathrooms for each night of your stay. However, in some of the more remote locations accommodation is limited and occasionally we may have to book rooms with shared bathrooms for one or two nights of your holiday, (especially if the booking is made at short notice), but we will always let you know if this is likely to be the case.
We are happy to book single rooms on our holidays but cannot normally book more than 2 for any one group. Single room bookings include a supplement.
General travel information on the Herriot Way area will be in your holiday pack.
Detailed instructions on getting to your first night's accommodation by car, or on foot from the nearest train or bus station, will also be included in the holiday pack on individual accommodation maps.
To view train times please visit trainline where you can also purchase tickets in advance. For information on bus timetables please visit traveline
By Air:
The nearest airports are Manchester International (MAN) and Leeds Bradford (LBA).
By public transport:
The most convenient stations would be Northallerton on the London to Edinburgh line or Garsdale on the Leeds – Settle – Carlisle Railway line.
From Northallerton Railway Station there are buses to Aysgarth but you would need to change twice. A taxi would be around 50 minutes.
From Garsdale Railway Station you can take a bus to Aysgarth, changing at Hawes, or a taxi taking around 35 minutes.
Hawes
Hawes is a bustling market town, lying in the heart of the Yorkshire Dales National Park and surrounded by spectacular scenery. With many craft workshops, antique and speciality shops and restaurants on offer, it's the perfect place to spend a well-earned rest day. This picturesque town is home to the famous Wensleydale Cheese and the renowned Dales country side museum.
Prices

GBP (£)

Accommodation, map & guidebook only
£592
with Luggage Transport
£648
with Packed Lunches
£636
with Luggage & Lunches
£689

Other Options

Extra Nights (per night)
£90
Single Supplement (per night)
£60
Solo Luggage Supplement (per day)
£0