Cotswold Way North: Escarpment and Villages
Chipping Campden to Painswick in 5 Days Walking Code: CTN6
This northern section of the Cotswold Way follows the western edge of the Costwold Hills from Chipping Campden to Painswick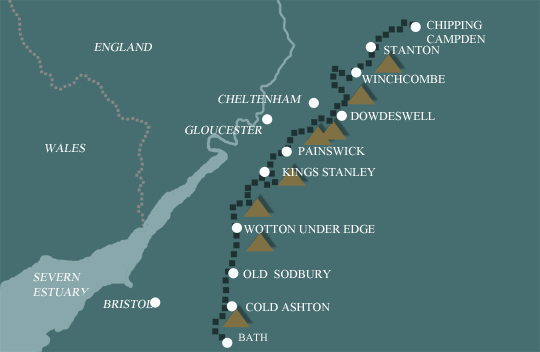 This walk is the northern section of the Cotswold Way. Walking over 5 days, the route follows the western edge of the Cotswold Hills with breath-taking views from the escarpment as it meanders through beautiful Cotswold villages.
| | | Miles | Km |
| --- | --- | --- | --- |
| Day 1 | Travel to Chipping Campden for your first nights accommodation | | |
| Day 2 | Chipping Campden to Stanton then transfer to Toddington | 10 | 16 |
| Day 3 | Transfer back to Stanton then walk to Winchcombe | 7 | 11 |
| Day 4 | Winchcombe to Dowdeswell then transfer to Cheltenham | 11 | 18 |
| Day 5 | Transfer back to Dowdeswell then walk to Birdlip | 10 | 16 |
| Day 6 | Birdlip to Painswick | 9 | 14 |
| Day 7 | Depart from Painswick after breakfast | | |
Chipping Campden to Stanton
The Cotswold Way starts at the Town Hall in the centre of Chipping Campden, one of the most charming of all the picturesque settlements along the trail. The route climbs gradually up to Dover's Hill (230m/755ft) with views over the Vale of Evesham before continuing on to Broadway Tower, the second highest point along the trail at 312m (1025ft). After dropping down into the delightful village of Broadway, the trail climbs back up to Shenberrow Hill before descending into the idyllic village of Stanton.
Stanton to Cleeve Hill
From Stanton the path leads across meadows to the hamlet of Church Stanway. The route then begins its ascent back to the top of the escarpment at Stumps Cross from where it follows an ancient drove road for a while before reaching an Iron Age Hill Fort at Beckbury Camp. The path then descends to Winchcombe where the route skirts the edge of Cleeve Common – the highest point of the trail at 330m (1083ft). In bad weather, or for people with less time, a short-cut can be taken over the Common, cutting about 4 miles off the route.
Cleeve Hill to Painswick
This section follows the western edge of the escarpment with fine views down to Cheltenham and across the Vale of Gloucester. From an Iron Age Hill Fort, the path drops down to Dowdeswell reservoir then follows the scarp to Severn Springs, Leckhampton Hill leading eventually to Crickley Hill. From Crickley Hill the path traverses the combe through woods before arriving at Cooper's Hill and more panoramic views. Further woodland walking above Prinknash Abbey brings you to Painswick Beacon. From here it's a steady descent to the lovely old market town


Easy to Moderate
This is another relatively easy National Trail which is clearly way-marked along the length of the path. A good route for people wanting to do their first long-distance walk.
Terrain: Varied - but these are gentle wolds and not mountainous areas. The path rises up and down onto the Cotswold Escarpment in the northern section, and is lower, but still undulating over farmland and through woods towards the south.
What's it like underfoot? Pretty good. Well maintained paths throughout, although sections can get a bit muddy in wet weather.
How much up & down? This trail is rolling and it does go up and down a lot, with some short steeper sections, but they don't go on forever – the highest point is 330m (1083ft). Ascents and descents are usually 150 – 200m (495- 660ft)
Signposting: Generally good.
Navigation: Pretty straightforward. Well defined paths, and good signposting.
All Holidays

Accommodation
Overnight Bed and Breakfast accommodation in selected hotels, farmhouses, village inns, guest houses and family B&Bs.Full English or Continental breakfast.
Guidebook
A detailed guidebook with route information, maps, photos and background information.
Information of Services Along the Route
A comprehensive Service Info sheet, including services such as cash points, banks, post offices, village shops, inns, cafes and taxis.
Maps
A waterproof map from Harvey Maps covering the whole route.
Personal Itinerary
A personal itinerary setting out each overnight stop, including large scale maps of each accommodation, to ensure you find it easily.
Emergency Telephone Support
If you get in to difficulties during your holiday, we are always available to help, even out of office hours.
12.5% discount at Cotswold Outdoors
We will issue you with a 12.5% Discount Card valid at all Cotswold Outdoor stores, and online, for the whole year on confirmation of your booking.

Options

Luggage Transport
We will transfer your luggage between each overnight stop – if you leave your luggage at the accommodation when you set off in the morning, it will be moved on to your next B&B. You only need to carry a small day sack with the clothes and provisions you require during the day's walk.
Packed Lunches

Provided for each day's walking and recommended on this holiday as there will not always be a handy shop or cafe on the route.
Off Road Parking
If you are travelling by car we can usually arrange off road parking for the duration of your trip. (There may be a small charge for this).
Arrangement of return transport
We can also arrange your transfer back to your car, (or advise you when public transport is a better option)!

What's not Included

Evening Meals
Your evening meal isn't included in the package, but we include full details and recommendations for each evening meal in your itinerary. You will normally be within walking distance of a pub and/or restaurant, or where there is good food available at the accommodation, we'll book that for you. Allow about £20.00 per night.
Transport to the Start & Away from the Finish
Have a look at the "Travel Info" tab above for suggestions. If you're still struggling, get in touch and we'll help you sort it out.
Travel Insurance
Even if you are based in the UK travel insurance is worth having.
Good accommodation and friendly hosts are an essential part of any holiday. We understand this and go out of our way to find the best. We put a great deal of effort into hand picking our accommodation and matching it to individual customer requirements. As well as visiting the accommodation ourselves, we ask all our customers to complete a short evaluation on each night's accommodation, which then gives us an insight in to the day-to-day operation, and lets us spot any potential issues before they become a problem.
We use a variety of accommodation, including small country house hotels, guest houses in market towns, bed and breakfasts in farm houses, country cottages and Victorian town houses. In selecting the accommodation we look for helpful, friendly hosts with good quality, characterful accommodation close to the trail. For example, over the course of your trip you might stay in a village inn, a bed and breakfast in a converted barn, a Victorian guest house, on a working farm, and in a Georgian hotel.
We always try to arrange en suite accommodation, i.e. rooms with their own bathrooms for each night of your stay. However, in some of the more remote locations accommodation is limited and occasionally we may have to book rooms with shared bathrooms for one or two nights of your holiday, (especially if the booking is made at short notice), but we will always let you know if this is likely to be the case.
We are happy to book single rooms on our holidays but cannot normally book more than 2 for any one group. Single room bookings include a supplement.
General travel information for the Cotswold Way route will be in your holiday pack including train and bus timetables where available.
Detailed instructions on getting to your first night's accommodation by car, or on foot from the nearest train or bus station, will also be included in the holiday pack on individual accommodation maps.
To view train times please visit trainline where you can also purchase tickets in advance. For information on bus timetables please visit traveline
Getting There:
By Air: The nearest International Airport to Chipping Campden is Birmingham (about 35 miles /56km away). Alternatives are London Heathrow or Gatwick.
By Public Transport: The nearest Railway Station to Chipping Campden is at Moreton-in-Marsh, which has regular through trains from London Paddington. You can also get to Moreton-in-Marsh by train from Birmingham, Bath and Bristol but will need to change at Oxford or Reading.
From Moreton-in-Marsh there are 3 buses a day (Monday – Saturday) to Chipping Campden, or you can get a taxi. It is 8 miles / 12km. Please note that there are no buses on Sundays.
By Road: Chipping Campden is on the B4081, just off the A44 which runs between Oxford and Worcester. It takes about 45 minutes by car to either Oxford or Worcester.
Returning from Painswick:
By Public Transport: The nearest train station is at Stroud from where you can get trains to Swindon for London or Bath, or to Gloucester for Cheltenham and the North.
There are daily buses from Painswick to Stroud, Cheltenham and Gloucester.
Or you can take a short taxi ride to Stroud.
Chipping Campden
Many people choose to spend an extra night in Chipping Campden in order to soak up the mellow atmosphere of this charming medieval market town with its beautiful honey-coloured buildings dating back to the 14th Century. It also makes an excellent base for a day trip to Stratford-upon-Avon, Shakespeare's Birthplace, which is about an hour away by bus, (8 miles/16km) but please note that there are no buses on Sundays.
Painswick
Painswick is a delightful market town, and is perfectly located for a halfway break with its elegant white stone buildings. From here you can visit the Rococo Garden, designed in the 18th century and claimed to be the only one of its kind in England.
Prices

GBP (£)

Accommodation, map & guidebook only
£732
with Luggage Transport
£774
with Packed Lunches
£787
with Luggage & Lunches
£826

Other Options

Extra Nights (per night)
£90
Single Supplement (per night)
£65
Solo Luggage Supplement (per day)
£0