Dog Friendly Hadrian's Wall Path
Wallsend to Bowness in 7 Days Walking With Your Dog Code: HW8D
We offer 5 itineraries covering the whole route, 2 of which can be booked with dog-friendly accommodation (codes ending with a D). The longer the itinerary, the shorter you have to walk each day. The most popular options are 7 and 8 days.

We offer two dog friendly itineraries covering the entire length of Hadrian's Wall.
This 7 day version is achievable for most reasonably fit walkers. The 8 day version puts an extra day between Twice Brewed and Carlisle allowing you more time to relax and explore. If you are keen to look around the museums and archaeological sites please be aware that you won't be able to take your dog into some of the main sites, including Vindolanda and the Roman Army Museum.
Our dog friendly accommodation in Bowness on Solway is a little different and, subject to availability, you will be staying in a self-contained luxury timber cabin. The cabins contain a fixed bed and ensuite shower room. Linen and towels are provided and a breakfast box will be delivered to your cabin. You can take a look at the website here. If you would prefer a traditional B&B/hotel we can arrange your final night in Carlisle instead, just let us know when booking.
Prices do not include any charges made for dogs by the accommodation providers. These should be paid by you directly to them on arrival. The amount will vary depending which accommodations we book you into but the estimated cost for the 8 nights is between £35 and £50.
See more useful information about dog-friendly holidays here.
| | | Miles | Km |
| --- | --- | --- | --- |
| Day 1 | Travel to Newcastle for your first nights accommodation | | |
| Day 2 | Metro rail Newcastle to Wallsend then walk to Ryton | 12 | 19 |
| Day 3 | Ryton to Port Gate then transfer to Corbridge | 15 | 24 |
| Day 4 | Corbridge to Chollerford then transfer to Twice Brewed | 9 | 14 |
| Day 5 | Transfer back to Chollerford then walk to Twice Brewed | 13 | 21 |
| Day 6 | Twice Brewed to Lanercost then transfer to Gilsland | 14 | 23 |
| Day 7 | Transfer back to Lanercost then walk to Carlisle | 15 | 24 |
| Day 8 | Carlisle to Bowness on Solway | 14 | 23 |
| Day 9 | Depart from Bowness on Solway after breakfast | | |
Dog friendly holidays starting at Wallsend have the first night in Newcastle. To get to the start of the route at Wallsend to begin your walk, take the metro to Wallsend. Exit the station and follow Station Road to Buddle Street where you will find Segedunum Museum.
Wallsend to Newburn
The walk starts in Wallsend near Newcastle upon Tyne, on the site of Segedunum, a Roman fort with an interesting museum. It follows the River Tyne into the city to the redeveloped central quayside, past the 'Blinking Eye' Millennium Bridge, which leads to the Baltic Arts Centre and distinctive Sage Building. The route continues beside the river to Newburn, on the outskirts of Newcastle.
Newburn to Humshaugh
The trail continues pleasantly through the Tyne Valley Country Park before climbing to the hilltop village of Heddon and onwards through rolling countryside. Turrets and milecastles become part of the landscape. The final 2 miles are marked by a descent through attractive parkland to the North Tyne Valley and the picturesque villages of Wall, Chollerford and Humshaugh, (all of which we use for overnight stops).
Humshaugh to Twice Brewed
The route soon reaches the Northumberland National Park and classic Roman Wall country with expansive views and undulating moorland. The route climbs steadily at first, past turrets and Brocolitia Roman fort; it then becomes more steeply undulating on reaching the Whin Sill escarpment. The views of open moorland, the South Tyne Valley, the Pennines and of the wall itself following ridges ahead are breathtaking. The route passes the well preserved Housesteads Fort and continues in a similar dramatic fashion to Twice Brewed.
Twice Brewed to Gilsland
The route continues to follow the escarpment, over the rugged crags of Winshield, equally as impressive as the previous section. It passes the remains of Great Chester's Fort and the Roman Army Museum and continues to the pretty villages of Greenhead and Gilsland.
Gilsland to Carlisle
Just after Gilsland the fort of Birdoswald is reached, after which the route continues high above the steep sided Irthington Gorge, before beginning a gradual descent at the village of Banks. Rich agricultural landscape and parkland replaces the moorland as the route drops steadily through the villages of Walton and Irthington before reaching the River Eden for the final section into the historic border city of Carlisle. Carlisle's history is very much evident with its cathedral, castle and old city walls.
Carlisle to Bowness-on-Solway
The final section is a complete contrast to all that has gone before; initially along the banks of the Eden and then across the pancake flat salt marshes of the Solway Firth. The mountains of the Lake District are visible to the south and Scotland is just across the water to the north. This expansive estuary is internationally renowned for its thriving bird life and the area has a peaceful charm of its own.


Easy to Moderate
Of the National Trails we cover, this is the easiest. The route journeys over rolling countryside and moorlands, but not mountains. Many people with limited walking experience have completed this route.
Terrain: Varied. Urban footpaths for day 1, then generally fields and parkland until Housesteads. Moorland up to 350m for the central section, then more fields and parkland to Carlisle, followed by flat coastal plain to Bowness.
What's it like underfoot? Pretty good. Well maintained paths throughout, although sections can get a bit muddy in wet weather.
How much up & down? Not too much! Generally rolling countryside with some gentle ups and downs. In the central section there are numerous short steep climbs.
Signposting: Good.
Navigation: Pretty straightforward. Well defined paths, and good signposting.
All Holidays

Accommodation
Overnight Bed and Breakfast accommodation in selected hotels, farmhouses, village inns, guest houses and family B&Bs.Full English or Continental breakfast.
Guidebook
A detailed guidebook with route information, maps, photos and background information.
Information of Services Along the Route
A comprehensive Service Info sheet, including services such as cash points, banks, post offices, village shops, inns, cafes and taxis.
Maps
A waterproof 1:40000 map from Harvey Maps covering the whole route.
Personal Itinerary
A personal itinerary setting out each overnight stop, including large scale maps of each accommodation, to ensure you find it easily.
Emergency Telephone Support
If you get in to difficulties during your holiday, we are always available to help, even out of office hours.
12.5% discount at Cotswold Outdoors
We will issue you with a 12.5% Discount Card valid at all Cotswold Outdoor stores, and online, for the whole year on confirmation of your booking.

Options

Luggage Transport
We will transfer your luggage between each overnight stop – if you leave your luggage at the accommodation when you set off in the morning, it will be moved on to your next B&B. You only need to carry a small day sack with the clothes and provisions you require during the day's walk.
Packed Lunches

Provided for each day's walking and recommended on this holiday as there will not always be a handy shop or cafe on the route.
Off Road Parking
If you are travelling by car we can usually arrange off road parking for the duration of your trip. (There may be a small charge for this).
Arrangement of return transport
We can also arrange your transfer back to your car, (or advise you when public transport is a better option)!

What's not Included

Evening Meals
Your evening meal isn't included in the package, but we include full details and recommendations for each evening meal in your itinerary. You will normally be within walking distance of a pub and/or restaurant, or where there is good food available at the accommodation, we'll book that for you. Allow about £20.00 per night.
Transport to the Start & Away from the Finish
Have a look at the "Travel Info" tab above for suggestions. If you're still struggling, get in touch and we'll help you sort it out.
Travel Insurance
Even if you are based in the UK travel insurance is worth having.
Good accommodation and friendly hosts are an essential part of any holiday. We understand this and go out of our way to find the best. We put a great deal of effort into hand picking our accommodation and matching it to individual customer requirements. As well as visiting the accommodation ourselves, we ask all our customers to complete a short evaluation on each night's accommodation, which then gives us an insight into the day-to-day operation and lets us spot any potential issues before they become a problem.
We use a variety of accommodation, including small country house hotels, guest houses in market towns, bed and breakfasts in farm houses, country cottages and Victorian town houses. In selecting the accommodation we look for helpful, friendly hosts with good quality, characterful accommodation close to the trail. For example, over the course of your trip you might stay in a village inn, a bed and breakfast in a converted barn, a Victorian guest house, on a working farm, and in a Georgian hotel.
We always try to arrange en suite accommodation, i.e. rooms with their own bathrooms for each night of your stay. However, in some of the more remote locations accommodation is limited and occasionally we may have to book rooms with shared bathrooms for one or two nights of your holiday, (especially if the booking is made at short notice), but we will always let you know if this is likely to be the case.
We are happy to book single rooms on our holidays but cannot normally book more than 2 for any one group. Single room bookings include a supplement.
Here are some examples of the accommodation we use along the Hadrian's Wall path: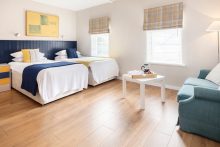 A warm welcome awaits you at the award winning Brookside Villa. Keen walkers Denise and Gerry will be only too happy to share their in-depth knowledge of Hadrian's Wall, as well as always going out of their way to ensure your comfort and enjoyment. Visit their website
Samantha is your host at Vallum Lodge. Her family run guest house offers excellent en suite accommodation and personal service. Such is their proximity to Hadrian's Wall that the vallum, built 2000 years ago as part of the wall's fortifications, actually runs through their back garden! Visit their website
General travel information on the Hadrian's Wall area will be in your holiday pack including train and bus timetables where available.
Detailed instructions on getting to your first night's accommodation by car, or on foot from the nearest train or bus station, will also be included in the holiday pack on individual accommodation maps.
To view train times please visit trainline where you can also purchase tickets in advance. For information on bus timetables please visit traveline
If you require car parking whilst walking this route, you can park in Tynemouth on your night of arrival. The following morning you drive to Wallsend which is the start of the route and we will arrange secure parking at this location. You can return to your car by public transport or taxi – please contact us for detailed information.
Getting There: Holidays starting at Wallsend have the first night in Tynemouth.
By Air: Newcastle International Airport (NCL) has its own Metro station (you will need some change for the ticket machine) the journey time from the airport to Newcastle Central Station is around 20 minutes, change at Monument for Tynemouth.
By Public Transport: take the East Coast Main Line to Newcastle. From Newcastle Central Station take the Metro to Tynemouth (you will need some change for the ticket machine), then follow the instructions on the accommodation map in your holiday pack.
By Road: From The South, head north through the Tyne Tunnel (A19) follow the A19 up to the A1058 coast road, head towards Tynemouth. From Newcastle, head towards the coast on the Coast Road (A1058).
To get to the start of the route at Wallsend to begin your walk:
Take the metro from Tynemouth to Wallsend (approx 7 min). Exit the station and follow Station Road to Buddle Street where you will find Segedunum Museum.
Returning from Bowness on Solway:
Take the bus from Bowness on Solway to Carlisle (approx 45 min) there is a bus at 07:34 and 10:12. There is a train station at Carlisle for onwards travel.
Twice Brewed
Twice Brewed is an excellent place for a rest day - in the middle of the most dramatic section of the wall, and close to the best preserved Roman forts. Vindolanda can take the best part of a day - there are extensive remains, a comprehensive museum, and often an archaeological dig in progress. Housesteads and the Roman Army Museum are also close by.
Carlisle
Carlisle is an historic border city, complete with castle and cathedral. Tullie House Museum has a lot of Roman artefacts and is worth a visit. The cathedral was founded in 1122 and is open every day. The castle has dominated the city for 9 centuries, and also houses a military museum – there are guided tours daily. There are plenty of shops and lots of places to eat or have coffee.
Prices

GBP (£)

Accommodation, map & guidebook only
£944
with Luggage Transport
£989
with Packed Lunches
£1021
with Luggage & Lunches
£1062

Other Options

Extra Nights (per night)
£90
Single Supplement (per night)
£55
Solo Luggage Supplement (per day)
£0