Settle to Carlisle Way: The Yorkshire Dales
Settle to Kirkby Stephen in 3 Days Walking With Your Dog Code: SEY4D
We offer 2 itineraries focusing on the Yorkshire Dales section of the trail. The 4 day option splits the longest day from the 3 day itinerary into 2 shorter days allowing you to slow things down a little as you wind your way between the dramatic Yorkshire 3 Peaks.
Our 3 day itinerary can also be booked with dog-friendly accommodation. Please select the code ending D if you would like to bring your dog with you. Having walked to Kirkby Stephen we will transfer you to our dog friendly accommodation in Ravenstonedale.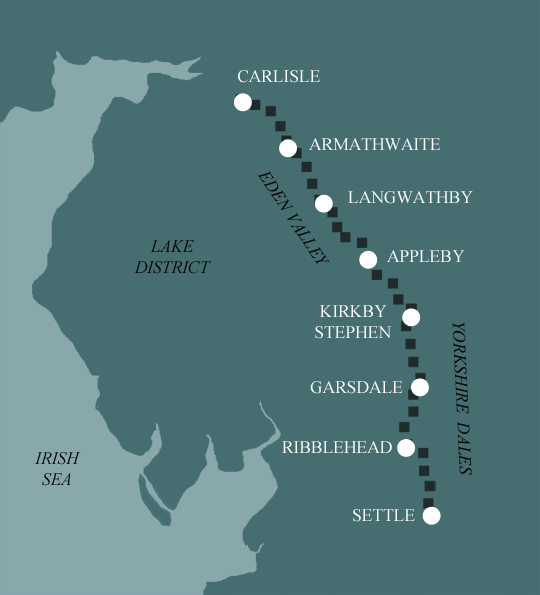 A dog friendly itinerary on the Yorkshire Dales section of the Settle to Carlisle Way.
Walking beneath the iconic Yorkshire peaks of Pen-y-ghent, Whernside and Ingleborough this hugely rewarding 3 day dog friendly walk, averaging 13 miles per day, is an ideal choice for those looking for a short break in an idyllic Yorkshire Dales setting.
Having walked to Kirkby Stephen we will transfer you to our dog friendly accommodation in Ravenstonedale for the evening, You will depart from Ravenstonedale the following morning.
Prices do not include any charges made for dogs by the accommodation providers. These should be paid by you directly to them on arrival. The amount will vary depending which accommodations we book you into but the estimated cost for the 4 nights is £40.
Please be aware it is not possible to start this itinerary on a Friday or Saturday.
Some more useful information about walking with your dog here
| | | Miles | Km |
| --- | --- | --- | --- |
| Day 1 | Travel to Settle for your first nights accommodation | | |
| Day 2 | Settle to Ribblehead | 15 | 24 |
| Day 3 | Ribblehead to Garsdale then transfer to Hawes | 12 | 19 |
| Day 4 | Transfer back to Garsdale then walk to Kirkby Stephen | 13 | 21 |
| Day 5 | Depart from Kirkby Stephen after breakfast | | |
Settle to Ribblehead
Leaving Settle the Way follows the River Ribble on the route of the aptly named Ribble Way, only leaving the river for a short time as it passes through the charming hamlet of Stackhouse, returning to the waters edge soon after. From here the Way heads into the Yorkshire Dales National Park and soon reaches the picturesque Stainforth Force with its pretty packhorse bridge dating back to 1675.
Beyond Stainforth the Way crosses rough pasture with Ingleborough on its left and Pen-y-ghent coming into view ahead. The Way rejoins the river and the railway at Helwith Bridge and follows it all the way to the popular village of Horton in Ribblesdale.
Leaving Horton in Ribblesdale the Way follows part of the Pennine Way along an impressive dry-stone walled green lane passing Sell Gill Holes before breaking off and joining the path linking Pen-y-ghent with Whernside. An access track leads to the public road where a short section of road walking leads to Ribblehead and the magnificent 400m wide viaduct with its 24 arches towering more than 30m above the ground.
Ribblehead to Garsdale
Remaining on the east side of the imposing Ribblehead Viaduct the Way climbs to run parallel with the railway. From here, in good weather, you should be able to see each of the iconic Yorkshire 3 Peaks, Pen-y-ghent, Whernside and Ingleborough.
The Way continues over Blea Moor. Beneath the moor is Blea Moor Tunnel, at 1.5 miles long it's the longest on the railway. Ventilation shafts on the moor signal the line of the tunnel which at times is almost 500 feet below. From Blea Moor two splendid viaducts come in to view. Directly ahead is Dent Head and further off to its left is Arten Gill.
Passing through Mossy Bottom plantation the Way leaves the moor by the northern mouth of Blea Moor Tunnel and breaks from the railway for a time, rejoining at Arten Gill Viaduct, the highest on the line.
Beyond the viaduct the Way joins the Pennine Bridleway and sweeps round the flanks of Great Knoutberry Hill with the reward of fine views of Dentdale, the Lake District, the southern slopes of the Howgills and the North Pennines. A quiet winding road leads to Garsdale.
Garsdale to Kirkby Stephen
From Dandry Mire Viaduct the Way follows the Pennine Bridleway on rough ground past Cobbles Plantation before climbing to meet with Lady Anne's Way. The Way follows this hugely enjoyable high level track for several miles with one of the finest hills in Yorkshire, Wild Boar Fell, dominating the superb view across the valley. The Way eventually drops to meet the railway and the River Eden at Deep Gill. The remainder of this section involves delightful walking along the valley floor.
Beyond Deep Gill, near the romantic ruin Pendragon Castle, the Settle to Carlisle Way and Lady Anne's Way split for a time. Initially skirting the flanks of Birkett Common the Way remains on the west of the Eden meandering its way to the Cumbrian market town of Kirkby Stephen where it again meets with Lady Anne's Way. Alfred Wainwright's Coast to Coast Path from St Bees to Robin Hood's Bay also arrives into Kirby Stephen. All three will depart in separate directions.


Easy to Moderate
The Settle to Carlisle Way can be completed by anyone with a reasonable level of fitness and the ability to follow a map!
Terrain: A little bit of everything the Yorkshire Dales and Eden Valley has to offer. A varied mixture of riverside paths, green lanes, limestone grassland, woodland paths and moorland tracks.
What's it like underfoot? On the whole the paths are relatively well defined, however there are a number of boggy sections where after prolonged rain the ground can be extremely muddy. There are some short sections of road walking which are free from heavy traffic.
How Much Up & Down? The Way's profile tends to match that of the railway. Leaving Settle at approximately 150m the Way climbs to just around 350m near Garsdale before gradually losing height all the way to Carlisle just above sea level.
Signposting: As the Settle to Carlisle Way is not yet an established long distance trail there isn't any consistent signposting. The Way does however follow sections of Ribble Way, Pennine Way and Pennine Bridleway which are signposted.
Navigation: Although there isn't any consistent signposting, in the main the Way follows rights of way throughout. Providing you familiarise yourself with the route ahead of your holiday and refer to your map when walking you will remain on course without too much effort.
Weather: You may be lucky enough to encounter warm, dry weather over the whole route and enjoy dry paths and tremendous views, but you must be prepared because the weather can change quickly. Good clothing including comfortable footwear and reliable waterproofs are essential. Pack your floppy hat and sun cream also!
All Holidays

Accommodation
Overnight Bed and Breakfast accommodation in selected hotels, farmhouses, village inns, guest houses and family B&Bs. Full English or Continental breakfast.
Guidebook
A detailed guidebook with route information, maps, photos and background information.
Information of Services Along the Route
A comprehensive Service Info sheet, including services such as cash points, banks, post offices, village shops, inns, cafes and taxis.
Maps
A waterproof 1:40000 map from Harvey Maps covering the whole route.
Personal Itinerary
A personal itinerary setting out each overnight stop, including large scale maps of each accommodation, to ensure you find it easily.
Emergency Telephone Support
If you get in to difficulties during your holiday, we are always available to help, even out of office hours.
12.5% discount at Cotswold Outdoors
We will issue you with a 12.5% Discount Card valid at all Cotswold Outdoor stores, and online, for the whole year on confirmation of your booking.

Options

Luggage Transport
We will transfer your luggage between each overnight stop – if you leave your luggage at the accommodation when you set off in the morning, it will be moved on to your next B&B. You only need to carry a small day sack with the clothes and provisions you require during the day's walk.
Packed Lunches

Provided for each day's walking and recommended on this holiday as there will not always be a handy shop or cafe on the route.
Off Road Parking
If you are travelling by car we can usually arrange off road parking for the duration of your trip. (There may be a small charge for this).
Arrangement of return transport
We can also arrange your transfer back to your car, (or advise you when public transport is a better option)!

What's not Included

Evening Meals
Your evening meal isn't included in the package, but we include full details and recommendations for each evening meal in your itinerary. You will normally be within walking distance of a pub and/or restaurant, or where there is good food available at the accommodation, we'll book that for you. Allow about £20.00 per night.
Transport to the Start & Away from the Finish
Have a look at the "Travel Info" tab above for suggestions. If you're still struggling, get in touch and we'll help you sort it out.
Travel Insurance
Even if you are based in the UK travel insurance is worth having.
Good accommodation and friendly hosts are an essential part of any holiday. We understand this and go out of our way to find the best. We put a great deal of effort into hand picking our accommodation and matching it to individual customer requirements. As well as visiting the accommodation ourselves, we ask all our customers to complete a short evaluation on each night's accommodation, which then gives us an insight into the day-to-day operation and lets us spot any potential issues before they become a problem.
We use a variety of accommodation, including small country house hotels, guest houses in market towns, bed and breakfasts in farm houses, country cottages and Victorian town houses. In selecting the accommodation we look for helpful, friendly hosts with good quality, characterful accommodation close to the trail. For example, over the course of your trip you might stay in a village inn, a bed and breakfast in a converted barn, a Victorian guest house, on a working farm, and in a Georgian hotel.
We always try to arrange en suite accommodation, i.e. rooms with their own bathrooms for each night of your stay. However, in some of the more remote locations accommodation is limited and occasionally we may have to book rooms with shared bathrooms for one or two nights of your holiday, (especially if the booking is made at short notice), but we will always let you know if this is likely to be the case.
We are happy to book single rooms on our holidays but cannot normally book more than 2 for any one group. Single room bookings include a supplement.
Here are some examples of the accommodation we use on the Settle to Carlisle Way: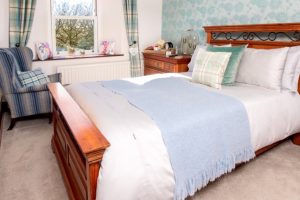 Edd and Jan welcome you to their beautiful 19th century Bed and Breakfast & Tearoom at Middle Studfold Farm near the village of Horton in Ribblesdale. Their rooms have been completely refurbished to a high standard. All food, including bread, is prepared and cooked fresh by Edd himself, a chef. Exquisite dishes are served in the evening also. Visit their website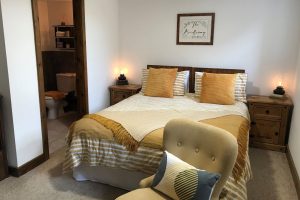 In the spectacular valley of Garsdale, Linda and Graham welcome you to their homely Bed and Breakfast, Goats and Oats. Accommodation is in a beautifully converted barn attached to their home with its own separate entrance. Their food is absolutely delicious and 100% plant based, leaving you full, satisfied and ready for your adventures!. Visit their website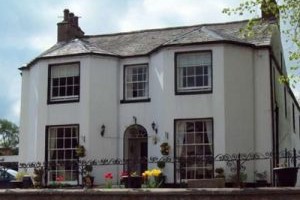 A warm Cumbrian welcome awaits you at Bongate House in Appleby. In addition to her seven fabulous rooms Anne has approximately an acre of garden for your enjoyment. Sit and enjoy the sun, or take a stroll to the end of the garden where hidden, beyond the trees, you will find a view of Appleby Castle and the River Eden. Visit their website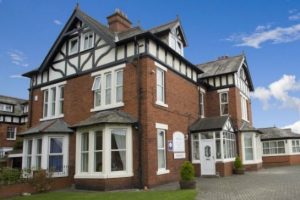 Debbie and Mark are your hosts at Fern Lee Guest House in the historic city of Carlisle. Their attractive property offers modern, spacious and well furnished rooms. Their delicious breakfasts – Full English, Continental, Vegetarian or Vegan are all made from fresh, locally sourced ingredients. Visit their website
General travel information for the Settle to Carlisle Way will be in your holiday pack.
Detailed instructions on getting to your first night's accommodation by car, or on foot from the nearest train or bus station, will also be included in the holiday pack on individual accommodation maps.
To view train times please visit trainline where you can also purchase tickets in advance. For information on bus timetables please visit traveline
If you require secure car parking whilst walking this route, please contact us for information.
Getting to Settle:
By Air: The nearest International Airports to the trail are Leeds Bradford Airport and Manchester. Shuttlebus services run between the Airport and both Leeds Railway Station and Bradford Forster Square Station.
By Public Transport: Settle Railway Station is located on the Settle to Carlisle Line with connections at Carlisle to the West Coast Main Line between Glasgow and London Euston. Despite its name, the line actually continues southwards from Settle to terminate at Leeds where it connects with the East Coast Main Line between Edinburgh and London Kings Cross.
By Road: Settle is located on the B6480, just off the A65.
From the M6: Leave the M6 at Junction 36 and follow signs for the A65 Kirkby Lonsdale & Skipton. Follow the A65 for approx. 20 miles, passing through Kirkby Lonsdale and Ingleton, then follow signs left for Settle & Giggleswick. Follow the B6480 through the village of Giggleswick to arrive in Settle.
From the A1(M): Leave the A1(M) at Junction 47 and follow signs for the A59. Pass through Knaresborough then Harrogate and continue on the A59 to Skipton (where it meets and merges with the A65 as it bypasses Skipton) and follow signs for the A65 Kendal. Pass though the villages of Gargrave, Hellifield and Long Preston. Shortly after 'The Courtyard' Centre & Tea Rooms, pass under the railway bridge to a roundabout and take the second exit for the B6480 Settle.
Returning from Kirkby Stephen:
By Public Transport: Kirkby Stephen Railway Station is located on the Settle to Carlisle Line with connections at Carlisle to the West Coast Main Line between Glasgow and London Euston. Despite its name, the line actually continues southwards from Settle to terminate at Leeds where it connects with the East Coast Main Line between Edinburgh and London Kings Cross.
By Road: From the east: Leave the A1 at Scotch Corner and head west towards Brough on the A66. At Brough take the exit for the A685 and turn left off the slip road towards Kirkby Stephen.
From the west: Leave the M6 at Junction 38 and follow the signs towards Kirkby Stephen.
Settle
Surrounded by stunning countryside and iconic landmarks, the charming town of Settle is well worth a day of discovery. It's an ideal base for all sorts of adventures from cave exploration and abseiling to road cycling and mountain biking. There's a fabulous selection of friendly independent shops and when it comes to eating there are plenty of places offering delicious food for all tastes and budgets.
Hawes
Hawes is a bustling market town, lying in the heart of the Yorkshire Dales National Park and surrounded by spectacular scenery. With many craft workshops, antique and speciality shops and restaurants on offer, it's the perfect place to spend a well-earned rest day. This picturesque town is home to the famous Wensleydale Cheese and the renowned Dales country side museum.
Kirkby Stephen
Kirkby Stephen is a traditional market town of historic buildings, cobbled yards, quaint corners and interesting shops. It is situated in a landscape of pastoral rural scenery with wild uplands. Being remote from large towns and population centres, Kirkby Stephen has developed a strong and self-sufficient identity and a vibrant sense of community.
Prices

GBP (£)

Accommodation, map & guidebook only
£512
with Luggage Transport
£587
with Packed Lunches
£545
with Luggage & Lunches
£616

Other Options

Extra Nights (per night)
£90
Single Supplement (per night)
£58
Solo Luggage Supplement (per day)
£25