Cleveland Way: The Coastal Highlights
Saltburn-by-the-Sea to Filey in 4 Days Walking With Your Dog Code: CLC5D
The Beaches and Cliffs section of the Cleveland Way taking in the dramatic North Yorkshire Heritage Coast. This holiday can also be booked with dog-friendly accommodation. Please select the 5 night itinerary with the code ending D if you would like to bring your dog with you.
Please note that many of our accommodation providers in Scarborough and Filey now operate a minimum two night policy, therefore it is likely you will spend the final two nights of your holiday in the same location, either Scarborough or Filey, with a transfer between.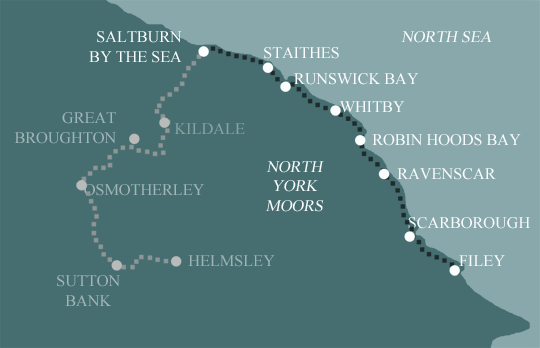 A dog friendly itinerary featuring the coastal highlights of the Cleveland Way.
This walk is one of our three shortened 'highlight' walks on the Cleveland Way. It covers the beautiful coast between Saltburn-by-the-Sea and Filey and can easily be walked over 4 days by all fit walkers.
It follows the North Yorkshire and Cleveland Heritage Coast to Filey. The middle two days are the longest but the sea views from the cliff tops make it all worthwhile.
Please be aware it is only possible to start this walk with your first night on a Saturday, Sunday, Monday or Tuesday. Starting on another day may be possible but subject to some additional charges for transfers or weekend rates. Please just ask for more information.
You may add rest days but this will affect the day of the week that you can start. Please ask us for information.
Prices do not include any charges made for dogs by the accommodation providers. These should be paid by you directly to them on arrival. The amount will vary depending which accommodations we book you into but the estimated cost for the 5 nights is between £20 and £25.
See more useful information about dog-friendly holidays here.
| | | Miles | Km |
| --- | --- | --- | --- |
| Day 1 | Travel to Saltburn-By-The-Sea for your first nights accommodation | | |
| Day 2 | Saltburn-By-The-Sea to Runswick Bay | 12 | 19 |
| Day 3 | Runswick Bay to Robin Hood's Bay | 14 | 23 |
| Day 4 | Robin Hood's Bay to Scarborough then transfer to Filey | 14 | 23 |
| Day 5 | Transfer to Scarborough then walk to Filey | 11 | 18 |
| Day 6 | Depart from Filey after breakfast | | |
Saltburn-by-the-Sea to Robin Hood's Bay
From here on the route hugs the coastline, through historic fishing villages, over high cliffs and along windswept beaches. From Saltburn the route heads up Hunt Cliff and along a section of dramatic cliffs to the highest point on the east of England at Rock Cliff. This route takes you down to sea level on three occasions and through the pretty villages of Staithes and Runswick, ending at the fishing village of Sandsend.
Dramatic coast paths lead onto Whitby, with its fine harbour, fossil filled cliffs and old town connections with Bram Stoker's Dracula! A visit must be made to the imposing remains of Whitby Abbey high above the town. Whitby and Robin Hood's Bay are separated by an easy cliff top walk.
Robin Hood's Bay to Filey
Between Robin Hood's Bay and Scarborough the route encompasses ever-changing scenery, with the Flyingdales Moor to the west and the North Sea to the east. There are three steep descents and ascents along this path, where the sea interrupts the cliff top walk.
The arrival into the seaside town of Scarborough will provide you with another type of scenery, with its grand beaches, swish hotels and traditional seaside entertainment!
On leaving Scarborough, notice the vibrant colours from the South Cliff as you make your way to the final cliff top trail. The view of continuous coastal cliffs continues from Cayton Bay until your final destination, Filey.


Easy to Moderate
This is a coastal walk, and can be completed by people with limited walking experience.
Terrain: The coastal path follows the sea cliffs with frequent descents to coves and beaches.
What's it like underfoot? On the whole the paths are well defined and maintained, but at times it can be rough underfoot with some muddy paths, so good footwear is essential.
How Much Up & Down? There are short, sometimes steep climbs from sea level along the coast.
Signposting: Generally good.
Navigation: Pretty straightforward.
All Holidays

Accommodation
Overnight Bed and Breakfast accommodation in selected hotels, farmhouses, village inns, guest houses and family B&Bs.Full English or Continental breakfast.
Guidebook
A detailed guidebook with route information, maps, photos and background information.
Information of Services Along the Route
A comprehensive Service Info sheet, including services such as cash points, banks, post offices, village shops, inns, cafes and taxis.
Maps
Three 1:25000 OS maps covering the entire route (OL26, OL27 & OL301).
Personal Itinerary
A personal itinerary setting out each overnight stop, including large scale maps of each accommodation, to ensure you find it easily.
Emergency Telephone Support
If you get in to difficulties during your holiday, we are always available to help, even out of office hours.
12.5% discount at Cotswold Outdoors
We will issue you with a 12.5% Discount Card valid at all Cotswold Outdoor stores, and online, for the whole year on confirmation of your booking.

Options

Luggage Transport
We will transfer your luggage between each overnight stop – if you leave your luggage at the accommodation when you set off in the morning, it will be moved on to your next B&B. You only need to carry a small day sack with the clothes and provisions you require during the day's walk.
Packed Lunches

Provided for each day's walking and recommended on this holiday as there will not always be a handy shop or cafe on the route.
Off Road Parking
If you are travelling by car we can usually arrange off road parking for the duration of your trip. (There may be a small charge for this).
Arrangement of return transport
We can also arrange your transfer back to your car, (or advise you when public transport is a better option)!

What's not Included

Evening Meals
Your evening meal isn't included in the package, but we include full details and recommendations for each evening meal in your itinerary. You will normally be within walking distance of a pub and/or restaurant, or where there is good food available at the accommodation, we'll book that for you. Allow about £20.00 per night.
Transport to the Start & Away from the Finish
Have a look at the "Travel Info" tab above for suggestions. If you're still struggling, get in touch and we'll help you sort it out.
Travel Insurance
Even if you are based in the UK travel insurance is worth having.
Good accommodation and friendly hosts are an essential part of any holiday. We understand this and go out of our way to find the best. We put a great deal of effort into hand picking our accommodation and matching it to individual customer requirements. As well as visiting the accommodation ourselves, we ask all our customers to complete a short evaluation on each night's accommodation, which then gives us an insight into the day-to-day operation and lets us spot any potential issues before they become a problem.
We use a variety of accommodation, including small country house hotels, guest houses in market towns, bed and breakfasts in farm houses, country cottages and Victorian town houses. In selecting the accommodation we look for helpful, friendly hosts with good quality, characterful accommodation close to the trail. For example, over the course of your trip you might stay in a village inn, a bed and breakfast in a converted barn, a Victorian guest house, on a working farm, and in a Georgian hotel.
We always try to arrange en suite accommodation, i.e. rooms with their own bathrooms for each night of your stay. However, in some of the more remote locations accommodation is limited and occasionally we may have to book rooms with shared bathrooms for one or two nights of your holiday, (especially if the booking is made at short notice), but we will always let you know if this is likely to be the case.
We are happy to book single rooms on our holidays but cannot normally book more than 2 for any one group. Single room bookings include a supplement.
Here are some examples of the accommodation we use along the Cleveland Way: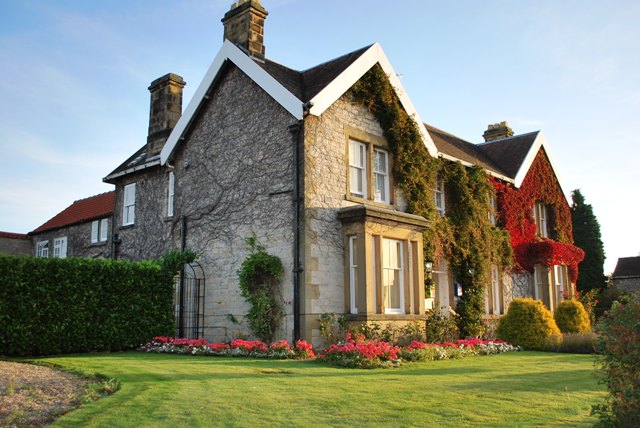 Situated in the 12th Century market town of Helmsley, Carlton Lodge is an excellent guest house, perfectly located for the Cleveland Way and providing quality accommodation. The breakfasts here are something special, with all ingredients sourced locally walkers are assured of an excellent start to their day. Visit their website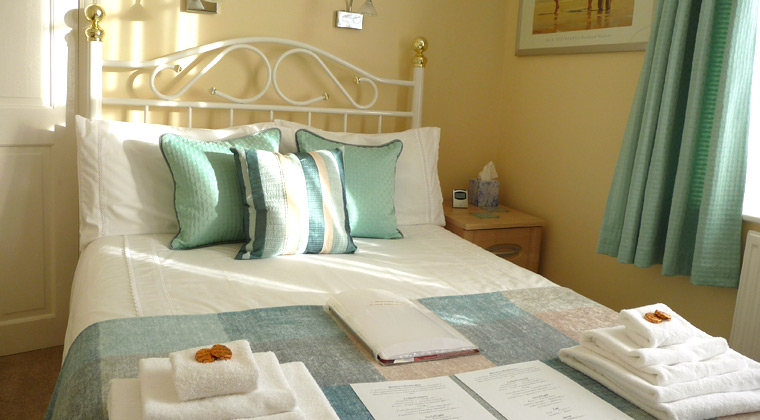 Set at the top of the hill, Manningtree is a former sea captain's house built in 1897. Located close to the Cleveland Way and Coast to Coast, this B&B is popular with walkers and returning guests who are enchanted by the fabulous location and wonderful hospitality offered here. Visit their website
General travel information on the Cleveland Way area will be in your holiday pack including train and bus timetables where available.
Detailed instructions on getting to your first night's accommodation by car, or on foot from the nearest train or bus station, will also be included in the holiday pack on individual accommodation maps.
To view train times please visit trainline where you can also purchase tickets in advance. For information on bus timetables please visit traveline
If you require car parking whilst walking this route, we can usually arrange this in Saltburn. To return to your car we recommend using a taxi transfer as the journey by public transport is not very convenient and takes a long time.
Getting There: Saltburn by the Sea
By Air: The nearest International Airport is Leeds Bradford (LBA). You then travel by train to Saltburn. You can also fly to Newcastle (NCL) or Manchester (MAN) – from either of these airports you can take the train to Saltburn.
By Public Transport: There is a train station in Saltburn.
By Road: From the North A66, then A174. From the South A1, A171, then A173
Returning from Filey:
There is a Railway Station in Filey.
Robin Hood's Bay
This picturesque village is a hidden gem on the East Yorkshire coast consisting of a maze of tiny streets with individual shops, cafes and pubs. Robin Hood's Bay has a tradition of smuggling (during the late 18th century smuggling was rife on the Yorkshire coast) and there is reputed to be a network of subterranean passageways linking the houses. The rocks of Robin Hood's Bay play host to a wealth of Jurassic history and fossilling is a wonderful activity for people of all ages along the huge, unspoilt beach. Likewise, the thrill of finding your first crab or starfish in a rock pool is equally as pleasurable.
Filey
A small, attractive seaside town with a long history of fishing, Filey has a magnificent beach with dramatic views of the long black finger of Filey Brigg in one direction and the chalk headland of Flamborough Head and Bempton Cliffs in the other.  It is well worth taking an extra day here to visit the RSPB Reserve at Bempton Cliffs. The Reserve is home to around 200,000 nesting birds including gannets, guillemots and kittiwakes during the breeding season.  Just a short distance further along the coast is the magnificent Flamborough Head, one of the best–preserved chalk headlands in Britain and home to the oldest complete surviving lighthouse in the UK.
Prices

GBP (£)

Accommodation, map & guidebook only
£673
with Luggage Transport
£737
with Packed Lunches
£717
with Luggage & Lunches
£777

Other Options

Extra Nights (per night)
£90
Single Supplement (per night)
£65
Solo Luggage Supplement (per day)
£15