Hayley's Family Hike on the Isle of Wight
By Hayley Finn
This year I wanted to walk the Isle of Wight with my wife, I've never been to the island and I wanted to get some sunshine after weeks of unseasonably wet weather in Cumbria. Fans of my previous blog around the Gower in Wales will know my wife Anna has long Covid so we book the longest itineraries with the shortest daily distances.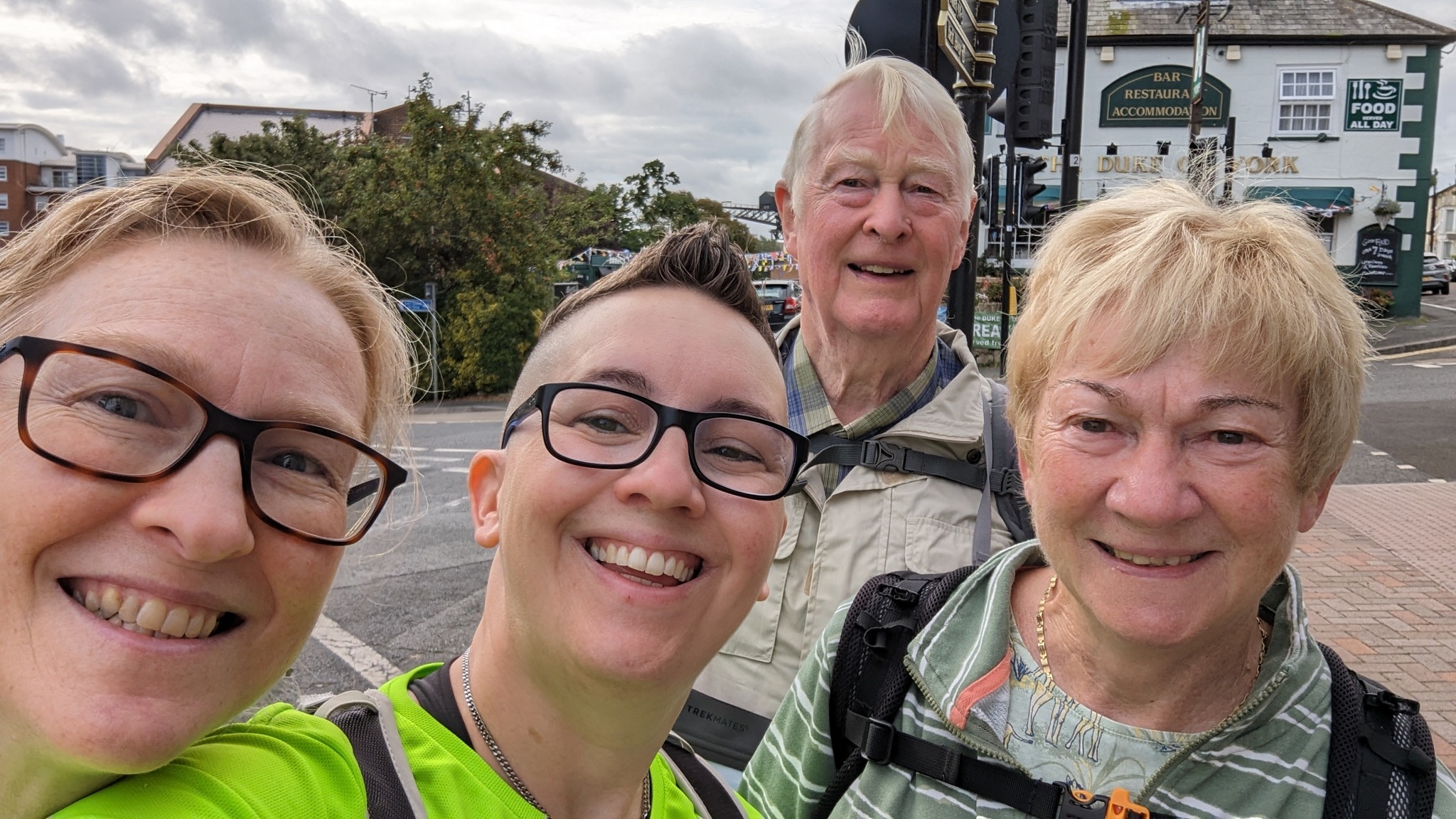 Since we were planning on the leisurely itinerary we invited Anna's parents along as well. Would I come to regret this?
Cowes to Shalfleet
We came early to the island after a night on the mainland near the Southampton port at Anna's brother's house. This allowed us a day to have a wander around and Anna to get a nap in. I took John and Sheila over to Osbourne House, which was Queen Victoria's holiday palace on the island. I've always wanted to visit. It is well worth visiting if you arrive on an early ferry or book a rest day in Cowes.
After a very well organised and generous breakfast at our accommodation we set off this morning for a 15km day to Shallfleet. It was perfect walking weather, diffused sunshine through fluffy clouds and a nice coastal breeze.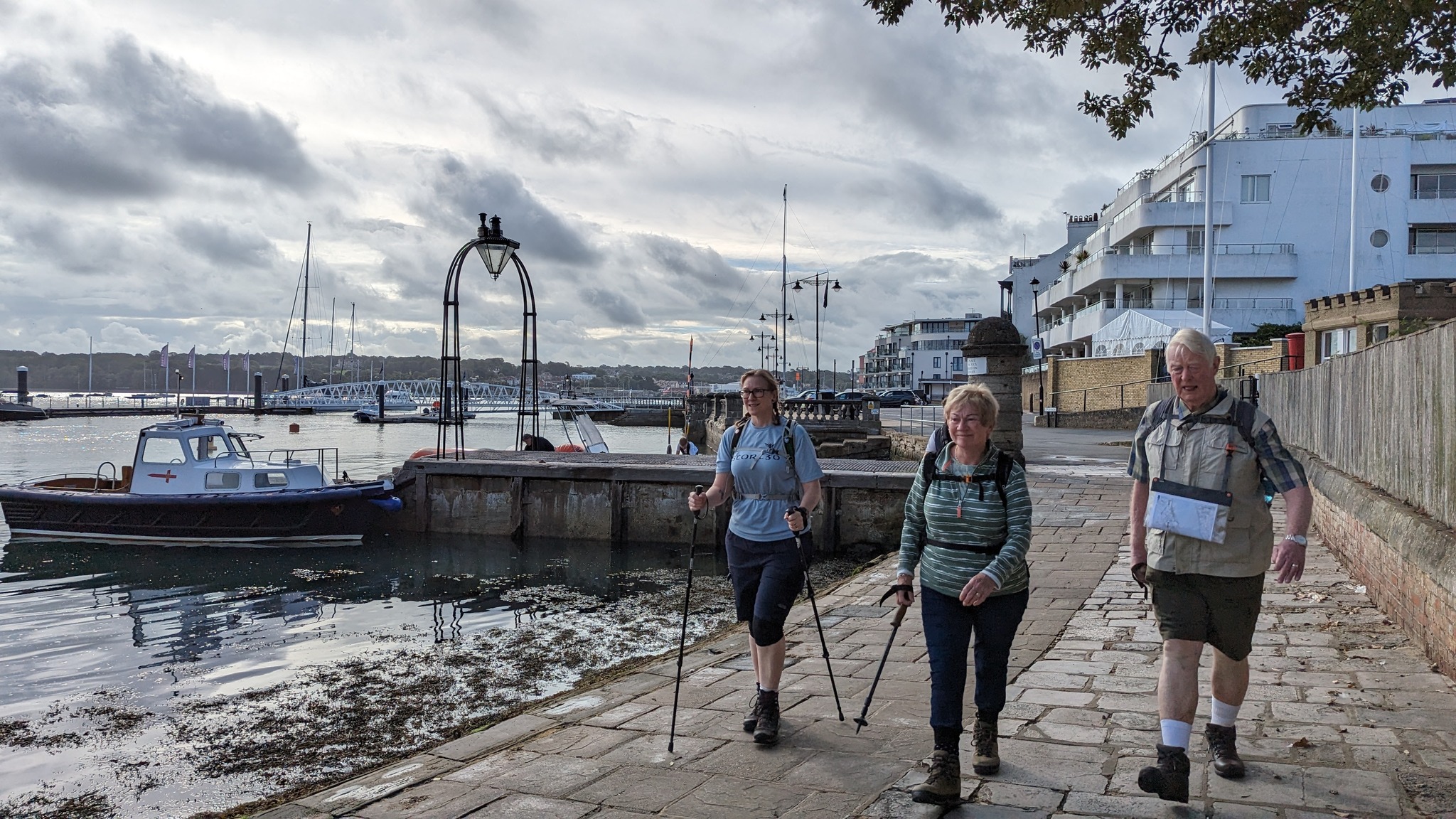 The walk starts at The Duke of York in Cowes and ambles through the old town shops to the promenade. We then followed the prom, meeting dog walkers and joggers and some beautiful houses. At Gurnard there are well used beach huts and the sea is full of early morning swimmers. This is where the path goes up a small hill to a low cliff path. In heavy rain this path could be muddy.
John caught his arm on a bramble going over a stile and was glad of my hiking first aid kit, we cleaned him up and patched him up and set off again.
When we dropped down back off the cliff we stopped to watch kite surfers and wind surfers in the bay and found a great place to stop for coffee in Thorness Holiday Park.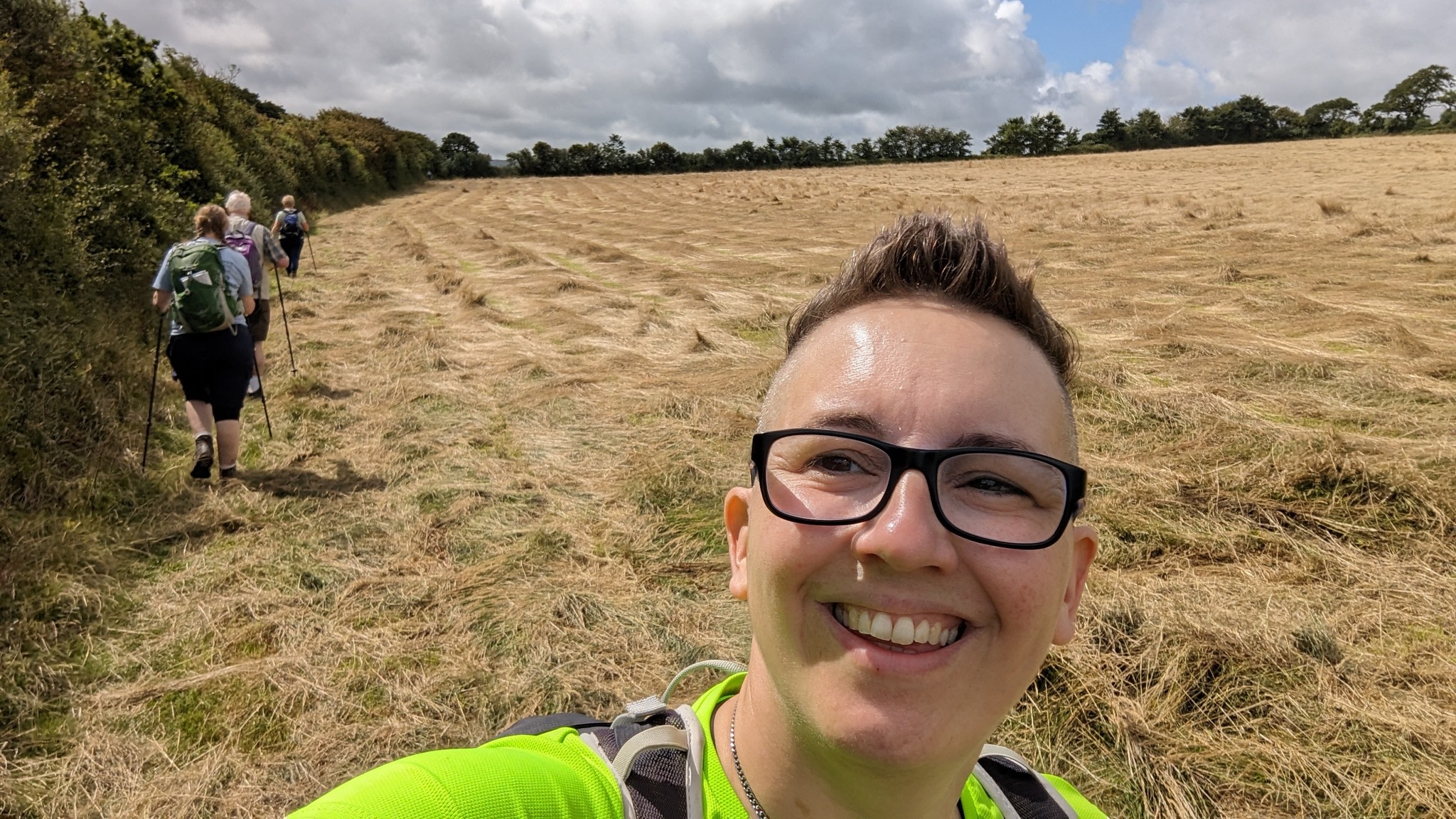 Here the path is forced inland around the MOD training area, which gives an opportunity to see some beautiful stone cottages in the villages, and also gave me an opportunity to teach my in laws how to use Google Lens to identify plants, an action I would certainly come to regret as we then stopped much more frequently to correctly name the various flora we were passing.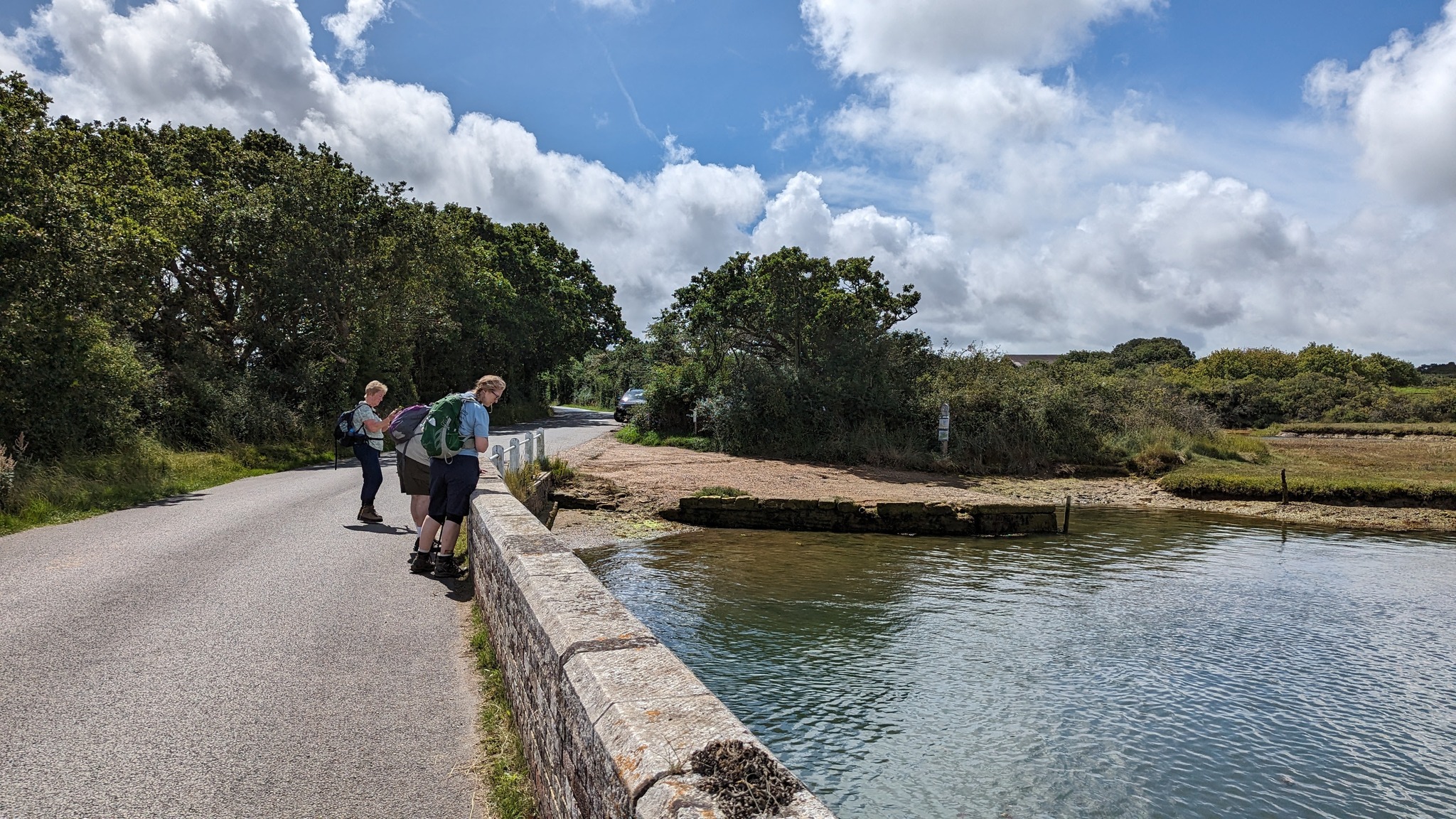 The path today has proven well signposted, a large blue sign with Coast Path and a seagull symbol. It has been a mixture of trail, road and fields and when we arrived at Shallfleet (early, the in laws are in better shape than they think) The New Inn has a lovely new beer garden to await our taxi to our accommodation. If you wanted to eat here (or anywhere on the island for that matter) you have to pre book. It's very popular and the island is very busy with tourists.
Shallfleet to Totland
Today we set off from the village of Shallfleet. A small village inland and behind the MOD training area we were skirting yesterday. It is littered with beautiful yellow stone cottages. The whole island is spoilt for architectural design. There seems to be no conservation zone like in the Lake District and so there are some fantastically designed new homes and beautifully restored period homes from the 1500s up to Edwardian town houses.
Today's paths took us mostly through fields and seaside forests and with the forecast rain as we navigated undergrowth that had really overgrown due to all the recent rain I was reminded strongly of walking through the seashore rainforests in Cairns, Australia twenty years ago.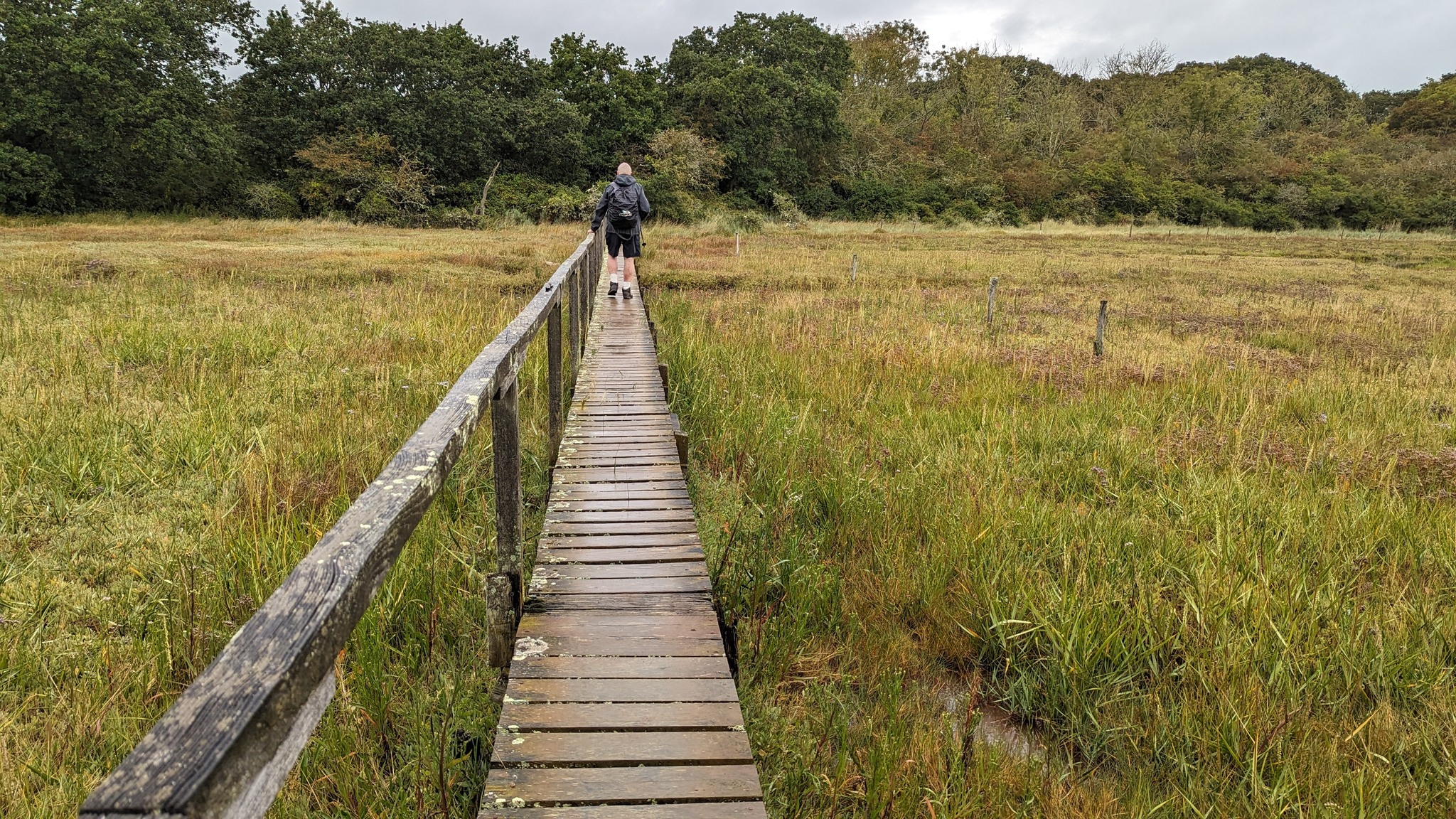 We were slowed down in places by numerous stiles to vault and some boardwalks which were slippy when wet. Care was taken and unfortunate events avoided by all the Finn family.
The farmers take care to keep walkers to the path and away from their cattle with small electric fences which my wife appreciated due to her fear of cows. Personally having grown up on farmland I love a bit of livestock.
Being hardy northerners we were prepared for the rain, it was also another learning opportunity for my parents in law about the difference between a 10000mm "waterproof" jacket and our 20000mm waterproofs which my wife and I have for winter hiking in the Lake District.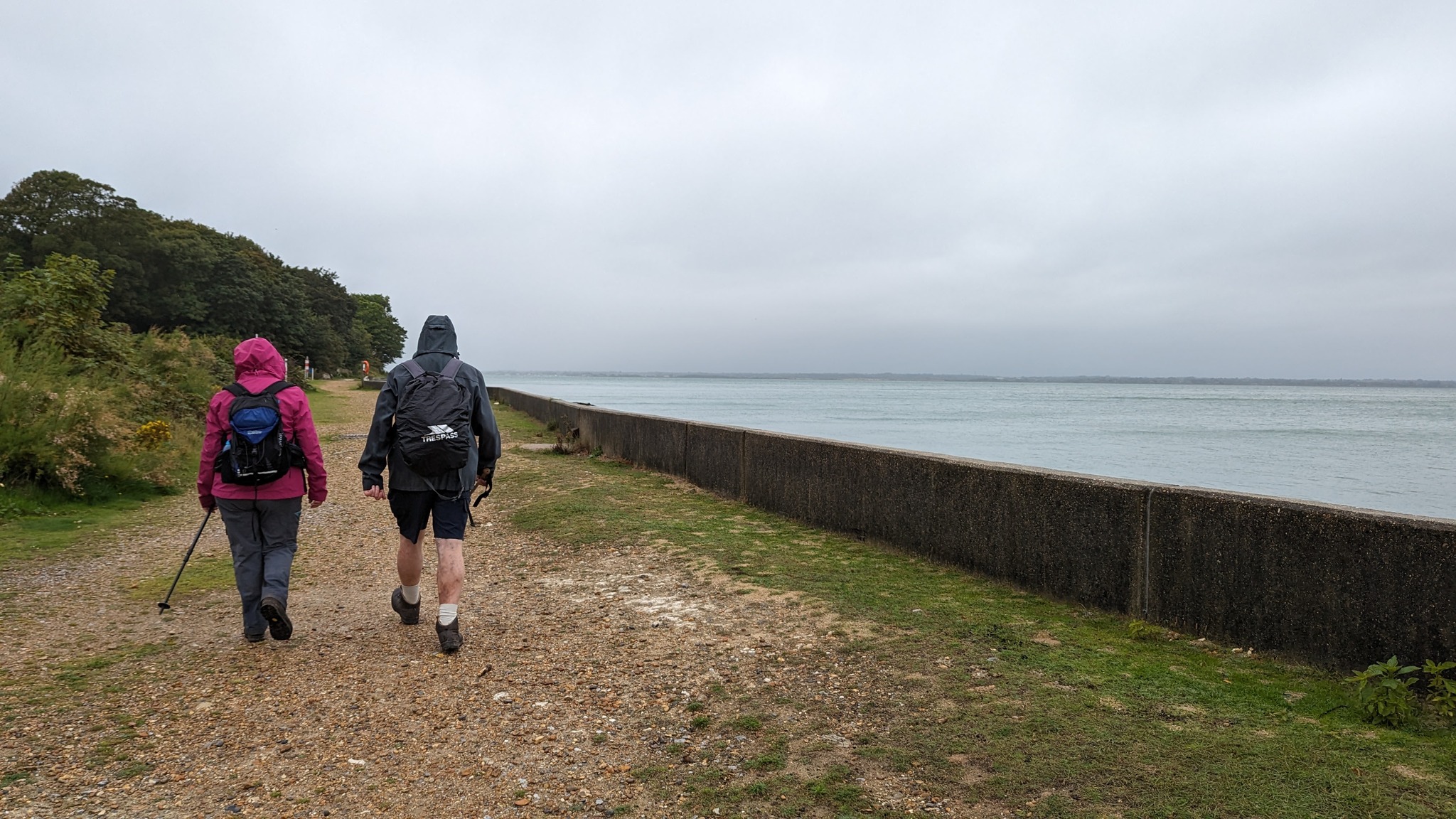 The drizzle (it wasn't proper Lake District Rain ™️) did mean that my mother in law couldn't use her new Google Lens skills so we made a good pace to our packed lunch stop on a beach just before Yarmouth. The skies blued up and I stripped off my boots and socks for a wade in the green blue sea.
Yarmouth is a ferry port and full of quaint art shops and cafes so a tea stop was in order whilst the rain started up again.
Crossing the bridge into the Freshwater area you sense a change in the atmosphere as our taxi driver this morning described this area as "a Sunday afternoon at 2pm in 1974". We were now strolling through country parks and holiday parks – I got my first glimpse of The Needles, which I am very excited to visit tomorrow on our short 7 mile day.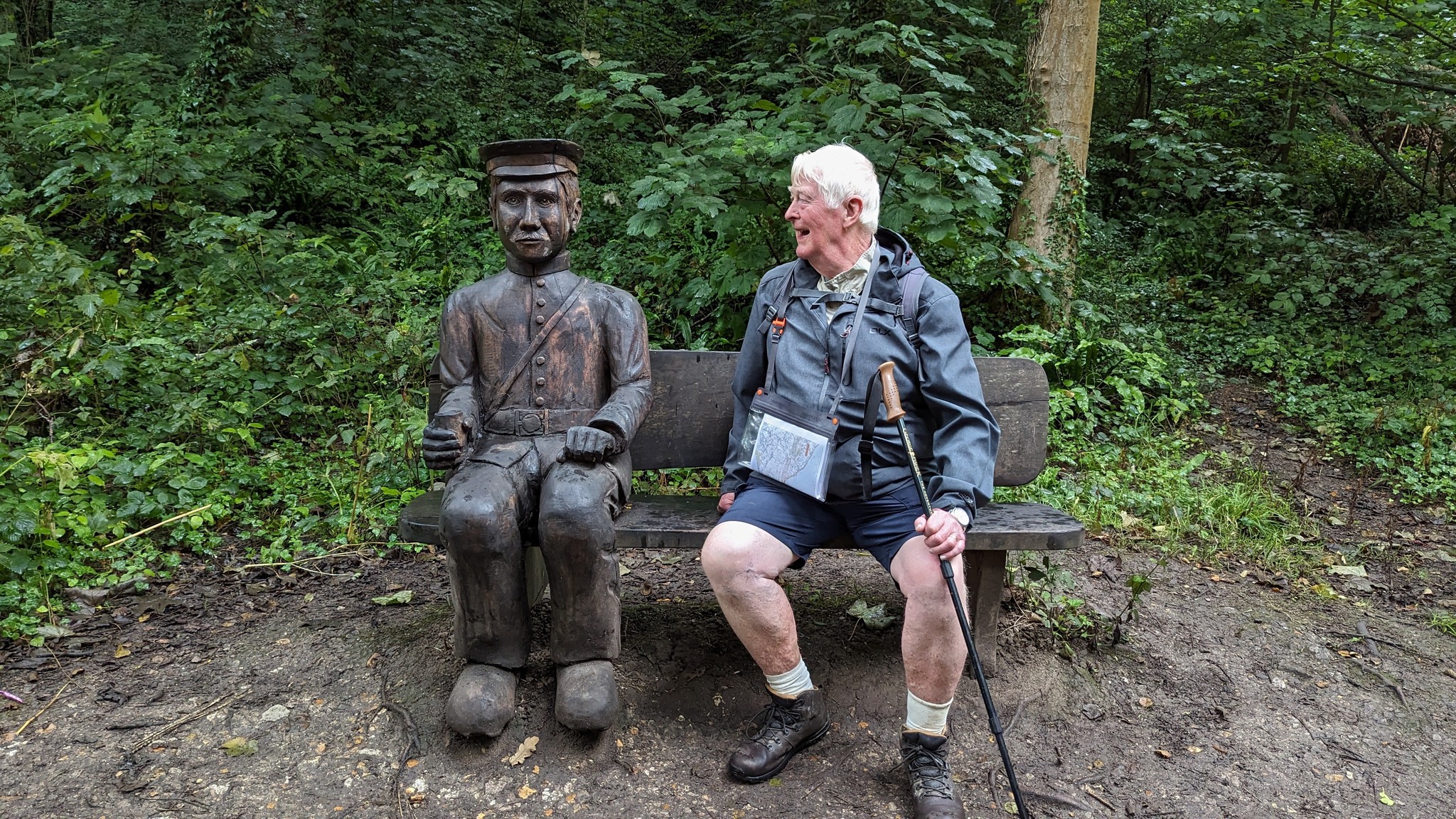 The path heads down into Totland, our pick up point for today. As we dropped down off the cliff path to the beach the sun really came out so now we sit at another cafe, looking out to Hurst Castle on the mainland, eating ice-cream.
The rest of the week promises fine weather and a turn away from the mainland looking out into the channel as we reach the south side of the island.
Totland to Freshwater Bay
Today was the day I was really looking forward to and when the long IW8 itinerary with its short walking days really comes into its own. Today's walk is only 7 miles, out to the Needles along the north coast of the island then back along the south coast.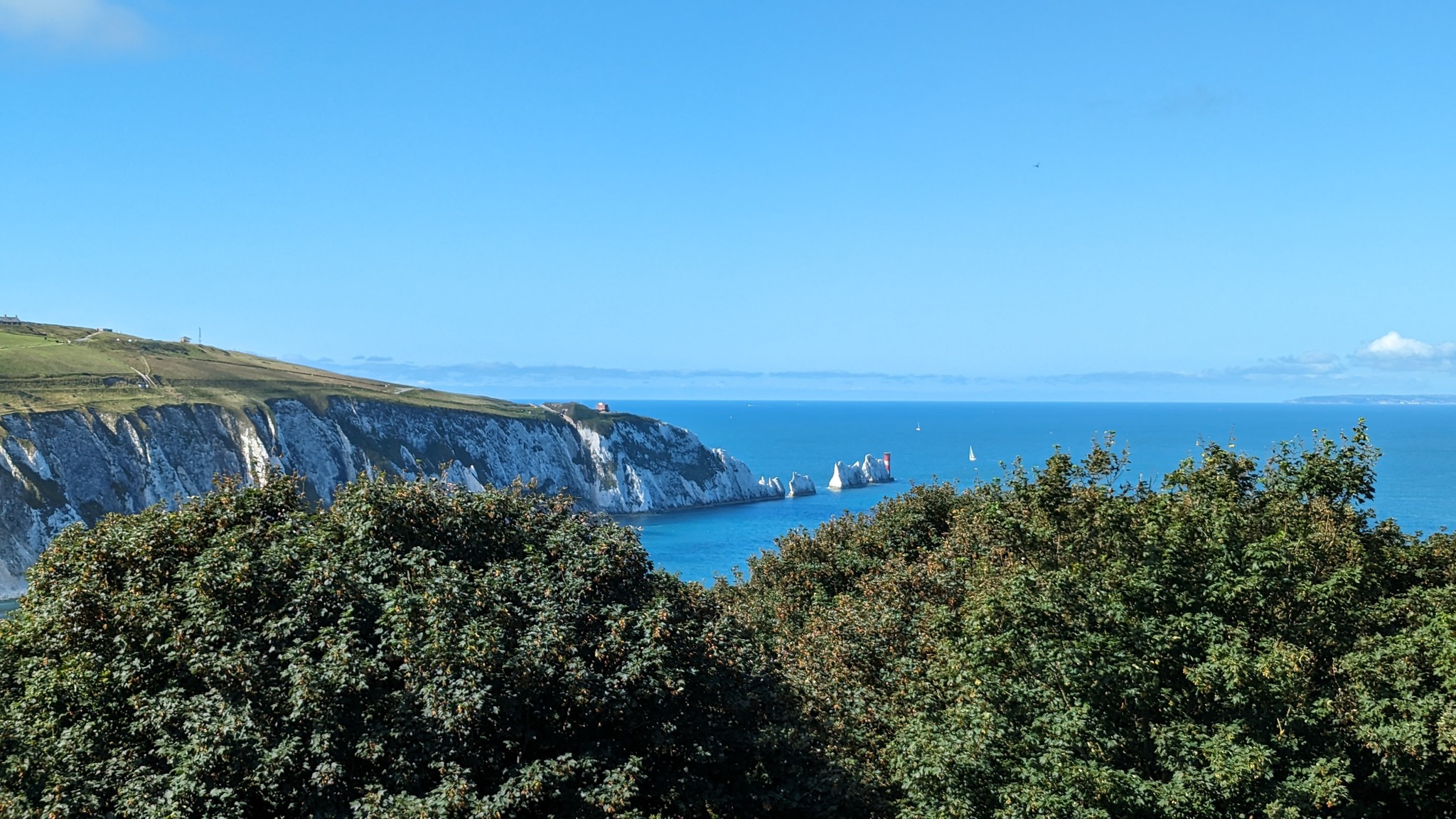 After getting dropped back at Totland pier we climbed the cliff stairs and path up to the headland and now the views start to get really spectacular. Finally the island is experiencing more seasonal weather and it was blue skies and a soft breeze all day. The needles headland is a mix of common land and National Trust, so there is no more ducking inland to walk around private properties.
I had already made it clear that today was a day for fun, the Needles is a big tourist attraction with all the shops, cafes, and a chair lift as well as boat rides. We had plenty of time to stop and enjoy ourselves as today we were walking back to our accommodation. No more transfers required on this itinerary now.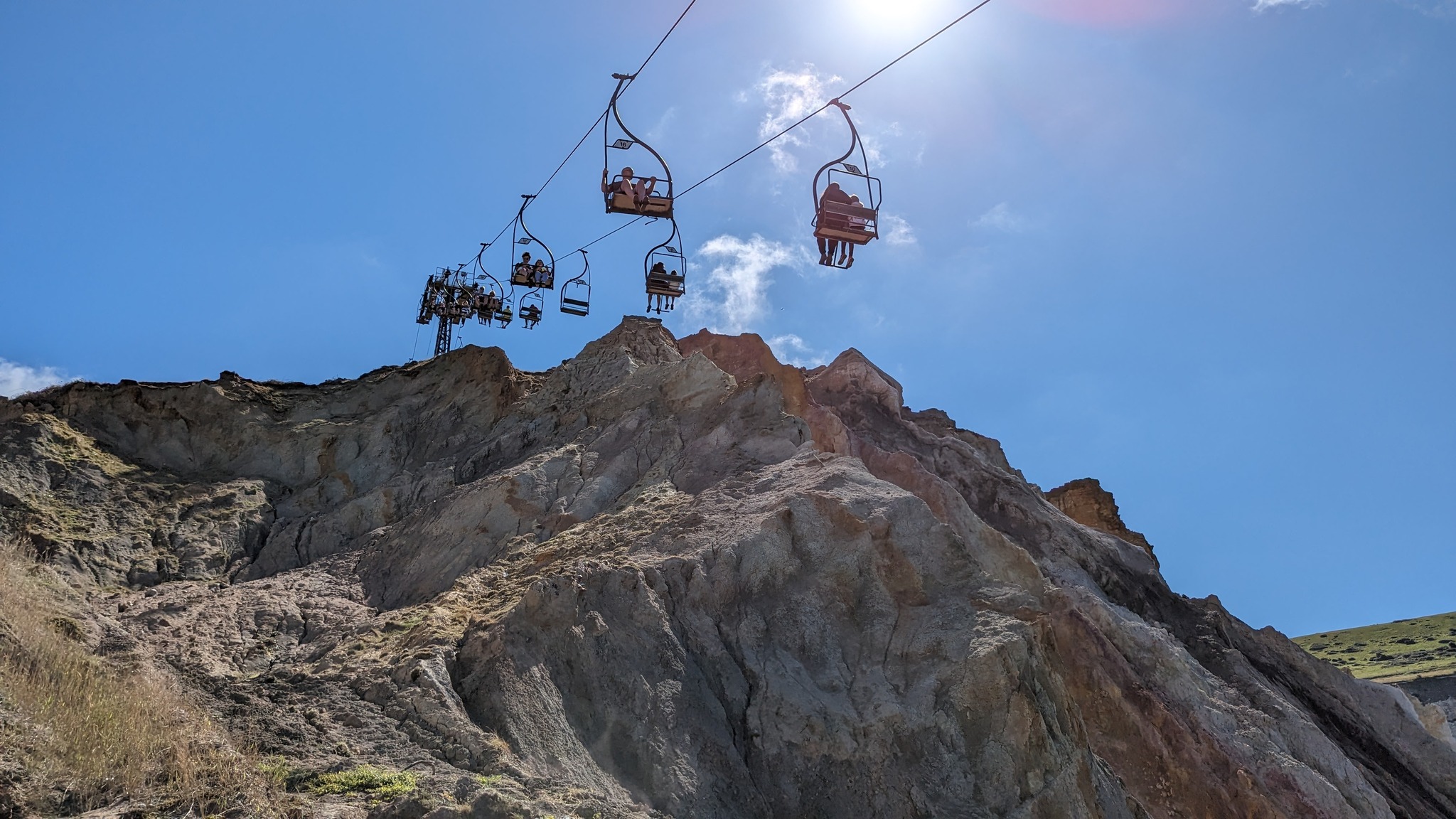 At The Needles we paid for the return chairlift, (£8 per adult) I've never been on a chair lift before, not coming from a skiing family, I loved it! It takes you down to Alum Bay where the cliffs reveal streaks of orange, white, red and brown sand it is famous for. Down at the beach we had lunch and I had another paddle in the glistening warm blue sea. You could mistake this for the Mediterranean.
From the beach you can take either a RIB or more gentle cruise boat around the Needles. My chronic motion sickness wouldn't allow me but it looked very popular.
Back up the chairlift, fuelled with ice creams and loaded with some small souvenirs (we collect fridge magnets), we set off a little further along the headland to the Needles themselves and to The Old Battery. This is off the coast path, which cuts past the coast guard station, but is well worth a visit (especially if you can get in free as a national trust member) to get a closer view of the Needles and their light house. Our host at our accommodation had given us the tip to go down the winding staircase to the search light post which takes you through a man-made tunnel to pop out on the side of the cliff over the Needles.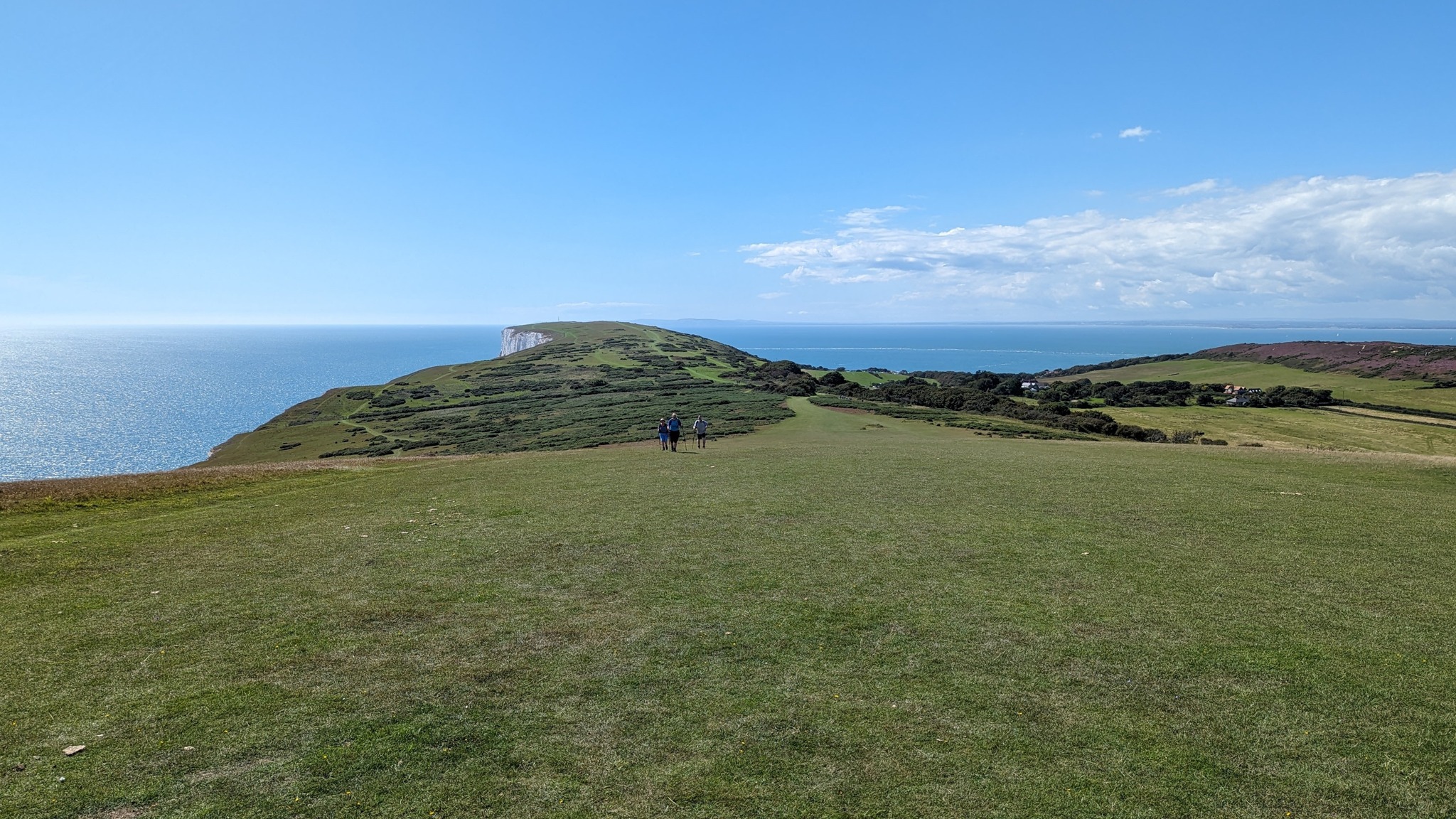 Rejoining the path we now had open grasslands up to the Tennyson monument of Tennyson Down and then a lovely downhill into Freshwater Bay where we were greeted by families enjoying a sandy beach, cafes, more ice cream and another set of sea stacks.
We could see tomorrow's walk which looks wonderful, looking out over the channel as it follows the cliffs of the south coast. I'm hoping for some good star gazing in the evening.
Freshwater Bay to Chale
Today started with a discussion about the definition of undulating. We could see our walk ahead of us and I certainly wouldn't describe it as hilly, but nor is it a flat coastal walk like the east coast of Northumberland or Norfolk. White then orange cliffs lay ahead of us. Hilly is Yorkshire Dales, the easier Lake District routes, maybe bits of the Pennine Way. These were cliffs, undulating, and thankfully not going up and down to beaches on endless steps like the South West Coast Path (no paddle for me today).
This section from Freshwater to Chale is all cliff walks, almost always looking down on the sea and is along exposed grassy and chalky paths. Having married into a fair skinned family I was ordering hats, sunglasses and a tidal wave of sunscreen on them all. This is not a day to have forgotten a spot of skin to cream or your hat!
We also were sent out with a good packed lunch and plenty of water. This section is much more sparsely populated and so not so many coffee stops for the mother in-law. She had already carefully marked where the Isle of Wight Pearl
Centre was, directly on the path with a highly recommended cafe. We were also lucky enough to come across a National Trust cafe and ice cream van in one of their car parks to refuel and rest.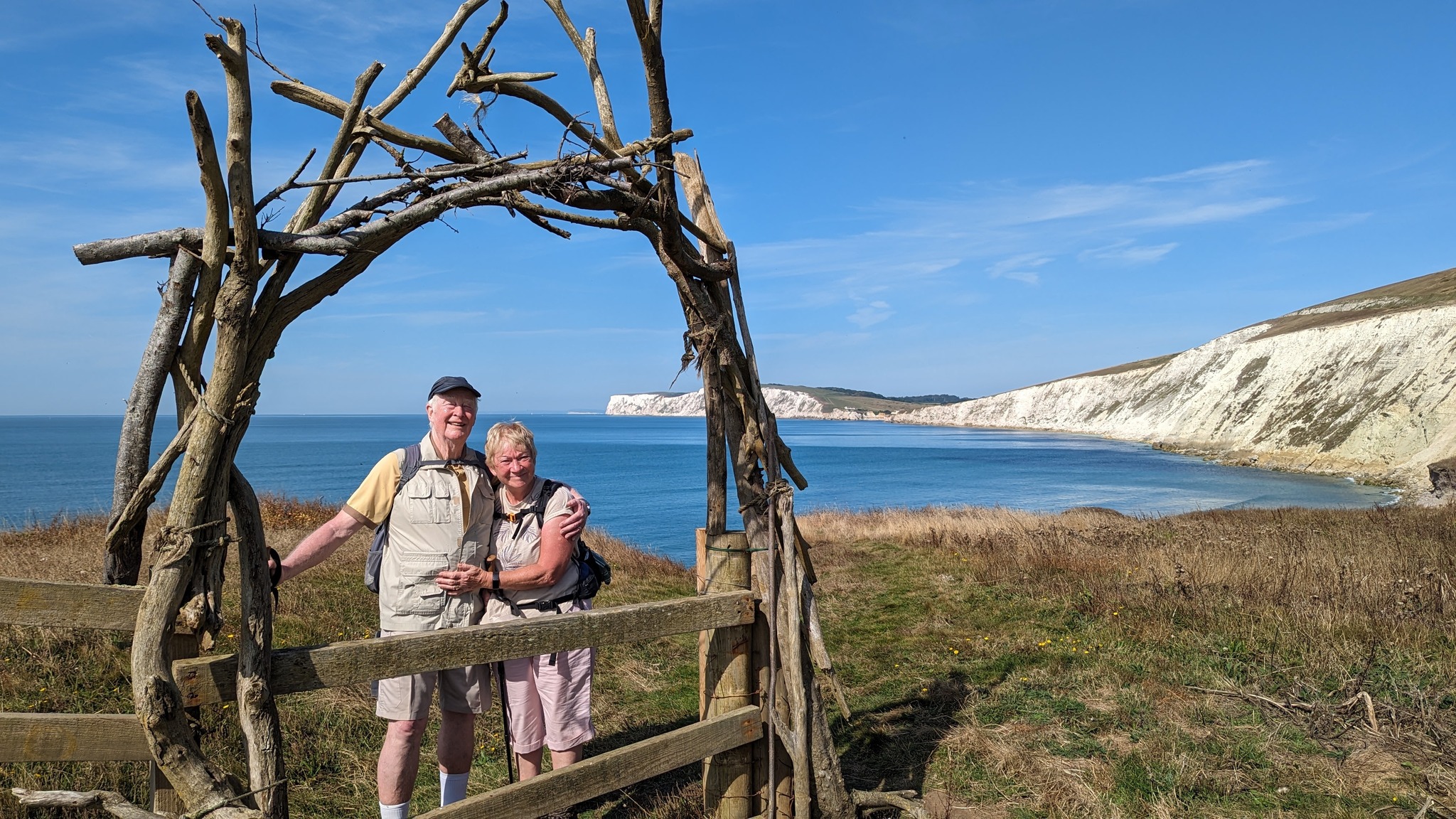 The path rarely leaves the sea, except for one small diversion where the path has fallen into the sea, this is to be expected on coastal paths, particularly those with cliffs. The frequent "Chines" reveal the geology of the island, the many layers of coloured rock and sand.
At Shepherds Chine the usual excellent sign posting falls short and I was sent jogging ahead to check the path was correct. You must only half descend to the beach, and take a left along the chine, turning back up to the cliff at the manmade waterfall.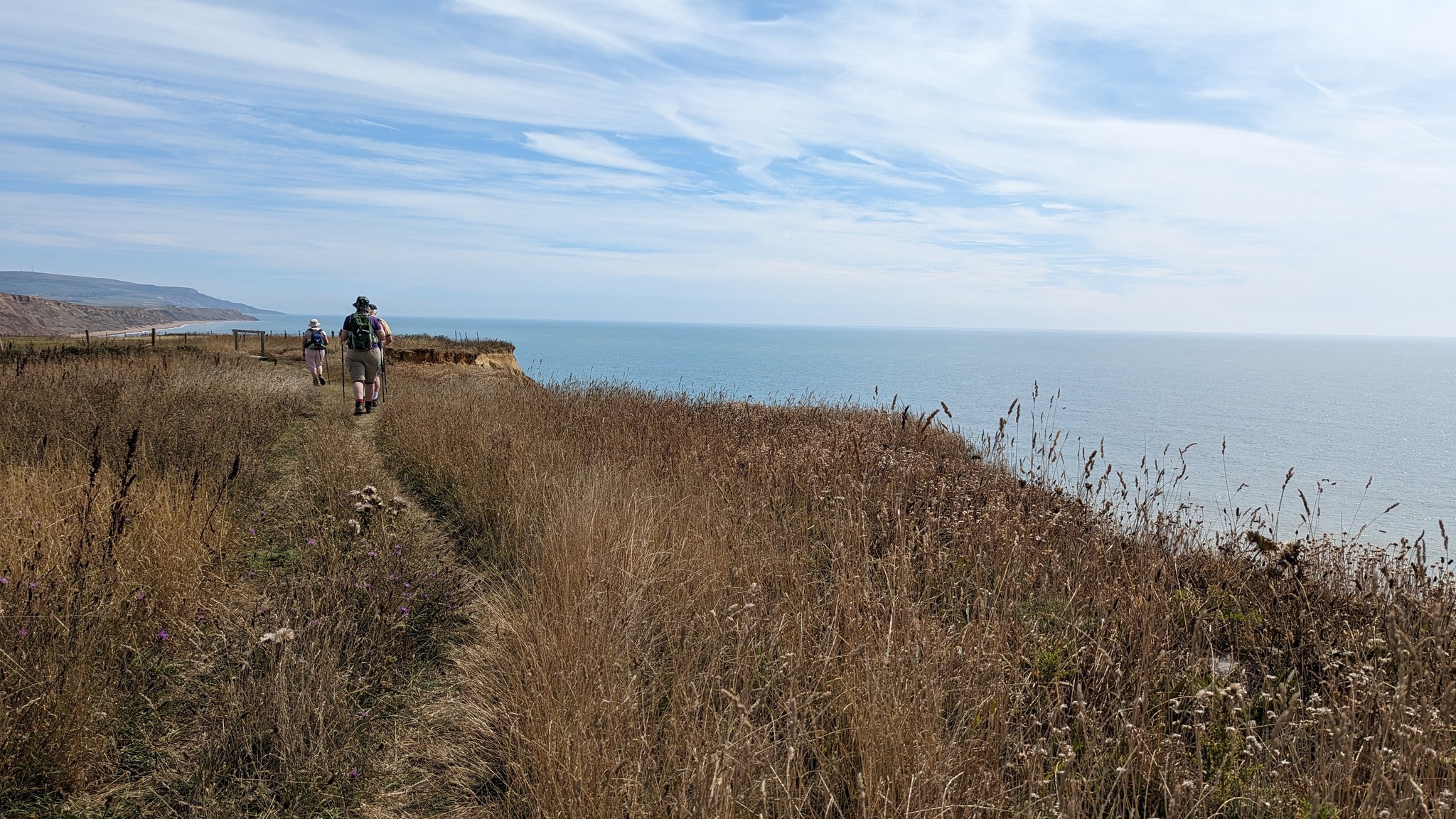 After a hot day we were glad to get to our accommodation, where we are also eating tonight so no more walking! I may not even wear shoes to dinner to give some weary feet a rest.
Tomorrow is a shorter day, past Blackgang Chine which appears to be some sort of fairground park!
Chale to Shanklin
Day five on the IW8 starts off along cliff walks again, going up from Chale. We were grateful for some cloud cover after a hot exposed day yesterday. These cliff paths are different, being well hedged which also provides cover from rain, wind or sun.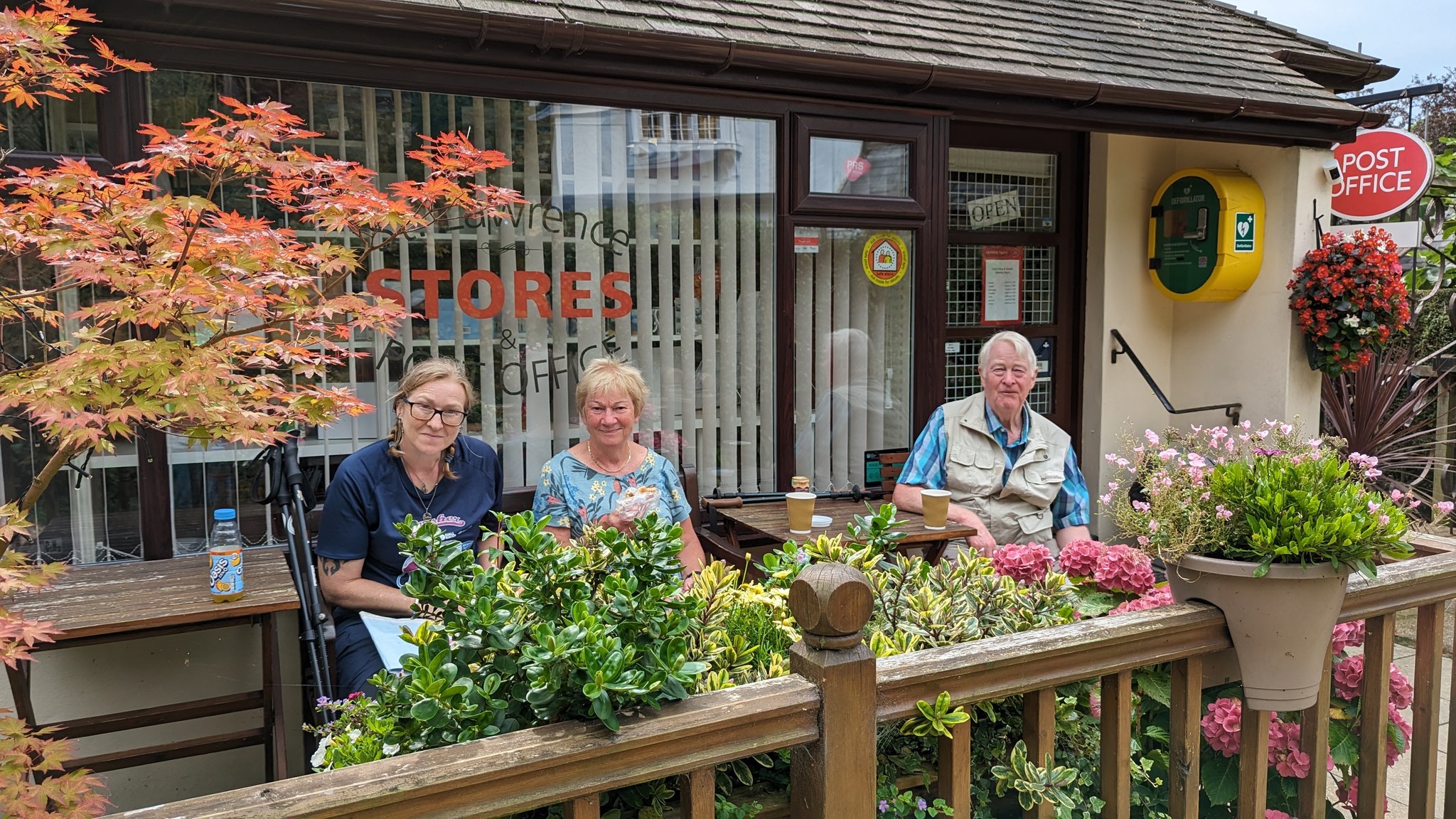 You won't miss dropping into St Lawrence which has jaw dropping beautiful properties and a perfectly placed Post Office combined with local shop to restore you. The post master even provides seating and hot drinks. My wife's parents were very happy with this and we lingered for a while, snacking and taking in the lovingly planted flower beds and thatched cottages.
Today had more short ups and downs and so any stops along the way were gratefully found, thankfully there are more than on yesterday's route. This section is more populated with small villages and towns.
There is a temporary diversion at Ventnor due to sea wall erosion which is under repair. It's a little confusing as there are many ways around so careful study of the many maps along the way is needed. It takes you up the cliff on pavement and roads (which is all part of this busy seaside town) then down again to the unusual sea wall which zig zags around the base of white chalk cliffs. A clever project has put the planets of our solar system to scale along the wall, which greatly pleased this nerdy family.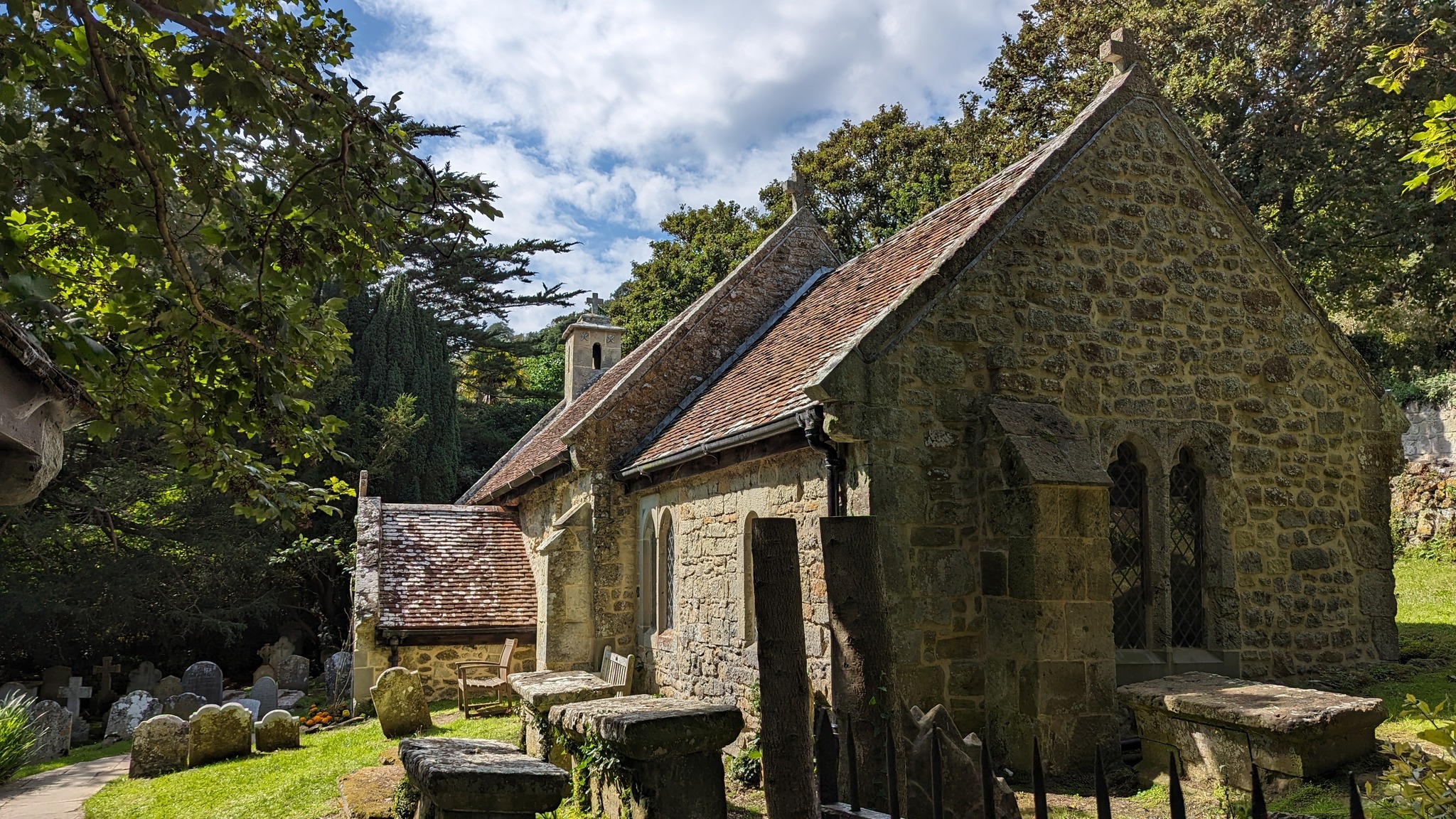 It was then a stunning walk up an area called Landslip, calling in at the millennium old St Boniface Church, built in 1070. Landslip starts off quite dry and you'd be forgiven for thinking you were on the Canary Islands with alien looking echiums growing wild alongside chalky white trails. But as you near the top of this feature it becomes a deep shaded green jungle.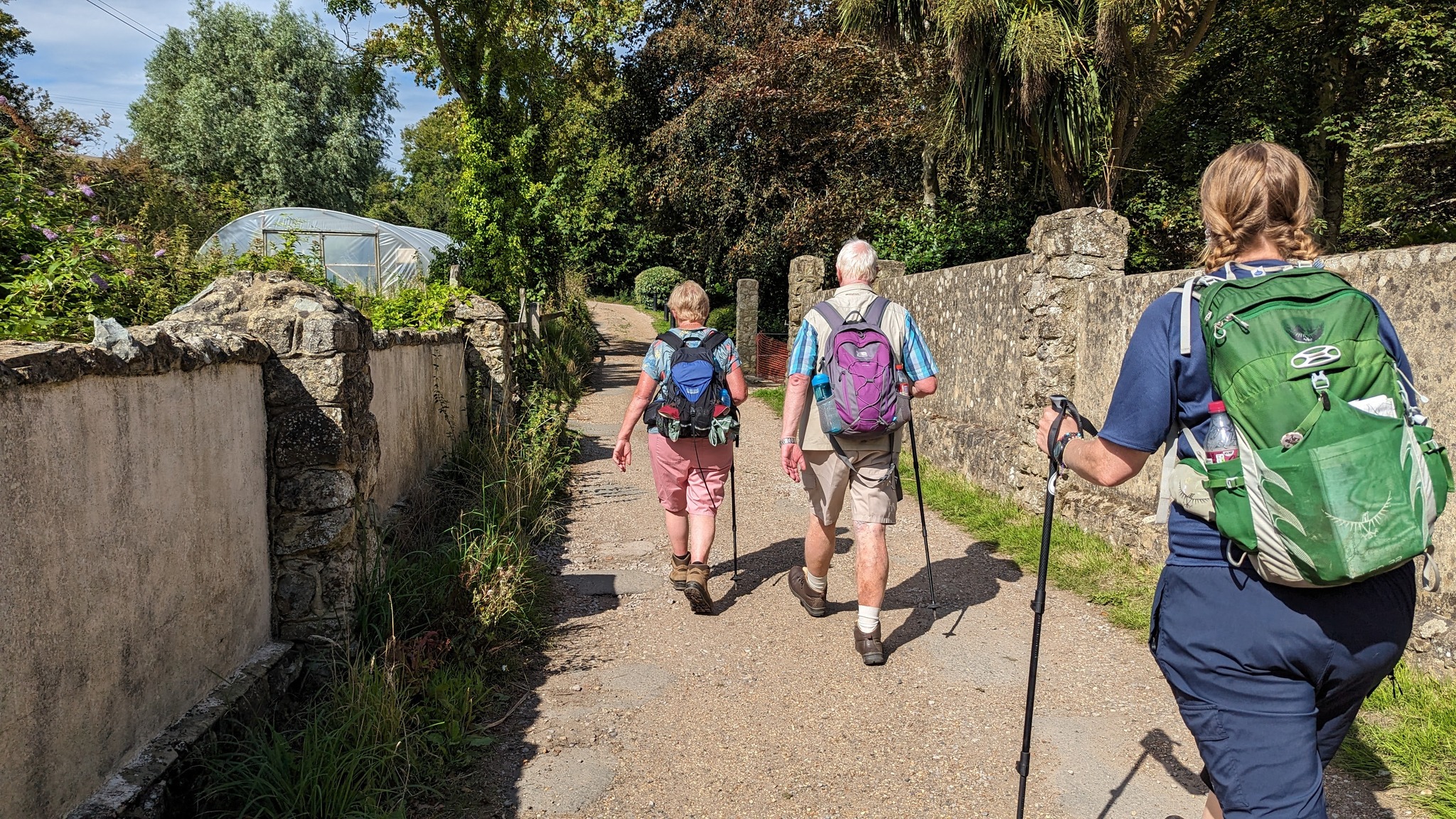 Another small permanent diversion due to cliff erosions on the approach to Luccombe frustratingly took us away from a planned tea room stop but soon enough you arrive in Shanklin. The old town is stunning, with thatched roofs on pubs, tea rooms and homes. So we made a stop for tea before proceeding to our accommodation where we will be for two nights as tomorrow we plan a much needed rest day. I hope to swim in the sea, eat my weight in fudge and a day for just me and the wife, without her parents who will be taking a slower amble around probably every tea room.
Shanklin to Seaview
We set off from Shanklin well rested after taking a day off walking. Shanklin is a fabulous location for a rest day. The old town is all thatched pubs and tea rooms, there is a variety of gift shops for all tastes including Jurassic Jim's, a fossil shop where I had to resist buying a lot, only managed because I knew I'd then have to carry said rocks in my back pack! Shanklin Chine is well worth a visit, particularly in the evening when the waterfall and gardens are lit up. We had played the obligatory sea side adventure golf and were spoilt for places to eat. So far I have managed to eat fresh fish every day of my holiday.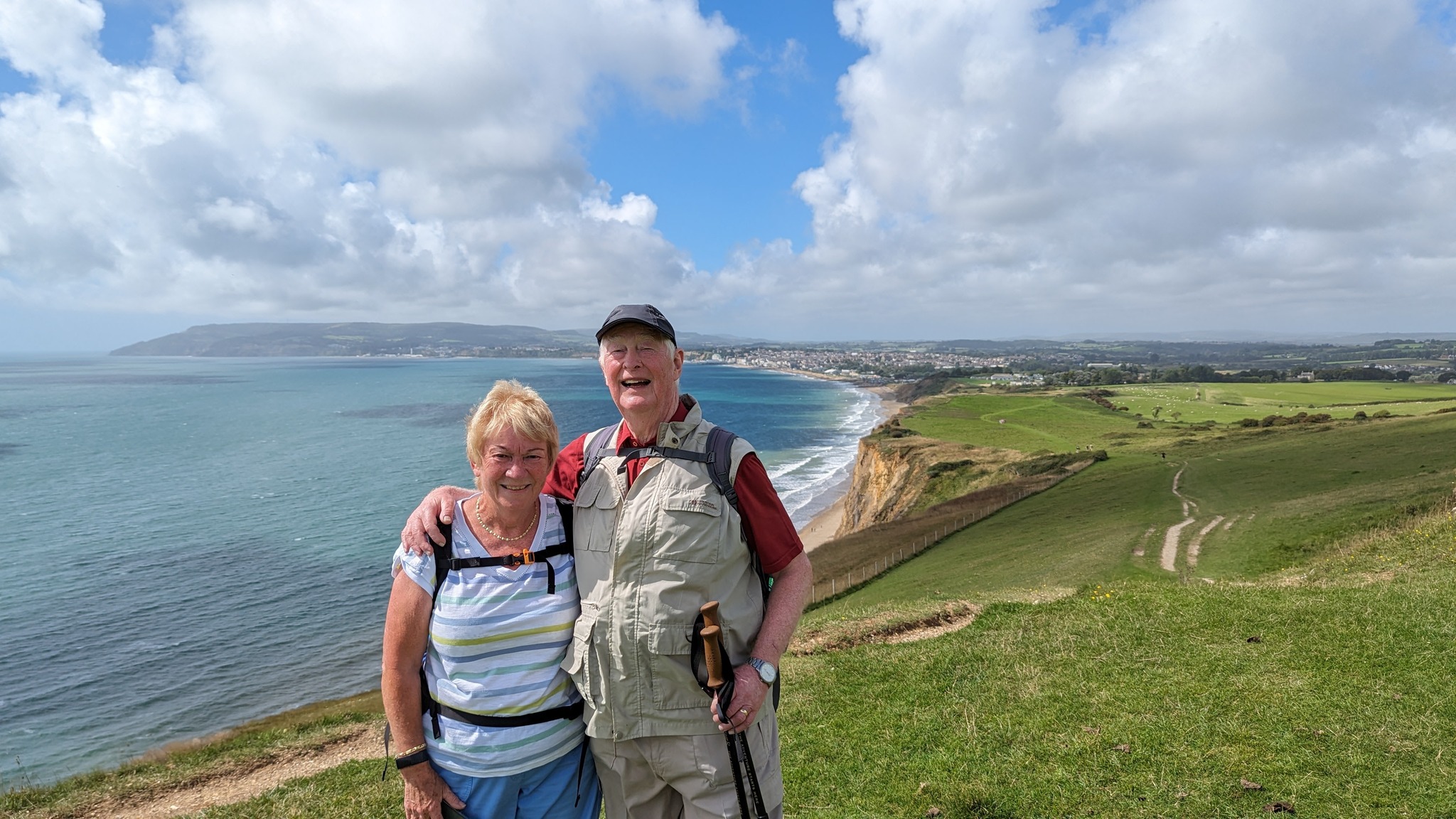 The penultimate walk takes us up a short climb to the cliffs along to Sandown, then drops into the town which is a true English seaside resort, long sandy beaches, ice cream shops, amusements. An early coffee stop was in order for the in laws since we know this is our longest day.
Leaving Sandown as we entered, along cliff paths over Culver cliff. The path is again sheltered from sun, wind and rain by well-established hedges until you wind your way down into Bembridge.
We were lucky to see the RNLI lifeboat return and be hauled back up its launch at the end of the wooden framed pier.
It is then a long walk around Bembridge bay and marina until you reach the most unusual feature on our walk so far, a raised causeway across the bay. Put in place to ease passage between the Manor House and the mill, and now a useful way to cut out some of the long walk around the remaining wetlands at the back of the marina.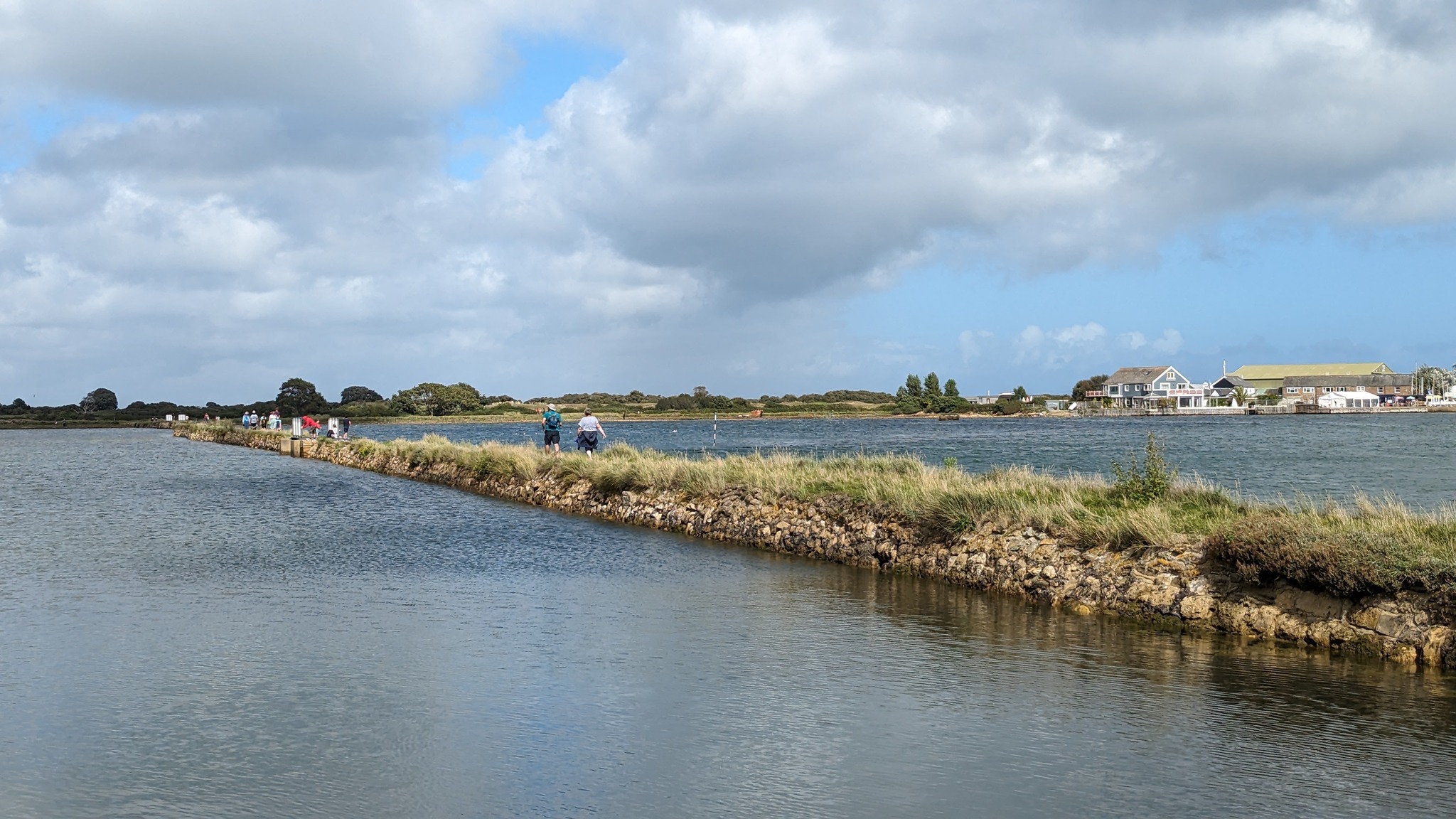 At Bembridge we also got out first sight of the mainland with the Spinnaker in Portsmouth coming into view, a reminder we had not in fact left the UK, despite the feeling of being abroad with so much sea and sunshine!
From Bembridge it felt a shorter walk down to Seaview, not too many flowers had needed to be identified by my mother-in-law since she may now have photographed every available species.
Seaview is a small but boat obsessed town. We arrived at the end of regatta week and a boat race was taking place. Anna and I had drinks on the seawall, watching small boats swoop around buoys as huge cruise ships which seemed bigger than Portsmouth city itself pulled out of the port setting sail and floating along as if the water were not there, into the sunset for the Mediterranean and Nordic coasts.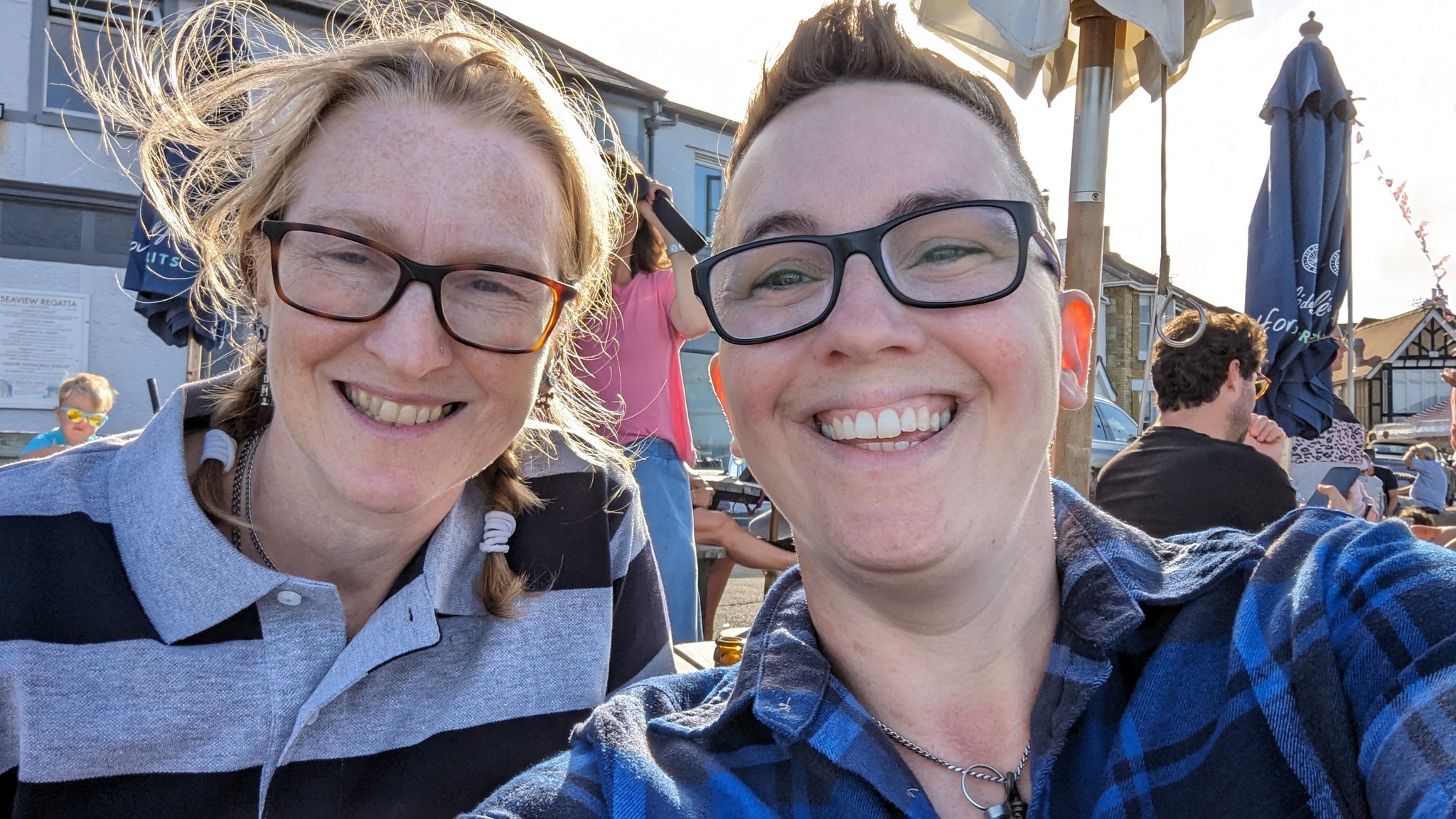 Tomorrow we have plans to divide the walk up at Ryde to watch the women's world cup final and visit Ryde Pride which is also on. Then we finish at Cowes, completing our circuit.
We have had fantastic weather again, and walking the IW8 itinerary really allows for you to take you time and explore the fascinating history of the small island. If I had been walking alone I would have done the shorter IW6 and marched on, missing so much worth learning.
Seaview to Cowes
Our day was made a little unusual by plans to watch the football world cup final. Some planning was required to ensure we would be in Ryde and an open pub with a TV screen before the 11am kick off. Luckily the Finn family are data nerds so we knew exactly the pace we walk at on the flat (16 minutes per km with the in laws) so we set off along the gorgeous sea wall of Seaview. Even on a Sunday morning after what looked like some heavy drinking at the yacht club last night there were still sailors gathering equipment for a Sunday on the Solent.
We made great time into Ryde passing everyone walking their dog and a half marathon just finished, and found a large pub to settle in with coffees. My father in law then informed me he is bad luck as all the England games he watches are lost. His streak continues. Thanks John.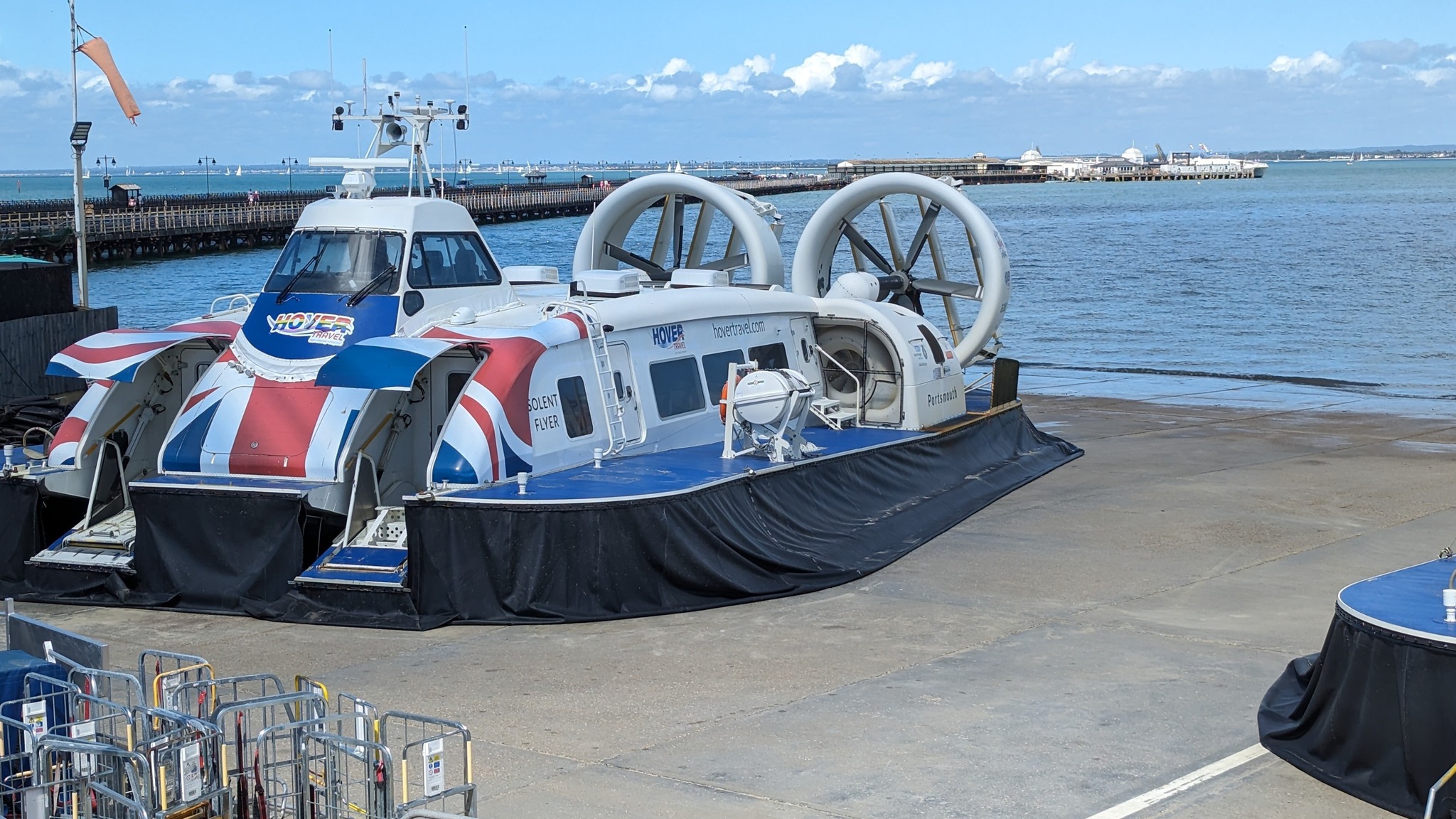 Ryde is a busy town, where the hovercraft comes in from Portsmouth. This is worth watching as they take off and leave like a spaceship!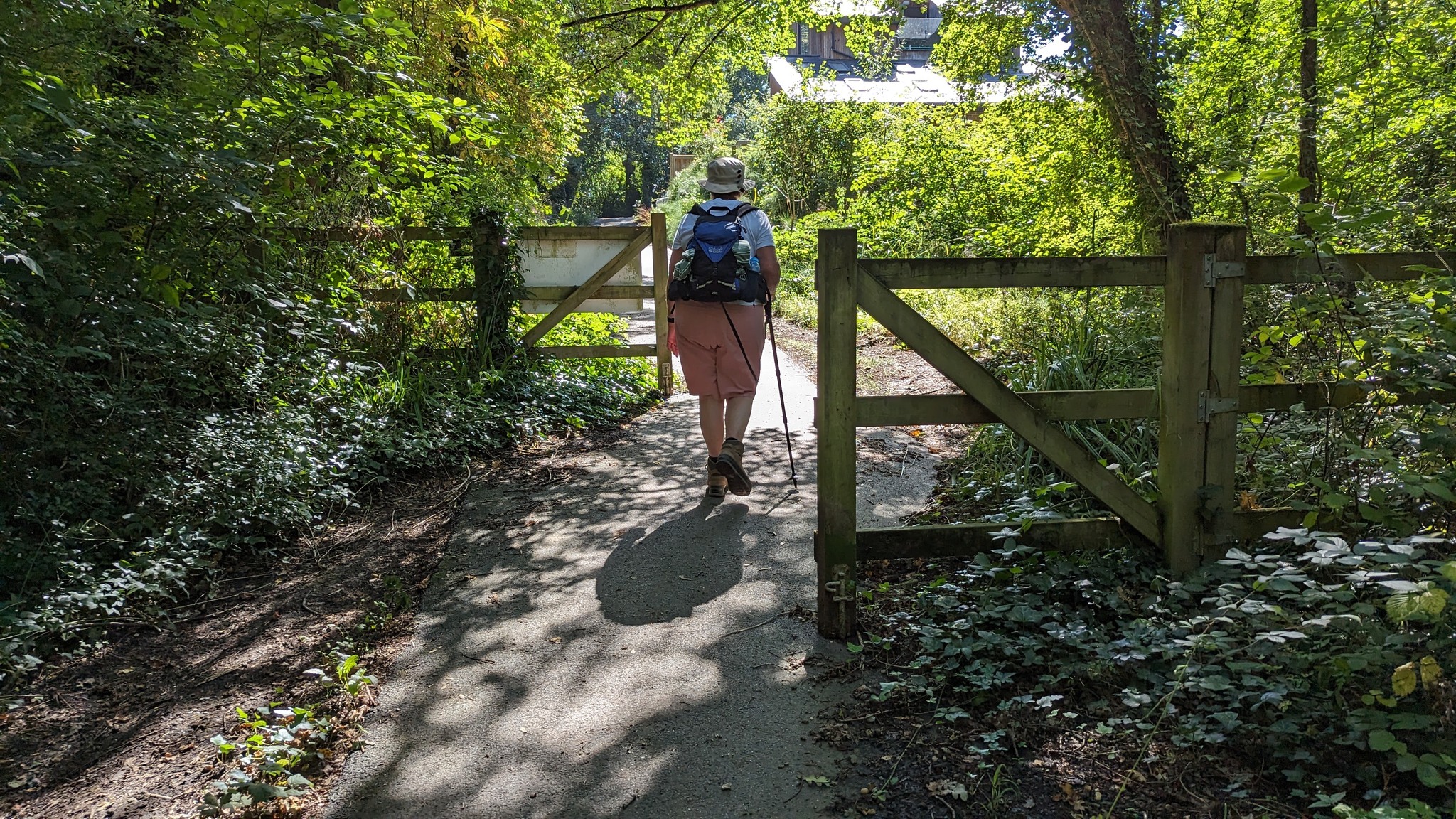 After Ryde you are now mostly on hard paths, lanes and roads. Feeling weary my in laws planned on getting a bus from Wooton Bridge whilst Anna and I powered on the last section. Due to Osbourne House taking up a lot of the coastal area on the north west you are pushed inland towards East Cowes.
If you are history inclined you could use bus short cuts to give you time to explore Quarr Abbey, built in 1907 for a group of exiled monks it remains occupied by Benedictine Monks to this day and is a popular visitor attraction just before Fishbourne.
You could also use this afternoon to visit Osbourne House, the bus takes you straight there from Wotton Bridge.
The pace quickened somewhat now it was just Anna and me, making 12 minute kilometres (uphill!) and shocking my calves somewhat. A smooth quick crossing on the floating bridge from East Cowes to West Cowes and we were done!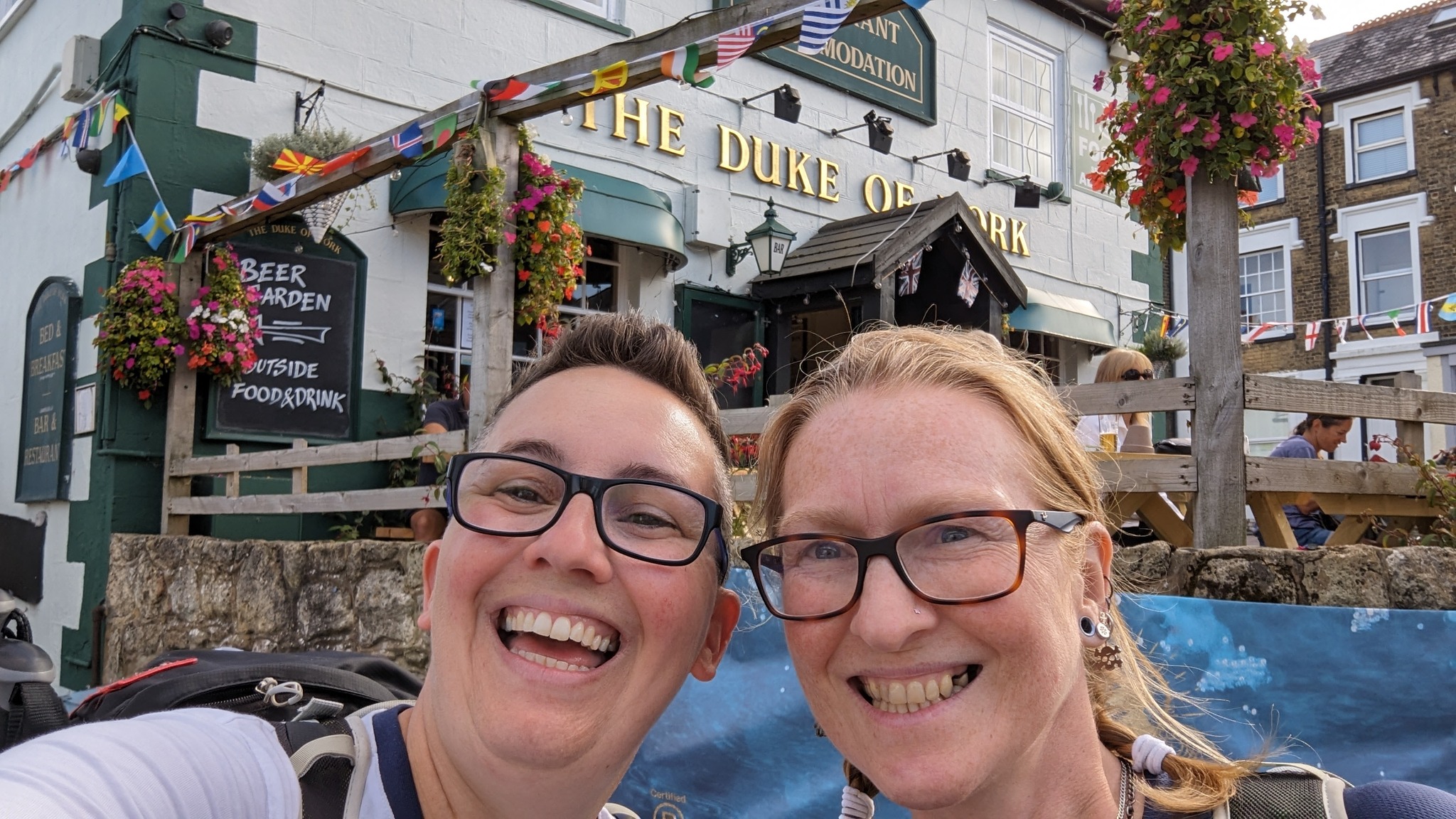 We celebrated with a drink in the Duke of York pub, where the official start and finish is, and then a slap up meal in Cowes town.
Over dinner it was decided that the best part of this walk is its variety, the history of the island, and the feeling of being "on holiday" as you are off the mainland and always passing through seaside towns unspoilt by mass influxes of day visitors. Personally, I just love putting my feet in the sea.
---
If you'd like to know more about walking on the Isle of Wight Coastal Path email us [email protected]. or to speak to Hayley or any of our walking holiday experts, call 017687 72335