Glorious Gower
By Hayley Finn
This August I walked the Gower Peninsula with my wife Anna. I chose this walk as it is one of our easiest walks and we have a great local taxi firm for transfers and connections.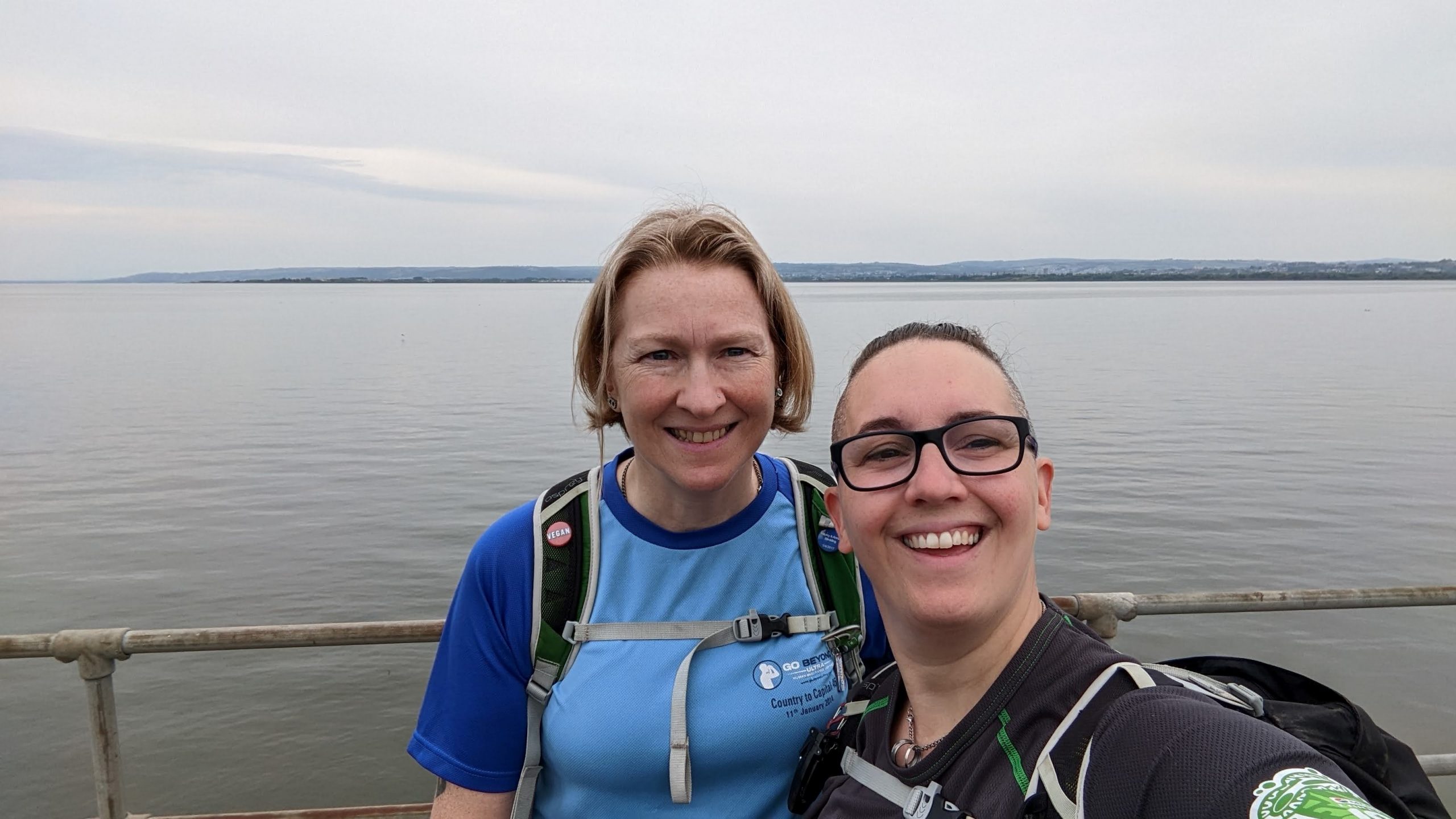 My wife has long-covid and so we wanted to find a route she could try walking with Nordic poles to assist her, but also she could skip days and rest if she was struggling. This route has a rating of "two boots" on our website, meaning it is "easy to moderate" it is quite flat and has itineraries that offer shorter walking days so was perfect for our needs.
Pen-clawdd to Llanmadoc
The first day leaves Pen-clawdd via its industries, taking you past commercial fisheries with the remnants of cockle shells littering the salt marsh. Be careful to check the tides as at high tide and for roughly an hour afterwards the salt marsh road is flooded and a less pleasant diversion by road is needed.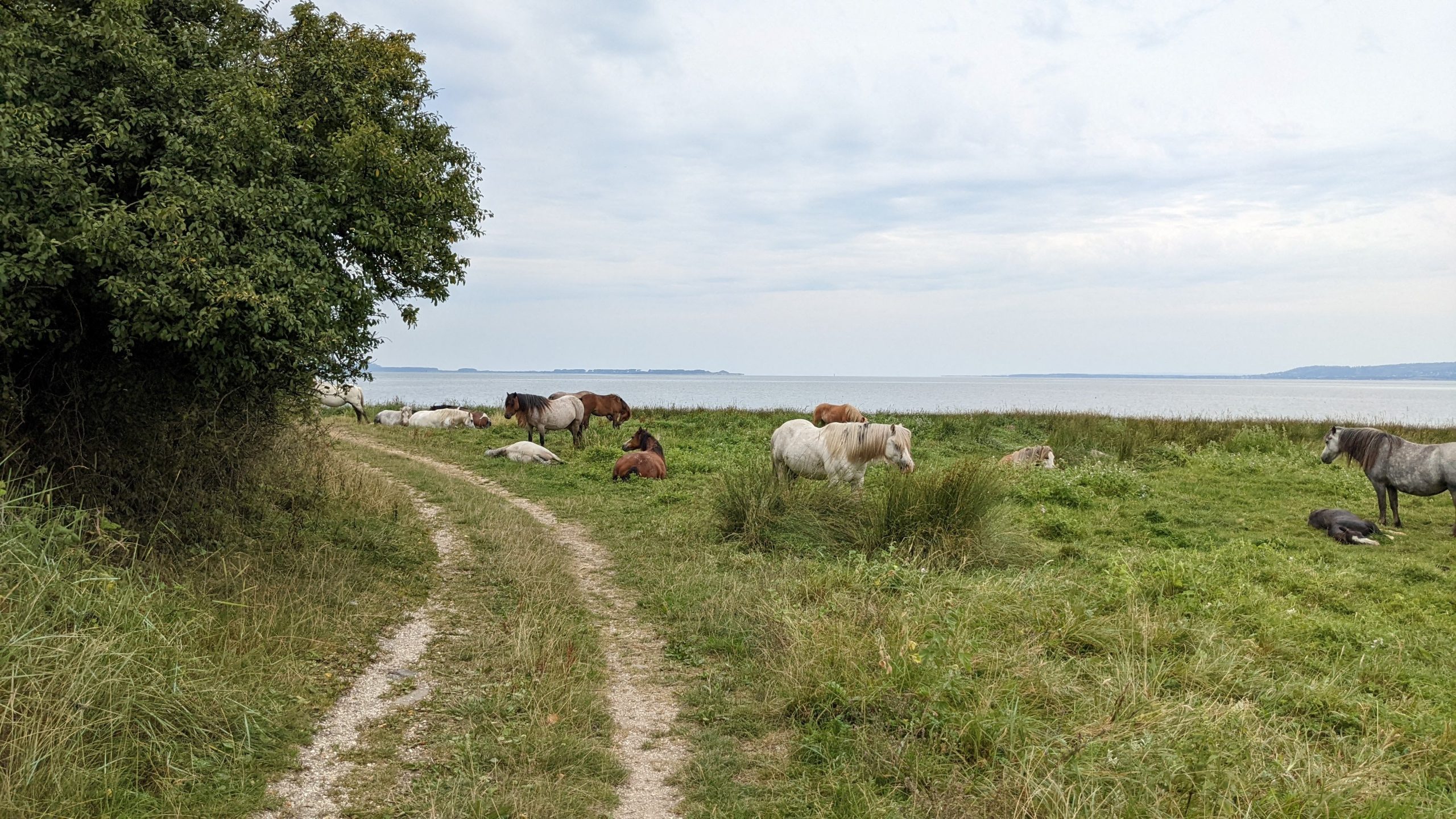 Along salt marsh road we met the semi wild ponies, one of whom stole our snacking apples when we stopped for some early morning food! They are friendly small ponies cared for by various local "owners".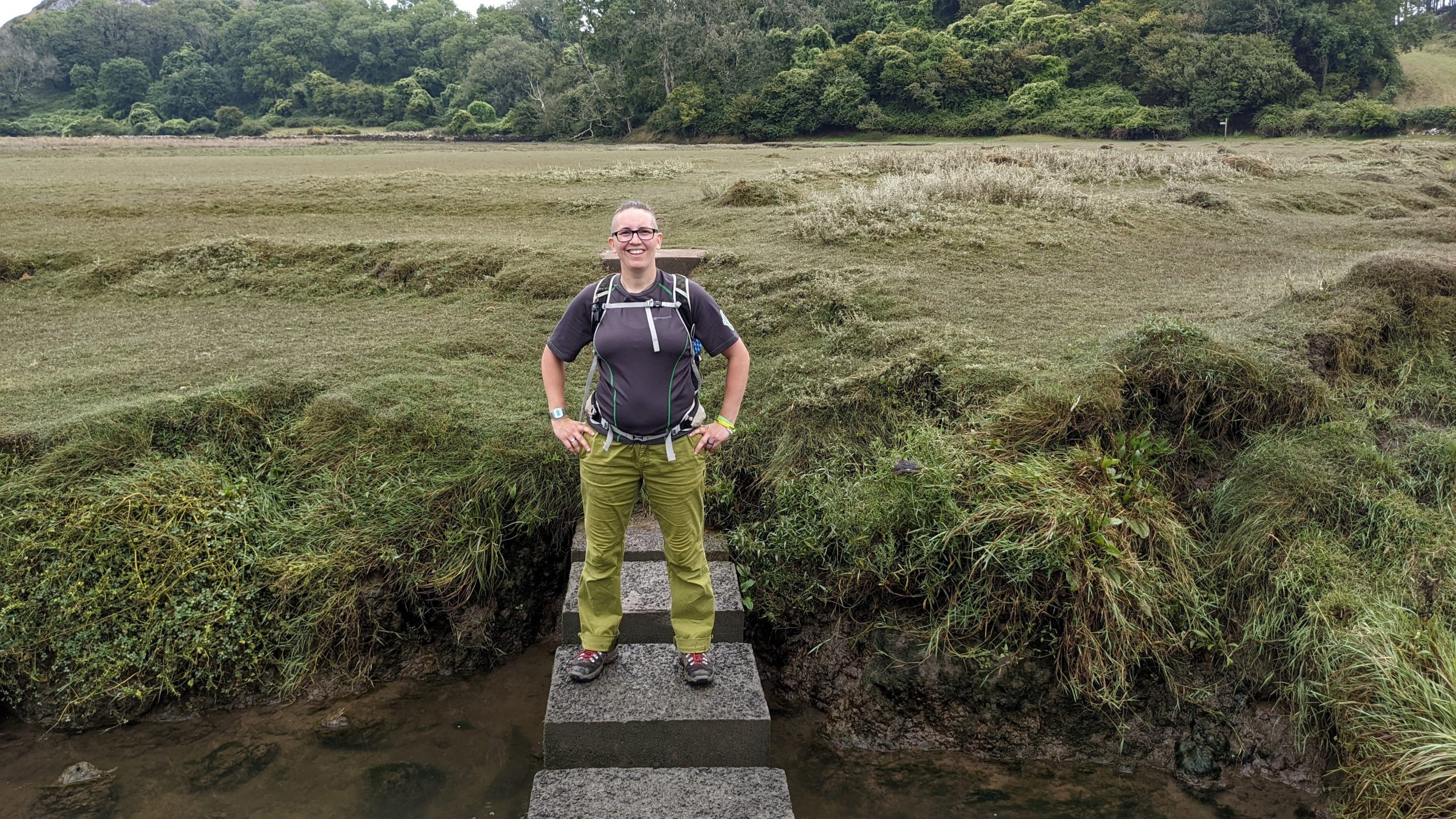 When you leave the National Trust salt marsh road the walk is then through some farmland, but still flat enough to be perfectly manageable by even the most reluctant of walkers. Although mostly on tarmac paths sturdy shoes are advised, there are some slippery pebble paths in some sections and the final stretch to Llanmadoc is wet, even at low tide. If you can time it right with the tides you also have the opportunity to walk the extra miles using the Burry Pills stepping stones and walking to see the lighthouse at Whiteford Sands. It's also possible to do this the next morning as this is where Llanmadoc is for the end of our day one.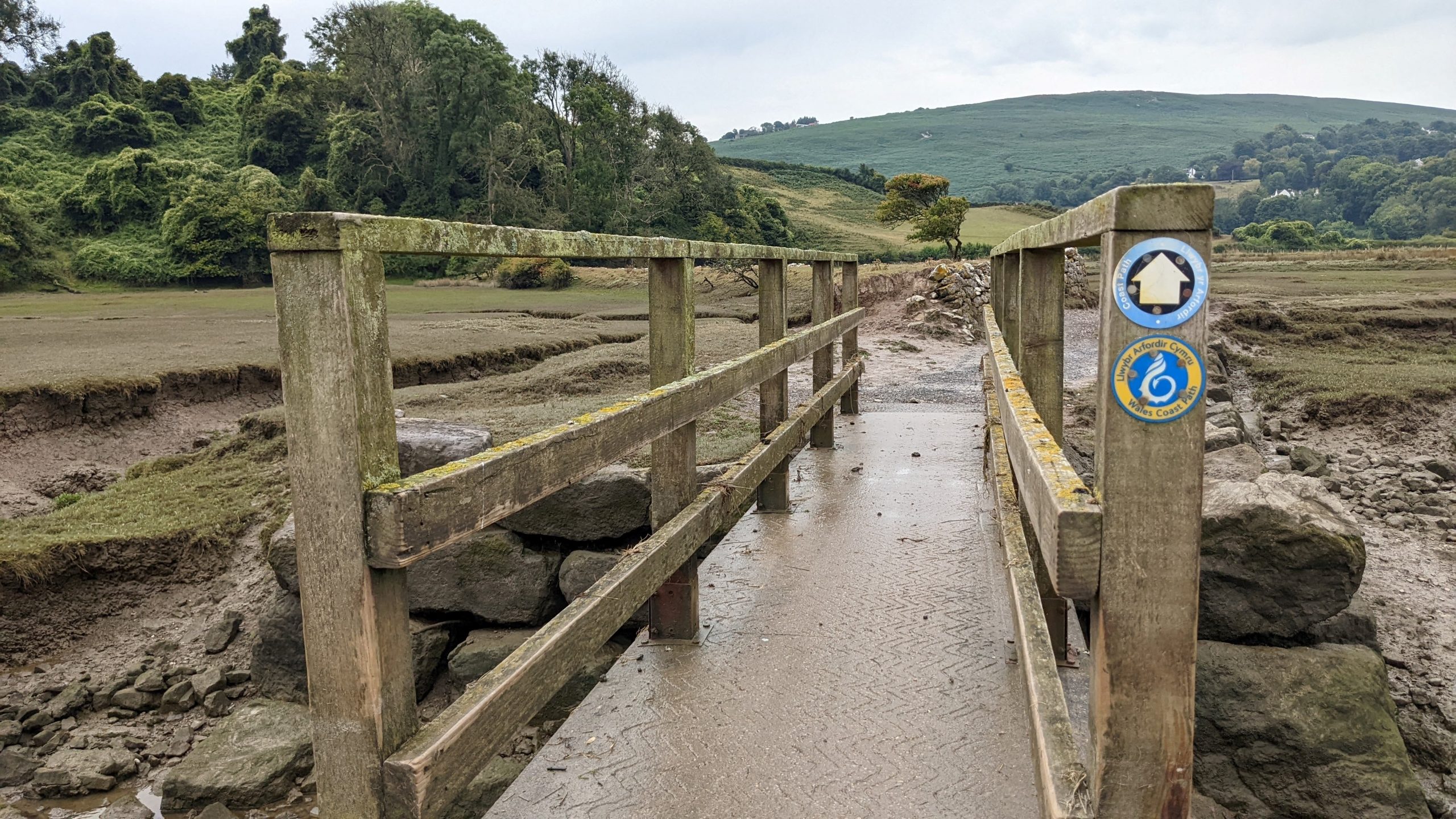 This path is very well waymarked, every stile, gate, turn, has the symbol for the coast path on it, a shell with a dragon's tail.
Llanmadoc to Rhossili
The theme of today is sand. There is a pleasant drop down from Llanmadoc then you hit the sand and don't really leave it until you get to Rhossili. A very different day from day one! This section feels very coastal with the beautiful huge Rhossili beach taking up many miles and rolling dunes and "burrows".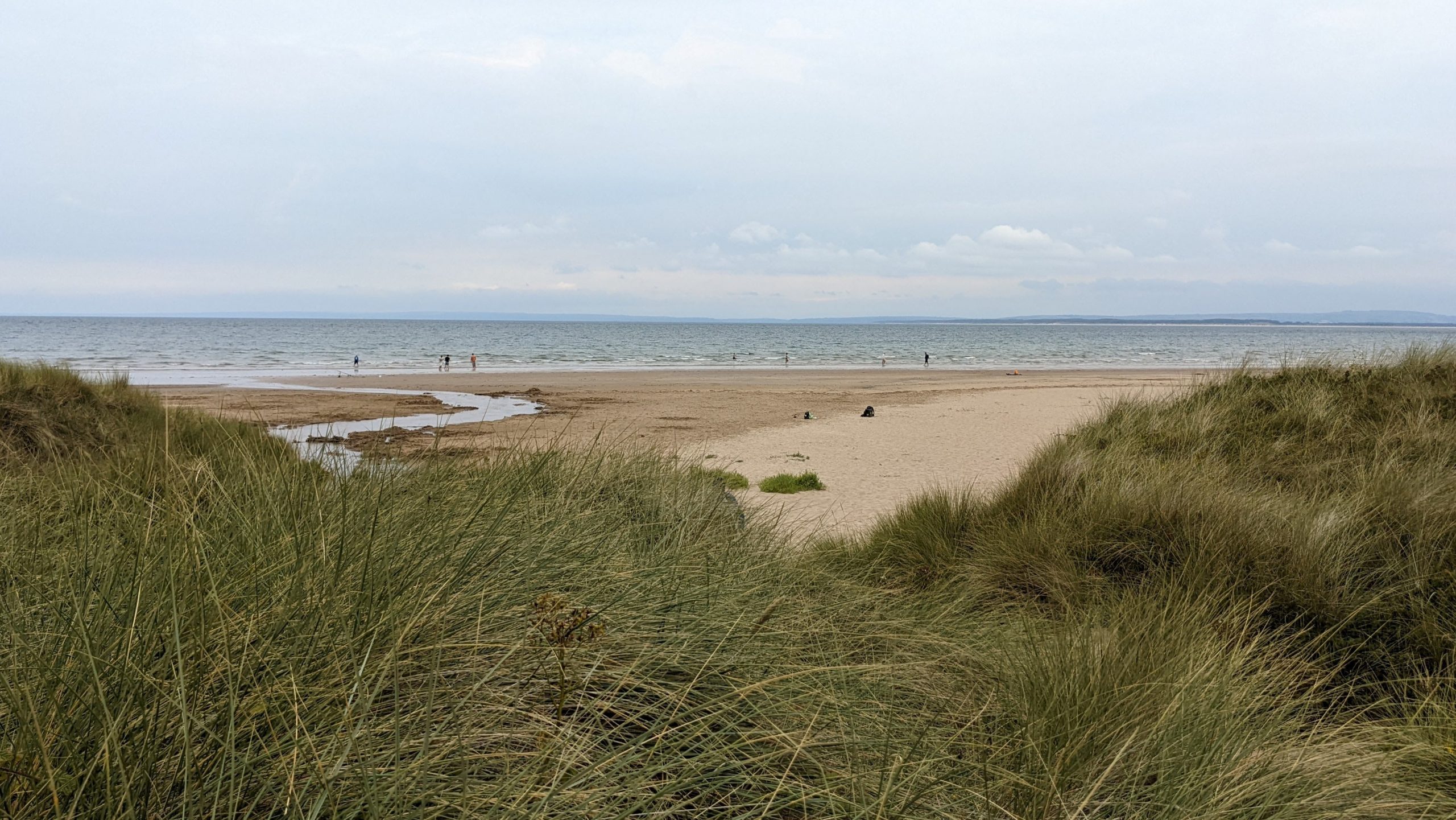 Eddy's cafe was a great stop half way along the beach at the campsite. You have to walk past it to get onto the path along the base of the looming Rhossili down so it would be churlish not to stop in for a coffee or fruit smoothie. They also do plenty of food if you want to make this your lunch stop.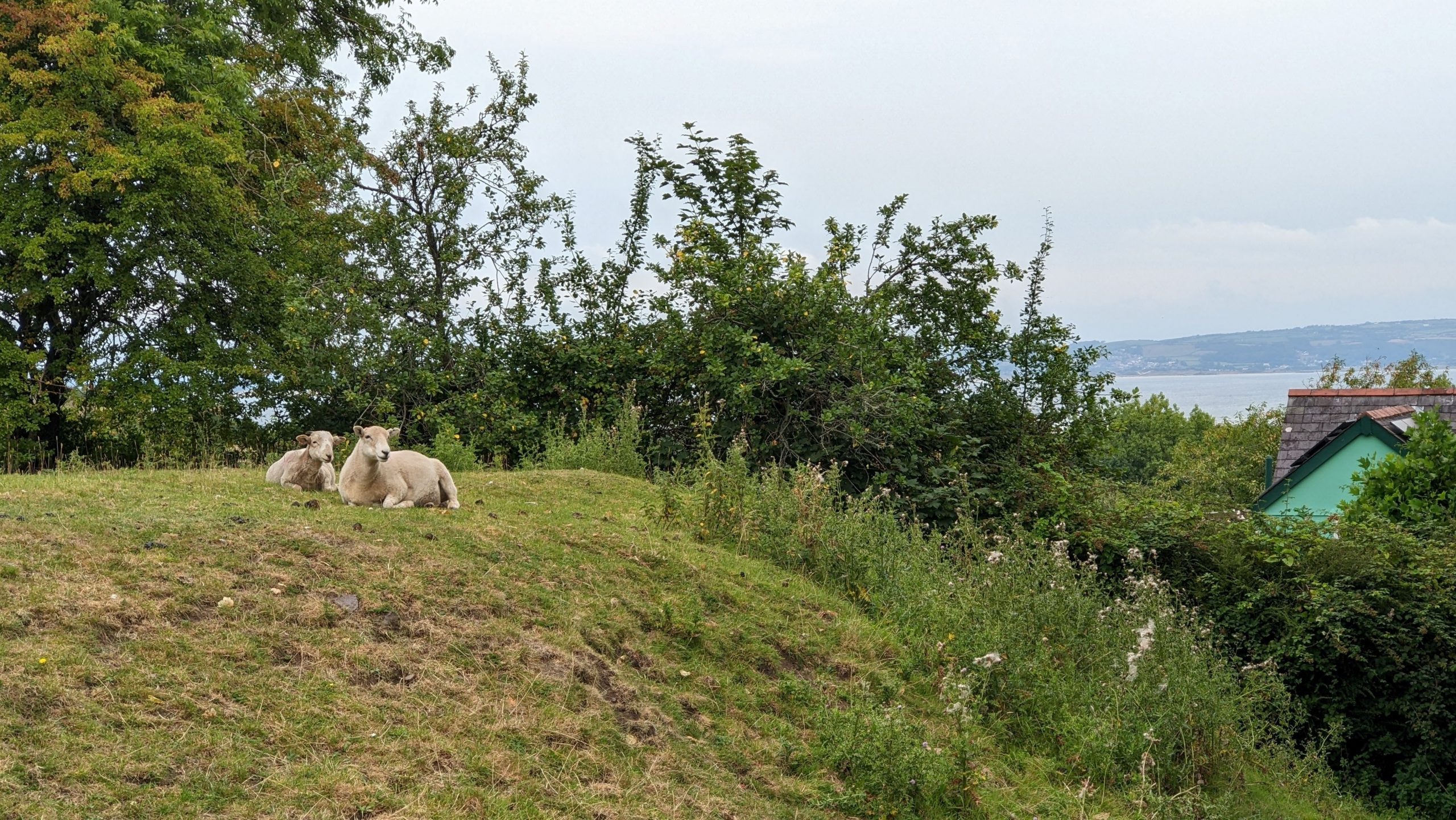 The other theme of today is sheep. The sheep here are bolder than the herdy sheep breed we are used to in the Lake District! They'll happily walk right past you or let you walk around them if they're having a nap.
Again I was impressed with the amount of waymarking, you would really struggle to get lost on this route.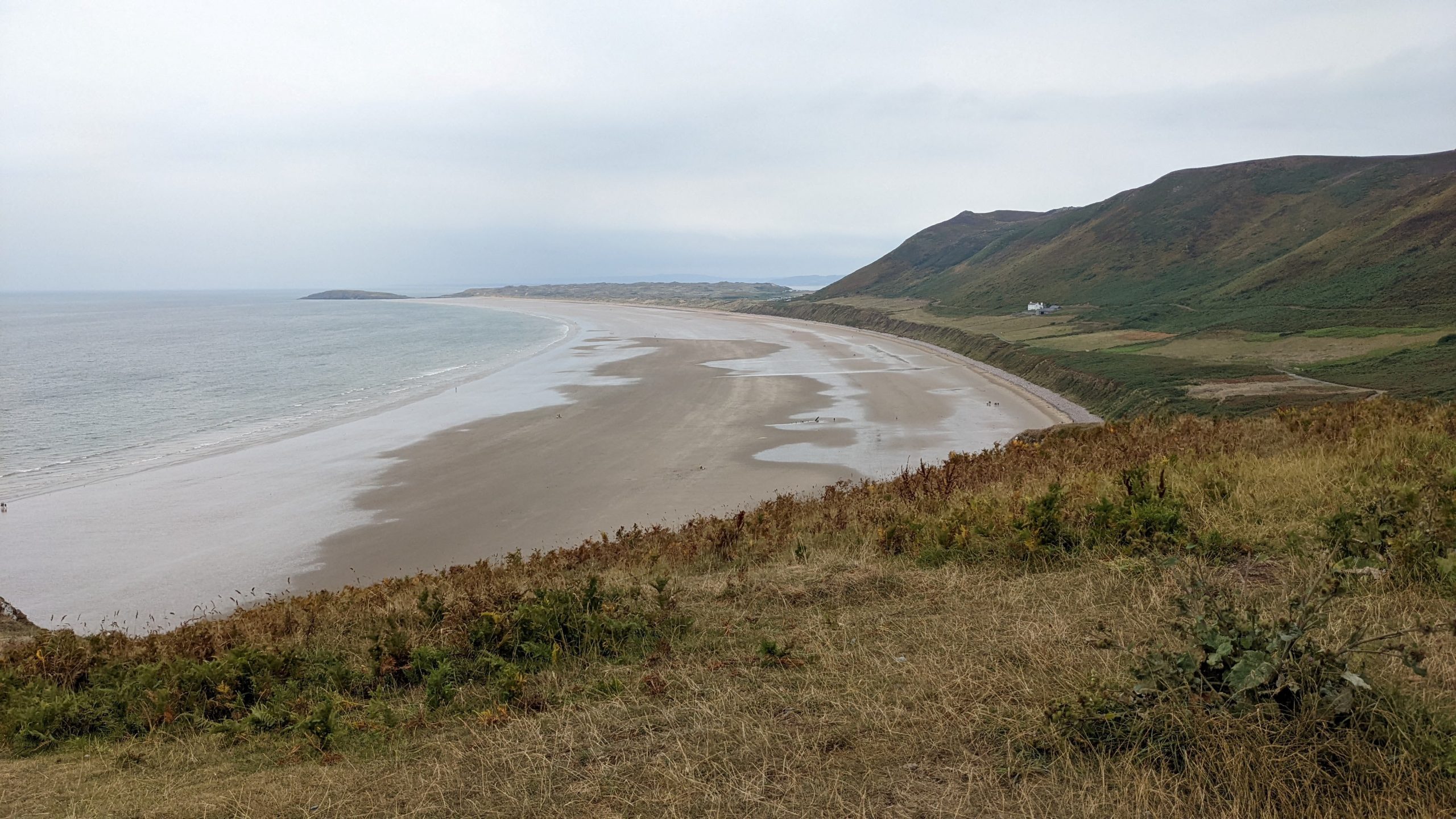 When we reached Rhossili we decided to do the headland there as a loop as we had time before our taxi transfer and it would take some kilometres off the next, tougher looking, day. Worms Head is a beautiful highlight, quite the tourist spot with a National Trust car park and gift shop and cafes.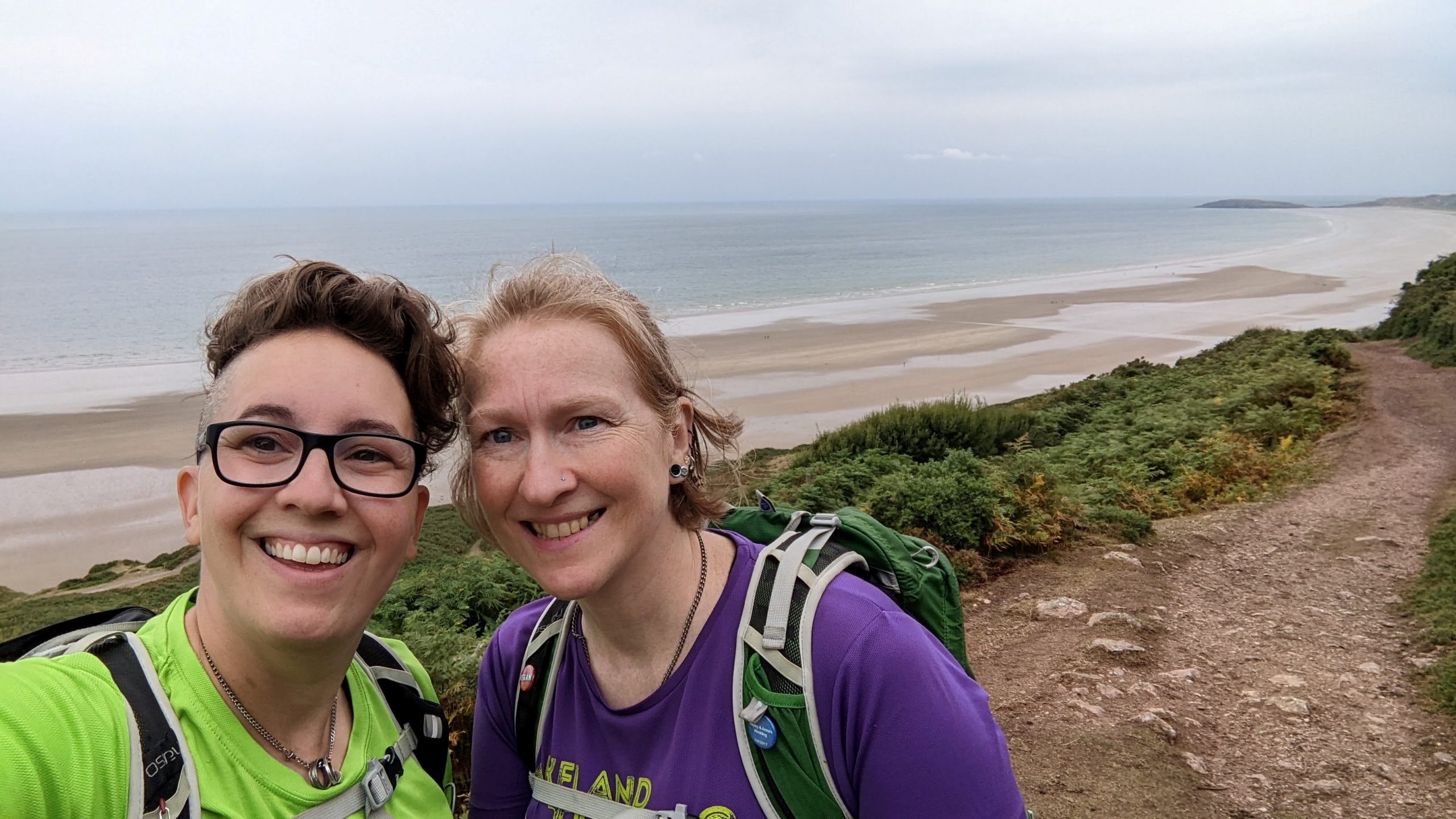 Tonight we are at the King Arthur in Reynoldston, everyone we have chatted to has asked if we are staying here and said we will enjoy it. We certainly are, a bath in our ensuite and the food in the pub restaurant is superb. In this time of difficult staffing for hospitality the King Arthur must be doing something right as they had plenty of professional staff to greet us and serving customers in the restaurant. A real treat to stay here even though it is off the main trail.
Rhossili to Oxwich
Today's theme was cliffs. A lot of this section from Rhossili to Oxwich looks like the South West Coast Path, and with good reason since eons ago the North Devon Cliffs we can see across the estuary and the cliffs we walked on today were torn apart to create the Severn estuary.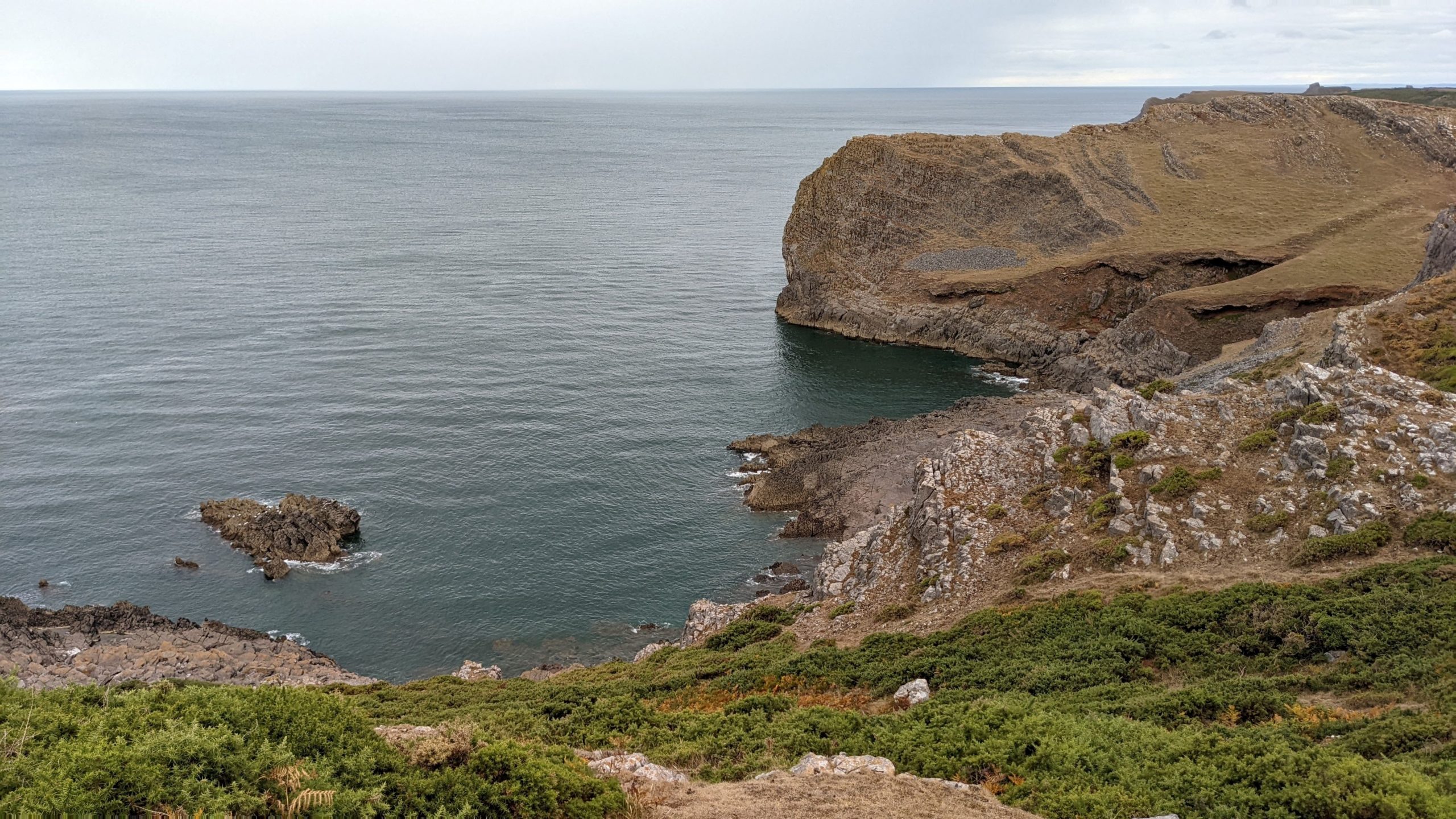 Unlike the South West Coast Path the ascent and descent isn't too much on the old knees and we had our favourite day walking by lapping waves washing gently over the geometric rock formations, as we watched soft yellow sandy beaches being uncovered in hidden coves whilst the tide slipped out for the day.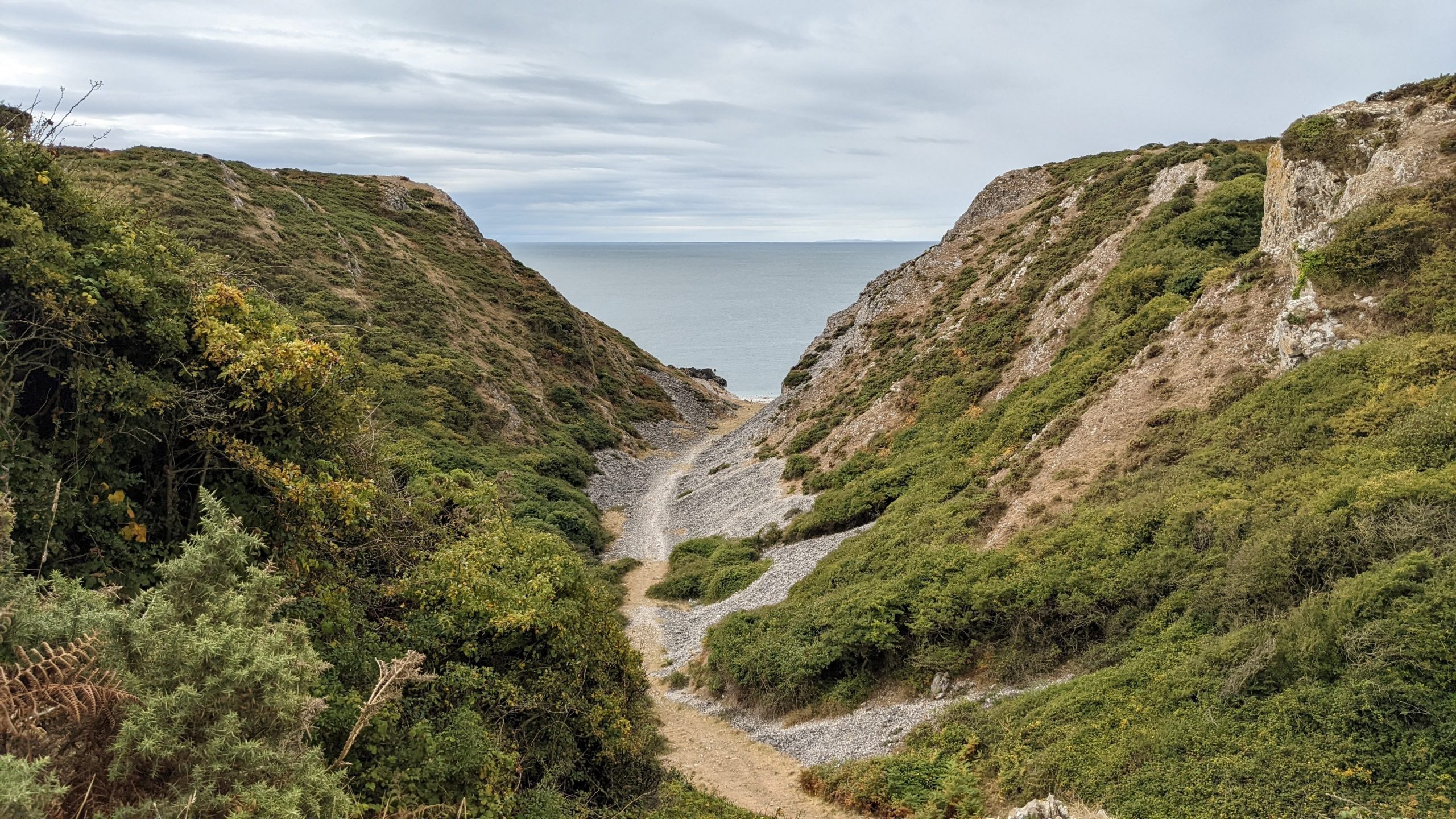 There is a great stop at Port Eynon for lunch where you can pick up beach food at cafes and use the facilities. Then the very final walk into Oxwich is through beautiful wild oak woodland, with many steps but providing a welcome shelter from the sun or rain.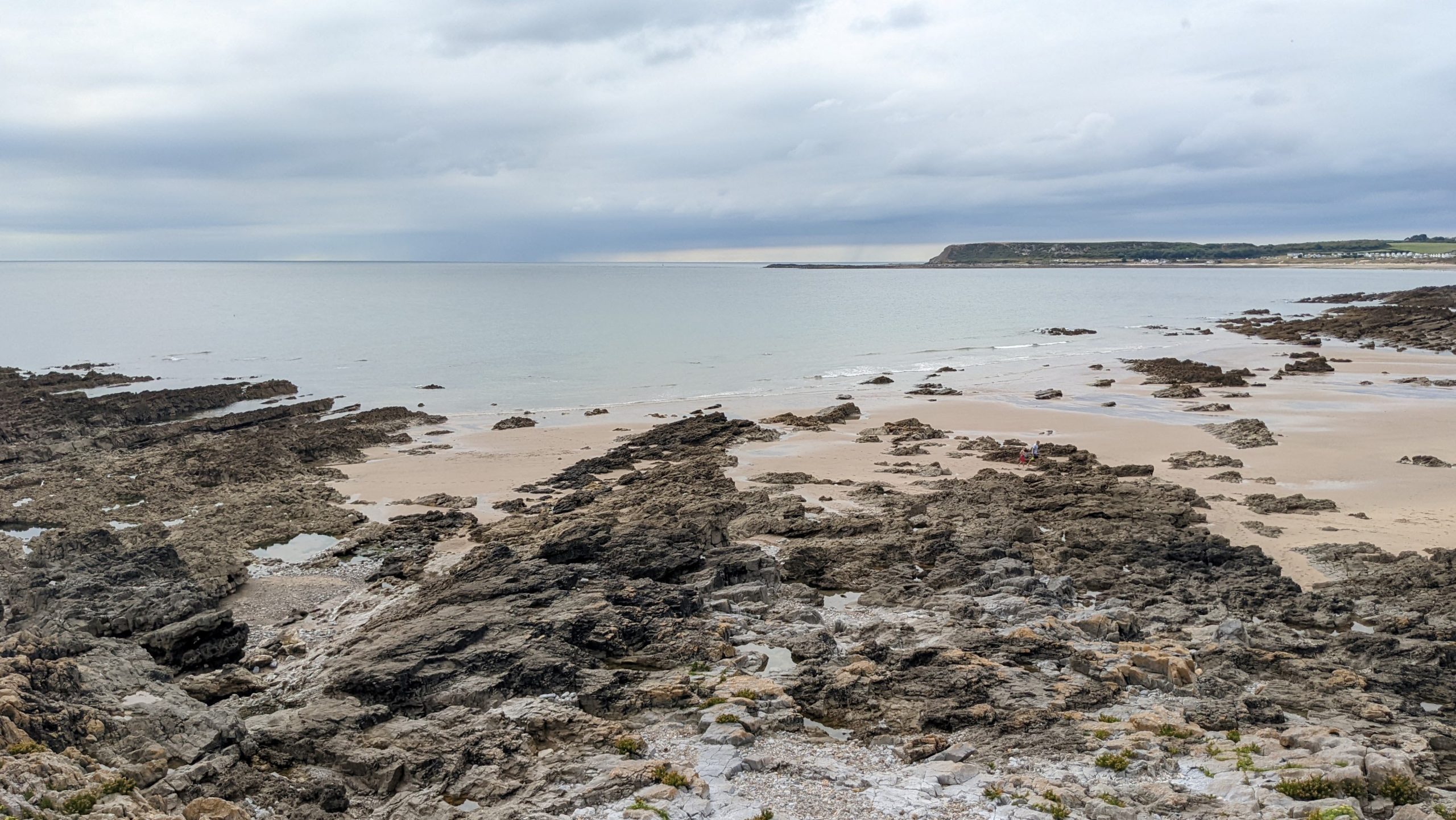 Oxwich is a small beach village popular with day trippers who filter away in the evening leaving only the hotel guests and campers. We are looking forward to a long beach walk tomorrow with the tide low in the morning.
Oxwich to Mumbles
The theme of today is tides. Leaving a few hours after the nighttime low tide meant we could cut out some of the tougher dune sections in Oxwich bay. Which meant a beautiful early morning walk across the beach.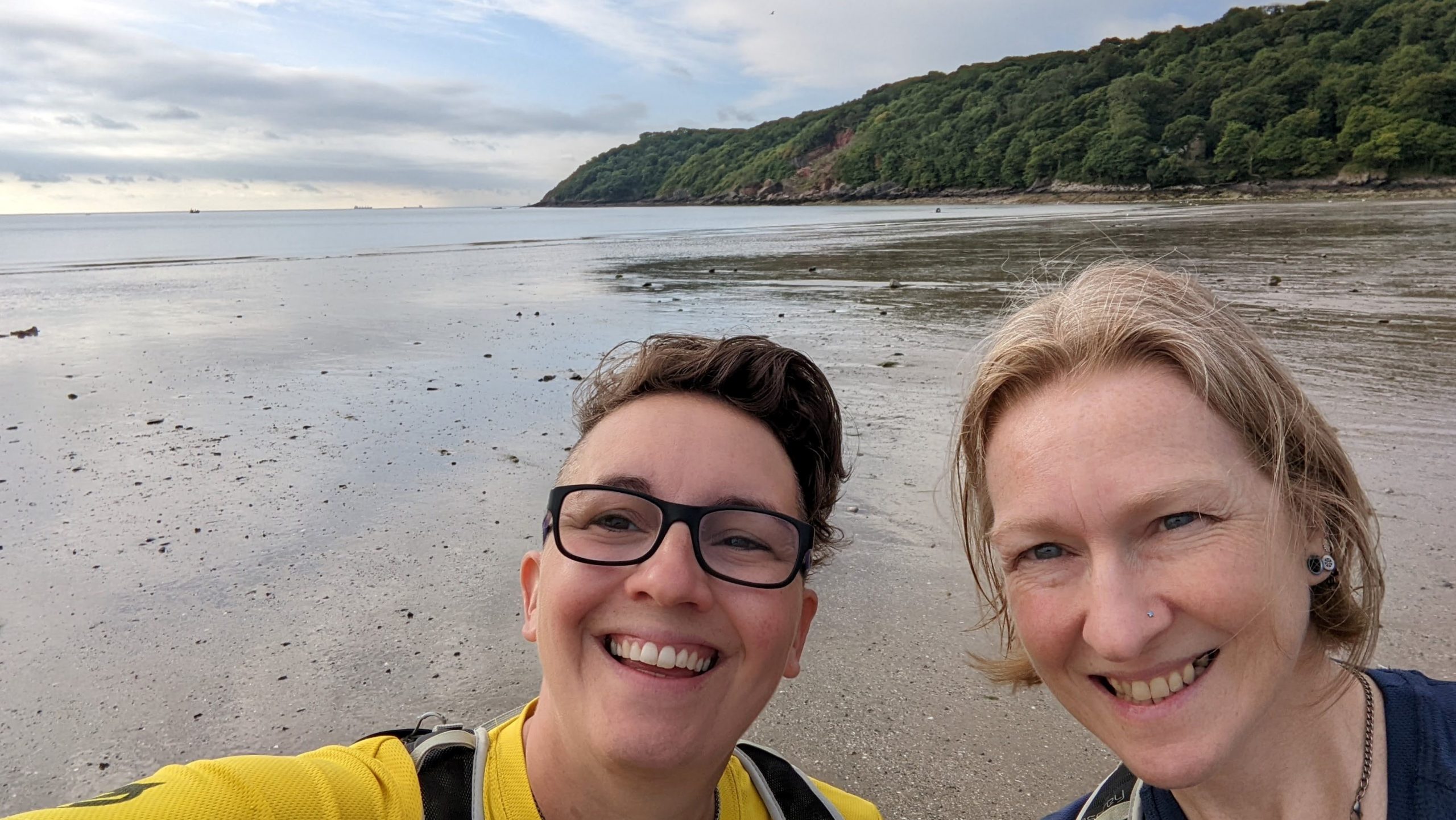 For much of the walk you can see Oxwich and the progress you have made which is heartening, then you can see Mumbles and how close it is so it's psychologically good for the feet today!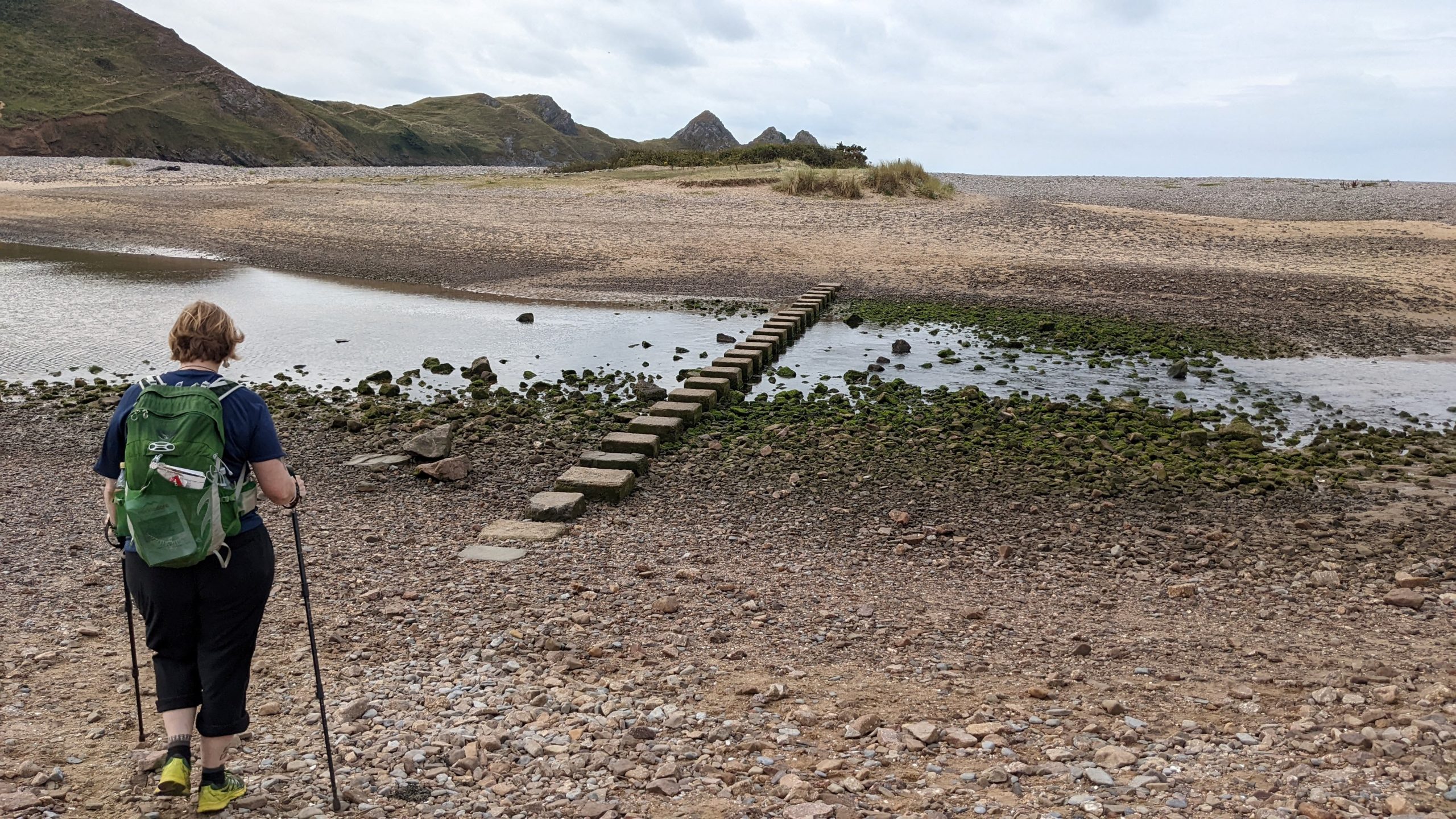 After the lovely flat solid beach walk we ascended up some sandy paths to the sandy cliffs and this was the most ascent and descent of all the days, ducking in and out of some stunning bays. Again, catching these before high tide cuts out some longer high tide routes and allows for the fun of the stepping stones at Three Cliffs Bay.
After the stepping stones was the first time we struggled to find the proper route as you ascend another sandy cliff to find a golf course in the way at the top and signage mysteriously lacking after being so good for so long. But essentially, keep the golf course on your left and the sea on your right and eventually you'll find one of the trusty signposts.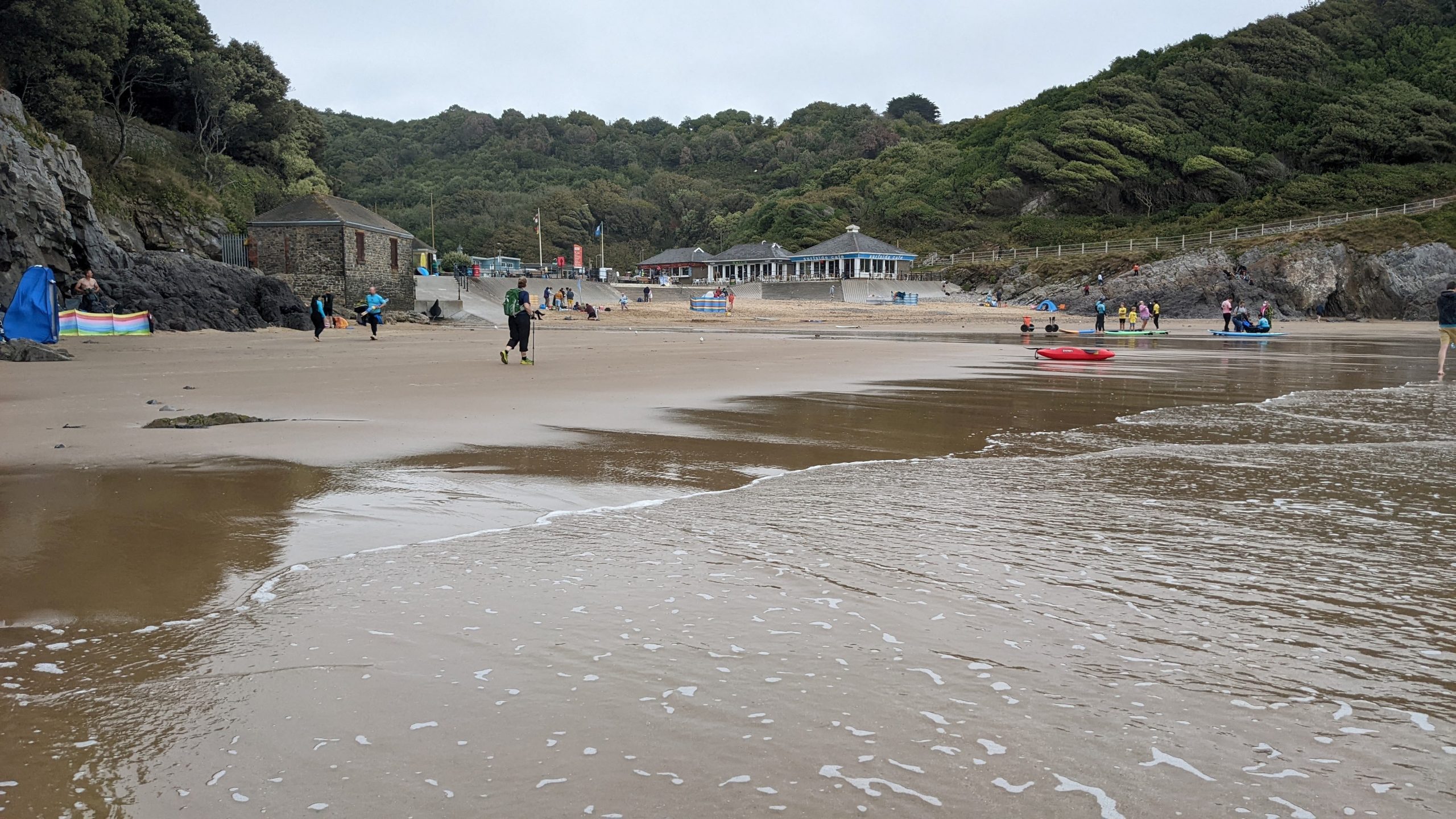 We had a lovely coffee stop at the Three Cliffs Café then the rest of the walk is much more gentle cliff paths until the steps down to the stunning Caswell Bay, where you now need a low tide to walk the beach route but is absolutely worth it. This was where I finally took off my boots to wade through the waves as the hugely popular surf school takes place.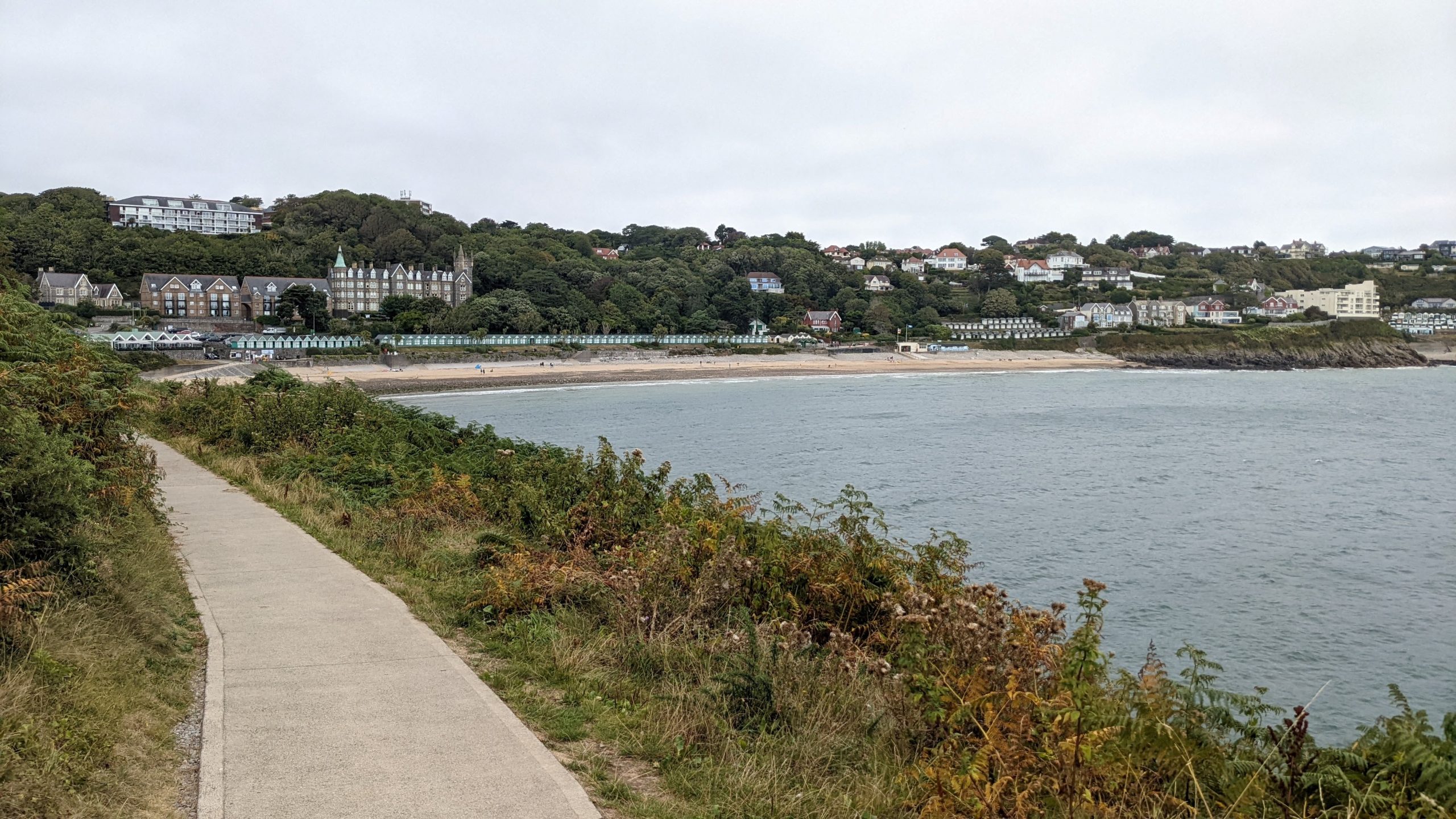 Our final section was more gentle low cliff routes, and now is mostly a new concrete path and well populated with visitors and locals. We reached Mumbles pier in a heavy rain shower and treated ourselves to a hot chocolate and a bit of window shopping before checking in to our accommodation.
---
This is a great walk for beginners to long distance walking, with good waymarking and varying terrain on the days but never anything too difficult. There are alternative routes for tides if you can't time your walk with low tides. I'd always recommend finishing in Mumbles rather than walking in "reverse" as the days increase in ascent/descent and difficulty as well as beauty.
For more information on the Gower Peninsula email us [email protected]. or to speak to me Hayley or any of our walking holiday experts, call 017687 72335