Pembrokeshire Coast Path
Within the Pembrokeshire Coast National Park in South Wales, the Pembrokeshire Coast Path is one of the UK's well established National Trails. Following the rugged Welsh coastline, this is one of the finest long distance walks in Britain. The path enjoys stunning views across sea and land as it twists along a coastline of ever-changing natural beauty.
The Pembrokeshire Coastal Path is a varied and at times challenging walk. The undulating nature of some parts of the walk present physically demanding ascents and descents, however it can be enjoyed in shorter sections accessible to walkers of all ages and abilities.
Bird watchers and plant lovers are drawn to the area due to the rich diversity of wildlife to be seen. Sea birds thrive on the inaccessible cliffs and offshore islands, due to a multitude of habitats, an amazing array of flowers and plants can be seen at all times of year.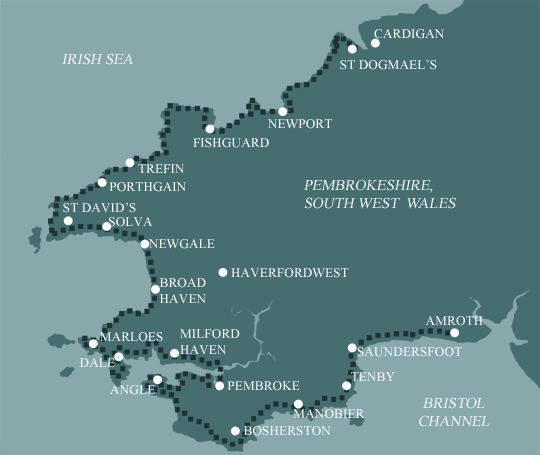 Our Holidays
As well as the whole route, we have divided the trail into three shorter sections. The first of these is the 63 mile south coast section from Amroth to Milford Haven. This is followed by the central coast section of 43 miles from Milford Haven to St Davids. Finally we have the 62 mile north coast section from St David's to St Dogmaels. All three are well worth undertaking in their own right, alternatively you could walk each of them in turn until you've completed the whole trail.
Please bear in mind that the distances each day are trail distances only. They do not take into account walking to your accommodation. On some days the accommodation might be on or close to the trail but on other days you may need to walk one or two miles to get to your overnight stop.
Distances can also alter with high tides and the temporary closure of the MoD firing range, meaning walkers will cover between 168 miles (270km) and 186 miles (300km) in completing the route.
The Pembrokeshire Coast Path: Amroth - St Dogmaels
Amroth to St Dogmaels 168 miles/270 km
We offer 4 itineraries covering the whole route, from a challenging 13 day walk for the seriously fit, to a more leisurely 16 day trip. Most people spend a minimum of 14 days walking the whole Pembrokeshire Coast Path and incorporate rest days into this. In choosing your itinerary, please bear in mind that you are walking day after day for 2 weeks, so don't be over ambitious with your schedule.
Pembrokeshire South Coast: Amroth to Milford Haven
Amroth to Milford Haven 62 miles/100 km
The 'tamer' end of the route, but with a very varied scenery taking you up and down along spectacular precipitous cliffs, past MoD firing ranges and along the wild and remote Angle Peninsula all the way past the industrial oil refineries and through the historic town of Pembroke with its beautiful castle.
Pembrokeshire Central Coast: Milford Haven to St David's
Milford Haven to St David's 43 miles/69 km
This section is a real mixture from its beginnings in a part of Wales devoted to industry which soon changes to gentle cliffs, wooded valleys and pretty bays. The terrain then changes again to high rugged cliffs leading on through the ghostly past of coal mining, interspersed with coves and sandy beaches.
Pembrokeshire North Coast: St David's to St Dogmaels
St David's to St Dogmaels 62 miles/100 km
This is a great route in its own right, from a wild, rugged coastline with old quarrymen's houses, along beautiful snaking cliffs with coves, bays and beaches to the most strenuous section of the entire path taking in steep, overhanging cliffs and spectacular rock formations reaching the highest point of the coast path at 175 metres.