Land's End Coast Path: St Ives to Penzance
St Ives to Penzance in 3 Days Walking Code: CSW4
We offer 3 itineraries from St Ives to Penzance. Choose from 3, 4 or 5 days walking, depending on how far you want to walk each day. This is a great route in its own right along a wild and rugged coastline with a hidden past.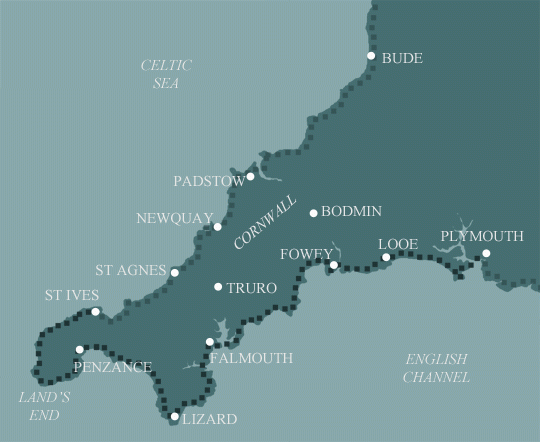 This is the shortest of our itineraries from St Ives to Penzance. Walking the whole route over 3 days can be quite challenging in some places, so you need to be a fairly experienced walker to tackle this holiday. The longest day is 15 miles with the shortest day being 11 miles.
| | | Miles | Km |
| --- | --- | --- | --- |
| Day 1 | Travel to St Ives for your first nights accommodation | | |
| Day 2 | St Ives to Pendeen | 13 | 21 |
| Day 3 | Pendeen to Porthcurno then transfer to Penzance | 15 | 24 |
| Day 4 | Transfer back to Porthcurno then walk to Penzance | 11 | 18 |
| Day 5 | Depart from Penzance after breakfast | | |
St Ives to Zennor:  Art galleries, Cornish cream teas and seal spotting
After spending your first night in St Ives, take some time to explore before you begin your 6 miles to Zennor. These first few miles can be quite tough, but you are rewarded with stunning views. As you come away from the hustle and bustle of St Ives you begin to feel the calmness of the coastline. The path now follows the coastline, sending you on endless ups and downs as it travels through fields and across rocky terrain.  You will need to remember to keep an eye on your footing as some sections need to be taken with care. While the dramatic landscape is reward enough, after walking this section you will also notice the evidence of its ancient occupation.
Zennor to Pendeen: History, Cliffs and Wildlife
The next 7 miles of the trail are rocky and occasionally challenging. The path cuts across the side of Gurnard's Head and winds across the boulder-strewn cliffs of Bosigran, a favourite spot for rock climbers. From here you mainly follow the coastline with a few ascents and descents over the coves. Once you reach the lighthouse at Pendeen Watch you'll follow a tarmac road leading to the facilities at Pendeen village.
Pendeen to Sennen Cove: History, Mines and Sandy Beaches
There are a lot of interesting local sights to see from Pendeen to Sennen Cove. For example you will notice the scattered tin-mine ruins and beautiful views over cliff tops. When leaving Pendeen you come across the Geevor Tin Mine which is now a museum with lots of interesting facts about the history of the local area. The path then passes right behind the remains of the Levant mine and onto the eyrie cliff top location of Crown Mine near Botallack. Before you reach Sennen Cove you are rewarded with marvellous views over Whitesand Bay. Keep an eye open for gannets, fulmars, kittiwakes, shags, razorbills and even the cornish chough, once extinct in the county but now making a welcome return.
Sennen Cove to Porthcurno: Snake your way along the cliff tops
On leaving Sennen Cove the route begins with a short but steep climb out of the village onto the trail. You will follow the cliff tops towards the Mayon Old Coastguard lookout. After a gentle walk along the cliffs you reach the most south-westerly point in the UK, Lands End. Don't forget to take a picture at the famous Lands End signpost. After leaving Lands End you have an easy stroll over the cliffs but bear in mind that in bad weather this section can become challenging as it is exposed with restricted areas to shelter. In good weather you are treated to outstanding views towards the dramatic arched rock of Enys Dodnan Arch. The path then continues on along the coastline passing over the top of Nanjizal beach. Following the coastal path the trail ends at the iconic Minack Theatre – an open-air theatre carved into the granite cliff and not to be missed.
Porthcurno to Penzance: The Big Finish
Upon leaving the coastal village of Porthcurno you pass over the top of some truly magnificent sandy beaches. After passing Porthcurno beach and Pedn Vounder Beach you come across the famous point of Logan Rock – a 70 tonne boulder that could once be rocked by pushing it gently. From Logan Rock you walk onwards to Cribba Head from where you descend onto Penberth, which is a delightful little fishing village. Round the corner from Penberth is Porthguarnan Cove where the path drops a couple of hundred feet to the bottom of the cove. You then climb straight out again for the steepest section on the trail. From there you follow the trail through a mixture of landscapes, from woodland sections to flat cliff tops with a few ups and downs in and out of different coves. You pass through Lamorna Cove and then keep following the trail towards Mousehole (pronounced as Mauzole). From here the trail is along a tarmac road through the village of Newlyn. After a short while following the trail you reach your finishing point of Penzance.




Moderate to Challenging
Grades - This is not a technically difficult walk and should be easy to tackle for most reasonably fit people.
Terrain - The paths are good, and there are no major route finding challenges.
What's it like underfoot? Generally good paths and tracks, although a few sections can get muddy after heavy rain.
How much up & down? – More than you'd think! Although you never reach more than 400m above sea level (and most of the time not more than 200m) there are many short steep sections. Most days involve ascents of 200-400m metres, although no section is very steep for very long.
Signposting: Good – the path is well waymarked.
Navigation: Pretty straightforward – good signposting, and generally well defined tracks.
Weather: You may be lucky enough to encounter warm, dry weather over the whole route and enjoy dry paths and tremendous views, but you must be prepared because the weather can change quickly. Good clothing and waterproofs are essential, but don't forget you sunhat, sunblock and shorts!
                                                                       All Holidays

Accommodation
Overnight Bed and Breakfast accommodation in selected hotels, farmhouses, village inns, guest houses and family B&Bs.Full English or Continental breakfast.
Guidebook
A detailed guidebook with route information, maps, photos and background information.
Information of Services Along the Route
A comprehensive Service Info sheet, including services such as cash points, banks, post offices, village shops, inns, cafes and taxis.
Maps
A waterproof map from Harvey Maps covering the whole route.
Personal Itinerary
A personal itinerary setting out each overnight stop, including large scale maps of each accommodation, to ensure you find it easily.
Emergency Telephone Support
If you get in to difficulties during your holiday, we are always available to help, even out of office hours.
12.5% discount at Cotswold Outdoors
We will issue you with a 12.5% Discount Card valid at all Cotswold Outdoor stores, and online, for the whole year on confirmation of your booking.

Options

Luggage Transport
We will transfer your luggage between each overnight stop if you leave your luggage at the accommodation when you set off in the morning, it will be moved on to your next B&B. You only need to carry a small day sack with the clothes and provisions you require during the day's walk.
Packed Lunches

Provided for each day's walking and recommended on this holiday as there will not always be a handy shop or cafe on the route.
Off Road Parking
It is not possible to leave your car for the duration of the walk, the B&B's do not have the space have the space to allow long term parking. Please see the public transport tab for more information on travelling to and from the route.

What's not Included

Evening Meals
Your evening meal isn't included in the package, but we include full details and recommendations for each evening meal in your itinerary. You will normally be within walking distance of a pub and/or restaurant, or where there is good food available at the accommodation, we'll book that for you.
Transport to the Start & Away from the Finish
Have a look at the "Travel Info" tab above for suggestions. If you're still struggling, get in touch and we'll help you sort it out.
Travel Insurance
Even if you are based in the UK travel insurance is worth having.
Good accommodation and friendly hosts are an essential part of any holiday. We understand this and go out of our way to find the best. We put a great deal of effort into hand picking our accommodation and matching it to individual customer requirements. As well as visiting the accommodation ourselves, we ask all our customers to complete a short evaluation on each night's accommodation, which then gives us an insight in to the day-to-day operation, and lets us spot any potential issues before they become a problem.
We use a variety of accommodation, including small country house hotels, guest houses in market towns, bed and breakfasts in farm houses, country cottages and Victorian town houses. In selecting the accommodation we look for helpful, friendly hosts with good quality, characterful accommodation close to the trail. For example, over the course of your trip you might stay in a village inn, a bed and breakfast in a converted barn, a Victorian guest house, on a working farm, and in a Georgian hotel.
We always try to arrange en suite accommodation, i.e. rooms with their own bathrooms for each night of your stay. However, in some of the more remote locations accommodation is limited and occasionally we may have to book rooms with shared bathrooms for one or two nights of your holiday, (especially if the booking is made at short notice), but we will always let you know if this is likely to be the case.
We are happy to book single rooms on our holidays but cannot normally book more than 2 for any one group. Single room bookings include a supplement.
General Travel information for the South West Coastal Path will be in your holiday pack including train and bus timetables where available.
Detailed instructions on getting to your first night's accommodation by car, or on foot from the nearest train or bus station, will also be included in the holiday pack on individual accommodation maps.
To view train times please visit trainline where you can also purchase tickets in advance. For information on bus timetables please visit traveline
Long term parking is usually not possible on this walk, we recommend using public transport to travel to and from the route.
Getting There:
By Air:  The closest airport to St Ives is Newquay Airport which is about a 50 minute drive from St Ives. Newquay Airport is mainly used for domestic flights. If travelling from overseas the main airport to fly to is London Heathrow. From London Heathrow you can travel by train from Paddington Station to St Ives via St Erth train station.
By Public Transport: St Ives is easily accessible by train from London but please note the train can take up to 6 hours from London. To get to St Ives from London the best train station to travel from is Paddington station where you would usually have to change trains at St Erth to get to St Ives. To check train information please see the Traveline website- Traveline
By Road: We would advise to use public transport where possible on all of our South West Coastal path holidays. As car parking can be very difficult in most areas and is usually an expensive option. The easiest way to drive to Cornwall is to join the M5 to Exeter and then take the A30 via Bodmin all the way to St Ives. From Exeter it takes about two hours when driving to St Ives.
Returning from Penzance:
By Public Transport: There is a train station in Penzance, travel time to London is just under 6 hours. To check train information please see the Traveline website- Traveline
By Road:  From Penzance you can take the A30 via Bodmin and then the M5 to Bristol. Then you take the M4 straight through to the M25 into London. The journey can take at least 6 hours without traffic.
St Ives
A rest day in St Ives is a must when exploring the Cornish sights! Add an extra day to explore the picturesque fishing town with its narrow cobbled streets, quaint shops and restaurants. St Ives has an abundance of local artists and offers a wide range of galleries and museums to visit.
Penzance
Penzance has a strong history and was known as the commercial centre for the tin-mining industry back in the 19th century. Penzance is the ideal spot for a rest day as there is so much to explore in the surrounding area.  For example, St Michael's Mount is a short distance away from Penzance and a true holiday highlight to explore the history behind the castle and gardens.
Prices

GBP (£)

Accommodation, map & guidebook only
£519
with Luggage Transport
£567
with Packed Lunches
£552
with Luggage & Lunches
£597

Other Options

Extra Nights (per night)
£90
Single Supplement (per night)
£60
Solo Luggage Supplement (per day)
£16