Dales High Way: Ilkley Moor and Malhamdale
Saltaire to Settle in 4 Days Walking Code: DHM5
This is the easier of our shorter holidays, spending 3 comfortable days crossing the moorlands ahead of a leisurely 7 mile day enjoying the delights of Malhamdale and the limestone country.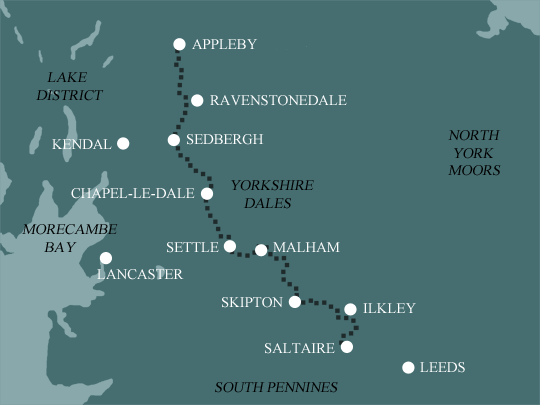 This relatively easy 4 day walk is the perfect introduction to the Dales High Way. An opportunity to experience the West Yorkshire Moors and sample the limestone country of the Dales, before committing to the more challenging terrain of Ingleborough and the Howgills. This itinerary has an overnight in Malham where you may wish to factor in a rest day to explore the surrounding area.
| | | Miles | Km |
| --- | --- | --- | --- |
| Day 1 | Travel to Saltaire for your first nights accommodation | | |
| Day 2 | Saltaire to Ilkley | 8 | 13 |
| Day 3 | Ilkley to Skipton | 11 | 18 |
| Day 4 | Skipton to Malham | 12 | 19 |
| Day 5 | Malham to Settle | 7 | 11 |
| Day 6 | Depart from Settle after breakfast | | |
Saltaire to Skipton
The opening stretch of the Dales High Way is dominated by the heather clad Rombalds Moor. This is actually a collective name for several local moors commonly named according to the nearest town or village, such as Burley, Bingley and most famous of all, Ilkley Moor. This is a fascinating landscape, not least of all for its standing stones, prehistoric rock carvings and Bronze Age stone circle known as The Twelve Apostles. If leaving the main trail to spend the evening in Ilkley, take time to explore the huge Cow and Calf rock formation.
In all but poor weather the walking here is delightful as you make your way across a terrain of millstone grit, peat and heather. If you're unfortunate enough to encounter poor weather, refer to your map and guidebook regularly as distinctive features are few here in low cloud.
Beyond the village of Addingham the Way joins the Roman Road before climbing to Skipton Moor where you are rewarded with stunning views over the town.
Skipton to Settle
This section of the High Way begins with another stretch of moorland as you make your way over Sharp Haw, the distinctive summit of Flasby Fell, before some very pleasant riverside walking leads to the village of Hetton. Further moorland walking follows, passing Winterburn Reservoir and across Hetton Common towards the stunning panoramic viewpoint of Weets Top, and the start of a spectacular change in the landscape.
From Weets Top the majesty of the Yorkshire Dales is laid out before you. The high peaks, among them the mighty Ingleborough, limestone pavements, the scars, the dry valleys and the impressive dry stone walls that divide the luscious green meadows with their neat little barns.
If you have the time to factor in an additional day at Malham, then Janet's Foss, Gordale Scar, Watlowes dry valley and Malham Cove are all worthy of thorough exploration.
Leaving Malhamdale behind, the High Way climbs between Kirkby Fell and Grizedales to pass beneath the impressive Attermire Scar before dropping into the charming town of Settle.




Moderate to Challenging
Whilst remaining hugely rewarding and thoroughly enjoyable, many would consider the Dales High Way to be a challenging walk at times. Even on the longer itineraries, there are still some fairly lengthy days over high ground. Throughout the course of the walk you will cross remote moors, climb Yorkshire's second highest peak and traverse the entire length of the Howgill Fells in a day.
Terrain: A combination of open moorland, limestone pavement, prominent hills and valley floors.
What's it like underfoot? The moorlands from Saltaire to Skipton are a mix of millstone grit, peat and heather which in dry weather allows for pretty good going with hopefully only a few awkward wet patches to navigate. Naturally in wet weather, progress will be slower. In the Dales, limestone pavement and grassland make up most of the ground. Around Ingleborough and Whernside the paths can be a little worn and particularly rocky in places, however there are some fairly lengthy slabbed sections which are easy to walk upon. The steep sided and round topped Howgills are in the main covered by dry rough grass making the going easy.
How Much Up & Down? Quite a lot. Although the moorland is undulating rather than hilly when on it, there is still the ascent and descent at either end to take into consideration. There is significant up and down throughout the Dales and of course there is the crossing of Ingleborough which stands at 723m/2372ft as well as walking the flanks of Whernside. There is steep ground getting both on and off the Howgills and at their highest point reach 676m/2217ft.
Signposting: There are distinctive Dales High Way markers along the route. Don't confuse these with markers for the Dales Way. There may also be markers for other routes such as the Coast to Coast.
Navigation: On paper it should be really straightforward. The guidebook is incredibly detailed with very useful advisory notes and we supply 1:25k Ordnance Survey maps clearly showing the route. As a note of caution there are a number of other routes crossing paths with the Dales High Way and at times sharing paths. Take time to ensure you are following the correct markers. Refer to your guidebook and map at regular intervals, especially during poor weather. Moorland can quickly become bleak and featureless in low cloud.
Weather: Fingers crossed you will experience dry, warm weather throughout your holiday and enjoy dry paths and tremendous views, but you must be prepared because the weather can change quickly, especially on moorland and over high ground. Good clothing, comfortable footwear and reliable waterproofs are essential. It is important you carry plenty of water on warm days. Pack your floppy hat and sun cream also!
All Holidays

Accommodation
Overnight Bed and Breakfast accommodation in selected hotels, farmhouses, village inns, guest houses and family B&Bs. Full English or Continental breakfast.
Guidebook
A detailed guidebook with route information, maps, photos and background information.
Information of Services Along the Route
A comprehensive Service Info sheet, including services such as cash points, banks, post offices, village shops, inns, cafes and taxis.
Maps
2 Ordnance Survey Explorer (1:25000) maps covering the route.
Personal Itinerary
A personal itinerary setting out each overnight stop, including large scale maps of each accommodation, to ensure you find it easily.
Emergency Telephone Support
If you get in to difficulties during your holiday, we are always available to help, even out of office hours.
12.5% discount at Cotswold Outdoors
We will issue you with a 12.5% Discount Card valid at all Cotswold Outdoor stores, and online, for the whole year on confirmation of your booking.

Options

Luggage Transport
We will transfer your luggage between each overnight stop – if you leave your luggage at the accommodation when you set off in the morning, it will be moved on to your next B&B. You only need to carry a small day sack with the clothes and provisions you require during the day's walk.
Packed Lunches

Provided for each day's walking and recommended on this holiday as there will not always be a handy shop or cafe on the route.
Off Road Parking
If you are travelling by car we can usually arrange off road parking for the duration of your trip. (There may be a small charge for this).
Arrangement of return transport
We can also arrange your transfer back to your car, (or advise you when public transport is a better option)!

What's not Included

Evening Meals
Your evening meal isn't included in the package, but we include full details and recommendations for each evening meal in your itinerary. You will normally be within walking distance of a pub and/or restaurant, or where there is good food available at the accommodation, we'll book that for you. Allow about £20.00 per night.
Transport to the Start & Away from the Finish
Have a look at the "Travel Info" tab above for suggestions. If you're still struggling, get in touch and we'll help you sort it out.
Travel Insurance
Even if you are based in the UK travel insurance is worth having.
Good accommodation and friendly hosts are an essential part of any holiday. We understand this and go out of our way to find the best. We put a great deal of effort into hand picking our accommodation and matching it to individual customer requirements. As well as visiting the accommodation ourselves, we ask all our customers to complete a short evaluation on each night's accommodation, which then gives us an insight into the day-to-day operation and lets us spot any potential issues before they become a problem.
We use a variety of accommodation. Over the course of your trip you might stay in a village inn, a bed and breakfast in a converted barn, a Victorian guest house, or on a working farm. In selecting the accommodation we look for helpful, friendly hosts with good quality, characterful accommodation close to the trail.
We always try to arrange en suite accommodation, i.e. rooms with their own bathrooms for each night of your stay. However, in some of the more remote locations accommodation is limited and occasionally we may have to book rooms with shared bathrooms for one or two nights of your holiday, (especially if the booking is made at short notice), but we will always let you know if this is likely to be the case.
We are happy to book single rooms on our holidays but cannot normally book more than 2 for any one group. Single room bookings include a supplement.
Here are some examples of the accommodation we use on the Dales High Way: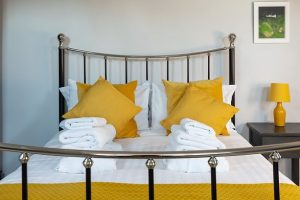 Rika and Peter assure you of a warm welcome at One Tivoli Place Guest House in Ilkley. Their fully licensed gastro-guest house offers comfortable, well-equipped ensuite rooms, and when it comes to dining, they specialise in authentic Japanese cuisine, coupled with the best of British and European food. Visit their website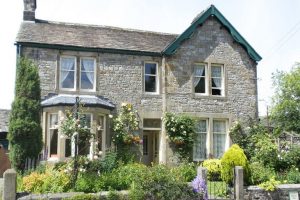 Located in the picturesque village of Malham is River House, a charming property dating back to 1664. River House has 8 individually decorated bedrooms, with lovely homely touches. Alex and Ann have been welcoming walkers for almost 20 years and setting them up for the day ahead with a delicious Yorkshire Dales Aga cooked breakfast. Visit their website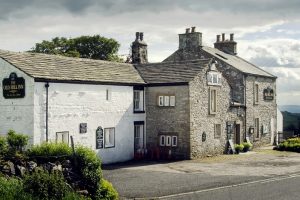 Nestled between Ingleborough and Whernside in Chapel-le-Dale is the Old Hill Inn. Dating back to 1615, this one time farm, then Drovers inn, now specialises in cosy rooms and delicious home cooked food. Molly manages front of house and accommodation while parents Colin and Sabena take care of the mouth-watering meals. Visit their website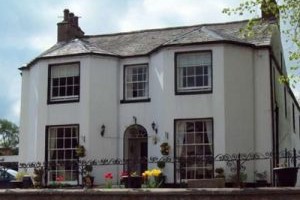 A warm Cumbrian welcome awaits you at Bongate House in Appleby. In addition to her seven fabulous rooms Anne has approximately an acre of garden for your enjoyment. Sit and enjoy the sun, or take a stroll to the end of the garden where hidden, beyond the trees, you will find a view of Appleby Castle and the River Eden. Visit their website
General travel information for the Dales High Way will be in your holiday pack.
Detailed instructions on getting to your first night's accommodation by car, or on foot from the nearest train or bus station, will also be included in the holiday pack on individual accommodation maps.
To view train times please visit trainline where you can also purchase tickets in advance. For information on bus timetables please visit traveline
Getting to Saltaire / Shipley:
By Air: The nearest International Airports to the trail are Leeds Bradford Airport and Manchester. Shuttlebus services run between Leeds Bradford Airport and both Leeds Railway Station and Bradford Forster Square Station. Trains run direct between both stations and Saltaire.
If travelling via Manchester Airport, there is a railway station at the Airport with hourly trains to Saltaire via Leeds.
By Public Transport: Saltaire Railway Station is located on the Settle to Carlisle Line with connections at Carlisle to the West Coast Main Line between Glasgow and London Euston. Despite its name, the line actually continues southwards from Settle to terminate at Leeds where it connects with the East Coast Main Line between Edinburgh and London Kings Cross.
By Road: Saltaire is located on the A657, 4 miles north of Bradford and 12 miles east of Leeds.
From the M62, leave at Junction 26 and follow the M606 and A6177 bypassing Bradford centre before taking the A650 and following signs for Saltaire.
From the A1(M), leave at junction 46 and follow signs for the A659 towards Pool in Wharfedale before taking the A660 and following signs for Shipley and Saltaire.
Returning from Settle:
By Public Transport: Settle Railway Station is located on the Settle to Carlisle Line with connections at Carlisle to the West Coast Main Line between Glasgow and London Euston. Despite its name, the line actually continues southwards from Settle to terminate at Leeds where it connects with the East Coast Main Line between Edinburgh and London Kings Cross.
By Road: Settle is located on the B6480, just off the A65.
From the M6, leave at Junction 36 and follow signs for the A65 Kirkby Lonsdale & Skipton. Follow the A65 passing through Kirkby Lonsdale and Ingleton, then follow signs for Settle & Giggleswick.
From the A1(M), leave at Junction 47 and follow signs for the A59. Pass through Harrogate and continue on the A59 bypassing Skipton following signs for the A65 Kendal. Pass though the villages of Gargrave, Hellifield and Long Preston and follow signs for B6480 Settle.
Saltaire
Built by Sir Titus Salt, the village of Saltaire takes its name from a combination of the founder's surname and the name of the river by which it stands. Sir Titus Salt not only built his textile mill here, but also houses for his workers, bath houses, a hospital, an institute for recreation and education, a school for the workers children and even a concert hall.
Salts Mill, which opened in 1853, is now a place of art, dining and shopping. In the village itself there are a variety of shops, a choice of places to eat, incredible architecture on view and a lovely park to enjoy.
Saltaire was designated a World Heritage Site by UNESCO in 2001.
Skipton
With its beautiful and well preserved medieval castles, cobbled streets and its location on the southern edge of the Yorkshire Dales National Park, Skipton is a nice place to spend an extra day. It is a friendly small town with a market four days a week, you can explore the castle or take a boat trip on the canal.
Malham
The delightful village of Malham is worthy of further exploration beyond what can be achieved when walking the Dales High Way. Consider taking an additional day to visit the likes of Janet's Foss Waterfall, the spectacular gorge that is Gordale Scar, Malham Tarn, Watlowes dry valley and the huge curving amphitheatre-shaped limestone cliff of Malham Cove, not fully appreciated from the Way alone. All of the above can be experienced in one stunning circular walk.
Walkers on the Pennine Way will of course scale the steps beside the magnificent Malham Cove and walk through Watlowes dry valley before rounding Malham Tarn, however a gentle day exploring Janet's Foss and Gordale Scar remains worthy of consideration. You may choose to spend time at the Cove too, unhurried, allowing you to push on with the walking the following day.
Settle
Surrounded by stunning countryside and iconic landmarks, the charming town of Settle is well worth a day of discovery. It's an ideal base for all sorts of adventures from cave exploration and abseiling to road cycling and mountain biking. There's a fabulous selection of friendly independent shops and when it comes to eating there are plenty of places offering delicious food for all tastes and budgets.
Prices

GBP (£)

Accommodation, map & guidebook only
£596
with Luggage Transport
£648
with Packed Lunches
£640
with Luggage & Lunches
£689

Other Options

Extra Nights (per night)
£90
Single Supplement (per night)
£58
Solo Luggage Supplement (per day)
£0