The Lizard: Penzance to Falmouth
Penzance to Falmouth in 5 Days Walking Code: CSL6
We offer 2 itineraries from Penzance to Falmouth. Choose from 4 or 5 days walking, depending on how far you want to walk each day. This is a fantastic section of path allowing you to explore Lizard Point, the most southerly tip of Great Britain.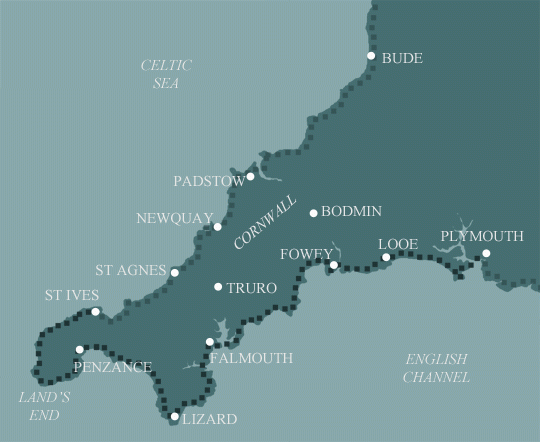 This is the longer of our 2 itineraries from Penzance to Falmouth. There's an average daily mileage of 13 miles, the last days walk is only 4 miles to Falmouth. This walk allows plenty of time to enjoy the beaches, castle and birdlife,  as well as visit the most southerly point in Great Britain and meander through the mysterious coves that line this beautiful coast.
| | | Miles | Km |
| --- | --- | --- | --- |
| Day 1 | Travel to Penzance for your first nights accommodation | | |
| Day 2 | Penzance to Porthleven | 13 | 21 |
| Day 3 | Porthleven to Lizard | 13 | 21 |
| Day 4 | Lizard to Coverack | 11 | 18 |
| Day 5 | Coverack to Mawnan Smith | 15 | 24 |
| Day 6 | Mawnan Smith to Falmouth | 4 | 6 |
| Day 7 | Depart from Falmouth after breakfast | | |
Penzance to Porthleven: Islands of wonder, beaches, history
After spending your first night in Penzance you begin your walk along a tarmac path adjacent to Mounts Bay with views of St Michael's Mount. Once you reach the peaceful village of Marazion the trail takes you along the coastline where you wind your way along the trail on a fairly flat track. This section does require close attention in following the waymarker posts to avoid walking inland. The trail then picks up a bit once you reach Perran Sands where you walk in and out of the coves. Continuing along the trail you reach Prussia Cove which was an area known for smuggling exports. After climbing out of the Prussia Cove you have a good section of cliff-top walking and you will pass to the side of the impressive beach of Praa Sands. The rest of this section is a mixture of  fields, as you head more inland, then dramatic cliff-top walking before you eventually reach Porthleven.
Porthleven to Lizard: Long sandy beaches, lighthouses and birdlife
You begin your walk out of Porthleven by passing the iconic Porthleven clock tower. After walking along the coastal trail you pass Loe bar which is a freshwater lagoon and a popular spot for keen birdwatchers. The trail then passes over the tiny beach at Gunwalloe where the church of St Winwaloe hides in the sand dunes. Beyond here the trail is along exposed cliff tops rewarding you with some of the best views over the treacherous rocks where many ships have been wrecked in bad weather. The trail continues along the coast down towards Lizard Point – the most southerly point in Great Britain. The village of Lizard is just less than a mile inland from here. Lizard can surprise many visitors with its coloured houses and shops which make for an interesting change from previous villages you pass.
Lizard to Porthallow: Wild to Mild
You begin this section by setting off from the most southerly point of Great Britain at Lizard lighthouse. The trail then continues on passing by Lions Den which is a spectacular natural hole caused by the collapse of a former cave. As you traverse around the coastal path you pass Housel Bay with its hidden cove.  From here the trail is fairly flat with some short steep sections and once you reach the small fishing village of Cadgwith you'll have to climb down and out of the quaint fishing village. Cadgwith is a wonderful seaside village with lots of surprising thatched houses.   After leaving Cadgwith the path traverses round through thick blackthorn, gorse and bracken. You will encounter some extraordinary geology along this section including Old Serpentine Works which was a thriving Victorian rock factory steeped in history. After crossing the sandy beach of Kennack sands the path is fairly flat but with a few steep climbs as you cross over the cliff-tops toward the seaside village of Coverack.
The path then changes as you pass to the side of Dean Quarry where you have to stick closely to the path. After passing Dean Point you come away from the cliff tops and follow the route inland when you reach Godrevy Cove. The trail passes through fields, past the small village of Porthoustock and then onto Porthallow. Porthallow marks the half way point on the full South West Coastal path for anyone fit enough to partake in the full 630 miles of the route.
Porthallow to Falmouth: The Big Finish

The trail re-joins the cliff tops once again following a flat stretch around the coastline to Gillian Creek. Here you need to cross the creek and have a few options on how to safely make the crossing. Depending on tide levels you can cross the creek but only one hour either side of low tide. The best option is to take the path around the estuary which takes between 40-45 mins. The trail then snakes around the flat coastline passing by Bosahan Cove through woodlands.  Upon reaching Helford the easiest way to cross the river is by Helford Ferry, which runs daily from 9.30am-9.30pm during high season (April- June) and then from 9.30am-5.30pm in low season (September- October.) The trail then bends round the side of the coast on a fairly flat path all the way up to Mawnan Smith.
From here the walking is mainly flat with no real climbs. You pass through a series of little beaches along Gatamala Cove and Bream Cove. There are only a few small villages you pass on this section which include Maenporth and Swanpool. Upon reaching Falmouth you walk along its promenade towards Pendennis Castle which marks the finish point on this delightful route.




Moderate to Challenging
Grades - This is not a technically difficult walk and should be easy to tackle for most reasonably fit people.
Terrain - The paths are good, and there are no major route finding challenges.
What's it like underfoot? Generally good paths and tracks, although a few sections can get muddy after heavy rain.
How much up & down? – More than you'd think! Although you never reach more than 400m above sea level (and most of the time not more than 200m) there are many short steep sections. Most days involve ascents of 200-400m metres, although no section is very steep for very long.
Signposting: Good – the path is well waymarked.
Navigation: Pretty straightforward – good signposting, and generally well defined tracks.
Weather: You may be lucky enough to encounter warm, dry weather over the whole route and enjoy dry paths and tremendous views, but you must be prepared because the weather can change quickly. Good clothing and waterproofs are essential, but don't forget you sunhat, sunblock and shorts!
                                                                        All Holidays

Accommodation
Overnight Bed and Breakfast accommodation in selected hotels, farmhouses, village inns, guest houses and family B&Bs.Full English or Continental breakfast.
Guidebook
A detailed guidebook with route information, maps, photos and background information.
Information of Services Along the Route
A comprehensive Service Info sheet, including services such as cash points, banks, post offices, village shops, inns, cafes and taxis.
Maps
A waterproof map from Harvey Maps covering the whole route.
Personal Itinerary
A personal itinerary setting out each overnight stop, including large scale maps of each accommodation, to ensure you find it easily.
Emergency Telephone Support
If you get in to difficulties during your holiday, we are always available to help, even out of office hours.
12.5% discount at Cotswold Outdoors
We will issue you with a 12.5% Discount Card valid at all Cotswold Outdoor stores, and online, for the whole year on confirmation of your booking.

Options

Luggage Transport
We will transfer your luggage between each overnight stop if you leave your luggage at the accommodation when you set off in the morning, it will be moved on to your next B&B. You only need to carry a small day sack with the clothes and provisions you require during the day's walk.
Packed Lunches

Provided for each day's walking and recommended on this holiday as there will not always be a handy shop or cafe on the route.
Off Road Parking
It is not possible to leave your car for the duration of the walk, the B&B's do not have the space have the space to allow long term parking. Please see the public transport tab for more information on travelling to and from the route.

What's not Included

Evening Meals
Your evening meal isn't included in the package, but we include full details and recommendations for each evening meal in your itinerary. You will normally be within walking distance of a pub and/or restaurant, or where there is good food available at the accommodation, we'll book that for you.
Transport to the Start & Away from the Finish
Have a look at the "Travel Info" tab above for suggestions. If you're still struggling, get in touch and we'll help you sort it out.
Travel Insurance
Even if you are based in the UK travel insurance is worth having.
Good accommodation and friendly hosts are an essential part of any holiday. We understand this and go out of our way to find the best. We put a great deal of effort into hand picking our accommodation and matching it to individual customer requirements. As well as visiting the accommodation ourselves, we ask all our customers to complete a short evaluation on each night's accommodation, which then gives us an insight in to the day-to-day operation, and lets us spot any potential issues before they become a problem.
We use a variety of accommodation, including small country house hotels, guest houses in market towns, bed and breakfasts in farm houses, country cottages and Victorian town houses. In selecting the accommodation we look for helpful, friendly hosts with good quality, characterful accommodation close to the trail. For example, over the course of your trip you might stay in a village inn, a bed and breakfast in a converted barn, a Victorian guest house, on a working farm, and in a Georgian hotel.
We always try to arrange en suite accommodation, i.e. rooms with their own bathrooms for each night of your stay. However, in some of the more remote locations accommodation is limited and occasionally we may have to book rooms with shared bathrooms for one or two nights of your holiday, (especially if the booking is made at short notice), but we will always let you know if this is likely to be the case.
We are happy to book single rooms on our holidays but cannot normally book more than 2 for any one group. Single room bookings include a supplement.
General Travel information for the South West Coastal Path will be in your holiday pack including train and bus timetables where available.
Detailed instructions on getting to your first night's accommodation by car, or on foot from the nearest train or bus station, will also be included in the holiday pack on individual accommodation maps.
To view train times please visit trainline where you can also purchase tickets in advance. For information on bus timetables please visit traveline
It is usually difficult and expensive to park on the South West Coast path, we recommend traveling by public transport. If you do want to bring your car please get in touch and we can advise you on car parking options.
Getting There:
By Air: The nearest and most convenient International Airports to the trail are any of the London Airports.  Trains run hourly from London Paddington station to Penzance direct or changing at Plymouth or Par depending on time of travel (journey time approx. 6 hours).   Alternatively, you may wish to travel via Cornwall Airport Newquay (direct flights from Europe and connecting flights from London Gatwick – Cornwall airport). There is an hourly shuttlebus from Newquay Airport to Newquay Railway Station from where trains run between Newquay and Penzance changing at Par, however as this train journey can take up to 3 hours depending on your time of travel, it is much quicker to take a taxi from the airport (approx. 1 ½ hours – taxi office can be found within the terminal).
By Road: Penzance is located just off the A30. Leave the M5 motorway just after Exeter at Junction 31 and join the A30. The journey to St Ives will take approximately two hours. Continue on the A30 bypassing Hayle then follow signs for A30 Penzance.
By Public Transport: There is a railway station at Penzance. Penzance Railway Station (PNZ) is the western terminus of the Cornish Mainline from where there are onward services throughout Cornwall and further afield to London (Paddington), Birmingham, Leeds and Edinburgh. There is a taxi rank at the station if needed or local taxi numbers can be found at the back of your services information list. To view train times please visit www.nationalrail.co.uk
Returning from Falmouth:
By Public Transport: There are three railway stations at Falmouth – Penmere (PNM), Falmouth Town (FMT) and Falmouth Docks (FAL). All three stations are located on the Maritime Branch Line, off the Cornish Mainline at Truro from where there are onward services throughout Cornwall and further afield to London (Paddington), Birmingham, Leeds and Edinburgh. There is a taxi rank at Falmouth Docks station if needed but no taxi ranks at Penmere or Falmouth Town Stations – local taxi numbers can be found at the back of your services information list. To view train times please visit www.nationalrail.co.uk   There are train's from Falmouth back to Penzance changing at Truro (journey time approx. 1 ½ hours) if you need to travel back to collect your car.
By Road: From Truro continue on the A39 towards Truro. At the Carland Cross roundabout join the A30 road towards Exeter. Then at Junction 31 come off the A30 before Exeter and join the M5 motorway.
Penzance
Penzance has a strong history and was known as the commercial centre for the tin-mining industry back in the 19th century. Penzance is the ideal spot for a rest day as there is so much to explore in the surrounding area.  For example, St Michael's Mount is a short distance away from Penzance and a true holiday highlight to explore the history behind the castle and gardens.
Falmouth
Falmouth is a thriving harbour town and is famous for its creative exhibitions, independent shops and art galleries. The town has an abundance of seafood restaurants with freshly caught produce and beachside restaurants. Falmouth is also known for its beautiful gardens, like the Trebah Gardens and the Gyllyngdune Gardens which are both wonderful places to explore and to relax in. You can also explore the National Maritime Museum of Cornwall which houses a large collection of boats and listen to stories of past explorers.
Prices

GBP (£)

Accommodation, map & guidebook only
£753
with Luggage Transport
£833
with Packed Lunches
£808
with Luggage & Lunches
£883

Other Options

Extra Nights (per night)
£90
Single Supplement (per night)
£60
Solo Luggage Supplement (per day)
£16