Settle to Carlisle Way: The Eden Valley
Kirkby Stephen to Carlisle in 4 Days Walking Code: SEE5
We offer 2 itineraries focusing on the Eden Valley section of the trail. The 5 day option splits the longest day from the 4 day itinerary into 2 shorter days allowing you to take a little more time to savour the lovely views of the charming Cumbrian countryside.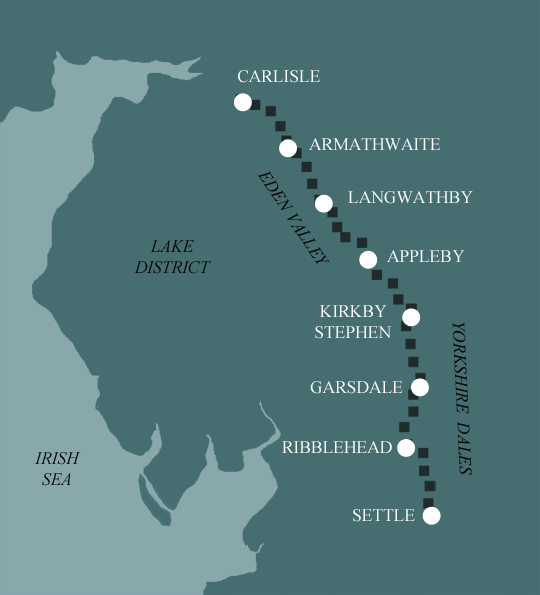 Seasoned walkers looking to enjoy the delights of Cumbria's beautiful Eden Valley in a short break will appreciate this 4 day itinerary. The 18 mile day is over pretty easy ground, however those with reservations might like to consider our 5 day itinerary where this longer stretch is split over 2 days.
| | | Miles | Km |
| --- | --- | --- | --- |
| Day 1 | Travel to Kirkby Stephen for your first nights accommodation | | |
| Day 2 | Kirkby Stephen to Appleby | 14 | 23 |
| Day 3 | Appleby to Langwathby | 18 | 29 |
| Day 4 | Langwathby to Armathwaite | 13 | 21 |
| Day 5 | Armathwaite to Carlisle | 14 | 23 |
| Day 6 | Depart from Carlisle after breakfast | | |
Kirkby Stephen to Appleby
The Way gains a little height for a time as it leaves Kirkby Stephen in the direction of Winton and views ahead open out to the North Pennines which will dominate much of this section.
From Winton it's easy walking through pleasant fields and meadows, and past sleepy hamlets as the Way heads west and crosses the Eden to the small village of Soulby, before turning north to Warcop and meeting with Lady Anne's Way.
Gentle walking through picturesque farmland continues beyond Warcop where the Way follows the River Eden with the reward of splendid views over the eastern Lake District fells.
Beyond Great Ormside the Way hugs the riverside almost all the way to the pretty market town of Appleby. It's here a third route shares the banks of the Eden. The 95 mile Westmorland Way starts in today's destination, Appleby, and then travels west and generally southwards passing Ullswater, Grasmere and Windermere making its way to Westmorland's only port, Arnside, on the shores of Morecambe Bay.
Appleby to Langwathby
More easy walking through rural Cumbrian countryside with lovely vistas of the North Pennine Hills beginning with a view up into the magnificent High Cup Nick with its horseshoe of vertical Whin Sill crags. The Way passes through the timeless red sandstone village of Long Marton and then continues to Temple Sowerby with terrific views towards Cross Fell and Great Dun Fell. The Settle to Carlisle Way and Lady Anne's Way part company for the final time at the delightful Ousenstand Bridge over the Eden.
Beyond Temple Sowerby the Way passes by the National Trust property of Acorn Bank with its beautiful walled gardens before passing beneath Crowdundle Viaduct and turning for the village of Culgaith.
From Culgaith more gentle walking through idyllic countryside leads to the charming village of Langwathby with its Brief Encounter café.
Langwathby to Armathwaite
Leaving Langwathby the Way crosses fields and passes through the villages of Winskill and Hunsonby before returning parallel with the railway at Little Salkeld where there are options to visit Long Meg Stone Circle and Lacy's Caves.
The Way continues, closely following the river towards Eden Bridge where a short section of road leads into the picturesque once-thriving market town of Kirkoswald.
Beyond Kirkoswald the Way leaves the railway and the Eden as it crosses delightful rolling farmland and journeys through enchanting woods, emerging to again join the Eden. A short walk along the banks of the river leads into the pleasant village of Armathwaite.
Armathwaite to Carlisle
The final leg of the Settle to Carlisle Way delivers another day of delightful walking through the charming Cumbrian countryside where riverside paths, woods and meadows lead to the pedestrianised centre of the historic border city of Carlisle.
Leaving Armathwaite the Way runs parallel with the railway as far as Drybeck Viaduct before once again heading to the banks of the River Eden where it meanders along passing through lovely meadows and in and out of enchanting woodland all the way to the attractive village of Wetheral with its spacious village green.
From Wetheral the Way follows lanes and minor roads through farmland to the outskirts of Carlisle where it meets the Eden for the final time and twists its way towards the city centre and the completion of the Eden Valley section of the Settle to Carlisle Way.


Easy to Moderate
The Settle to Carlisle Way can be completed by anyone with a reasonable level of fitness and the ability to follow a map!
Terrain: A little bit of everything the Yorkshire Dales and Eden Valley has to offer. A varied mixture of riverside paths, green lanes, limestone grassland, woodland paths and moorland tracks.
What's it like underfoot? On the whole the paths are relatively well defined, however there are a number of boggy sections where after prolonged rain the ground can be extremely muddy. There are some short sections of road walking which are free from heavy traffic.
How Much Up & Down? The Way's profile tends to match that of the railway. Leaving Settle at approximately 150m the Way climbs to just around 350m near Garsdale before gradually losing height all the way to Carlisle just above sea level.
Signposting: As the Settle to Carlisle Way is not yet an established long distance trail there isn't any consistent signposting. The Way does however follow sections of Ribble Way, Pennine Way and Pennine Bridleway which are signposted.
Navigation: Although there isn't any consistent signposting, in the main the Way follows rights of way throughout. Providing you familiarise yourself with the route ahead of your holiday and refer to your map when walking you will remain on course without too much effort.
Weather: You may be lucky enough to encounter warm, dry weather over the whole route and enjoy dry paths and tremendous views, but you must be prepared because the weather can change quickly. Good clothing including comfortable footwear and reliable waterproofs are essential. Pack your floppy hat and sun cream also!
All Holidays

Accommodation
Overnight Bed and Breakfast accommodation in selected hotels, farmhouses, village inns, guest houses and family B&Bs. Full English or Continental breakfast.
Guidebook
A detailed guidebook with route information, maps, photos and background information.
Information of Services Along the Route
A comprehensive Service Info sheet, including services such as cash points, banks, post offices, village shops, inns, cafes and taxis.
Maps
A waterproof 1:40000 map from Harvey Maps covering the whole route.
Personal Itinerary
A personal itinerary setting out each overnight stop, including large scale maps of each accommodation, to ensure you find it easily.
Emergency Telephone Support
If you get in to difficulties during your holiday, we are always available to help, even out of office hours.
12.5% discount at Cotswold Outdoors
We will issue you with a 12.5% Discount Card valid at all Cotswold Outdoor stores, and online, for the whole year on confirmation of your booking.

Options

Luggage Transport
We will transfer your luggage between each overnight stop – if you leave your luggage at the accommodation when you set off in the morning, it will be moved on to your next B&B. You only need to carry a small day sack with the clothes and provisions you require during the day's walk.
Packed Lunches

Provided for each day's walking and recommended on this holiday as there will not always be a handy shop or cafe on the route.
Off Road Parking
If you are travelling by car we can usually arrange off road parking for the duration of your trip. (There may be a small charge for this).
Arrangement of return transport
We can also arrange your transfer back to your car, (or advise you when public transport is a better option)!

What's not Included

Evening Meals
Your evening meal isn't included in the package, but we include full details and recommendations for each evening meal in your itinerary. You will normally be within walking distance of a pub and/or restaurant, or where there is good food available at the accommodation, we'll book that for you. Allow about £20.00 per night.
Transport to the Start & Away from the Finish
Have a look at the "Travel Info" tab above for suggestions. If you're still struggling, get in touch and we'll help you sort it out.
Travel Insurance
Even if you are based in the UK travel insurance is worth having.
Good accommodation and friendly hosts are an essential part of any holiday. We understand this and go out of our way to find the best. We put a great deal of effort into hand picking our accommodation and matching it to individual customer requirements. As well as visiting the accommodation ourselves, we ask all our customers to complete a short evaluation on each night's accommodation, which then gives us an insight into the day-to-day operation and lets us spot any potential issues before they become a problem.
We use a variety of accommodation, including small country house hotels, guest houses in market towns, bed and breakfasts in farm houses, country cottages and Victorian town houses. In selecting the accommodation we look for helpful, friendly hosts with good quality, characterful accommodation close to the trail. For example, over the course of your trip you might stay in a village inn, a bed and breakfast in a converted barn, a Victorian guest house, on a working farm, and in a Georgian hotel.
We always try to arrange en suite accommodation, i.e. rooms with their own bathrooms for each night of your stay. However, in some of the more remote locations accommodation is limited and occasionally we may have to book rooms with shared bathrooms for one or two nights of your holiday, (especially if the booking is made at short notice), but we will always let you know if this is likely to be the case.
We are happy to book single rooms on our holidays but cannot normally book more than 2 for any one group. Single room bookings include a supplement.
Here are some examples of the accommodation we use on the Settle to Carlisle Way: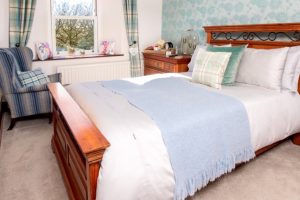 Edd and Jan welcome you to their beautiful 19th century Bed and Breakfast & Tearoom at Middle Studfold Farm near the village of Horton in Ribblesdale. Their rooms have been completely refurbished to a high standard. All food, including bread, is prepared and cooked fresh by Edd himself, a chef. Exquisite dishes are served in the evening also. Visit their website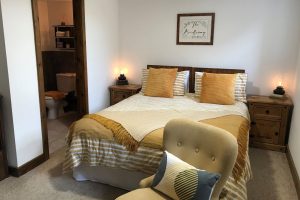 In the spectacular valley of Garsdale, Linda and Graham welcome you to their homely Bed and Breakfast, Goats and Oats. Accommodation is in a beautifully converted barn attached to their home with its own separate entrance. Their food is absolutely delicious and 100% plant based, leaving you full, satisfied and ready for your adventures!. Visit their website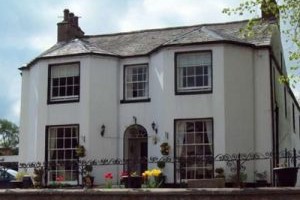 A warm Cumbrian welcome awaits you at Bongate House in Appleby. In addition to her seven fabulous rooms Anne has approximately an acre of garden for your enjoyment. Sit and enjoy the sun, or take a stroll to the end of the garden where hidden, beyond the trees, you will find a view of Appleby Castle and the River Eden. Visit their website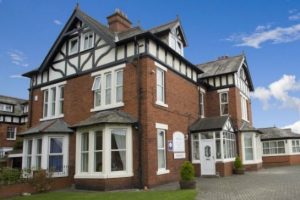 Debbie and Mark are your hosts at Fern Lee Guest House in the historic city of Carlisle. Their attractive property offers modern, spacious and well furnished rooms. Their delicious breakfasts – Full English, Continental, Vegetarian or Vegan are all made from fresh, locally sourced ingredients. Visit their website
General travel information for the Settle to Carlisle Way will be in your holiday pack.
Detailed instructions on getting to your first night's accommodation by car, or on foot from the nearest train or bus station, will also be included in the holiday pack on individual accommodation maps.
To view train times please visit trainline where you can also purchase tickets in advance. For information on bus timetables please visit traveline
If you require secure car parking whilst walking this route, please contact us for information.
Getting to Kirkby Stephen:
By Air: The nearest International Airports to the trail are Leeds Bradford Airport and Manchester. Shuttlebus services run between the Airport and both Leeds Railway Station and Bradford Forster Square Station. Trains run direct between both stations and Kirkby Stephen.
If travelling via Manchester Airport, there is a railway station at the Airport with hourly trains to Kirkby Stephen via Leeds.
By Public Transport: Kirkby Stephen Railway Station is located on the Settle to Carlisle Line with connections at Carlisle to the West Coast Main Line between Glasgow and London Euston. Despite its name, the line actually continues southwards from Settle to terminate at Leeds where it connects with the East Coast Main Line between Edinburgh and London Kings Cross.
By Road: From the east: Leave the A1 at Scotch Corner and head west towards Brough on the A66. At Brough take the exit for the A685 and turn left off the slip road towards Kirkby Stephen.
From the west: Leave the M6 at Junction 38 and follow the signs towards Kirkby Stephen.
Returning from Carlisle:
By Public Transport: Carlisle Railway Station is located on the West Coast Main Line with fast and frequent trains between Glasgow and London Euston. Trains also run along the Tyne Valley Line from Carlisle to Newcastle.
By Road: Carlisle is located just off the M6 and can be accessed from the motorway at several points – Junction 42 (Carlisle South (A6)), Junction 43 (Carlisle Central (A69)) and Junction 44 (Carlisle North (A7)).
If travelling across from the East, exit the A1(M) at Junction 75 and follow the A69 cross country to Junction 43 of the M6 (Carlisle Central).
Kirkby Stephen
Kirkby Stephen is a traditional market town of historic buildings, cobbled yards, quaint corners and interesting shops. It is situated in a landscape of pastoral rural scenery with wild uplands. Being remote from large towns and population centres, Kirkby Stephen has developed a strong and self-sufficient identity and a vibrant sense of community.
Carlisle
Carlisle is an historic border city, complete with castle and cathedral. Tullie House Museum has a lot of Roman artefacts and is worth a visit. The cathedral was founded in 1122 and is open every day. The castle has dominated the city for 9 centuries, and also houses a military museum – there are guided tours daily. There are plenty of shops and lots of places to eat or have coffee.
Prices

GBP (£)

Accommodation, map & guidebook only
£557
with Luggage Transport
£657
with Packed Lunches
£601
with Luggage & Lunches
£696

Other Options

Extra Nights (per night)
£90
Single Supplement (per night)
£58
Solo Luggage Supplement (per day)
£25