Lady Anne's Way Highlights: The Highway and The Vale of Eden
Hawes to Penrith in 6 Days Walking Code: LAE7
This is a delightful route that starts from Hawes along the Lady Anne's Highway in the Yorkshire Dales. The trail then leaves the rugged moorlands behind with easy walking along the river Eden through lush green pastures and picturesque villages to finish at Brougham Castle near Penrith. Despite distances being short, there is plenty to see with time to explore the villages, churches and towns enroute, or simply to take in the views along the way.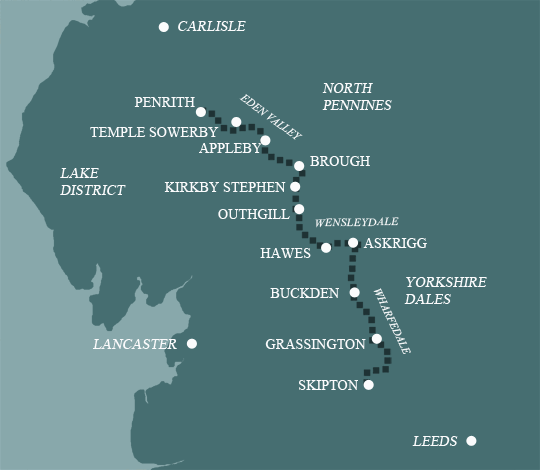 With a dramatic start from the Yorkshire Dales village of Hawes, this walk takes in the northern and easiest section of Lady Anne Clifford's route. With short days and mostly low level walking through the Eden Valley you will be able to spend time visiting the many historic buidings and villages associated with Lady Anne. Starting along Lady Anne's Highway, the first 2 days take in a high route over the fells, therefore a reasonable level of fitness is required even though the following days are easier walking.
| | | Miles | Km |
| --- | --- | --- | --- |
| Day 1 | Travel to Hawes for your first nights accommodation | | |
| Day 2 | Hawes to Outhgill then transfer to Kirkby Stephen | 12 | 19 |
| Day 3 | Transfer back to Outhgill then walk to Kirkby Stephen | 5 | 8 |
| Day 4 | Kirkby Stephen to Church Brough | 6 | 10 |
| Day 5 | Church Brough to Appleby | 11 | 18 |
| Day 6 | Appleby to Temple Sowerby | 10 | 16 |
| Day 7 | Temple Sowerby to Penrith | 12 | 19 |
| Day 8 | Depart from Penrith after breakfast | | |
Lady Anne's Highway and Mallerstang: Hawes to Kirkby Stephen
A dramatic section, this part of the path begins with a climb up onto Cotter End (500m). It then contours round on a ledge above the valley with excellent views across to the Dandrymire viaduct on the famously scenic Settle to Carlisle railway line. You are now on "Lady Anne Clifford's Highway". This route has been used since prehistoric times. It was later adopted by the Romans and then used by packhorses and drovers on their way to the markets in the Dales. The path follows the headwaters of the River Ure until at Hellgill you leave Yorkshire behind and enter Cumbria, or Westmorland as it once was. The trail then picks up the River Eden and descends into the dramatic Mallerstang Common with views across to the imposing Wild Boar Fell. Here you will find St Mary's Church and the romantic ruins of Pendragon Castle both of which were once restored by Lady Anne. Then pleasant valley walking leads you to Kirkby Stephen which boasts an interesting church with cloisters to shelter market folk, and the famous Saxon Loki Stone.
Upper Eden: Kirkby Stephen to Appleby
Meandering along in the Eden Valley, this is a section of gentle rambling but extensive views steeped in history. Both the church and the castle at Brough were restored by Lady Anne, but the castle is in ruins once more. After Warcop the trail again follows the River Eden with easy walking through pleasant fields and meadows, past sleepy hamlets and villages to Appleby-in-Westmorland. The narrow road through Great Ormside village leads to Ormside Hall, with its 14th Century pele tower, and to St James's Church. Nearby is the Ormside Viaduct carrying the Settle to Carlisle Railway across the River Eden. Appleby is a delightful market town with its castle and keep, moot hall and tree lined green. It owes much to Lady Anne who repaired and maintained several of the buildings and built the charming almshouses. St Lawrence's Church with its cloister arches is worth a visit, as it is here that Lady Anne is buried.
Vale of Eden: Appleby to Penrith
A low level section with lovely vistas of the North Pennine Hills starting with a view up into High Cup Nick and its horseshoe of vertical Whin Sill crags. The trail passes through the timeless red sandstone village of Long Marton and then continues to Kirkby Thore with superb views towards Cross Fell and Wild Boar Fell. From here it is easy walking down to the River Eden once more and the picturesque Ousenstand Bridge, then past Whinfell Forest to Brougham Hall, and on to Brougham Castle. There are extensive ruins here of what was probably Lady Anne's favourite castle, and where she died in 1676. Nearby is the Countess Pillar erected by Lady Anne to commemorate her mother. The path then meanders along next to the River Eamont and into the bustling market town of Penrith.


Easy to Moderate
This route is within the grasp of any reasonably fit walker who can follow a map! The Eden Valley spends much of its time in valley bottoms, alongside rivers and through woodlands.
Terrain: A mixture of wooded valleys and riverside paths. A bit of everything the Eden Valley has to offer!
What's it like underfoot? The paths and tracks are reasonably well defined and maintained. Sections can be muddy in wet weather.
How Much Up & Down? The route climbs and descends on most days – with three days having up to 300m (1000 ft) of ascent. The maximum altitude is over 1800ft between Buckden and Askrigg.
Signposting: None. You will need to use your route description and map.
Navigation: The paths are well defined over most of the route, but you will need to be able use a map and compass in case the mist is down over the moors. On some valley sections the route follows quieter, less travelled footpaths, which can be less well defined at times.
Weather: You may be lucky enough to encounter warm, dry weather over the whole route and enjoy dry paths and tremendous views, but you must be prepared because the weather can change quickly. Good clothing and waterproofs are essential!
All Holidays

Accommodation
Overnight Bed and Breakfast accommodation in selected hotels, farmhouses, village inns, guest houses and family B&Bs.Full English or Continental breakfast.
Guidebook
A detailed guidebook with route information, maps, photos and background information.
Information of Services Along the Route
A comprehensive Service Info sheet, including services such as cash points, banks, post offices, village shops, inns, cafes and taxis.
Maps
1:25000 OS maps covering the entire route
Personal Itinerary
A personal itinerary setting out each overnight stop, including large scale maps of each accommodation, to ensure you find it easily.
Emergency Telephone Support
If you get in to difficulties during your holiday, we are always available to help, even out of office hours.
12.5% discount at Cotswold Outdoors
We will issue you with a 12.5% Discount Card valid at all Cotswold Outdoor stores, and online, for the whole year on confirmation of your booking.

Options

Luggage Transport
We will transfer your luggage between each overnight stop – if you leave your luggage at the accommodation when you set off in the morning, it will be moved on to your next B&B. You only need to carry a small day sack with the clothes and provisions you require during the day's walk.
Packed Lunches

Provided for each day's walking and recommended on this holiday as there will not always be a handy shop or cafe on the route.
Off Road Parking
If you are travelling by car we can usually arrange off road parking for the duration of your trip. (There may be a small charge for this).
Arrangement of return transport
We can also arrange your transfer back to your car, (or advise you when public transport is a better option)!

What's not Included

Evening Meals
Your evening meal isn't included in the package, but we include full details and recommendations for each evening meal in your itinerary. You will normally be within walking distance of a pub and/or restaurant, or where there is good food available at the accommodation, we'll book that for you. Allow about £20.00 per night.
Transport to the Start & Away from the Finish
Have a look at the "Travel Info" tab above for suggestions. If you're still struggling, get in touch and we'll help you sort it out.
Travel Insurance
Even if you are based in the UK travel insurance is worth having.
Good accommodation and friendly hosts are an essential part of any holiday. We understand this and go out of our way to find the best. We put a great deal of effort into hand picking our accommodation and matching it to individual customer requirements. As well as visiting the accommodation ourselves, we ask all our customers to complete a short evaluation on each night's accommodation, which then gives us an insight into the day-to-day operation and lets us spot any potential issues before they become a problem.
We use a variety of accommodation, including small country house hotels, guest houses in market towns, bed and breakfasts in farm houses, country cottages and Victorian town houses. In selecting the accommodation we look for helpful, friendly hosts with good quality, characterful accommodation close to the trail. For example, over the course of your trip you might stay in a village inn, a bed and breakfast in a converted barn, a Victorian guest house, on a working farm, and in a Georgian hotel.
We always try to arrange en suite accommodation, i.e. rooms with their own bathrooms for each night of your stay. However, in some of the more remote locations accommodation is limited and occasionally we may have to book rooms with shared bathrooms for one or two nights of your holiday, (especially if the booking is made at short notice), but we will always let you know if this is likely to be the case.
We are happy to book single rooms on our holidays but cannot normally book more than 2 for any one group. Single room bookings include a supplement.
General travel information on the Lady Anne's Way will be in your holiday pack including train and bus timetables where available.
Detailed instructions on getting to your first night's accommodation by car, or on foot from the nearest train or bus station, will also be included in the holiday pack on individual accommodation maps.
To view train times please visit the trainline website where you can also purchase tickets in advance. For information on bus timetables please visit traveline
If you require secure car parking whilst walking this route, please contact us for detailed information – we can usually arrange car parking in Skipton and you can return to your car by public transport or taxi transfer.
Getting There:
By Air: The nearest airports are Manchester International (MAN) and Leeds Bradford (LBA). From Manchester you can take a train to Leeds then take a connection to Garsdale which is the nearest station to Hawes.
By Public Transport: The nearest train station to Hawes is at Garsdale on the famous Settle to Carlisle Railway Line. Further details can be found at www.settle-carlisle.co.uk The transfer from Garsdale station to Hawes can be arranged by bus or taxi.
By Road: Hawes is situated in the heart of the Yorkshire Dales on the A684 which runs from the M6 in the West to the A1(M) in the East.
Returning from Penrith:
By Air: There is a railway station in Penrith on the West Coast Mainline, where you can catch trains to airports: Manchester (approx 2 hours) and London (3 hours).
By Public Transport: The train from Penrith back to Skipton takes around 2 and a half hours. Alternatively you could catch a bus to Appleby and then take the scenic Carlisle to Settle railway which continues on to Skipton.
By Road: Very close to the M6 motorway, Penrith is also served by National Express Coaches

Hawes
Hawes is a bustling market town, lying in the heart of the Yorkshire Dales National Park and surrounded by spectacular scenery. With many craft workshops, antique and speciality shops and restaurants on offer, it's the perfect place to spend a well-earned rest day. This picturesque town is home to the famous Wensleydale Cheese and the renowned Dales country side museum.
Kirkby Stephen
Kirkby Stephen is a traditional market town of historic buildings, cobbled yards, quaint corners and interesting shops. It is situated in a landscape of pastoral rural scenery with wild uplands. Being remote from large towns and population centres, Kirkby Stephen has developed a strong and self-sufficient identity and a vibrant sense of community.
Prices

GBP (£)

Accommodation, map & guidebook only
£849
with Luggage Transport
£927
with Packed Lunches
£915
with Luggage & Lunches
£988

Other Options

Extra Nights (per night)
£90
Single Supplement (per night)
£63
Solo Luggage Supplement (per day)
£0