Pennine Way North: Greenhead to Kirk Yetholm
Greenhead to Kirk Yetholm in 4 Days Walking Code: PWN5
We offer 2 itineraries on the northern section of the Pennine Way. Our 4 day walk begins with a challenging 22 mile day from Greenhead to Bellingham before settling into more comfortable days of 15 or 16 miles. Our 5 day option splits the 22 mile leg with a gentle 7 mile first day to Twice Brewed.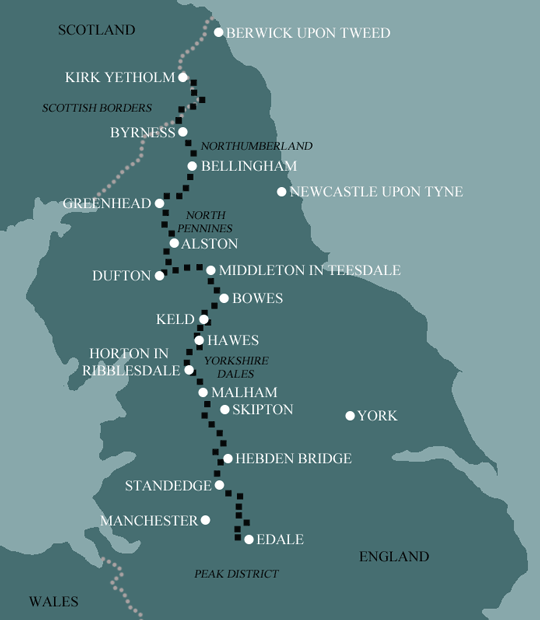 This 4 day itinerary is a challenging walk and begins with the longest single day on our Pennine Way holidays. As there is no accommodation on the remote Cheviot Hills between Byrness and Kirk Yetholm, your hosts will collect you from Trows Farm and return you to Byrness for a second evening. They will then return you to Trows Farm the following morning to continue your traverse of the Cheviots.
| | | Miles | Km |
| --- | --- | --- | --- |
| Day 1 | Travel to Greenhead for your first nights accommodation | | |
| Day 2 | Greenhead to Bellingham | 22 | 35 |
| Day 3 | Bellingham to Byrness | 15 | 24 |
| Day 4 | Byrness to Trows Farm then transfer back to Byrness | 15 | 24 |
| Day 5 | Transfer back to Trows Farm then walk to Kirk Yetholm | 16 | 26 |
| Day 6 | Depart from Kirk Yetholm after breakfast | | |
Greenhead to Bellingham
Expect things to be a little busier for a time, especially at weekends and in high season. The early part of the northern section of the Pennine Way is along the best preserved stretch of Hadrian's Wall and it attracts tens of thousands of visitors every year. It won't have felt this busy since Hawes or Malham. The Wall follows the edge of the escarpment ensuring you have plenty of short steep climbs to contend with. Walltown Crags marks the first good section of Wall and this is followed a few miles on by the faint outline of Great Chesters Fort.
At Rapishaw Gap, the trail breaks from Hadrian's Wall and heads north between Greenlee Lough and Broomlee Lough up into the forest. With luck, your way through the trees will be dry and springy, however after heavy rain, forestry paths can prove a muddy affair.
Emerging from the trees to cross Haughton Common you will, on a clear day at least, be rewarded with a view of the Cheviot Hills.
Your next focus is the radio transmitter station above Shitlington Crag, which can be seen from several miles away. The way there is through a delightful combination of meadows, farmland and quiet country lanes, ahead of a short scramble up a rocky escarpment and a final walk across fields.
Having reached the mast, all that remains is a descent through rough pasture to reach the roadside and a short stroll into Bellingham.
Bellingham to Byrness
This is a relatively comfortable stretch ahead of the difficult final push over the Cheviots Hills. Luscious green meadows, heather-clad moorland, forest trails and riverside paths combine to make this a thoroughly enjoyable section of the Pennine Way.
First up is a climb out of the village and into the green fields around Blakelaw Farm before giving way to rough pasture by Abbey Rigg. Then it's on to heather-clad heather moorland where the narrow track demands walking in single file for a time.
The pleasantly named Deer Play provides fine views, and these in turn are surpassed by those from nearby Whitley Pike and again from the path around Padon Hill.
A steep climb onto Brownrigg Head is followed by the likelihood of a muddy tramp for a short time on the edge of Redesdale Forest, before reaching the forestry road and a much welcomed firm surface for the next three miles.
If you're finding the firmer ground hard going you can rest a while at the picnic benches at Blakehopeburnhaugh, before a final stretch of woodland alongside the River Rede down to Byrness village.
Byrness to Kirk Yetholm
The traverse of the Cheviot Hills begins with a steep climb up between trees to the airy summit of Byrness Hill. Take time to savour the stunning views before heading over Saughy Crag towards Houx Hill where some greatly appreciated slabs help you cross the previously horrendous bog. Then it's on over Ravens Knowe to reach the anonymous grassy lumps that are the remains of the Roman Camp at Chew Green.
The slabs are intermittent along the length of the Cheviot ridge. In addition to helping keep your feet dry they also act as a handy navigational aid in poor weather.
The relentless up and down of the Cheviot ridge can take its toll. Poor weather makes things harder still, therefore it's reassuring to know there are a couple refuge huts where you can take shelter and rest your legs. The first of these is at the foot of Lamb Hill, about eight miles into the walk.
The trail continues along the Scotland England border with long ascent followed by long descent and so on. Thankfully the trig point on Windy Gyle marks the point to leave the Cheviot ridge for now and descend to Trows Farm to be transferred back to Byrness for the evening.
Back onto Windy Gyle the following morning, the first task is the climb up King's Seat and along to the foot of The Cheviot. The optional walk onto The Cheviot summit is well worth the effort if you have it in your legs. Should you do so, take heart from the fact that soon after returning to the official Way there is another refuge hut in which to sit and take a breather. You might need it as next up is the steepest ascent of the day, up to The Schil.
Beyond The Schil the rollercoaster trail continues over Black Hag and White Law before mercifully dropping down into Kirk Yetholm and the end of the Pennine Way, which you will no doubt testify as being Britain's most challenging National Trail.





Challenging
Once again, in keeping with the southern and central sections, all but seasoned walkers will find the northern stretch of the Pennine Way to be really quite a challenging walk at times, particularly so when crossing the Cheviot Hills. With the exception of a short first day, should you choose it, the days are consistently long with much of the time spent in remote hill country. However, as with the rest of the Pennine Way, well prepared walkers, comfortable in remote settings, will thrive on the challenge and find the experience of walking Britain's oldest National Trail enormously rewarding.
Terrain: An undulating section of Hadrian's Wall, followed by forestry, heather-clad moorland, and big rounded hills.
What's it like underfoot? In the main it's much drier than the central section. The early part of the walk along Hadrian's Wall is well trodden and firm under foot. Forestry paths are known for cutting up easily, so be prepared for muddy boots on those sections. After a dry spell the heather-clad moors will feel springy underfoot, after heavy rain expect a squelchy time of it. The large grassy hills of the Cheviots make for better walking with some of the wetter areas benefiting from stone slabs.
How Much Up & Down? A considerable amount. The Hadrian's Wall stretch comprises a number of steep little climbs. There are gradual climbs through the forestry and over the open moorland too. The final two days over the Cheviot Hills will see you tackle over 5000 feet of ascent on an undulating traverse.
Signposting: Sign posts will usually include the words Pennine Way, along with the National Trail acorn symbol. Occasionally, posts will have the initials PW carved or painted onto them.
Navigation: Providing you familiarise yourself with the route beforehand and you refer to your guidebook and map at regular intervals, it should be really straightforward. The guidebook is incredibly detailed and we supply a 1:40k Harvey Map clearly showing the northern section of the route. The Cheviots will feel very remote and navigational errors can be unsettling until resolved. Refer to your guidebook and map at regular intervals, especially during poor weather.
Weather: Fingers crossed you will experience dry, warm weather throughout your holiday and enjoy dry paths and tremendous views, but you must be prepared because the weather can change quickly, especially on moorland and over high ground. Other than a few refuge shelters there is no escape from the elements on the Cheviot Hills. Good clothing, comfortable footwear and reliable waterproofs are essential. It is important you carry plenty of water on warm days. Pack your floppy hat and sun cream also!
All Holidays

Accommodation
Overnight Bed and Breakfast accommodation in selected hotels, farmhouses, village inns, guest houses and family B&Bs. Full English or Continental breakfast.
Guidebook
A detailed guidebook with route information, maps, photos and background information.
Information of Services Along the Route
A comprehensive Service Info sheet, including services such as cash points, banks, post offices, village shops, inns, cafes and taxis.
Maps
A Harvey Maps (1:40000) map covering the northern section of the Pennine Way.
Personal Itinerary
A personal itinerary setting out each overnight stop, including large scale maps of each accommodation, to ensure you find it easily.
Emergency Telephone Support
If you get in to difficulties during your holiday, we are always available to help, even out of office hours.
12.5% discount at Cotswold Outdoors
We will issue you with a 12.5% Discount Card valid at all Cotswold Outdoor stores, and online, for the whole year on confirmation of your booking.

Options

Luggage Transport
We will transfer your luggage between each overnight stop – if you leave your luggage at the accommodation when you set off in the morning, it will be moved on to your next B&B. You only need to carry a small day sack with the clothes and provisions you require during the day's walk.
Packed Lunches

Provided for each day's walking and recommended on this holiday as there will not always be a handy shop or cafe on the route.
Off Road Parking
If you are travelling by car we can usually arrange off road parking for the duration of your trip. (There may be a small charge for this).
Arrangement of return transport
We can also arrange your transfer back to your car, (or advise you when public transport is a better option)!

What's not Included

Evening Meals
Your evening meal isn't included in the package, but we include full details and recommendations for each evening meal in your itinerary. You will normally be within walking distance of a pub and/or restaurant, or where there is good food available at the accommodation, we'll book that for you. Allow about £20.00 per night.
Transport to the Start & Away from the Finish
Have a look at the "Travel Info" tab above for suggestions. If you're still struggling, get in touch and we'll help you sort it out.
Travel Insurance
Even if you are based in the UK travel insurance is worth having.
Good accommodation and friendly hosts are an essential part of any holiday. We understand this and go out of our way to find the best. We put a great deal of effort into hand picking our accommodation and matching it to individual customer requirements. As well as visiting the accommodation ourselves, we ask all our customers to complete a short evaluation on each night's accommodation, which then gives us an insight into the day-to-day operation and lets us spot any potential issues before they become a problem.
In selecting the accommodation we look for helpful, friendly hosts with good quality, characterful accommodation close to the trail. We use a variety of accommodation on the Pennine Way. Over the course of your trip you might stay in a village inn, a bed and breakfast in a converted barn, a Victorian guest house, or on a working farm. In more remote locations you will have the opportunity to dine with your hosts and alongside fellow walkers.
We always try to arrange en suite accommodation, i.e. rooms with their own bathrooms for each night of your stay. However, in some of the more remote locations accommodation is limited and occasionally we may have to book rooms with shared bathrooms for one or two nights of your holiday, (especially if the booking is made at short notice), but we will always let you know if this is likely to be the case.
We are happy to book single rooms on our holidays but cannot normally book more than 2 for any one group. Single room bookings include a supplement.
Here are some of examples of the accommodation we use on the Pennine Way: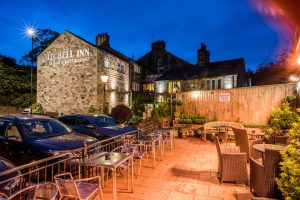 Situated in the delightful Saddleworth village of Delph is The Old Bell Inn, an 18 bedroomed, four star AA and Visit England accredited Inn. This splendid 18th century listed Coaching House is rich in history and has been thoughtfully transformed to reflect a blend of traditional old English warmth with contemporary luxury. Visit their website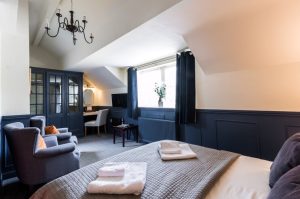 In the charming village of Haworth Josie and Brendan welcome you to their stunning guesthouse. Thoughtfully renovated; celebrating the past but with a nod to the future, Weavers of Haworth offers a stylish and snug place to stay in the heart of Haworth. An ideal location from which to explore Brontë country. Visit their website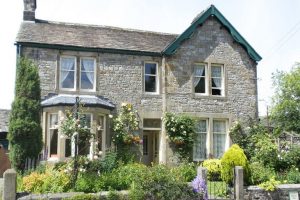 Located in the picturesque village of Malham is River House, a charming property dating back to 1664. River House has 8 individually decorated bedrooms, with lovely homely touches. Alex and Ann have been welcoming walkers for almost 20 years and setting them up for the day ahead with a delicious Yorkshire Dales Aga cooked breakfast. Visit their website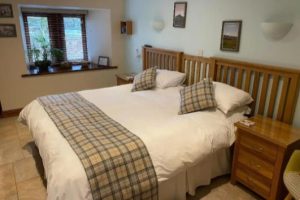 Marco and Jillian are your hosts at Broad Croft House B&B in Horton in Ribblesdale. Their cosy, family-run Bed and Breakfast has a stunning view of Pen-y-ghent, one of the Yorkshire Three Peaks. Comfortable rooms, beautifully decorated, and a spacious garden make Broad Croft the perfect place for a relaxing stay. Visit their website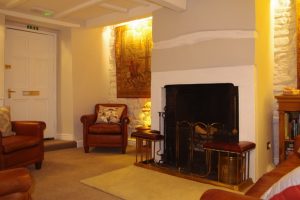 Andrew assures you of a warm welcome at Brunswick House in Middleton in Teesdale. You will enjoy a relaxed homely environment whilst receiving a professional standard of hotel service and customer care. This delightful house boasts Georgian fireplaces and exposed beams whilst incorporating all modern conveniences. Visit their website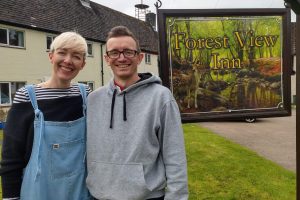 Laura and Oli are your hosts at Forest View Walkers Inn at Byrness. You will spend two nights at this 'special place in the forest' enjoying their delicious home cooked food in a friendly communal setting. Staying at Forrest View splits the lengthy Cheviots section over two days with Oli picking you up from, and dropping you back on, the trail. Visit their website
General travel information for the Pennine Way North will be in your holiday pack.
Detailed instructions on getting to your first night's accommodation by car, or on foot from the nearest train or bus station, will also be included in the holiday pack on individual accommodation maps.
To view train times please visit trainline where you can also purchase tickets in advance. For information on bus timetables please visit traveline
Getting to Greenhead:
By Air: Newcastle International Airport has its own Metro station. The journey time from the airport to Newcastle Central Station is around 20 minutes. From Central Station take the train to Haltwhistle (approximately one hour travel time).
By Public Transport: The nearest railway station to Greenhead is Haltwhistle. Haltwhistle station is also located on the Tyne Valley Line with fast and frequent connections to the West Coast Mainline at Carlisle and the East Coast Mainline at Newcastle Central.
By Road: Greenhead is located on the B6318, just off the A69 road between Carlisle and Newcastle.
From the M6: Leave at Junction 43 and follow signs for the A69 Newcastle, Hexham and Brampton.
From the A1: Leave the A1 at East Denton following signs for the A69 Hexham.
Returning from Kirk Yetholm:
By Public Transport: The nearest railway station to Kirk Yetholm is Berwick Upon Tweed, which is on the main east coast line from Edinburgh to London, and also has convenient stops at Newcastle, York and Doncaster.
By Road: Kirk Yetholm is located just off the B6352 near to the Scotland England border, approximately 30 minutes east of the A68 linking Jedburgh and Newcastle, and 20 minutes west of the A697 linking Coldstream and Wooler.
No recommended rest days available for this holiday
Prices

GBP (£)

Accommodation, map & guidebook only
£569
with Luggage Transport
£697
with Packed Lunches
£613
with Luggage & Lunches
£735

Other Options

Extra Nights (per night)
£90
Single Supplement (per night)
£58
Solo Luggage Supplement (per day)
£15