South Cornwall Coast Path: Falmouth to Plymouth
Falmouth to Plymouth in 6 Days Walking Code: CSE7
We offer 3 itineraries from Falmouth to Plymouth. Choose from 5, 6 or 7 days walking, depending on how far you want to walk each day. This is a rugged section of coastline with hidden coves steeped in history. Each overnight location is filled with character and highlights Cornish charm.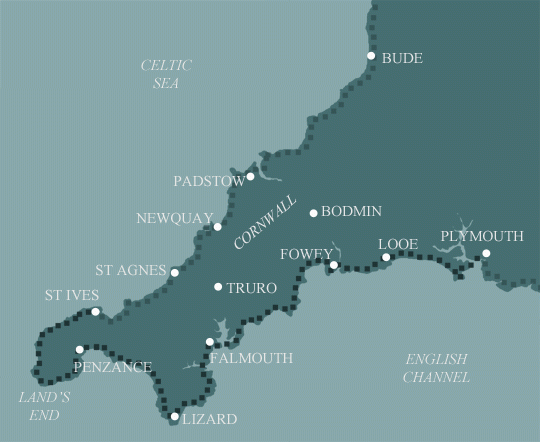 This is our middle length itinerary from Falmouth to Plymouth. This is a stunning part of the Cornish coast with its many beaches, coves and fishing villages.
| | | Miles | Km |
| --- | --- | --- | --- |
| Day 1 | Travel to Falmouth for your first nights accommodation | | |
| Day 2 | Falmouth to Portloe | 14 | 22 |
| Day 3 | Portloe to Mevagissey | 12 | 20 |
| Day 4 | Mevagissey to Fowey | 18 | 28 |
| Day 5 | Fowey to Looe then transfer to Portwrinkle | 10 | 16 |
| Day 6 | Transfer back to Looe then walk to Portwrinkle | 10 | 16 |
| Day 7 | Portwrinkle to Plymouth | 16 | 25 |
| Day 8 | Depart from Plymouth after breakfast | | |
Falmouth to Portloe: Fishing docks, 13th Century church and ferries
After spending your first night in Falmouth, your first walking day begins with two short local ferry crossings. You catch the ferry from the Prince of Wales pier to St Mawes which takes 20 minutes to cross and runs twice every hour throughout the year. St Mawes was named after the 5th century Celtic saint Maudez. St Mawes is an idyllic village which has a very interesting history. If you have the time you must stop and visit the 13th century church and St Mawes castle which dates back to Henry VIII. You then take a second local ferry which takes 10 minutes to cross over to Place and runs every half an hour. There are magnificent views back to Falmouth and the River Fal from the windswept stretches around Carricknath Point and St Anthony Head. The path offers fairly easy walking until the approach to Nare Head and Portloe beyond, where you will find several steep ascents and descents and walking becomes a lot more strenuous. The path twists and plummets in places through wooded areas and across high open fields until the welcome descent into Portloe.
 Portloe to Mevagissey: Cornish coasts, wildflowers and clifftops
From Portloe the route begins with a few fairly easy climbs. This section is known as one of the prettiest parts of the coast path with beautiful wildflowers. You will then reach the twin hamlet of West and East Portholland which are wonderful stopping points for a cup of tea or a sweet treat before your climb towards Dodman Point. The climb up to Dodman Point is the highest climb on this section reaching a total of 340 feet. Towering above the sea, Dodman Point offers dramatic panoramic views and is embellished by a large stone cross which was erected in 1896 as a navigational point for sailors. The point was actually once the location of an Iron Age fort, the biggest in the south west. Dodman Point was the ideal spot to build on as on a clear day you can see all the way to Lizard Point and in the other direction you can see towards Berry Head in Devon. After Dodman Point the trail leads downwards towards Gorran Haven. Sheltered from the wind by Dodman Point, Gorran Haven is a popular spot for holidaymakers. The landscape of the path varies with a mixture of wild scrub and pastures with some road walking around Gorran Haven. The path then opens up on the approach to Chapel Point with rewarding views in all directions on your walk downwards towards Mevagissey. Mevagissey is known for its busy fishing port with its double walled harbour and is a splendid spot to gaze at the boats arriving into the harbour. Named after two saints, Meva and Issey, the busying working harbour of Mevagissey is one of the highlights of the Cornish coast. Mevagissey offers a great range in restaurants after a day walking along the coastline.
Mevagissey to Fowey: Rocky coves, Cornish Alps, Eden Project
After leaving the fishing town of Mevagissey the trail begins to climb up and over the cliffs tops. The trail passes by rocky coves between Pentewan and Black Head. The biggest climb on this section is no more than 280 feet just after you pass Black head. There are many steps to ascend along this stretch as the trail continues to rise and fall past Phoebe's Point and Silvermine Point. On the approach towards Charlestown you will begin to notice the inland China Clay works around St Austell. The Clay industry boomed in the 19th Century, which resulted in the formation known as the 'Cornish Alps' and still continues on today in Charlestown. Much of Charlestown's Georgian architecture is still very noticeable leading into the village. From here the trail continues along towards Par where the trail diverts past the fishing docks and Par Sand.  A short distance away from Par is the world famous Eden Project (an environmental centre with diverse plant life). You then climb away over the sand dunes from Par Sands towards Polkerris. From here the path is fairly straightforward and easy going. You'll notice the red and white beacon tower marking Gribbin Head with views back towards Black Head. This tower was built in 1832 as a navigational aid for sailors. From here the gradient gets a little bit more severe to Polridmouth cove. The trail continues on passing St Catherine's Castle into the quaint town of Fowey (pronounced 'Foy').
Fowey to Portwrinkle: Ferry crossing, Bodigga Cliffs and seals
You begin this section with a short ferry crossing from Fowey harbour to Polruan. The trail begins with easy walking through beautiful Polruan followed by a steep climb up to Pencarrow Head. This is quite a tough section and you will need to take your time going up and down. Although this section is a little strenuous you are rewarded with delightful views, and when you reach Lantivet Bay on a good day you can even see as far as Lizard Point (most southerly point in the UK). The trail then continues on towards Polperro which is a great place to stop for lunch. The next 5 miles are much gentler, passing by Talland Bay and Hore Shore. One of the highlights on this section is the view over to St George's Island, (also known as Looe Island) which can be spotted from Downend Point. The trail then descends through several fields, passing through Hannafore into the village of Looe. On your way through the quaint fishing village you can spot the statue of Nelson the one-eyed seal along the shore. On passing Looe you first come to the hamlet of Millendreath which was once a thriving holiday spot. The trail then follows up onto Bodigga Cliffs and on through a labyrinth of charming woodlands. Continuing on with splendid views over Keveral beach and Seaton beach the trail begins to climb. From Seaton to Downderry you climb up to 400ft over the clifftops. This section is quite tough going but you are rewarded with an impressive descent into the picturesque fishing village of Portwrinkle. Portwrinkle is known for its history of smuggling and the locals can tell you the tale of the Finnygook ghost.
Portwrinkle to Plymouth: The Big Finish
Portwrinkle (Cornish name Porthwykkel) is known to be one of the most wonderful spots to visit on this section of the coastal path; especially for keen birders where you may spot a peregrine, buzzard, kestrel and even the rare Dartford warbler. The village is full of history dating back to 17th century when smuggling goods was at a high in the area. Walking along this final stretch of the coast path is fairly easy, although there are some short steep ascents and descents at times. The path passes a military firing range at Tregantle Fort, if the red flag is up this means that the firing range is in use and you will need to take the alternative route, which re-joins the trail at Sharrow Point. However, if the red flag isn't flying you are in for a delightful walk along the clifftops and even pass a Napoleonian Fort on this section. The three miles along the top of Whitsands Bay beach, which offers a stunning view all the way to Portwrinkle to Rame Head, is considered one of Cornwall's hidden gems. The trail then passes the small village of Freathy and Tregonhawke. The urban landscapes of Plymouth are not far away but as you set off from Penlee Point the path becomes surprisingly wilder. This is quite a contrast to your arrival in the thriving city of Plymouth. The finishing point for this section is located at the Mayflower Steps, an iconic spot to complete your holiday. The Mayflower Steps are bordered with the British and American flags and mark the final English departure point of the 102 passengers who set sail on the Mayflower in 1620.




Moderate to Challenging
Grades - This is not a technically difficult walk and should be easy to tackle for most reasonably fit people.
Terrain - The paths are good, and there are no major route finding challenges.
What's it like underfoot? Generally good paths and tracks, although a few sections can get muddy after heavy rain.
How much up & down? – More than you'd think! Although you never reach more than 400m above sea level (and most of the time not more than 200m) there are many short steep sections. Most days involve ascents of 200-400m metres, although no section is very steep for very long.
Signposting: Good – the path is well waymarked.
Navigation: Pretty straightforward – good signposting, and generally well defined tracks.
Weather: You may be lucky enough to encounter warm, dry weather over the whole route and enjoy dry paths and tremendous views, but you must be prepared because the weather can change quickly. Good clothing and waterproofs are essential, but don't forget you sunhat, sunblock and shorts!
                                                                        All Holidays

Accommodation
Overnight Bed and Breakfast accommodation in selected hotels, farmhouses, village inns, guest houses and family B&Bs. Full English or Continental breakfast.
Guidebook
A detailed guidebook with route information, maps, photos and background information.
Information of Services Along the Route
A comprehensive Service Info sheet, including services such as cash points, banks, post offices, village shops, inns, cafes and taxis.
Maps
A waterproof map from Harvey Maps covering the whole route.
Personal Itinerary
A personal itinerary setting out each overnight stop, including large scale maps of each accommodation, to ensure you find it easily.
Emergency Telephone Support
If you get in to difficulties during your holiday, we are always available to help, even out of office hours.
12.5% discount at Cotswold Outdoors
We will issue you with a 12.5% Discount Card valid at all Cotswold Outdoor stores, and online, for the whole year on confirmation of your booking.

Options

Luggage Transport
We will transfer your luggage between each overnight stop if you leave your luggage at the accommodation when you set off in the morning, it will be moved on to your next B&B. You only need to carry a small day sack with the clothes and provisions you require during the day's walk.
Packed Lunches

Provided for each day's walking and recommended on this holiday as there will not always be a handy shop or cafe on the route.
Off Road Parking
It is not possible to leave your car for the duration of the walk, the B&B's do not have the space to allow long term parking. Please see the public transport tab for more information on travelling to and from the route.

What's not Included

Evening Meals
Your evening meal isn't included in the package, but we include full details and recommendations for each evening meal in your itinerary. You will normally be within walking distance of a pub and/or restaurant, or where there is good food available at the accommodation, we'll book that for you.
Transport to the Start & Away from the Finish
Have a look at the "Travel Info" tab above for suggestions. If you're still struggling, get in touch and we'll help you sort it out.
Travel Insurance
Even if you are based in the UK travel insurance is worth having.
Good accommodation and friendly hosts are an essential part of any holiday. We understand this and go out of our way to find the best. We put a great deal of effort into hand picking our accommodation and matching it to individual customer requirements. As well as visiting the accommodation ourselves, we ask all our customers to complete a short evaluation on each night's accommodation, which then gives us an insight in to the day-to-day operation, and lets us spot any potential issues before they become a problem.
We use a variety of accommodation, including small country house hotels, guest houses in market towns, bed and breakfasts in farm houses, country cottages and Victorian town houses. In selecting the accommodation we look for helpful, friendly hosts with good quality, characterful accommodation close to the trail. For example, over the course of your trip you might stay in a village inn, a bed and breakfast in a converted barn, a Victorian guest house, on a working farm, and in a Georgian hotel.
We always try to arrange en suite accommodation, i.e. rooms with their own bathrooms for each night of your stay. However, in some of the more remote locations accommodation is limited and occasionally we may have to book rooms with shared bathrooms for one or two nights of your holiday, (especially if the booking is made at short notice), but we will always let you know if this is likely to be the case.
We are happy to book single rooms on our holidays but cannot normally book more than 2 for any one group. Single room bookings include a supplement.
General Travel information for the South West Coastal Path will be in your holiday pack including train and bus timetables where available.
Detailed instructions on getting to your first night's accommodation by car, or on foot from the nearest train or bus station, will also be included in the holiday pack on individual accommodation maps.
To view train times please visit trainline where you can also purchase tickets in advance. For information on bus timetables please visit traveline
Long term parking is usually not possible on this walk, we recommend using public transport to travel to and from the route.
Getting There:
By Air: The nearest and most convenient International Airports to the trail are any of the London Airports. Alternatively, you may wish to travel via Cornwall Airport Newquay. Direct flights from Europe and connecting flights from London Gatwick, see link for details: cornwallairport
By Public Transport: There is a railway station at Falmouth and easily accessible from London. If using the train most trains from London depart from London Paddington and you usually have to change trains at Truro). There are three railway stations in Falmouth – you need to get off at Falmouth Town (FMT). Falmouth is located on the Maritime Branch Line, off the Cornish Mainline from Truro. The journey takes approximately 5 hours. There is a taxi rank at the station if needed or local taxi numbers can be found at the back of your services information list. To view train times please visit nationalrail
By Road: From Exeter you follow the A30 road towards Falmouth which takes about two hours. Continue on the A30 up until Bodmin where you then take the A39 to Falmouth.
Returning from Plymouth:
By Public Transport: Plymouth has regular direct trains to London (Paddington station). The journey takes just under 4 hours and you are able to connect to any onward places from London.
By Road: From Plymouth take the A38 road towards Exeter. Then at Junction 31 come off the A30 just before Exeter and join the M5 motorway towards London.
Falmouth
Falmouth is a thriving harbour town and is famous for its creative exhibitions, independent shops and art galleries. The town has an abundance of seafood restaurants with freshly caught produce and beachside restaurants. Falmouth is also known for its beautiful gardens, like the Trebah Gardens and the Gyllyngdune Gardens which are both wonderful places to explore and to relax in. You can also explore the National Maritime Museum of Cornwall which houses a large collection of boats and listen to stories of past explorers.
Plymouth
Whether you're finishing one section of the South West Coast Path or setting off on another, why not relax a little on your walking holiday with a  rest day in Plymouth? There's plenty to see and do in this lively waterfront city and its surrounding area. Take a walk along the Barbican's charming cobbled quayside. Enjoy the view from the iconic Smeaton's Tower lighthouse, or dive into the restored Art Deco Tinside Lido. The River Tamar is set in the UK's youngest area of outstanding natural beauty and you can explore it further on a boat trip or from the Tamar Valley Train.
Prices

GBP (£)

Accommodation, map & guidebook only
£881
with Luggage Transport
£977
with Packed Lunches
£947
with Luggage & Lunches
£1038

Other Options

Extra Nights (per night)
£90
Single Supplement (per night)
£60
Solo Luggage Supplement (per day)
£16