Pennine Way South: Edale to Horton in Ribblesdale
Edale to Horton in Ribblesdale in 6 Days Walking Code: PWS7
We offer 3 itineraries on the southern section of the Pennine Way. Our 6 day walk offers the most continuity in terms of daily distances, and good or bad, there are no short days on this itinerary. Our 7 day walk matches the 6 day option for the first 3 days before easing off in places, most notably with a short 7 mile day into Malham, leaving plenty time to explore this popular area ahead of a demanding final day. Do note this itinerary includes a 19 mile day! Our 8 day walk takes things easier still. In addition to the Malham day it also splits the 19 mile Haworth to Gargrave stretch into 2 easier days of 8 and 11 miles, allowing a little more time to further explore Brontë country.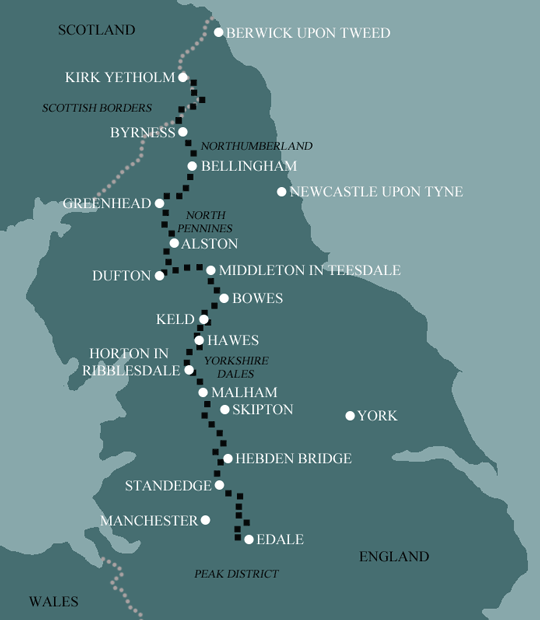 With all but one of the days being 15 miles or more this itinerary is aimed at seasoned walkers who aren't reliant on shorter days to comfortably complete the trail. Do note that this itinerary completely bypasses the village of Haworth, home of the famous Brontë sisters, and as such, a popular literary destination.
| | | Miles | Km |
| --- | --- | --- | --- |
| Day 1 | Travel to Edale for your first nights accommodation | | |
| Day 2 | Edale to Torside then transfer to Glossop | 15 | 24 |
| Day 3 | Transfer back to Torside, walk to Standedge then transfer to Delph | 13 | 21 |
| Day 4 | Transfer back to Standedge then walk to Hebden Bridge | 15 | 24 |
| Day 5 | Hebden Bridge to Ickornshaw then transfer to Skipton | 17 | 27 |
| Day 6 | Transfer back to Ickornshaw then walk to Malham | 18 | 29 |
| Day 7 | Malham to Horton in Ribblesdale | 15 | 24 |
| Day 8 | Depart from Horton in Ribblesdale after breakfast | | |
Edale to Torside
Thanks to the use of stone slabs, reclaimed from demolished cotton mills, the days of wading knee deep through peat bog are mercifully a thing of the past. Laid over the worst of the bogs to prevent erosion, the slabs provide walkers with a firm dry path as well as a handy navigational aid.
Leaving Edale the path soon brings you to the charming bridge at the foot of Jacob's Ladder and the first steep climb on the Pennine Way, to the soaring Edale Rocks. Here begins the classic edge walk around Kinder Scout, skirting the impressive gritstone outcrops to reach the iconic Kinder Downfall. Fingers crossed, you may be treated to the waterfall being blown upwards as the wind whistles up the valley onto the plateau.
The path crosses the A57 at Snake Pass and so begins a long and steady ascent of Bleaklow following a winding course between walls of peat, occasionally opening to an expanse of delightful cotton grass. This is a joy to walk in good weather, less so in poor weather when it can prove an uneasy test of navigation.
Bleaklow head is adorned with an impressive cairn and a stake marks the nominal summit. A stone guide post points the way off Bleaklow towards the predominantly downhill trail to Clough Edge and on to Torside by the the B6105 road.
Torside to Standedge
A combination of remote moorland and reservoir access roads, expansive views and an abundance of hills, dominate this section of the Pennine Way.
From Torside a series of short climbs lead to the gritstone outcrops of Ladder Rocks. Nearly half the ascent on this leg is achieved in the first three miles or so, however the reward for your efforts, weather permitting, is splendid and far reaching views. Care is needed here, as this is one of the only exposed sections on the Pennine Way, with a steep drop down to the right.
The high-level path then drops to meet Crowden Great Brook before a steady climb to the now transformed Black Hill. Gone is the barren, black wasteland of peat bog, replaced with a green and lush carpet thanks to much replanting and sheep control.
Descending Black Hill look out for the magnificent spire of Emley Moor Mast off in the distance as well as the much closer Holme Moss Mast across the moor, before meeting the A635.
Beyond Wessenden Head and the Wessenden reservoirs a lovely moorland track leads between Swellands and Black Moss reservoirs and down to Redbrook Reservoir and your destination, the A62 at Standedge Cutting.
Standedge to Hebden Bridge
Four road crossings punctuate this stretch of the Pennine Way. The sense of remoteness experienced so far all but disappears for a time as the conurbations of Lancashire and Yorkshire force the Pennine Way into a narrow corridor. However, the walk planners have worked hard to avoid urban walking, ensuring this section still delivers some scenic highpoints.
The path is joined for a while by the Oldham Way before they part ahead of the A640 road between Huddersfield and Oldham. The airy path across White Hill is interrupted first by the A672, then the soaring arch of the 65 feet high bridge across the M62 Trans Pennine Motorway, arguably the most remarkable motorway crossing of any footpath in the country, thanks in no small part to the foresight of the Transport Minister at the time, Ernest Marples, himself a keen walker.
The route through the peaty expanse of Redmires benefits from slabs ensuring the climb up to Blackstone Edge with its trig point is now much easier. A modern concrete guide marker stands in contrast to the ancient Aiggin Stone nearby, which has been guiding travellers for over 600 years. The road you join for a few short yards is thought to be older still, possibly dating back to Roman times. The A58 road marks the end of the moorland scenery.
A wide gravel track now guides you by three reservoirs before the impressive stone monolith Stoodley Pike comes into view over the delightful Coldwell Hill. From Stoodley Pike the path falls steadily in places, from the open moor, through fields to join Callis Wood and on into Hebden Bridge.
Hebden Bridge to Ickornshaw
This stretch of the Pennine Way begins with one of the toughest ascents of the entire walk, an energy sapping 1000 feet climb in the first two miles as the path ascends through Mytholm passing the charmingly named Badger Fields Farm. The reward for your efforts is a varied scenery of pretty lanes, steps, passages and fields as you make your way out onto the open expanse of Hepstonstall Moor.
The path then drops down to the popular beauty spot at Graining Water. The following few miles are spent on reservoir access roads or gravel paths beside them, passing two of the three Walshaw Dean reservoirs before climbing the moorland path up Withins Height to the old farmhouse of Top Withins, famously associated with Emily Brontë's Wuthering Heights.
An overnight stay in Haworth will break up this stretch and provide an opportunity to visit the Brontë Waterfalls and spend some time sightseeing in this wonderful village. If pressing on with the Pennine Way the path skirts round Ponden Reservoir before another long ascent onto and over the heather-clad Ickornshaw Moor, and down through fields into the village of Ickornshaw off the A6068 road.
Ickornshaw then walk to Malham
Another section where the hard work comes early with almost all of the ascent achieved in the first four miles. This stretch also sees a change in the landscape as the dark gritstone and black peat of the Peak District gives way to the light grey limestone and green grass of the Yorkshire Dales.
Leaving Ickornshaw the path makes a short, steep climb up Cowling Hill, followed by a second up and over into Lothersdale, with its very striking chimney. Leaving the village the Pennine Way heads through fields and begins the climb up to Elslack Moor and the highpoint of this stretch, the trig point at Pinhaw Beacon. The reward for the climb is superb views all around. On a clear day you may be able to pick out Pen-y-ghent, which you'll be walking over on the final section of your holiday.
The remainder of the section is mainly low level, through meadows, as you transition from one landscape to the next. The path passes through Thornton-in-Craven before an easy walk over Langber Hill to meet the Leeds-Liverpool canal for a time. Then it's off through lush green fields and over the modest Scaleber Hill and into the quaint village of Gargrave, considered by Pennine Way walkers as the gateway to the Dales.
Leaving Gargrave the path climbs steadily onto Eshton Moor before dropping to cross the River Aire for a second time, having previously done so in Gargrave. The Way remains with the Aire almost all the way to the tourist hotspot of Malham on the edge of limestone country.
Malham to Horton in Ribblesdale
The final stretch of the southern section of the Pennine Way includes two challenging climbs and some of the most dramatic scenery to date, including one of the highlights of the entire walk, the iconic limestone amphitheatre of Malham Cove. Interestingly enough, scaling the steps beside the magnificent Cove doesn't count as one of the two challenging climbs, but it may well have you stopping, hands on hips, at least once or twice, as will the climb out of Watlowes, the impressive dry valley beyond.
Next comes Malham Tarn; it seems rather strange to have a prominent body of water in such porous limestone country. The tarn is a haven for waterfowl and is incredibly popular with birdwatchers. Leaving the tarn the path heads to Tennant Gill Farm before starting the 900 feet ascent of the first of the challenging climbs, Fountain Fell.
Reaching the wall at the top of the climb, you'll enjoy your first view of your next target, the second of the two climbs, Pen-y-ghent, one of the Yorkshire Three Peaks. Leaving Fountains Fell you journey along a lovely lane which provides a magnificent vista of the stepped profile of Pen-y-ghent. The thought of the 600 feet climb can at first feel a little daunting, however once you begin to tackle it, although a bit of a challenge, is actually much easier than you might think. The view from the summit, with its trig point and shelter, is simply sublime.
All that remains now is the well-trodden path down to Horton-in-Ribblesdale and the completion of the southern section of the Pennine Way.




Moderate to Challenging
All but seasoned walkers will find the southern section of the Pennine Way to be a challenging walk at times. There are some fairly lengthy days, often over remote moorland, with the occasional stiff climb thrown in for good measure. That said, well prepared walkers will relish the task in hand and find the experience of walking Britain's oldest National Trail enormously rewarding.
Terrain: A combination of open moorland, slabbed in places, as well as some prominent hills, limestone pavement, pastures, and gravel access roads.
What's it like underfoot? Thanks to the use of stone slabs the days of wading knee deep through peat bog on the first few sections are a thing of the past. Laid over the worst of the bogs to prevent erosion, the slabs provide walkers with a firm dry path as well as a handy navigational aid. Beyond the Bleaklow and Black Hill area just described, it's just as you'd expect over any heather-clad moorland. Sections of gravel access roads by the many reservoirs are of course firmer under foot as is the limestone pavement in the Dales, albeit a little rougher going.
How Much Up & Down? Quite a lot. Although the moorland tends to be undulating rather than hilly, there are one or two stiff climbs as well as some long, steady ascents to take into consideration. There are a couple of challenging climbs in the Dales, most notably 900ft of ascent onto Fountains Fell and soon after a 600ft climb onto Pen-y-ghent, one of the Yorkshire Three Peaks.
Signposting: Sign posts will usually include the words Pennine Way, along with the National Trail acorn symbol. Occasionally, posts will have the initials PW carved or painted onto them. There may also be markers for other routes such as the Pennine Bridleway or Dales High Way. Take time to ensure you are following the correct markers.
Navigation: Providing you familiarise yourself with the route beforehand and you refer to your guidebook and map at regular intervals, it should be really straightforward. The guidebook is incredibly detailed and we supply a 1:40k Harvey Map clearly showing the southern section of the route. As a note of caution there are a number of other routes crossing paths with the Pennine Way and at times sharing paths. Take time to ensure you are following the correct markers. Refer to your guidebook and map at regular intervals, especially during poor weather. Moorland can quickly become bleak and featureless in low cloud.
Weather: Fingers crossed you will experience dry, warm weather throughout your holiday and enjoy dry paths and tremendous views, but you must be prepared because the weather can change quickly, especially on moorland and over high ground. Good clothing, comfortable footwear and reliable waterproofs are essential. It is important you carry plenty of water on warm days. Pack your floppy hat and sun cream also!
You may have to wait to be transferred from the moors into the nearby town or village for the evening. There will be little or no shelter while you wait. Ensure you have appropriate layers with you as you can otherwise quickly become cold when standing around.
All Holidays

Accommodation
Overnight Bed and Breakfast accommodation in selected hotels, farmhouses, village inns, guest houses and family B&Bs. Full English or Continental breakfast.
Guidebook
A detailed guidebook with route information, maps, photos and background information.
Information of Services Along the Route
A comprehensive Service Info sheet, including services such as cash points, banks, post offices, village shops, inns, cafes and taxis.
Maps
A Harvey Maps (1:40000) map covering the southern section of the Pennine Way.
Personal Itinerary
A personal itinerary setting out each overnight stop, including large scale maps of each accommodation, to ensure you find it easily.
Emergency Telephone Support
If you get in to difficulties during your holiday, we are always available to help, even out of office hours.
12.5% discount at Cotswold Outdoors
We will issue you with a 12.5% Discount Card valid at all Cotswold Outdoor stores, and online, for the whole year on confirmation of your booking.

Options

Luggage Transport
We will transfer your luggage between each overnight stop – if you leave your luggage at the accommodation when you set off in the morning, it will be moved on to your next B&B. You only need to carry a small day sack with the clothes and provisions you require during the day's walk.
Packed Lunches

Provided for each day's walking and recommended on this holiday as there will not always be a handy shop or cafe on the route.
Off Road Parking
If you are travelling by car we can usually arrange off road parking for the duration of your trip. (There may be a small charge for this).
Arrangement of return transport
We can also arrange your transfer back to your car, (or advise you when public transport is a better option)!

What's not Included

Evening Meals
Your evening meal isn't included in the package, but we include full details and recommendations for each evening meal in your itinerary. You will normally be within walking distance of a pub and/or restaurant, or where there is good food available at the accommodation, we'll book that for you. Allow about £20.00 per night.
Transport to the Start & Away from the Finish
Have a look at the "Travel Info" tab above for suggestions. If you're still struggling, get in touch and we'll help you sort it out.
Travel Insurance
Even if you are based in the UK travel insurance is worth having.
Good accommodation and friendly hosts are an essential part of any holiday. We understand this and go out of our way to find the best. We put a great deal of effort into hand picking our accommodation and matching it to individual customer requirements. As well as visiting the accommodation ourselves, we ask all our customers to complete a short evaluation on each night's accommodation, which then gives us an insight into the day-to-day operation and lets us spot any potential issues before they become a problem.
In selecting the accommodation we look for helpful, friendly hosts with good quality, characterful accommodation close to the trail. We use a variety of accommodation on the Pennine Way. Over the course of your trip you might stay in a village inn, a bed and breakfast in a converted barn, a Victorian guest house, or on a working farm. In more remote locations you will have the opportunity to dine with your hosts and alongside fellow walkers.
We always try to arrange en suite accommodation, i.e. rooms with their own bathrooms for each night of your stay. However, in some of the more remote locations accommodation is limited and occasionally we may have to book rooms with shared bathrooms for one or two nights of your holiday, (especially if the booking is made at short notice), but we will always let you know if this is likely to be the case.
We are happy to book single rooms on our holidays but cannot normally book more than 2 for any one group. Single room bookings include a supplement.
Here are some of examples of the accommodation we use on the Pennine Way: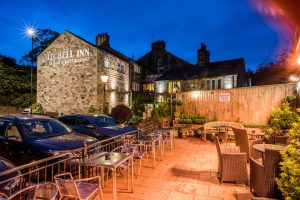 Situated in the delightful Saddleworth village of Delph is The Old Bell Inn, an 18 bedroomed, four star AA and Visit England accredited Inn. This splendid 18th century listed Coaching House is rich in history and has been thoughtfully transformed to reflect a blend of traditional old English warmth with contemporary luxury. Visit their website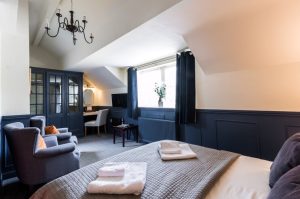 In the charming village of Haworth Josie and Brendan welcome you to their stunning guesthouse. Thoughtfully renovated; celebrating the past but with a nod to the future, Weavers of Haworth offers a stylish and snug place to stay in the heart of Haworth. An ideal location from which to explore Brontë country. Visit their website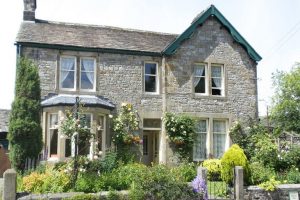 Located in the picturesque village of Malham is River House, a charming property dating back to 1664. River House has 8 individually decorated bedrooms, with lovely homely touches. Alex and Ann have been welcoming walkers for almost 20 years and setting them up for the day ahead with a delicious Yorkshire Dales Aga cooked breakfast. Visit their website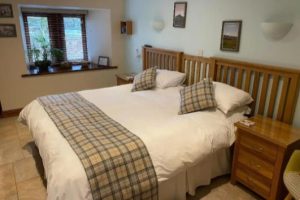 Marco and Jillian are your hosts at Broad Croft House B&B in Horton in Ribblesdale. Their cosy, family-run Bed and Breakfast has a stunning view of Pen-y-ghent, one of the Yorkshire Three Peaks. Comfortable rooms, beautifully decorated, and a spacious garden make Broad Croft the perfect place for a relaxing stay. Visit their website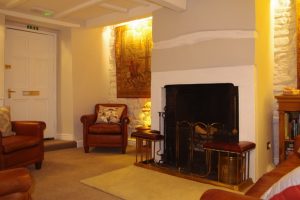 Andrew assures you of a warm welcome at Brunswick House in Middleton in Teesdale. You will enjoy a relaxed homely environment whilst receiving a professional standard of hotel service and customer care. This delightful house boasts Georgian fireplaces and exposed beams whilst incorporating all modern conveniences. Visit their website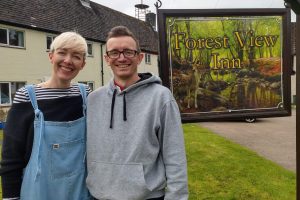 Laura and Oli are your hosts at Forest View Walkers Inn at Byrness. You will spend two nights at this 'special place in the forest' enjoying their delicious home cooked food in a friendly communal setting. Staying at Forrest View splits the lengthy Cheviots section over two days with Oli picking you up from, and dropping you back on, the trail. Visit their website
General travel information for the Pennine Way South will be in your holiday pack. Detailed instructions on getting to your first night's accommodation by car, or on foot from the nearest train or bus station, will also be included in the holiday pack on individual accommodation maps.
To view train times please visit trainline where you can also purchase tickets in advance. For information on bus timetables please visit traveline
Getting to Edale:
By Air: The nearest International Airport to the trail is Manchester. Trains run between Manchester Airport and Edale, changing at Manchester Piccadilly.
By Public Transport: There is a train station in Edale. Edale is located on the Hope Valley Line from Manchester to Sheffield. The average travel time from the centre of Manchester or Sheffield to Edale is about 40 minutes.
By Road: Edale is approximately 50 minutes from the M1 junction 29 (Chesterfield), 40 minutes from the M60 motorway and 60 minutes from the M6 junction 14 (Stafford).
Returning from Horton in Ribblesdale:
By Public Transport: Horton in Ribblesdale Railway Station is located on the Settle to Carlisle Line with connections at Carlisle to the West Coast Main Line between Glasgow and London Euston. Despite its name, the line actually continues southwards from Settle to terminate at Leeds where it connects with the East Coast Main Line between Edinburgh and London Kings Cross. Trains also run directly between Leeds and Manchester.
By Road: Horton in Ribblesdale is located on the B6479, approximately 15 minutes off the A65 via Settle.
From the M6: Leave at Junction 36 (A65 Kirkby Lonsdale & Skipton).
From the A1(M): Leave at Junction 47, follow signs for the A59 and continue to Skipton, where it meets and merges with the A65.
Hebden Bridge
Hebden Bridge is a picturesque town with plenty to see and do. It is renowned not only for its stunning natural scenery, but also its historic architecture and vibrant cultural scene, making it a popular destination. The town is home to a thriving arts and music scene, with numerous galleries, performance spaces, and festivals throughout the year. Hebden Bridge also boasts a number independent shops and a variety of unique boutiques, cafes, and restaurants. The town has a laid-back, bohemian vibe that appeals to many visitors.
Skipton
With its beautiful and well preserved medieval castles, cobbled streets and its location on the southern edge of the Yorkshire Dales National Park, Skipton is a nice place to spend an extra day. It is a friendly small town with a market four days a week, you can explore the castle or take a boat trip on the canal.
Malham
The delightful village of Malham is worthy of further exploration beyond what can be achieved when walking the Dales High Way. Consider taking an additional day to visit the likes of Janet's Foss Waterfall, the spectacular gorge that is Gordale Scar, Malham Tarn, Watlowes dry valley and the huge curving amphitheatre-shaped limestone cliff of Malham Cove, not fully appreciated from the Way alone. All of the above can be experienced in one stunning circular walk.
Walkers on the Pennine Way will of course scale the steps beside the magnificent Malham Cove and walk through Watlowes dry valley before rounding Malham Tarn, however a gentle day exploring Janet's Foss and Gordale Scar remains worthy of consideration. You may choose to spend time at the Cove too, unhurried, allowing you to push on with the walking the following day.
Horton in Ribblesdale
For walkers on the Settle to Carlisle Way, the pretty village of Horton in Ribblesdale is the perfect location from which to explore one or more of the iconic Yorkshire Three Peaks. It is the preferred starting point for the famous 24 mile challenge walk which requires walkers to take in the peaks of Pen-y-ghent (694m), Whernside (736m) and Ingleborough (723m) in under 12 hours.
Of course each of the three peaks is worthy of a walk on its own, with time spent exploring the fascinating geology and discovering the heritage of the local landmarks. Both Pen-y-ghent and Ingleborough are easily accessible from Horton in Ribblesdale, while a ten minute train ride round to the Ribblehead will have you best positioned for Whernside.
Walkers on the Pennine Way will of course be scaling Pen-y-ghent when walking from Malham into Horton in Ribblesdale. Why not add an additional day to ascend Ingleborough or Whernside, or indeed both?
Prices

GBP (£)

Accommodation, map & guidebook only
£820
with Luggage Transport
£1012
with Packed Lunches
£886
with Luggage & Lunches
£1070

Other Options

Extra Nights (per night)
£90
Single Supplement (per night)
£58
Solo Luggage Supplement (per day)
£15