South Downs Way Eastern Section
Amberley to Eastbourne in 4 Days Walking Code: SDE5
The eastern section has wide panoramic views. It finishes with a spectacular cliff walk over the Seven Sisters, where the South Downs meet the sea.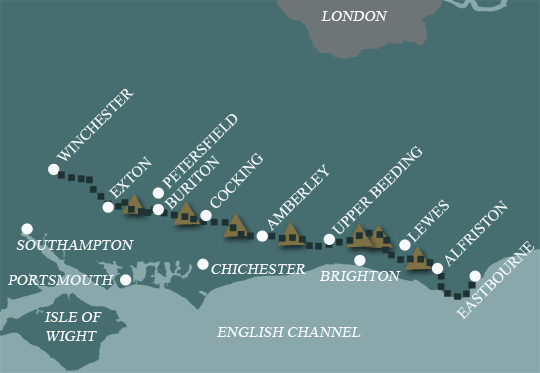 Our shorter Eastern section itinerariy, covering the distance in 4 days walking. A good balance between covering the miles and having enough time to explore along the way.
Please be aware the 18 mile day involves a fairly steep descent at the end of a long day. The 5 day option splits this stretch over 2 days with the steep descent coming at the end of a shorter 11 mile day.
| | | Miles | Km |
| --- | --- | --- | --- |
| Day 1 | Travel to Amberley for your first nights accommodation | | |
| Day 2 | Amberley to Upper Beeding | 13 | 21 |
| Day 3 | Upper Beeding to Kingston then transfer to Lewes | 18 | 29 |
| Day 4 | Transfer back to Kingston then walk to Alfriston | 11 | 18 |
| Day 5 | Alfriston to Eastbourne (via Seven Sisters) | 11 | 18 |
| Day 6 | Depart from Eastbourne after breakfast | | |
Amberley to Kingston
From this point onwards there are a lot less trees along the trail. The track offers an easy walk through vast arable fields and meadows with grazing sheep and cows. It passes above the town of Storrington before descending to cross the footbridge over the A24 near Washington. Back up onto the escarpment, it passes the famous Chanctonbury Ring, and then continues above Steyning, Bramber and Upper Beeding, crossing the River Adur. Climbing out of the valley, it follows the escarpment, before descending beside the Devil's Dyke, Britain's largest chalk coombe, then on to the village of Pycombe. After crossing a footbridge, you pass Jack and Jill – two landmark windmills.
Walking through the now familiar landscape of grazed downland and arable fields, you ascend to the summit of Ditchling Beacon, the highest point in Sussex, offering far reaching views. Continuing along the escarpment, the trail takes a sharp right turn at Blackcap and heads south. Ascending again, you join Juggs Road, a historic trading track. If you are staying at Kingston for the night you can continue on this track down into the village.
Kingston to Alfriston
Continuing along the trail, over grazing and arable land, you eventually come to the historic village of Southease, with its unusual church. Here you cross the River Ouse, and may get your first view and smell of the sea. The Way proceeds for a few miles over grassland, and, as the Downs curve towards the coast, there is a sense that the end of your journey is near. From Firle Beacon there are fine views of Seaford Head and the start of the Seven Sisters, spectacular chalk cliffs where the South Downs meet the sea. There are more panoramic views from Bostal Hill, then, as Alfriston comes into view, so also does the Cuckmere Haven estuary. The Way meets an ancient shepherd's track, which leads into the village of Alfriston and its long association with smugglers.
Alfriston to Eastbourne
The final section of the route is most diverse and spectacular. Leaving Alfriston, you walk along the banks of the meandering Cuckmere River to Litlington. From here you go back up onto the Downs, and then walk through Friston Forest. Passing through the tiny hamlet of West Dean, you eventually emerge from the woods at Exceat. The trail descends to the marshes alongside the Cuckmere River, through the Seven Sisters Country Park towards Cuckmere Haven.
Finally reaching the sea, the South Downs Way takes a rollercoaster route over the spectacular high chalk cliffs of the Seven Sisters. It descends briefly to Birling Gap, before rising again, passing the old Belle Tout lighthouse. The last ascent of the Way leads on to Beachy Head, a dramatic chalk cliff with the red and white Beachy Head lighthouse below. Finally you descend into Eastbourne, with views of its famous Victorian pier and Martello Tower. The Way ends on the outskirts of Eastbourne, but most people will continue into the town for a well-earned rest and celebration.


Easy to Moderate
This is another relatively easy National Trail which is clearly way-marked along the length of the path. A good route for a first long-distance walk.
Terrain: Varied - but these are gentle downs and heathlands, not mountains! The path spends most of its time on the south downs, undulating over farmland and through woodlands.
What's it like underfoot? Pretty good. Well maintained paths, tracks, and green lanes throughout, although sections can get a bit muddy in wet weather.
How much up & down? Once up on the Downs, the trail is rolling rather than hilly. It does drop down to the valley floor to visit villages and cross river valleys, followed by climbs of up to 700 ft (200m).  There are some short steeper sections, but they don't go on forever. The highest point is 886 ft (270m).
Signposting: Generally good.
Navigation: Pretty straightforward. Well defined paths, and good signposting.
All Holidays

Accommodation
Overnight Bed and Breakfast accommodation in selected hotels, farmhouses, village inns, guest houses and family B&Bs.Full English or Continental breakfast.
Guidebook
A detailed guidebook with route information, maps, photos and background information.
Information of Services Along the Route
A comprehensive Service Info sheet, including services such as cash points, banks, post offices, village shops, inns, cafes and taxis.
Maps
A waterproof map from Harvey Maps covering the whole route.
Personal Itinerary
A personal itinerary setting out each overnight stop, including large scale maps of each accommodation, to ensure you find it easily.
Emergency Telephone Support
If you get in to difficulties during your holiday, we are always available to help, even out of office hours.
12.5% discount at Cotswold Outdoors
We will issue you with a 12.5% Discount Card valid at all Cotswold Outdoor stores, and online, for the whole year on confirmation of your booking.

Options

Luggage Transport
We will transfer your luggage between each overnight stop – if you leave your luggage at the accommodation when you set off in the morning, it will be moved on to your next B&B. You only need to carry a small day sack with the clothes and provisions you require during the day's walk.
Packed Lunches

Provided for each day's walking and recommended on this holiday as there will not always be a handy shop or cafe on the route.
Off Road Parking
If you are travelling by car we can usually arrange off road parking for the duration of your trip. (There may be a small charge for this).
Arrangement of return transport
We can also arrange your transfer back to your car, (or advise you when public transport is a better option)!

What's not Included

Evening Meals
Your evening meal isn't included in the package, but we include full details and recommendations for each evening meal in your itinerary. You will normally be within walking distance of a pub and/or restaurant, or where there is good food available at the accommodation, we'll book that for you. Allow about £20.00 per night.
Transport to the Start & Away from the Finish
Have a look at the "Travel Info" tab above for suggestions. If you're still struggling, get in touch and we'll help you sort it out.
Travel Insurance
Even if you are based in the UK travel insurance is worth having.
Good accommodation and friendly hosts are an essential part of any holiday. We understand this and go out of our way to find the best. We put a great deal of effort into hand picking our accommodation and matching it to individual customer requirements. As well as visiting the accommodation ourselves, we ask all our customers to complete a short evaluation on each night's accommodation, which then gives us an insight into the day-to-day operation and lets us spot any potential issues before they become a problem.
We use a variety of accommodation, including small country house hotels, guest houses in market towns, bed and breakfasts in farm houses, country cottages and Victorian town houses. In selecting the accommodation we look for helpful, friendly hosts with good quality, characterful accommodation close to the trail. For example, over the course of your trip you might stay in a village inn, a bed and breakfast in a converted barn, a Victorian guest house, on a working farm, and in a Georgian hotel.
We always try to arrange en suite accommodation, i.e. rooms with their own bathrooms for each night of your stay. However, in some of the more remote locations accommodation is limited and occasionally we may have to book rooms with shared bathrooms for one or two nights of your holiday, (especially if the booking is made at short notice), but we will always let you know if this is likely to be the case.
We are happy to book single rooms on our holidays but cannot normally book more than 2 for any one group. Single room bookings include a supplement.
Here are some examples of the accommodation we use on the South Downs Way: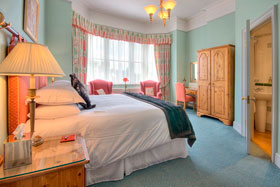 Giffard House, Winchester
An elegant, beautifully restored Victorian house with luxurious rooms and plenty of character. Located in a quiet part of Winchester, only a short walk from the city centre, you are assured of a warm welcome and a comfortable stay.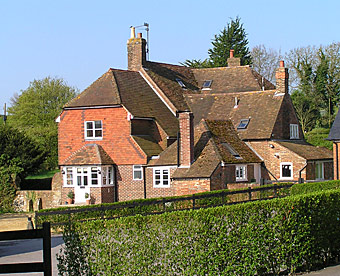 Corhampton Lane Farm, Exton
This traditional farmhouse near the village of Exton has large, beautifully decorated rooms and is full of character and charm. Suzanne is a delightful host and you are assured of a friendly welcome and a delicious breakfast from her lovely farmhouse kitchen.
General travel information for the South Downs Way will be included in your holiday pack, including train and bus timetables where available. Detailed instructions on getting to your first night's accommodation by car, or on foot from the nearest train or bus station, will also be included in the holiday pack on individual accommodation maps. To view train times please visit trainline where you can also purchase tickets in advance. For information on bus timetables please visit www.traveline.info.
Getting There:
By Air: The nearest and most convenient International Airport to the trail is London Gatwick. There is a railway station at Gatwick Airport from where trains run hourly direct to Amberley (journey time approx. 45 mins).
By Public Transport: There is a railway station at Amberley (AMY). Amberley Railway Station is located on the Arun Valley Line with hourly trains direct to and from London Victoria station (journey time approx. 1 and half hours).
Amberley
Nestling at the foot of the Downs, Amberley, with its many thatched cottages, is a lovely place for a day off. Amberley Museum and Heritage Centre covers a 36 acre site, and is dedicated to the industrial heritage of the area. There is a narrow gauge steam train and vintage bus service to take you around the site, as well as many traditional craftsmen, such as stained glass makers and wheelwrights. Amberley also has a castle, which can be viewed form the outside, and a train station with regular services to the nearby historic town of Arundel.
Lewes
The historic market town of Lewes has its impressive castle sitting above the town. There are also a number of other historic buildings, including the remains of Lewes priory, as well as shops, inns and restaurants.
Kingston, just two miles away, is a beautiful village with many historic buildings in its centre, including the Norman St Pancras church, and the 14th Century pub The Juggs.
Eastbourne
This Victorian seaside town boasts the title of the sunniest place in Britain, thanks to its sheltered position. If the weather is warm, there are some great beaches to laze on, giving those feet a well-earned rest and even perhaps dipping them in the sea. There's also the elegant seafront and famous pier to stroll along, as well as the Redoubt Fortress and Military Museum to explore.
There are regular concerts at the Eastbourne Bandstand, and a wide variety of galleries and studios to explore, as well as 5 theatres. There's a huge range of restaurants and cafes to choose from, offering you a change if you've had one too many pub meals. And if you're in need of some retail therapy after your walk there's a wide selection of shops to choose from, from high street names to quaint Victorian shopping streets and exclusive boutiques.
Prices

GBP (£)

Accommodation, map & guidebook only
£656
with Luggage Transport
£724
with Packed Lunches
£700
with Luggage & Lunches
£764

Other Options

Extra Nights (per night)
£90
Single Supplement (per night)
£63
Solo Luggage Supplement (per day)
£17