A Grand Day Out in Yorkshire
By Mark Wright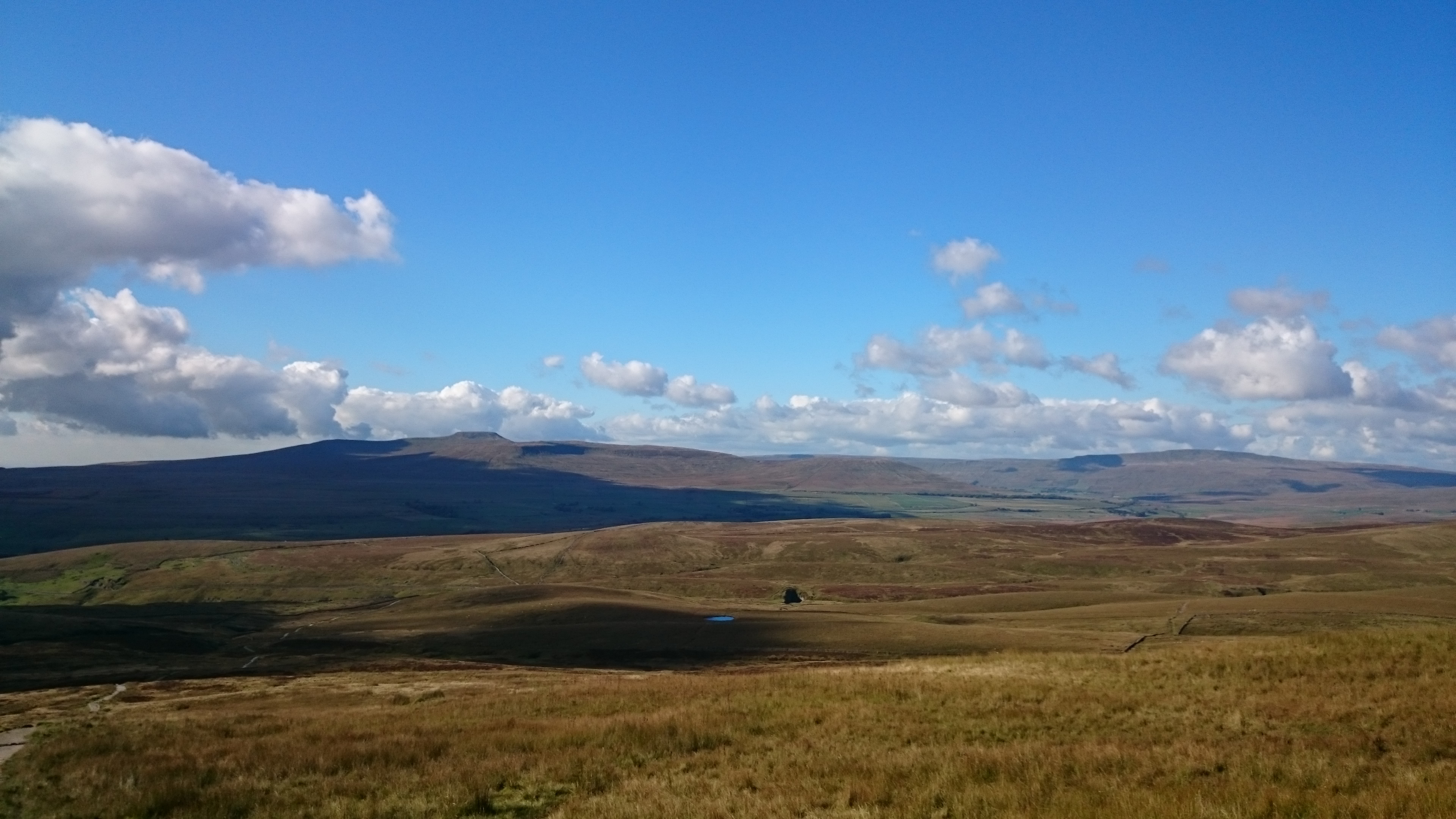 I first stood on Pen y Ghent in October of last year. It was a warm autumn day, the skies were clear, and as I stood surveying the beautiful Yorkshire countryside around me I couldn't have been happier. I was drawn to what I understood to be Ingleborough and to the right of that Whernside. My eyes shifted between the two and also back along the stone slabs that had brought me onto Pen y Ghent. What captivated me more than the tops themselves was the ground between. Particularly the track over to Ribblehead Viaduct.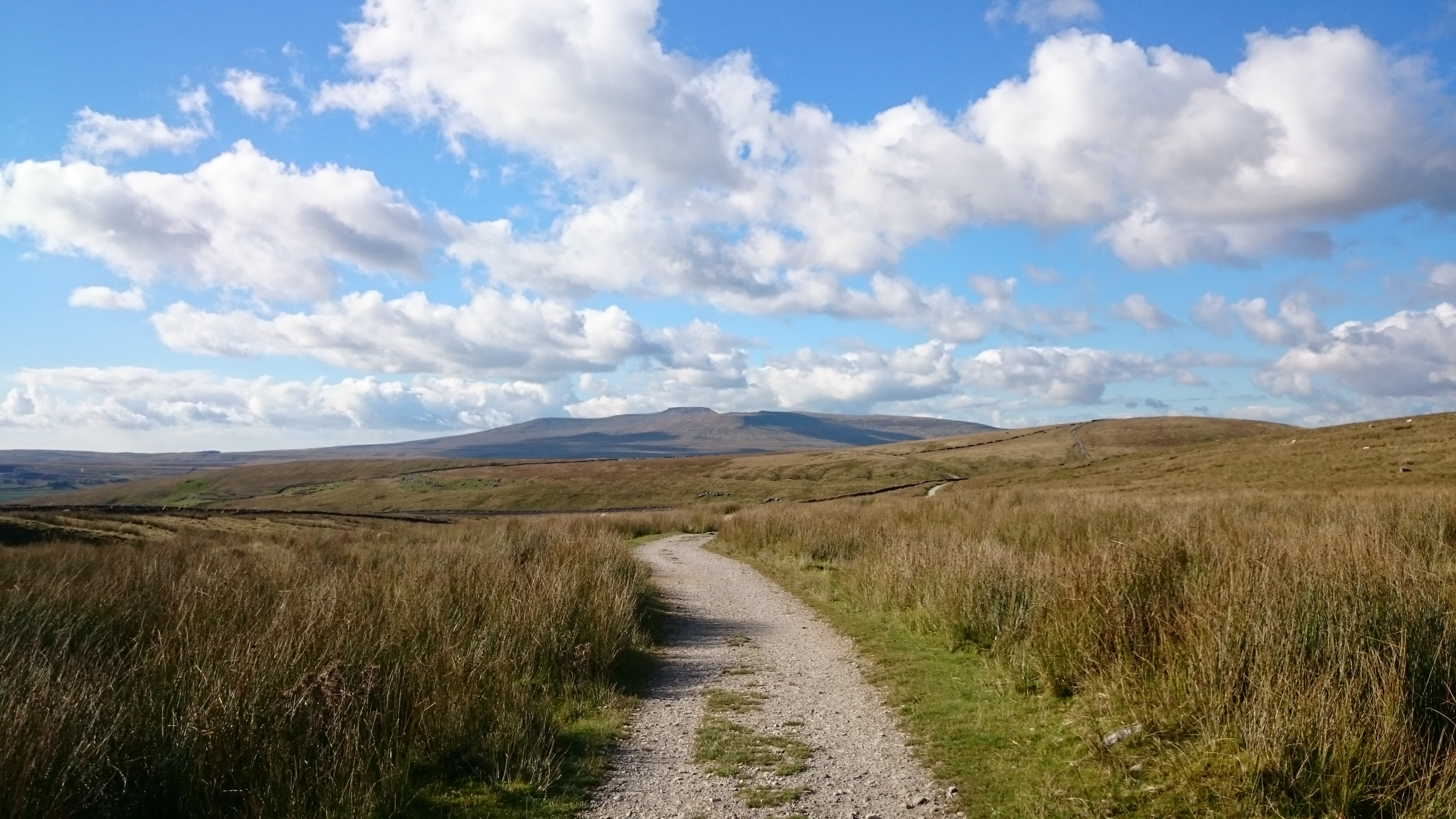 As I made my way down off Pen y Ghent in the direction of Hull Pot I began in my mind to plan a return visit. I'd walk all three tops. It would have to be warm. The sun beating down. The ground dry and dusty. Terms such as three peaks challenge or y3p were immediately banished. Those things are of no interest to me. I'd be coming back to potter, to savour and enjoy. To bathe myself in the warm Yorkshire air. I pencilled in late spring or summer and began to imagine myself in my floppy hat, blissfully wandering along.
Winter came and went, as did spring and summer too and for one reason or another I hadn't made it back to Yorkshire, and that perfect day I'd dreamt up the previous autumn was slipping away.
With October on the horizon and with it the changing of the clocks I knew that if it was to happen at all it was going to have to be the next good weather window. Sunday October 2nd, a week away, was forecast bright and warm and I had a free day.
I must have been daydreaming when my good friend Tall Paul asked me "What are you thinking about?" "Yorkshire." I told him "Pen y Ghent, Whernside and Ingleborough." I continued "Not a three peaks challenge though. A potter. A grand day out in Yorkshire." I told Paul my plan, my hopes for the day. He liked the idea. "Are you coming then?" I asked him. He thought for a second, smiled and said "Aye, I'm in. Let's do it!" I love Paul's temperament, he's gentle, kind, a thinker and he completely bought into the idea of taking our time and savouring every minute of the day. Not being hurried or dictated to by a time frame. For those of you who aren't aware, the Yorkshire Three Peaks is a recognised challenge walk. The aim being to take in the three peaks of Pen y Ghent, Whernside and Ingleborough covering approximately twenty five miles, and all this in just twelve hours. However, we'd ignore the challenge and simply walk over each of the peaks and back to the start. Oh, and we'd have a pub lunch along the way!
Remarkably I was outside Paul's at half five the following Sunday morning. Even more remarkable was the fact he was ready. I should point out at this stage that Paul is twenty years younger than I am and the name Tall Paul will give you some idea of the length of his stride. So you can see why I was happy to potter round and not get dragged into a challenge. To get us into a Yorkshire frame of mind we listened to folk singer Kate Rusby while enthusing about how we were about to have the best of days. The sun was beginning to light the morning as we approached Horton in Ribblesdale in time for our seven o'clock start.
Our planning was meticulous. Well in as much as I had stood on Pen y Ghent the previous October and I'd looked over in the direction of the other two. That should be enough to be getting on with. Not exactly the Mickledore way, but this was play!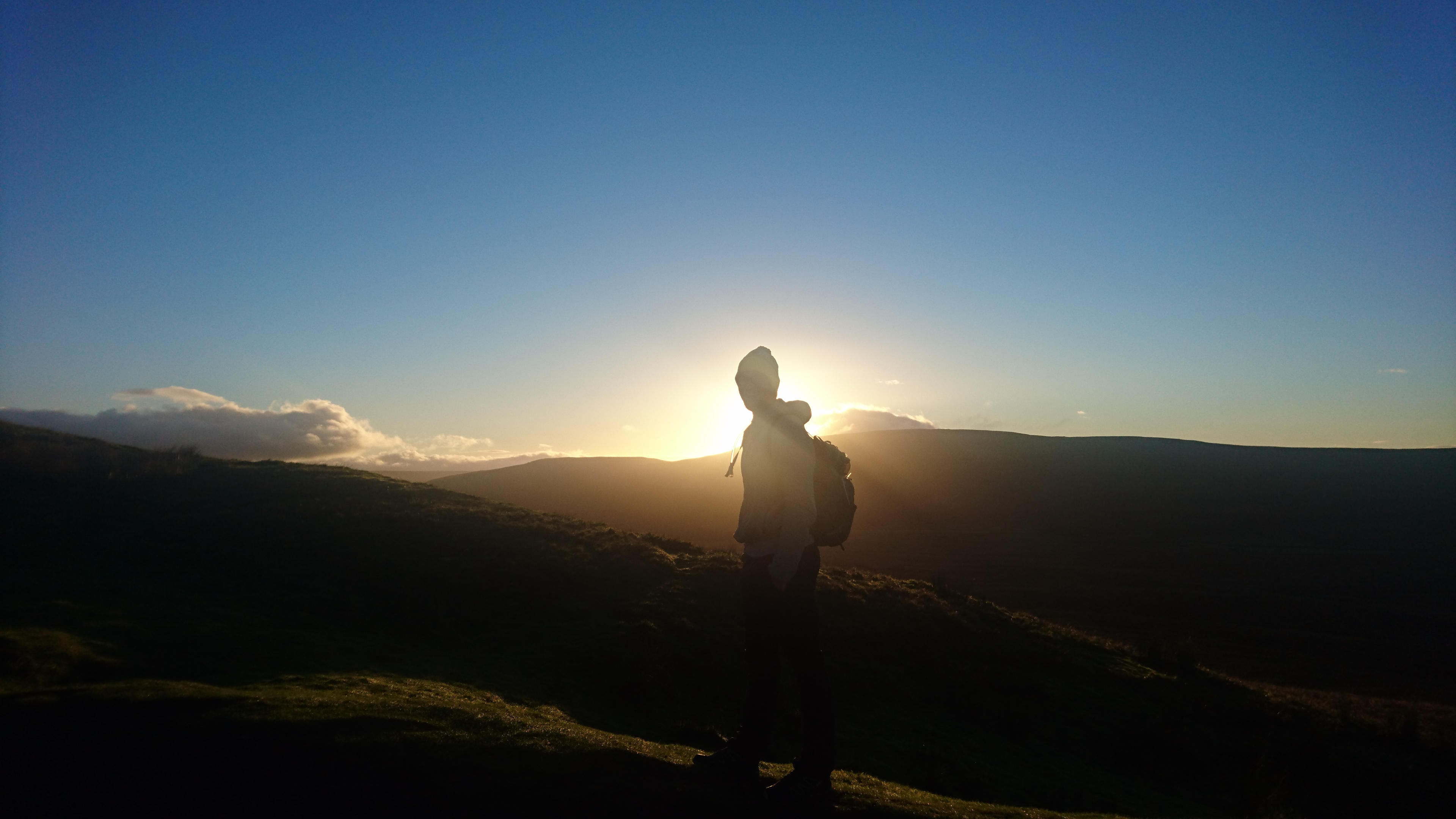 The skies were clear and it was a cold start. Woolly hats were on from the outset.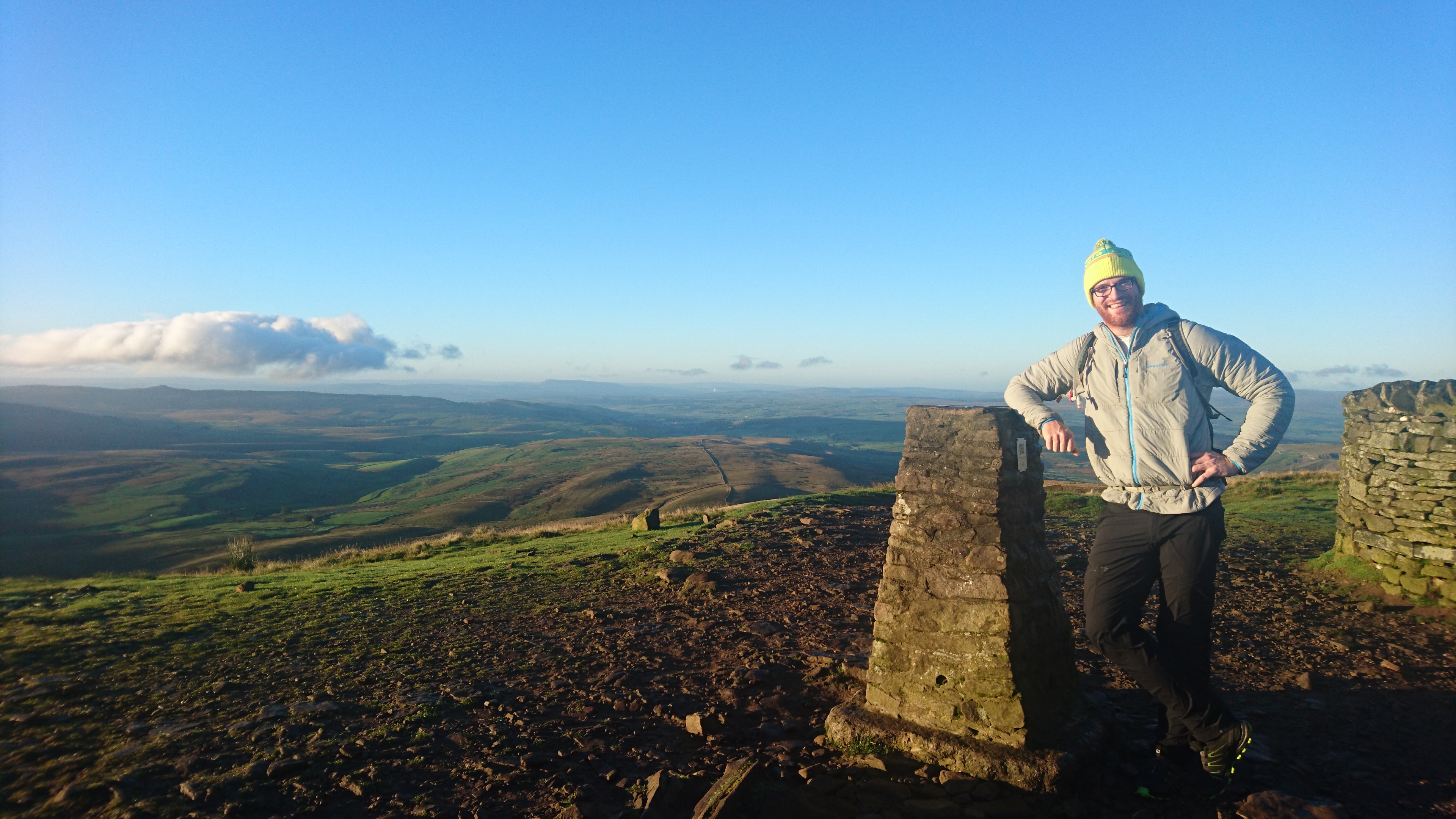 By the time we reached the summit of Pen y Ghent an hour later we'd already discussed the ins and outs of camper vans, vintage motorbikes and true love. Paul has two out of three, he's still working on true love. The rising sun was beginning to colour the ground and warm the air.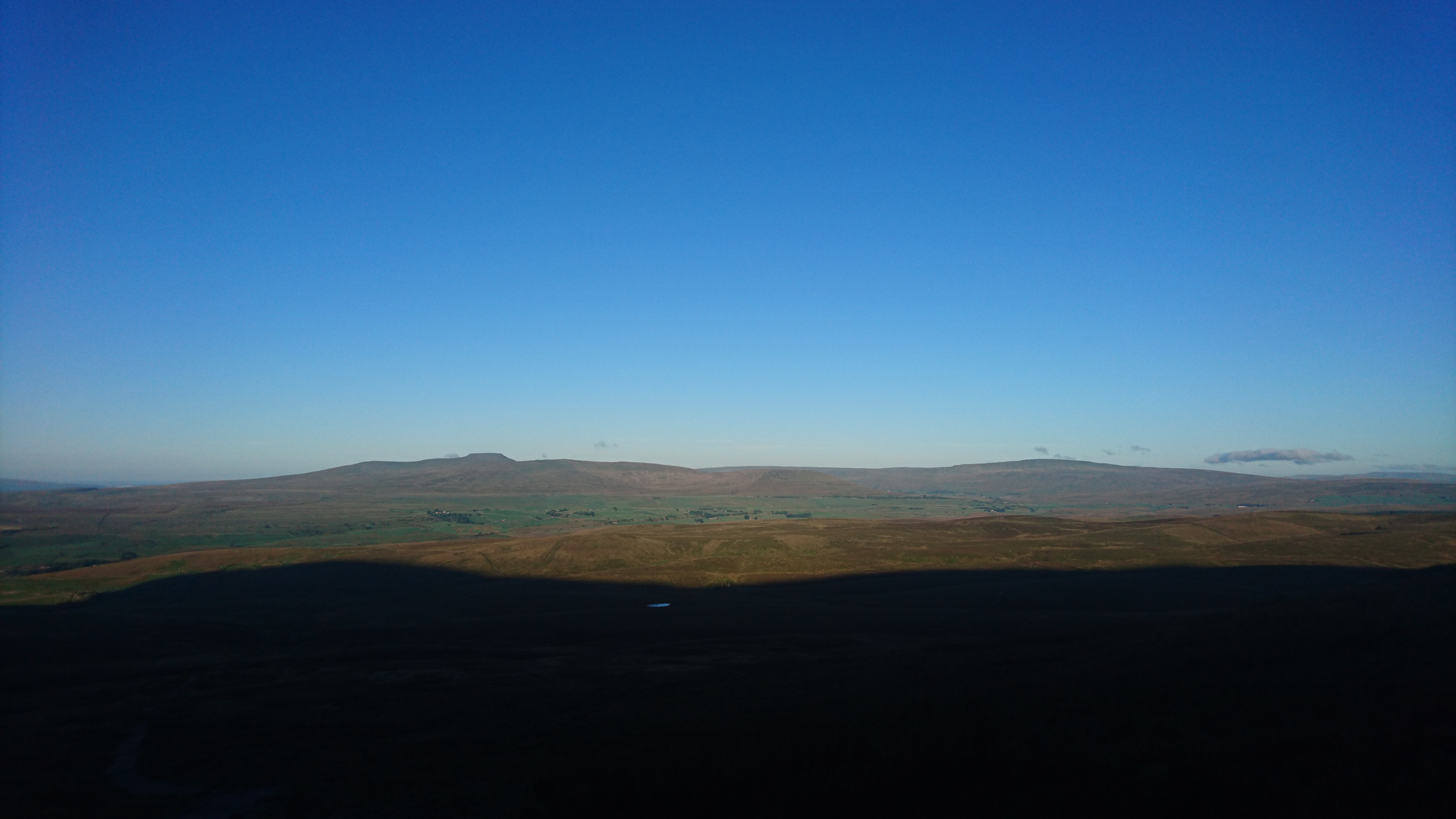 As we stood surveying the beautiful Yorkshire countryside around us, just as I'd done the previous year, I'm quite sure at that moment, we were happiest two lads in all the land.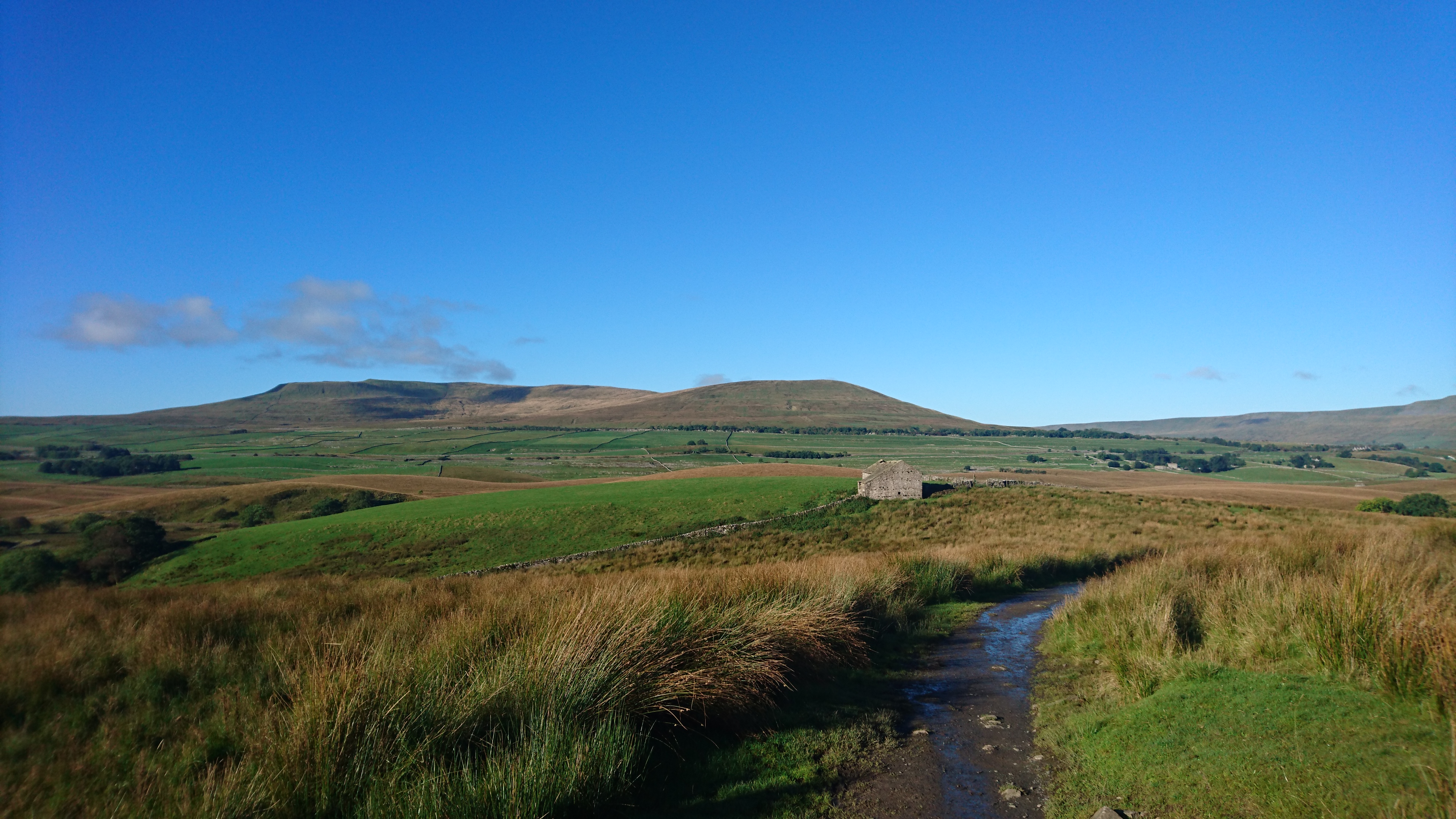 Next stop Ribblehead Viaduct, but not before a bit of a detour to the magnificent Hull Pot. Detours were fine, we were there to saviour the day, not be shackled to time, the enemy. Onward towards the viaduct and Whernside. It's something like eight miles I think. The walking was easy, the views superb and the conversation was good; barn conversions, the railways, farmers fences and why they leave the excess fence wire behind and of course, true love.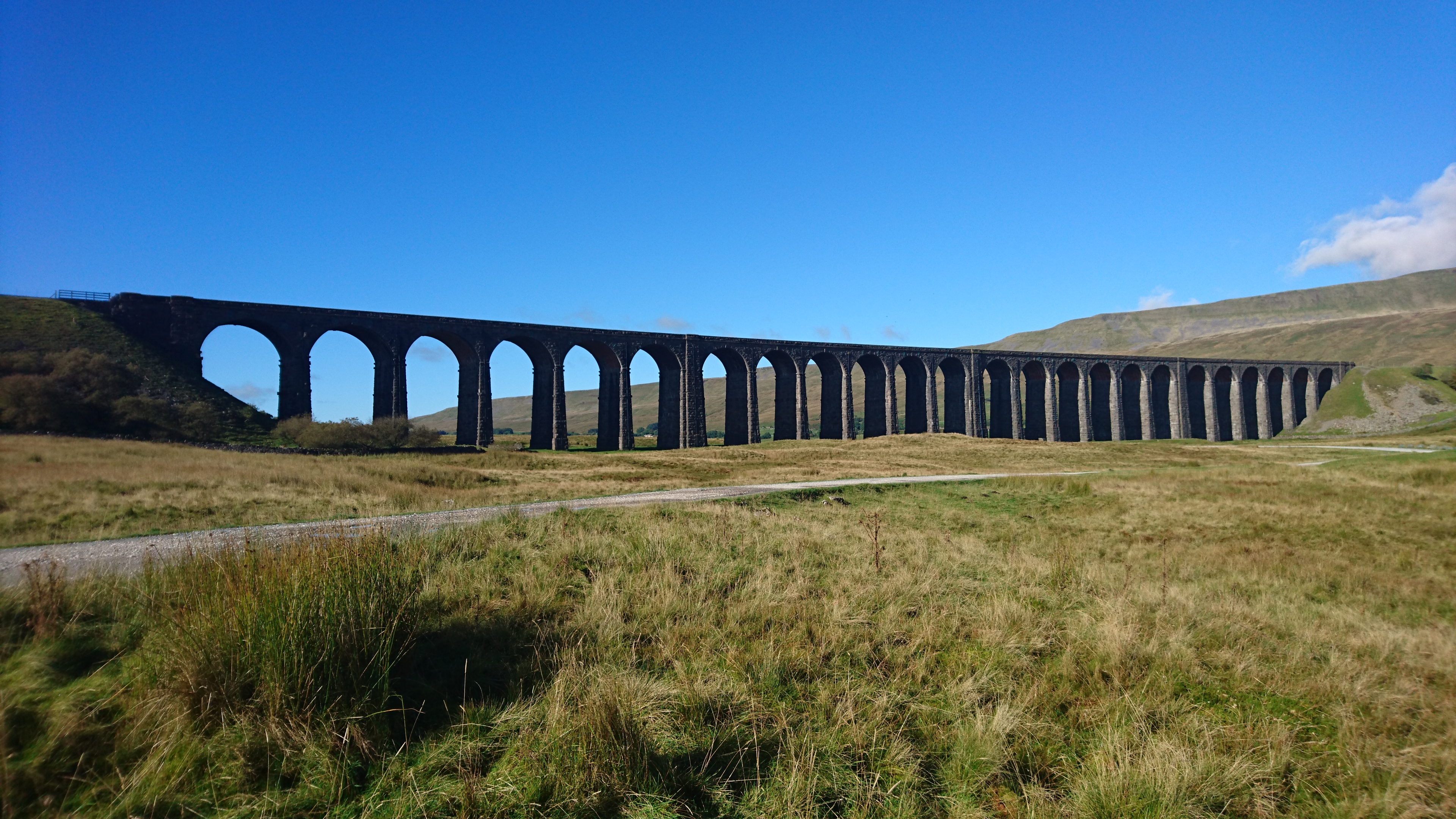 We arrived at the viaduct just ahead of half ten, now we didn't really know what time we'd get there, but we did think it would be nearer lunchtime. We'd set our hearts on roast beef at the Station Inn. A plan was needed. We'd walk over Whernside clockwise, the reverse of the typical three peaks route and that would bring us back to the viaduct in time for lunch. It would add miles of course but that wasn't a problem and we had no hesitation in giving our extended Whernside the green light.
Paul fell in love with every farmhouse and cottage we passed telling me of the life he'd live there … a wife, children, dogs and a land rover. We were back to true love.
It was baking hot as we made our way onto Whernside. My woolly hat swapped for my floppy hat. Every step of the way was everything I'd hope it would be.
It wasn't just the air that was warm, the people were too, everyone we passed sharing smiles and kind words with us. Everyone I suspect feeling as grateful as we were to be out on such a glorious day.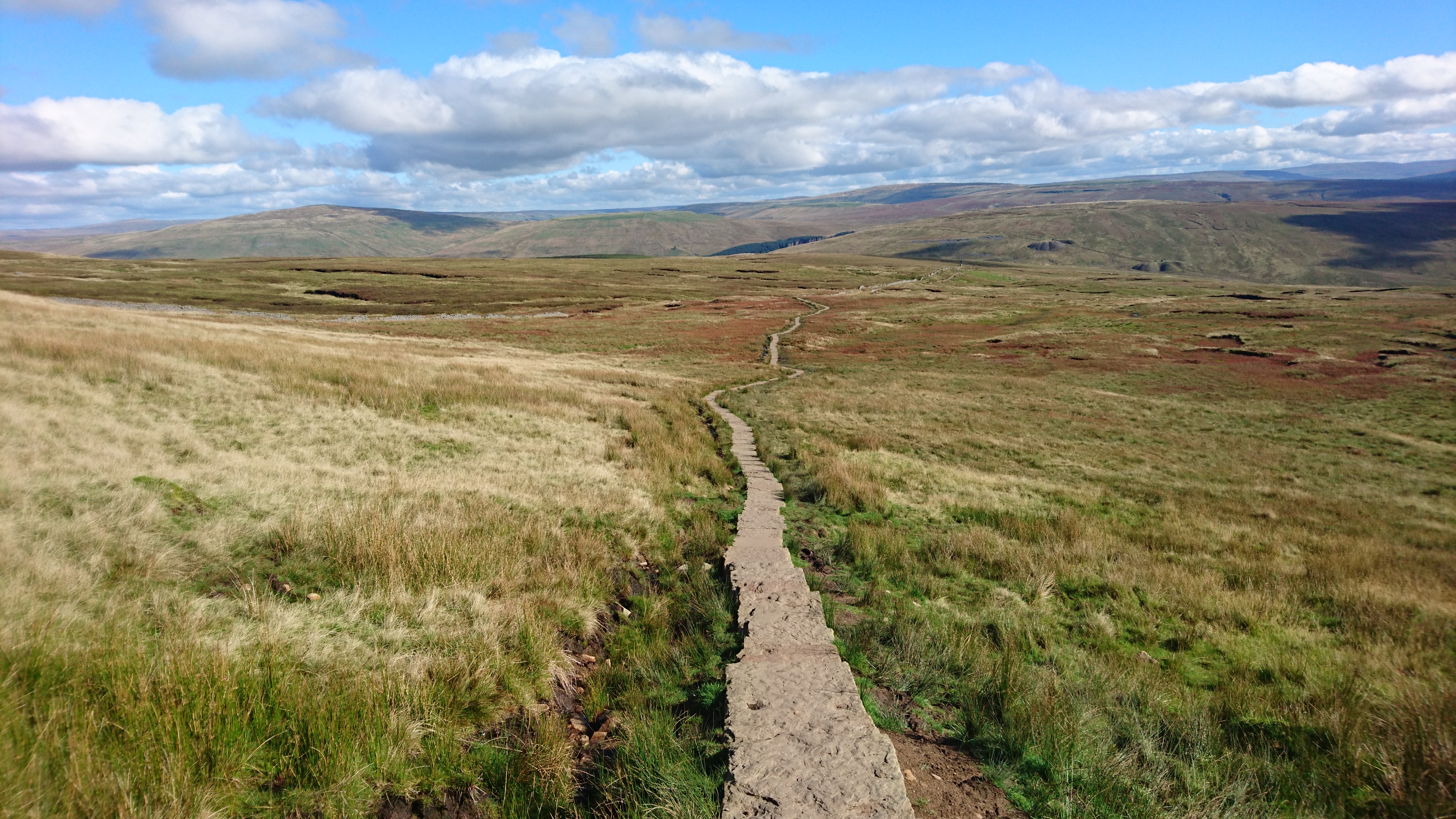 The views from the summit were superlative; the Howgills, the Lakeland fells with Bowfell and Crinkle Crags being pointed out by a fellow walker, Morcambe Bay looked ever so inviting, Ingleborough and back over to Pen y Ghent too. It was heavenly.
It was while on Whernside we agreed we should walk onto Ingleborough via Park Fell and Simon Fell making for a pretty good exploration of the hill rather than nipping up the back.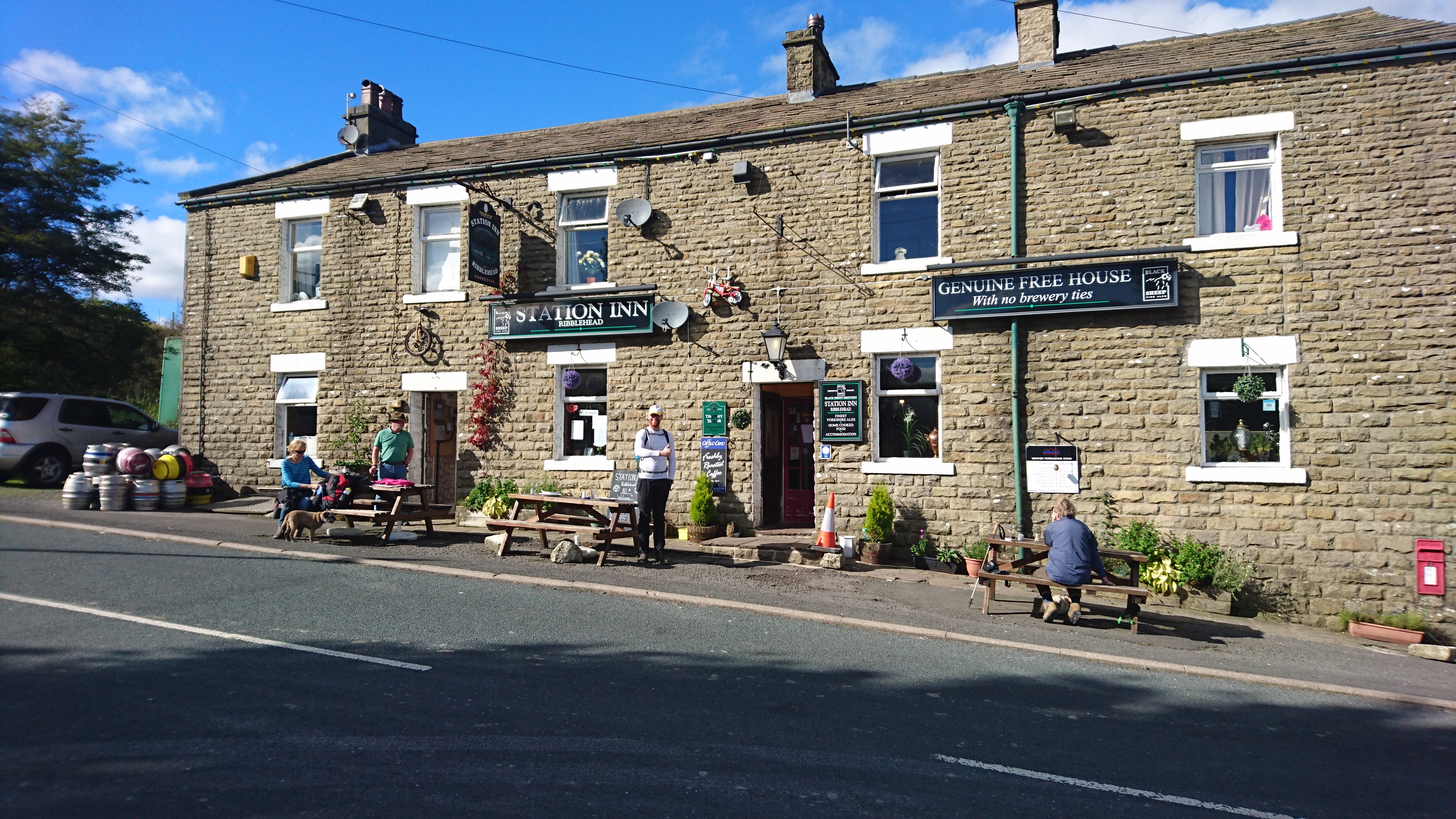 Not before Sunday lunch in the Station Inn however. There were folk musicians singing and playing in the corner. There was a really happy feel to the place. We sat outside with our roast beef and pint of full fat Coke each. It was a real sun trap and the smell and sound of the motorcycles speeding up the hill in front of us made it all the better.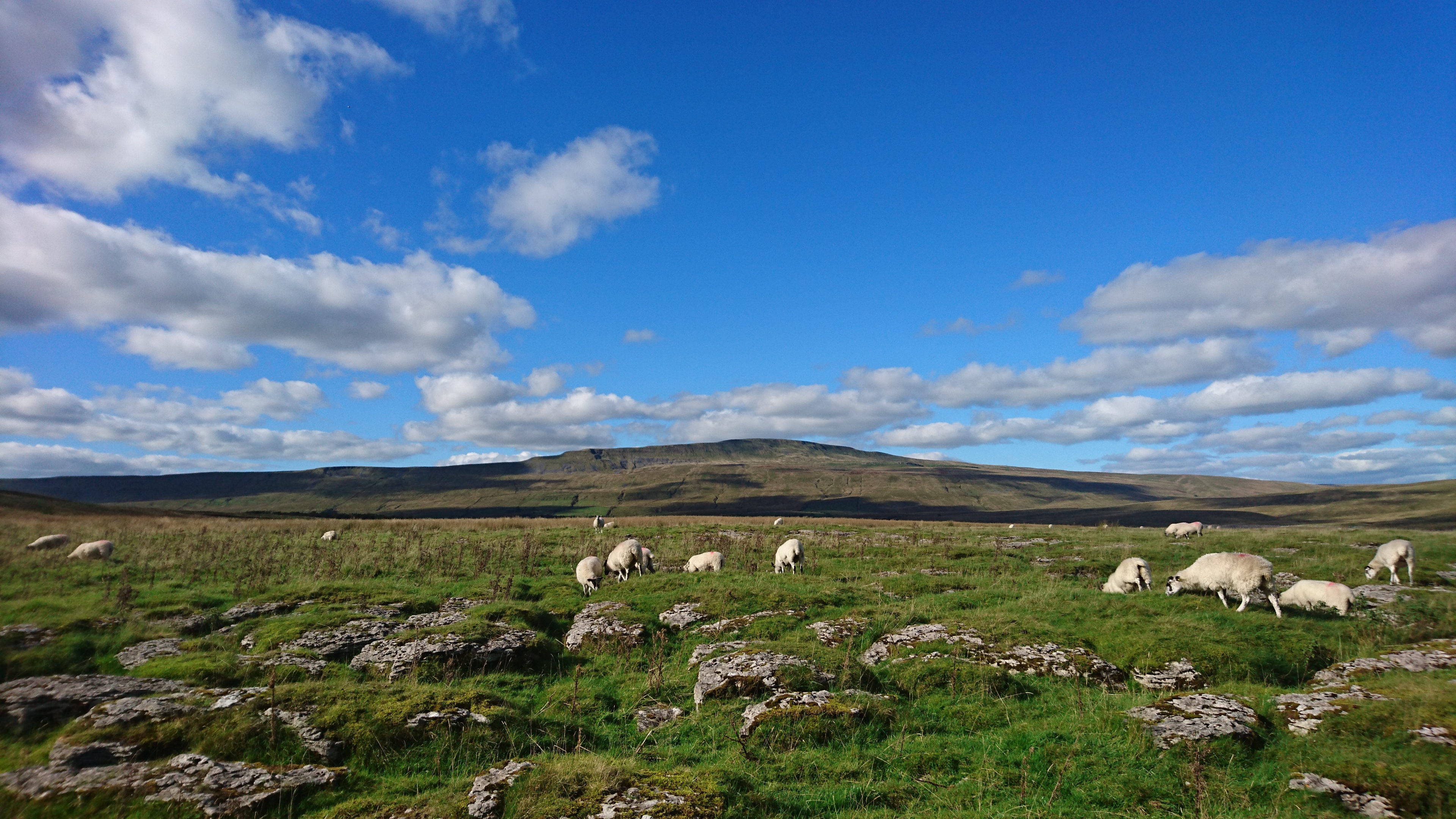 With our lunch hour complete we headed onto Ingleborough.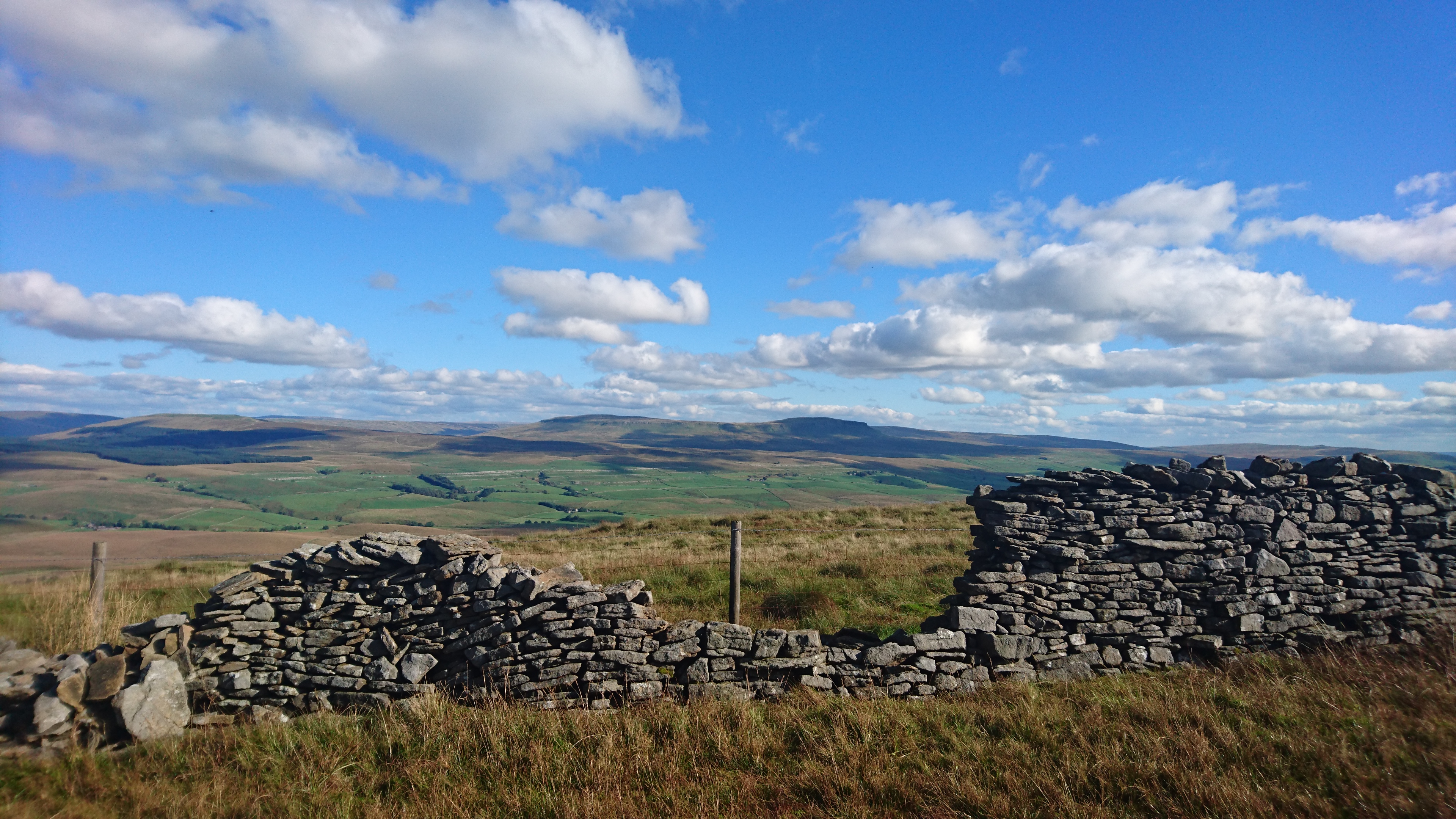 Making our way over the nature reserve a message came through on my phone. It was my friend Kate who lives nearby. Kate was asking how we were getting on. I described as best I could the fun we were having, made all the better by the warmth of the sun, before asking what she was up to. "Walking the aisles of B&Q" she told me. My smile grew even wider.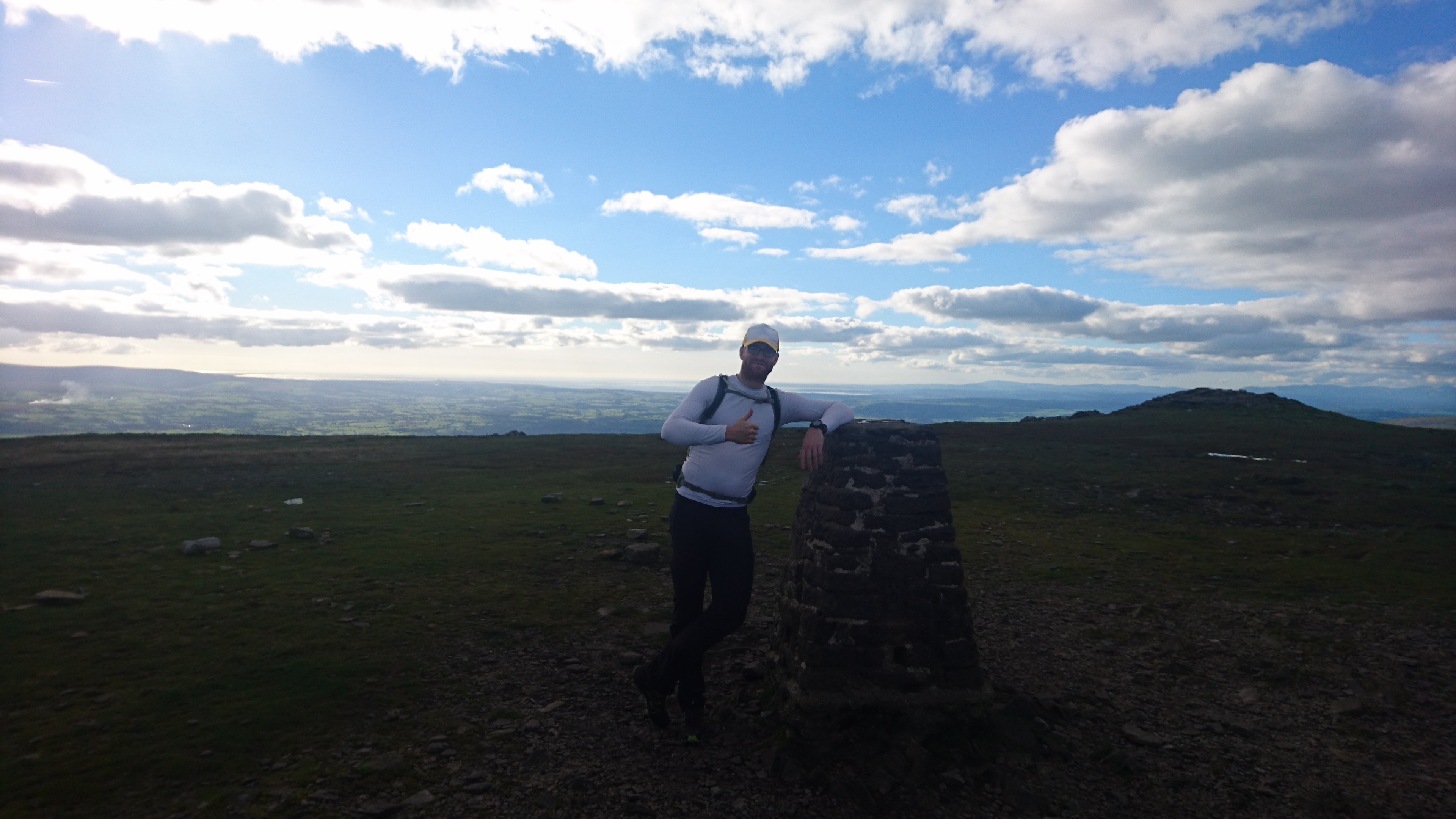 Ingleborough summit was busy with happy chatter and we drank in the views before making our way back down to Horton. Talk turned to return visits, bringing friends, caving, iTunes playlists, cake even, and of course, true love. We wandered through the remaining few fields back to the car.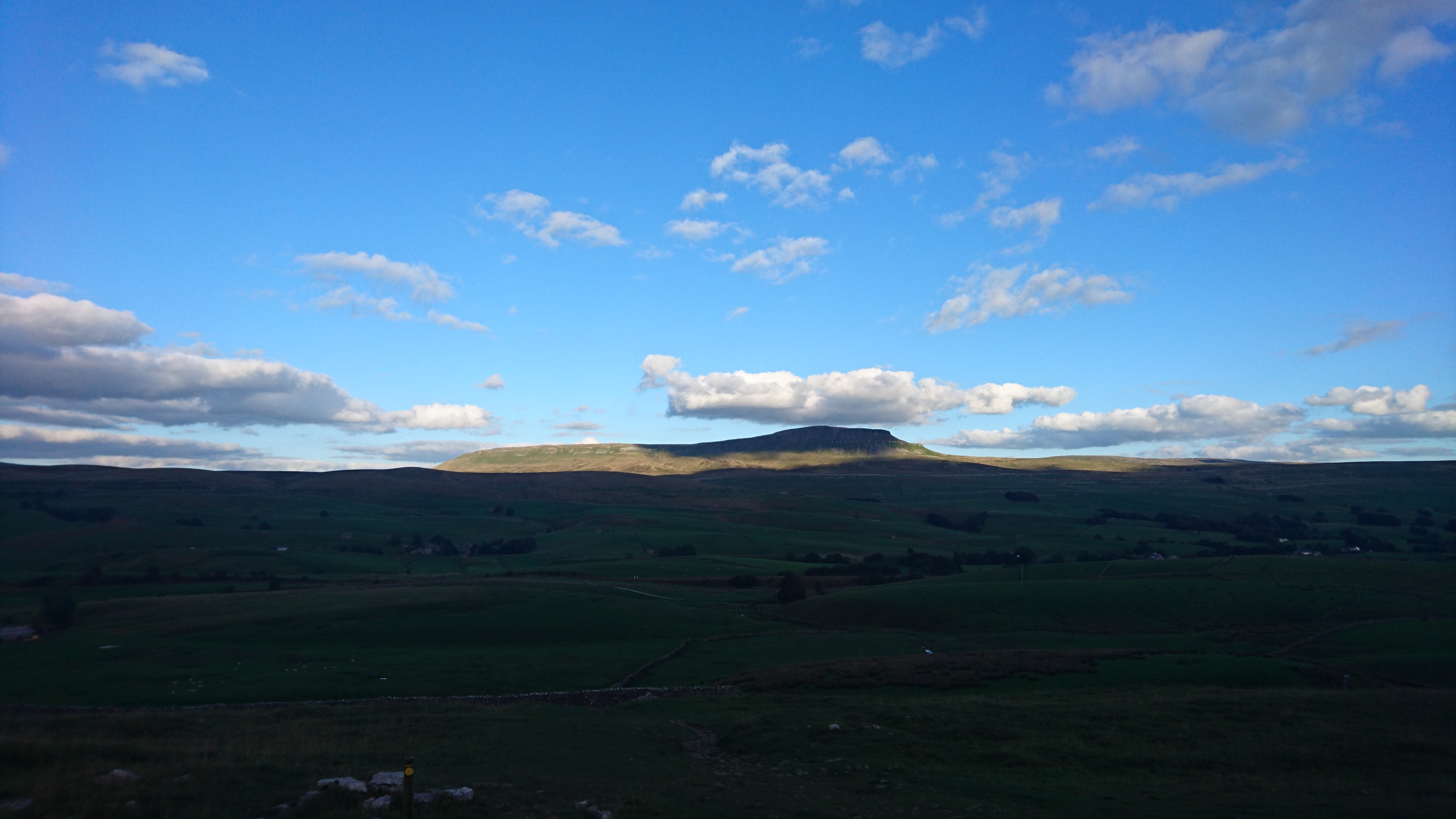 Pen y Ghent which had been the first objective of the day was now surrendering to shade.
Back at the car we unlaced our trail shoes, ate the remainder of our Fellwalker slice, drank the last of our water and laughed, we laughed and smiled as the realisation of what we'd just done began to sink in. We'd walked twenty eight and a half miles in just under ten and a half hours and we'd savoured every minute of it. It had been everything we'd hoped for and more. A magnificent day spent in the beautiful Yorkshire Dales countryside, two friends just passing the time enjoyably.